Summary
Rob's SEO Crawler is definitely a nice free tool for doing SEO audit and on-page optimization for blog and small business websites.
Rob Hammond SEO Crawler is a free web tool that will help you do a full website on-page optimization and complete SEO Audit.
This review and tutorial will take you through the needed tips to use this awesome tool for all your on-page SEO optimization needs.
There are quite a lot of free SEO related tools available on the internet such as; ahref, monitor backlink and moz.
What makes Rob Hammond's SEO Crawler tool very unique is that it will effectively guide you to having a well optimized individual pages.
About 30% of bloggers and internet marketers no SEO experts and as such are bound to commit lots of SEO blunder. This is clearly evidenced by the number of errors this recommended tool will show you when running a SEO audit for your website and blogs.
Most of the alerts are necessary while the others can be ignored completely. I am going to explain some of the regular red alert warning you might come across and how to get them fixed.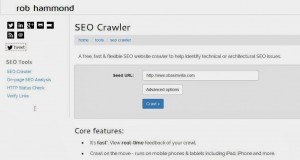 1. Large page weight
This is one of the warning alert you are likely to see when using Rob's SEO Crawler to audit your blog or website. In most cases you can simply ignore this alert.
Assuming you have optimized all images, videos and audio files as well as implemented a caching solution and/or a content delivery network (CDN), you will need not worry about Large page weight warning at all.
Large page weight alert could also be as a result of large number of comments on your blog post which is also a very good thing.
This does not mean that you should ignore measures that can help you reduce your individual page weight as major Search Engines rely on that to rank your blog or website.
2. Multiple meta robots tags
This is another red alert you are likely to see for most blog categories, it helps you figure out pages with multiple meta robots tags.
Already the topic of multiple meta robots tag has already been covered comprehensively by Google at their official webmaster central blog.
You will only check the affected pages if needs be, considering that Google and most other top search engines will always honor the most restrictive values in your meta robots tags.
3. Multiple h1 tags
Multiple h1 tags in pages doesn't really mean much if you are a web developer that has fully embraced the latest web design semantics.
HTML5 has succeeded in throwing most of this unproductive, archaic and Orthodox practices to the dustbin of history where they actually belong.
Heading tags (from H1 to H6) don't really make your blog rank higher but are part of the recommended practices for modern SEO.
You need polish your individual pages to look as good as those offline Magazines you cherish the most, heading tags helps both human visitors and search engines to better understand your individual pages and titles.
4. Followed Ext. Links / Total Links
This part isn't going to show up as a warning but its great for analyzing your individual post pages for better search engine optimization.
It takes into account the number of external links that are followed, measuring it with the total number of outbound links on that particular page.
Final Words
Rob's SEO Crawler is really a nice free tool for doing SEO audit and on-page optimization for blog and small business websites.
The ability to show header response statuses and Rel Canonical references makes it unique and puts it just among the best free tools out there.
I haven't really noticed any annoying advertisement and pop-ups while using their free tool, this makes it so easy for me to recommend it to you and every other persons that has interest on search engine optimization for his blog or small business.
You can visit their site and use this awesome tool by following the official link at http://robhammond.co/tools/seo-crawler.