The likes of Jeff Bezos and Jack Ma are making a lot of people see huge potentials in the eCommerce niche. Well, eCommerce is a profitable niche; however, it is now very competitive. To succeed in this space, you need to go out of the box to provide your customers with a unique, seamless shopping experience.
There are many tools out there to integrate with your online store to make it easier for your customers to place orders; one of those tools is "Carts Guru," an eCommerce automation tool that can visibly impact your revenue. Carts Guru offers multi-channel marketing, eCommerce automation, and a bunch of other useful features.
Carts Guru Overview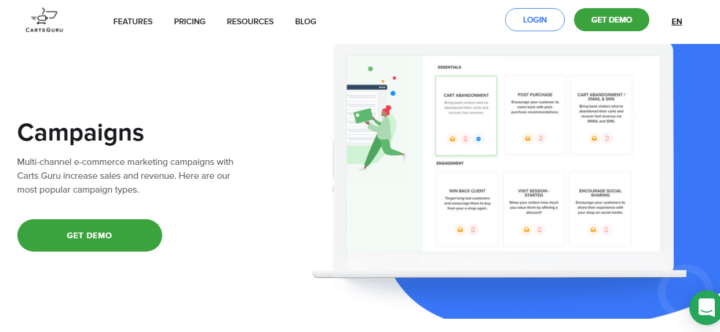 With Carts Guru, you can automate eCommerce campaigns, combining email, SMS, and Facebook Messenger for maximal conversion. This tool comes with a clear-cut dashboard that provides instant access to all available marketing tools on the app.
Experts propose that getting a new customer costs 5X more than retaining an existing one. Thus, Carts Guru includes templates and tools that help you increase value for existing customers so they can stay.
Interestingly, Carts Gurus integrates with top eCommerce platforms like Magneto, Shopify, and Prestashop. Whether you're looking for campaign templates for your online store or a comprehensive audience management tool, Carts Guru looks to be a good choice.
Features of Carts Guru
There are many main features of this app, which include marketing automation, campaigns, multichannel marketing, and a distinctive dashboard.
1. Multichannel Marketing
With Carts Guru's multichannel marketing tools, you can run SMS and email marketing at a go. It also allows you to integrate the messaging channel your customers are most likely to engage with.
2. Campaigns
There are several kinds of campaigns to run with Carts Guru to increase customer engagement and revenue. The campaigns include:
Cart abandonment campaigns
Customer win-back campaigns
Post-purchase campaigns
Promotional campaigns
Each of these campaigns has several features that help to achieve the purpose of running them.
3. Automation
The importance of automation in thriving an eCommerce business cannot be overstated. Carts Guru lets you create "first-class campaigns," launch them, and set up the triggers. This way, your eCommerce business would be fully functional even as you sleep.
4. Intuitive Dashboard
Carts Guru's dashboard provides a simple interface to find and analyze all the relevant metrics from your campaigns. It is easy to understand and navigate, providing instant access to all the tools available on Cart Guru's app.
5. Audience Management
To better manage your customers, it is important to arrange them into segments such as VIP customers, inactive customers, and so on. For example, with Cart Guru's automatic tools, customers who didn't purchase within a set amount of time would be automatically moved to the inactive customer list.
Similarly, customers that spend more than a set amount would be added to the VIP customer list. You can have different lists to manage your customers.
6. Templates
There are several custom templates you can use to design attractive messaging that perfectly fits your audience. Also, Carts Guru has a built-in drag and drop template builder for designing messaging templates from scratch.
More so, you can add several items to your templates, such as coupons, product recommendations, and other stuff.
Carts Guru Pricing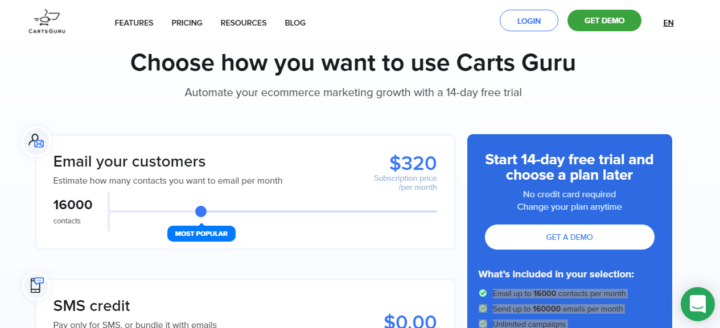 Carts Guru offers a 14-day free trial. After the trial, there are no specific plans to purchase. The amount you'd pay depends on the number of contacts you'd send emails to every month. On average, Carts Guru costs $320 per month, and this covers:
Sending emails to up to 6000 contacts per month
Unlimited campaigns
Unlimited websites
Hundreds of ready-to-use email templates
Chat and email support in 6 languages
How to Supercharge Your eCommerce Business With Carts Guru?
Always, automation remains the major strategy helping many businesses to thrive in these modern days. Carts Guru offers eCommerce automation and several useful features that can help improve your revenue generation.
How To Create Campaigns With Carts Guru
If you need to launch a campaign on Carts Guru, you can fill the form and have the team provide you with a detailed guide. In contrast, you can start from scratch and create your campaigns by yourself.
Step One:
Sign up on the website to get the online app. The registration process is pretty simple; however, you must use a valid email for verification purposes.
Step Two:
Right from the dashboard, navigate to the Campaigns section, pick a template, and start customizing the elements to suit your business need.
Step Three:
Your campaign analytics and reports are visible from the dashboard. This will help you to make profitable business decisions and grow your eCommerce business.
What More?
Carts Guru is a useful software tool for eCommerce business operators. The software comes with lots of impressive features and has a flexible pricing model. You can use the prebuilt campaign's models to launch your first campaign. Also, there are several templates to choose from, and the dashboard is pretty intuitive.
Furthermore, Carts Guru supports up to 6 different languages so that you can use the app in your preferred language. Thanks to this app's "automation" features, you don't need to be an expert to use it effectively.