Android File Transfer tools makes sharing faster, easier and more efficient in newer mobile devices. High-end mobile phone users have substituted Bluetooth for WI-Fi when sharing apps, games and/or large files from their smart phone.
Today's guide is focused mainly on how to share apps, games and files between android phone and devices. We are going to list some free apps that helps you share android apps, music, videos, documents, raw .apk files and games on the go.
1. Flash Share (Xender app)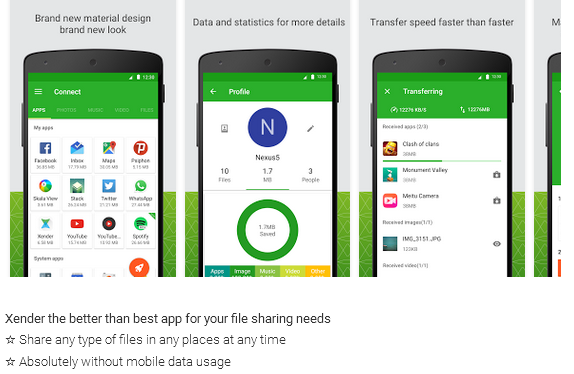 Flash share is usually a default app with most MTK devices such as Tecno, Micromax, xiaomi, Gionee, Infinix, iTel and several others.
Flash share looks more like a modified version of the Xender app (For File Transfer & Share). You can download flash share and/or Xender apk (for Nokia and other brands) by looking at our Flash Share Download Links post.
It makes sharing files and document on Android so easy and practically seamless.
How to Use Flash Share
Flash Share app is very easy to set up, all you need do is
Install Flash Share app (Download Flash Share) on your device and that of your friend (both devices)
Launch the app from your home screen icon and click on Connect Phone
Select create group (center top) from your device and join group (center bottom) from your friend's device
Connect to your device from the list of available devices (Can connect and share between 5 persons at a time)
Select apps, games, pictures and files to share using the appropriate tabs and drag to the phone to have them transferred.
That's all! You now see how easy it is handling android file transfer with the flash share (Xender) app.
Flash Share (Xender) Features
Can send – Games, apps, files, pictures, music, videos and documents
Faster than Bluetooth and other android file sharing methods
Supports Group sharing (up to 5 devices at a time)
Supports cross-platform transfer and sharing between Android and iOS devices
2. Any Send App
Any Send app is just as useful as the flash transfer app, helps you share raw apk, videos, images, contacts and just any file format of your choice.
Any Send android file transfer app is free and can be downloaded from the Google play store.
3. Super Beam App
Super Beam WiFi direct share android file transfer app is a great and reliable alternative to Xender and/or flash share app.
It supports pairing of devices via NFC and/or QR code scanning and can even share files, apps from one device's installation.
SuperBeam WiFi direct Share app is available for free on the Google play store. Here's an introductory (promo video) video that shows you how the super beam app works.
4. Swipe & Share App by Micromax
Swipe & Share App (Flash Transfer.apk) is an app developed by Micromax for their devices. It mostly comes with Micromax devices as a default app.
There isn't a public version yet, but I have uploaded the apk file for your perusal. It is a good alternative for sharing apps, games and music on android phones and/or devices.
To handle android file transfer for your MTK devices with Swipe & Share App, Download it from here or here.
Read : How to root InnJoo, Tecno, Gionee, Infinix & any Android MTK Device
5. SHAREit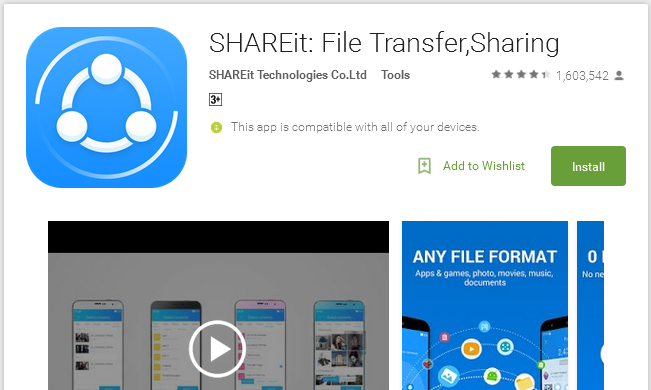 SHAREit is simply awesome for sharing files, apps and games between android phone and devices. SHAREit It is a free android file transfer app and can be downloaded from Google play store link here.
6. WiFi File Transfer
WiFi File Transfer is another faster method used to share files, apps and games between android devices. It is free and can be downloaded from here (Google play store link).
7. Fast File Transfer
Fast File Transfer works offline, is cross-platform and can share very large amount of files in a few minutes. It supports sending full folders as zip and can be downloaded from the Google play store.
Other Mentions
As long as sharing apps, games and installed utilities on android is concerned, there are other useful apps that can help you share apps and do other advanced stuff.
Two among such apps is –
Lucky Patcher APK – Helps you stop in-app ads and can also backup games & apps into raw apk files that can be sent to the other party via Bluetooth (Setup guide for Lucky Patcher APK is referenced here)
AirDroid – Does some awesome thing between your phone and the computer – detailed features and download can be done via Google play store