Is the Original Flash Share App Missing from your Device? Download the Latest version's Raw APK here to let you share files, apps & games on Android, iPhone, BB10, Windows mobile & etc.
We created this guide for those whose Flash Share (Xender) File Transfer App has been Deleted from their devices and for those interested in downloading the correct APK file for their phones.
You can always refer to this page to download the original version's Raw APK file to let you share files, apps, games and all kinds of media to smartphones and tablet devices.
Flash Share comes pre-installed with most MTK devices such as tecno, infinix, innjoo, gionee, Xiaomi and itel. It helps one share games and apps directly from one android devices to the other via wi-fi.
It works same way as Apple's airdrop application and needs neither Bluetooth support nor internet data to work. Even if the flash share app doesn't come preloaded on your phone, you can still download flashare apk from here.
It works on all android smart phone and can really save you a great deal of time when copying games, large apk, files and/or apps.
Download Default Flash Share for Tecno, Gionee Xender & other MTK devices
As stated above, the "flash share" app comes preloaded on Android Tecno, Itel and Gionee Smart phones and /or devices.
But if yours is corrupted, crashed, lost or deleted after flashing your phone, messing around the app or after formatting your device to factory default.
You can download the exact version (the flashshare apk) that came with your Tecno Android phone from here.
Or download the original flash share versions that came with itel and other MTK devices from either here. You can even go get the latest Xender app for Android on Google play store (as explained below), as they will normally work with all flash share versions.
Download Flash Share for Nokia Android [Xender Apk]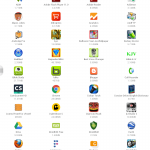 As vividly explained on our Nokia Android hands-on review post, Nokia Android smart phones do not come with the Google play store app preloaded on them and so needs either rooting or the APK files to load apps on them.
The "Flashshare" utility app is the same thing as the "Xender" app.  So, I have uploaded the latest copy of Xender app (raw apk file) for Nokia Android users. You can download the Xender apk from here. (note that flash share is actually a Xender clone).
Download Flash Share for BlackBerry 10 Devices
BlackBerry 10 devices introduced the ability to install android apps and games directly on Blackberry 10 smart phones and devices using the raw apk file.
We had a problem using the latest version of Xender flash transfer app on our Blackberry Q10 smartphone and so, decided to try one of the older versions of flash share apk that worked great for our device model.
So, if you are yet to move on-to one of the Blackberry devices that runs fully on Android operating system (OS), you can download the flash share raw apk file (linked below) to your Blackberry 10 device and use our how-to tutorial section below to configure it for easy file transfer using the flashshare app.
The link to download flash share to your Blackberry 10 devices is here.
Download Flash Share (Xender) App for Android Devices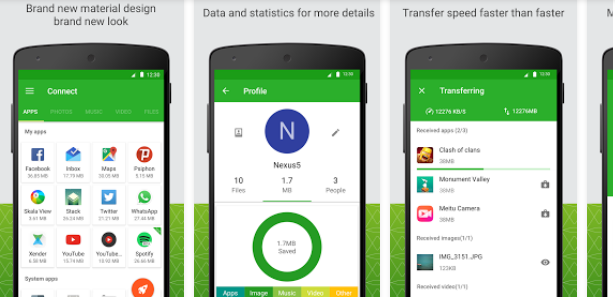 If you are using one of the latest Android phone and devices such as Google Nexus, Samsung galaxy, LG, HTC, Xiaomi, Gionee and other popular OEM brands that runs on later versions of Android operating system (OS), you need not border about the hacks and links above as you can simply download the Xender flash transfer app free from Google play store.
With this: you should be able to download flash share for Samsung and other high-end devices. The official Xender app works the same way as your OEM branded versions such as Gionee xender, flash transfer and flash share applications. In fact, the official one gets update faster than the others.
So to install the xender (flash share) app on your android device and transfer files to multiple devices in a few minutes with neither Bluetooth nor internet data, you will need download the latest version of Xender utility app from the Google play store link.
Download Flash Share for iPhone & iOS devices
To use Xender flash transfer app, you are expected to have the app installed on all the participating devices. This is necessary for the app to do its magic using the Wi-fi direct transfer technology.
If you are using an iOS device such as iPhone, iPad, iWatch, iPod or any other Apple iOS device and needs transfer files and music to them from your android device, you will need to install the flash share app from their app's store.
You can use this link to download Xender for iPhone and other iOS devices.
Download Flash Share for Windows Phone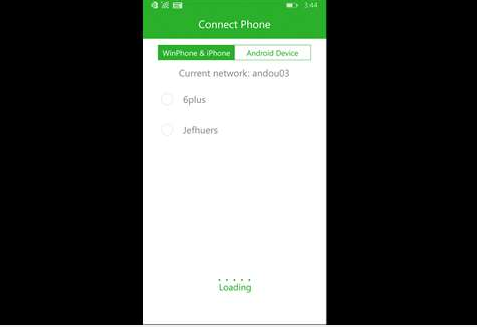 If you are one of the users of Nokia Lumia, HTC and other Microsoft Windows Mobile powered devices, you can download a working version of flash transfer app for it.
The Xender flash transfer application for Windows is updated often and comes with all the features of iOS and/or Android counterparts.
To download flash share (Xender) for Windows phone devices, just point your browser to the Windows app store link to download the latest version of the program.
How to Use Flash Share (Xender Flash Transfer) App
You can use the flash app app to transfer files between Android and iOS devices, Android and Computer, Android and Blackberry 10 devices, Android and windows phone devices and etc.
So the process for sharing files and documents with the flash share app is similar and fairly easy on all devices. Once the device supports app and wi-fi transfer route, it can use the Flash share (Xender) app.
Here's the guide section to help you learn how to use flash share (Xender) on different devices and/or mobile operating systems.
Flash Share for PC
To use flash share (Xender) on PC , you will need to walk through the following steps carefully:-
Download and install flash share (Xender) for your device by following the flash share download tips above.
Launch the App and select the connect to PC option.
Point your browser to web.xender.com
Scan and start using. You can also use Bluestacks or any other Android emulating program to enjoy the Xender app on PC.
For Blackberry 10 Devices
Here's the guide for using Flash share (Xender flash transfer) application on Blackberry 10 devices.
Download the flash share app from the link above or send a copy of it from your Android device.
Open the flash share app on the android device with which you want to receive apps from and Click on Connect with friends.
Select the create a connection option.
After creating the connection on the Android device, keep it by the corner and pick up your Blackberry 10 device.
On your BB10 phone, navigate to settings and find the Network and connections option.
Click on it and turn on the Wi-Fi, and then search for available networks
From the returned results, look for the network with a combination of Capital letters and numerals. Something like; ADY8X6666
Connect to it and continue to the last few steps.
After connecting to the WI-fi network described in step8 above, minimize the settings screen and launch the flash share application that's already downloaded in step1 above.
Click on connect with friends and select the device you want to receive the files from. (You can differentiate between multiple devices by the name and picture).
Connect to it and start enjoying the flash transfer speed and features that comes with the Xender app.
For iPhone and iOS devices
Transferring files and application from Android to iOS is fairly easy, all you need do is follow these steps carefully.
After downloading and installing the Xender app to your Android and iOS device, Launch the one on Android first and use the connect Phone option.
Tap the + button and select the Create Group option.
Drop the Android device by the corner (after creating the group) and pick up your iOS device.
Now on the iOS device, navigate to settings and select Wi-Fi.
Turn the Wi-Fi on and connect to the network that starts with something like ADY*******.
Launch the Xender app on the iOS device and select the Connect Phone option.
Start enjoying the faster file transfer feature that comes with the Xender app.
Note: After a successful file transfer to the iOS device,  pictures transferred to the iOS device will normally show in the photo app but music and media files transferred to the iOS device might not appear in the iOS music app. You will need use the Xender file manager, under the record list to get access to these files.
For Android to Android Devices
This is important for receiving games, apps, files, video, music and documents from friends and colleagues using Android phones or tablet devices.
Just follow the steps below carefully to share files and document with friends using the flash share (Xender) application.
Download the Flash Share app using the

flash share download tips

above.
Open the flash share application containing the data you want to share with your friend; create a username for yourself and add a picture to your account.
Click on connect with friends, and then  pick an option from the displayed dialog box. To wit; create a connection and scan to join.
Open the Flash Share application on the device you want to send it to, and then click on connect with friends.
Proceed to scan to join and establish a WiFi connection between the devices.
Select the applications, games or files you want to share with the other device and shake your phone to send those applications you must have highlighted.
For the receiving device, go to history on your Flash Share app, use the file manager to find files, install raw apk and do anything else with the files received from friends and colleagues.
Why Xender (Flash share) App?
Here are some of the features of flash share (Xender) files transfer app that makes it unique and different from similar apps and competing programs.
Supports cross-platform transfer
Faster Wireless file transfer even for huge files (100% faster than Bluetooth and Infrared technology).
Flash transfer of Phone apps and files (such as .apk, .cab and etc.).
Supports file sharing without boundaries/ limitations.
Comes with a feature-filled file manager
Flash share is indeed a useful tool for mobile phones, PC and tablets. With a copy of the app on a compatible device, you can do the following:-
Between Phones and Mobile Devices
No USB, Bluetooth, internet connection and/or data usage.
Has Support for multiple file types. To wit; Apps, contacts, games, pictures, videos, files and documents.
Amazingly fast transfer. Transfers large amount of files in a few seconds.
Has Support for group sharing and collaboration for up to four devices.
Supports cross-platform transfer and sharing of files between Android,  iOS and other devices.
Phone Replicate feature makes it easy  to switch contacts and contents when you change your phone.
Between Phone, Mac and Windows PC
Connects your phone to Mac or Windows PC with ease.
Has Support for multiple file types. to wit; pictures, videos, files and documents.
No need to install any software on Mac or Windows machine: It connect via WI-fi and IP address only.
Why a Longer Post?
As you can see very clearly, this post was updated recently, to answer all questions from users of our Facebook pages on: Flash transfer app, flash transfer app for android free download, free xender transfer app download and/or where to download original flash share apk file questions.
If you still have other challenges relating to flash share, xender and/or other questions relating to android file transfer apps in general, feel free to communicate them to us using the comment section below.
Do not forget to share this page with your friends that are on the look out for the original flash share apk file download.