USB internet modems is the easiest method to connect to the internet even in rural locations. A high-speed data access in now a possibility with USB modems.
Most mobile telecommunication network providers usually lock their modems to a particular network making the flexibility that comes with USB internet modems impossible.
In this tutorial, I'll teach you how to unlock Huawei modems and zte modems for free. You'll learn how to Unlock Huawei e303 and best method to unlock Zte mf631 modem for free.
How to Unlock Huawei Modems
This tutorial is targeted at unlocking Huawei e303 modem and Zte mf631 modem using the best methods.
If you are looking for free utilities to unlock just any Huawei or ZTE modem do visit the links below or read on for tips for unlocking Huawei e303 and Zte mf631 modems.
http://www.modemunlock.com/huawei.php – Unlocks all old Algo Huawei Modems
Huawei Modem Unlocker app 1 – Unlock various Huawei USB modems
Huawei modem unlocking app 2 – calculates Huawei Unlock codes for free
Universal Master Code – For older Huawei and ZTE modems
How to Unlock all ZTE Modems
Many have considered the Etislat easyblaze zte modem mf631, zte mf180 ,zte mf190 and some other stubborn mtn, glo and airtel Nigeria zte mf series model a difficult to crack modem.
Hence the need for creating this tutorial on how to decode or crack the so-called unlock-able brands of modem. Now I will guide you on how to unlock these ZTE USB Modems free.
This tweak has been so known for long and so should be the easiest thing to do, with this software trick you can unlock your ZTE modem in less than 10 minutes by completing really easy steps.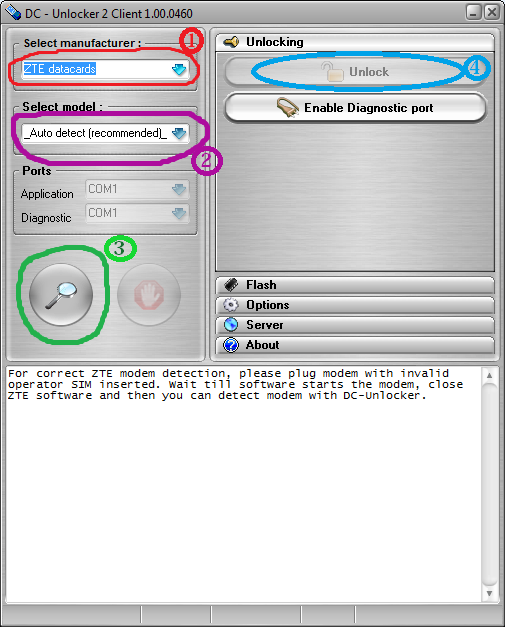 Download the special DCcrap for this free ZTE modem unlocking

from this link
Connect your modem with an unsupported network SIM inside
Extract the content of the winrar to a folder on your pc
Lunch the modem support application make sure that the SIM in your modem is the one that your modem service provider does not support
Your modem support application will prompt you to put in the unlock code, just ignore this warning and close the software window
Then lunch the suit/software , choose zte datacards in the drop down menu and leave the second option at auto-detect
Click the search icon to search for your device, forget the name not found (or name not listed), at least the IMEI will be listed for you telling you that the device is currently locked
On the top right menu locate unlocking , click on unblock, unblock successful is next message you will see
Hurray! Your zte modem is now unlocked
Launch the modem support application again to configure APN and use your device.
Must read : A web review of tecno n7 , Gionee Infinity & Infinix X450 Android Phones
How to Unlock Huawei E303 & Airtel Huawei E173 USB Modems
a) Download the latest version of Dc-unlocker software from the here
b) Purchase Dc-unlocker username and password from this link
c) Insert and install your modem software on your computer allowing all the necessary drivers to install fully
d) Insert another Network provider SIM on the modem, when it popup request for unlock code click "Cancel" and close the modem interface.
e) Launch the Dc-unlocker software you've already downloaded in step a above and click on "Automatic detect" button, wait for some seconds it will show your device details.
After that click on server -> insert the username and password with credit you bought from Dc-unlocker website or dealers
F) Click on Check Login to know the amount of credit on the account and to know if the username and password is valid.
g) Now click on Unlocking -> Do the job.
It will connect online and unlock your modem within few seconds.
4 credits will be deducted for huawei e303 modem while 7 credits will be deducted for Airtel Huawei e173 modem or any order modem with a customized firmware
Now you can configure your zte modem's APN to work with other networks following the dashboard option as seen below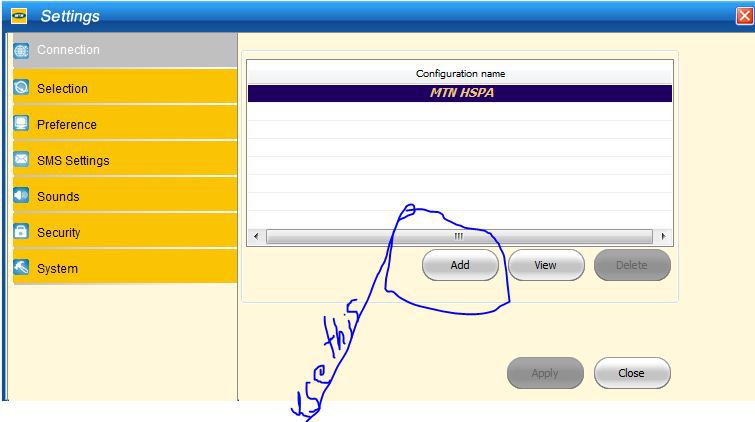 Think you need more explanation or questions?
Use the feedback box below.