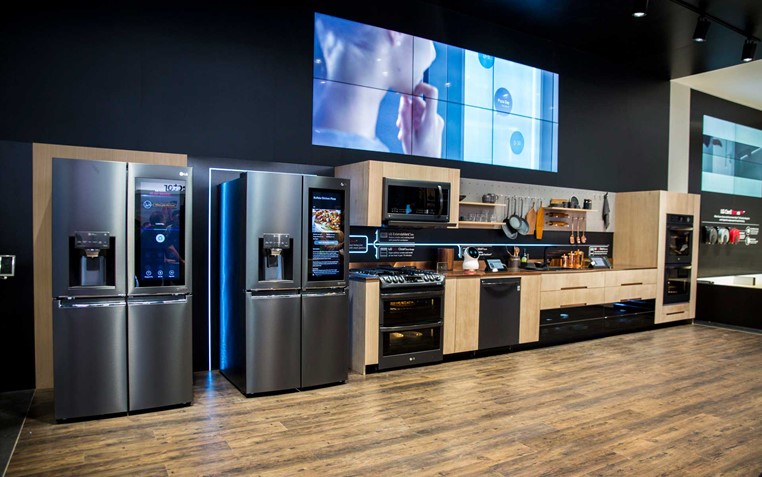 We use electrical appliances in our daily routines either for entertainment or for household tasks. These tasks can include baking, cooking, cleaning, washing, etc.
People commonly buy electrical appliances, making it profitable to sell electrical appliances.
To build trust with your customers, buy good electrical appliances of reliable brands. And only good wholesale suppliers can provide these.
We'll give you tips on finding good wholesale suppliers. And we'll tell you about seven of the best wholesale electrical appliance suppliers in the country.
Examples of Electrical Appliances

Electrical appliances is a broader term used to describe so many types of appliances.
Some of these are small appliances that we can carry and use anywhere easily such as:
Blenders
Coffeemakers
Juicers
Kettles
Sandwich Makers
Toasters
Some are large in size and we can't carry these away. These large appliances include:
Air Conditioners
Cooking Ranges
Fridges and Refrigerators
Microwave Ovens
Washing Machines
Water Heaters and Geysers
Some electrical appliances are useful for communication and recreation including:
Audio Players
Camcorders
Digital Cameras
Handsets
Laptops
Personal Computers
Televisions
Video Game Consoles
Who Are Good Suppliers?

There are a lot of wholesale electrical appliance suppliers in the market. However, finding authentic suppliers among them is tough.
However, dealing with an authentic supplier is necessary if you want your business to run smoothly. There are certain qualities that an electrical appliances wholesale supplier should possess. Some of them are:
Connections with Brands
Customer Service
Order Fulfillment
Products
Refund Policy
Brands

Good suppliers have built up a good reputation for themselves in the industry. Due to this reliability, they're able to form business partnerships with good brands.
They offer electrical appliances manufactured by notable brands such as Bosch, General Electric, Philips, and Whirlpool.
So, if you're working with a good wholesale electrical appliances supplier, look out for brands that they offer.
Customer Service

Customer satisfaction is the key to long-term business success. Good suppliers ensure that they provide excellent services to the customers.
Good suppliers behave politely with their customers. They respond quickly and have complete information about business and products. They entertain customer queries with proper replies.
Order Fulfillment

Good suppliers fulfill customer orders quickly and securely. They ensure that they safely pack the appliances before shipping.
They also work with good fulfillment services to ensure that customers receive their orders on time. Quick order fulfillment is a great way to ship orders quickly.
Products

Good suppliers offer good electrical appliances to their customers. They sell appliances from good brands with excellent product quality.
Reputed companies provide warranty for the appliances. They facilitate customers with the option to replace an appliance in case of damage within the warranty period.
Refund Policy

Good suppliers have refund policies to reimburse the amount or replace products for customers in case of damage.
Responsible suppliers facilitate their customers in case of refund. For example, you've bought LED bulbs from a supplier in bulk.
The supplier can provide you the option to claim a full refund within 30 days. Or deduct some amount and refund the remaining amount within 60 days.
Where To Find Good Suppliers?

You can always find wholesale suppliers for electrical appliances at reliable sources.
The traditional way to find them out is by reading directories or visiting trade shows. Suppliers exhibit their businesses and appliances at these trade shows.
Or the more convenient way to easily access a large number of suppliers is to search the Internet.
Online sources provide a lot of valuable information regarding wholesale electrical appliance suppliers.
You can search through Google. Or you can visit any online wholesale directory such as ThomasNet and Worldwide Brands. These directories feature a list of verified and authentic wholesale electrical appliance suppliers.
Another way is to visit the websites of online B2B marketplaces like Amazon Business, SeeBiz, and Alibaba. These marketplaces are a good way to connect sellers and buyers with each other.
The Top Electrical Appliances Suppliers in the USA

After conducting lengthy research, we've found the top seven wholesale electrical appliance suppliers in the USA.
Ambar Distributors
Ambar Distributors is a wholesale distributor operating out of Miami, Florida. It includes a wide range of electrical appliances from notable electronics manufacturers in the US.
The manufacturers include Samsung, Electrolux, TCL, and Hewlett-Packard among others. Ambar Distributors has high quality trustable electrical appliances such as:
Electric Grills
Food Processors
Laptops
LED Televisions
Security Cameras
Stoves
Tablets
Trash Compactors
Masters Wholesale

Masters Wholesale is a wholesale distributor of appliances. With over four decades of experience, it's among the largest suppliers of its niche in North California.
Masters Wholesale provides wholesale appliances for different tasks such as cooking, laundry, refrigeration, flooring, and plumbing. It offers appliances from brands such as JennAir, SubZero, Viking, and Wolf.
Mega Goods

Mega Good is a supplier of consumer electronics that has stocked appliances of notable consumer electronics brands.
Mega Goods operates out of its warehouse in Santa Clara, California. Mega Goods proudly sells products from brands such as Jensen, Naxa, and Nintendo.
Palletfly

Palletfly is a wholesale supplier featuring so many categories of products along with electrical appliances.
Run by wholesaling veteran Jack Sasson, Palletfly provides a seamless experience to buyers and sellers. Palletfly aims to make product sourcing simpler for its customers.
Potter Distributing

Potter Distributing is a wholesale supplier of electrical and kitchen appliances.
Potter Distributing operates out of Grand Rapids, Michigan, and has been supplying appliances in Michigan since 1960.
Potter is a distributor of appliances from brands such as Fivestar, Hotpoint, and Verona. It is the registered distributor of Crosley appliances in Michigan.
Smarteck Distribution

Smarteck Distribution is a wholesale and closeout supplier of electronic appliances operating out of Sanford, Florida. It initially started as a retail distributor of electrical appliances in 1999.
Smarteck soon began distributing wholesale electrical appliances in 2005. It distributes accessories such as toys, gaming consoles, kitchen appliances, and cell phones among others.
Smarteck distributes products from major brands such as Asus, Fujifilm, JBL, Lenovo, Logitech, and Sony.
Wholesale Appliance Center

Wholesale Appliance Center is a South Carolina-based noted wholesale distributor of electrical appliances. Running this business for over thirty years, Tim Corbett has set up three branches in different cities.
It provides equipment for multinational brands such as General Electric, LG, and Samsung. It has appliances to complete various tasks such as air cooling, heating, laundry, and refrigeration.
Conclusion

We've recommended the top seven suppliers of wholesale electrical appliances in the country. Each and every supplier is reputed and has combined industry experience of 100+ years.
These suppliers have high-quality appliances from brands with nationwide and international fame.
So, what're you waiting for? Just contact these suppliers and buy the best electrical appliances for your business now.