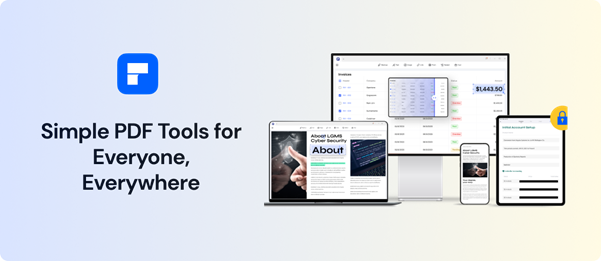 Pdf is one of the most prominent formats used by working professionals throughout the world. One reason that has contributed to its popularity is that it's the most handier and easier to send across various platforms. However, the need to print multiple PDFs at once would require you a good online tool.
Choosing an appropriate tool that can help you print multiple pdfs at once is a tricky task for one reason, you need to check its compatibility with your device. Looking out for an affordable and easiest solution? No worries, as we're here with an excellent tool that will assist you in every way possible.
Introducing Wondershare PDFelement
PDFelement is a wonderful tool that helps you to print multiple PDFs at once quickly and handily. This free pdf editor can be used simultaneously on Windows, Mac, iOS, and Android devices. Being the most frequently used format in work and study, opening every single pdf before printing it would have been a boring and exhausting task.
You must have wondered about printing multiple pdfs at one go. This article will introduce how to use Wondershare PDFelement to print multiple PDF files at once.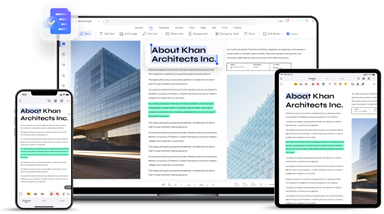 How To Print Multiple PDFs With PDFelement
One doesn't realize the importance of a good editing tool unless they have to go through every single document before printing it. Tiring, right? The Pdf editor app is here for your rescue.
It not only helps you save time but also makes you manage your files better. Additionally, it has an easy-to-use user-friendly interface to make the process easier for beginners.
To print multiple PDFs at once with PDFelement, follow the steps given below:
Step 1: Access The Batch Tool
To get started, log on to the PDFelement website. As the page gets loaded, look for the 'Common Tools' icon and click on it. A dialogue box pops up. Choose the 'Batch Process' option from it.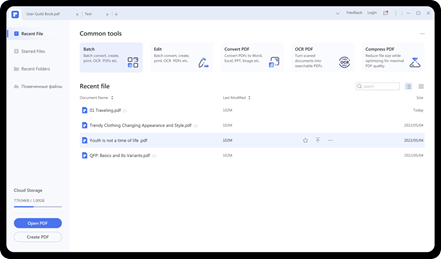 Step 2: Print PDF In Batch
As you press the option, a new page appears displaying 11 incredible editing options. It has various options like OCR, Convert, Edit, Compress, Create, Print and others. Select the 'Print' option. It will assist you in batch printing PDFs.
Step 3: Set The Print Setting
Now, comes the final step. Add all those pdf files that you desire to print in batch. Once all the file gets added, click on Apply button. This will print your desired pdf files at once.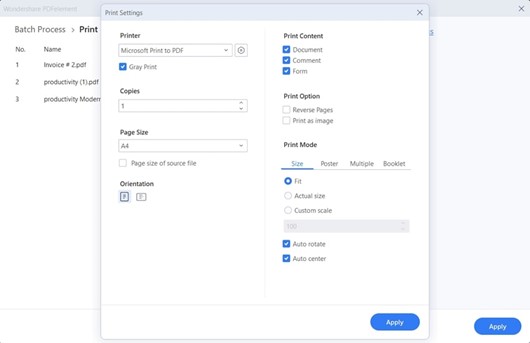 Combine Multiple PDFs And Print With PDFelement
Combining multiple and printing pdf at once is a tricky task until you switch to PDFelement. Being the most efficient and affordable editing tool, you can use it to combine and print multiple pdfs with just a few clicks. Financial, publishing, legal, IT, and educational professionals sectors have relied upon it for quality, quick and easy solutions.
To combine and print pdf with PDFelement, follow these steps:
Step 1: Combine Multiple PDFs
Combining multiple pdfs is another best way of accessing batch pdf. Firstly, switch to the PDFelement app. As the home page gets loaded, look for the 'Combine PDF' button and tap on it.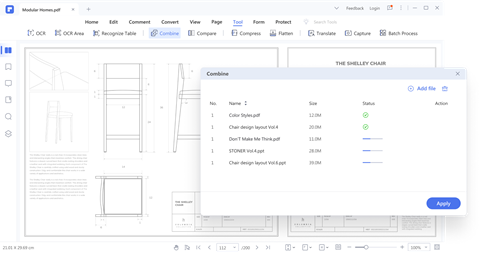 Step 2: Upload The Pdf Files
Next comes the choosing process. As you click on the combine pdf option, you get redirected to a new page wherein you have to choose the files/folders which you desire to combine. You can do it in either of the two ways, one by dragging and dropping the files, two by uploading the file. Tap on the 'Add File' option. After adding all the files click on Apply button. It will take a few minutes to merge the selected files.
Step 3: Print Multiple PDF Files
Once your pdf files get combined, you are ready to print them. Click on the print option. If you have any specific print requirements, click on the '<>' icon to display more settings. Then, click on the 'Print' button.
Other Features of Wondershare Pdfelement
If you think this is it, be ready for a surprise as Wondershare Pdfelement has a lot of features to offer. Here are several other features that make it the most popular /appropriate pdf printer on the internet.
Read And Annotate PDF Files
Pdfelement has made reading pdf files easier with resizing pages and turn page options. It also has an eye protection mode wherein you can choose between light and dark modes. Moreover, you can also set the page layout as you please. Annotation has been made easier with tools like stamps, shape and eraser, text markup, and commenting styles.
Redact PDF
Redacting a document comes with lots of worries but not in the case of Pdfelement. It has a private password setting that can help you ensure your sensitive information is secure and protected from viewing, printing, copying, or editing. Its search and redact option has made the redacting option easier with a few simple steps. Additionally, one can also create pdfs through it. It has made compressing pdf effortless with high-quality outputs.
Edit Pdf Forms
With PDFelement editing pdf forms gets easier and quicker. You can sign, scan, and extract pdf filler OCR forms with simple steps. Whether it's editing texts, adding images, watermarks, hyperlinks, numbering the pages, or changing backgrounds, everything can be done within a few minutes. It also has various pdf form templates to give you a more customized approach.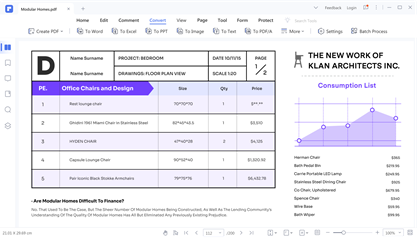 Verdict
PDFelement is an effortless and affordable editing and printing tool that can be accessed through various devices such as Windows, Mac, iOS, and Android. It can be used to print multiple PDFs at once. Moreover, it offers various other features like reading, annotating, filling forms, pdf OCR, redacting, and others.
This tool also allows you to combine multiple pdfs and print them. It has varied template formats to give your document a tailored approach. Additionally, you can make final touches like adding comments or images, highlighting, and others. It's a great organizing tool that helps you organize different pages with minimal effort. Now that you are provided with specialties and outstanding features, using it would be worth the time.