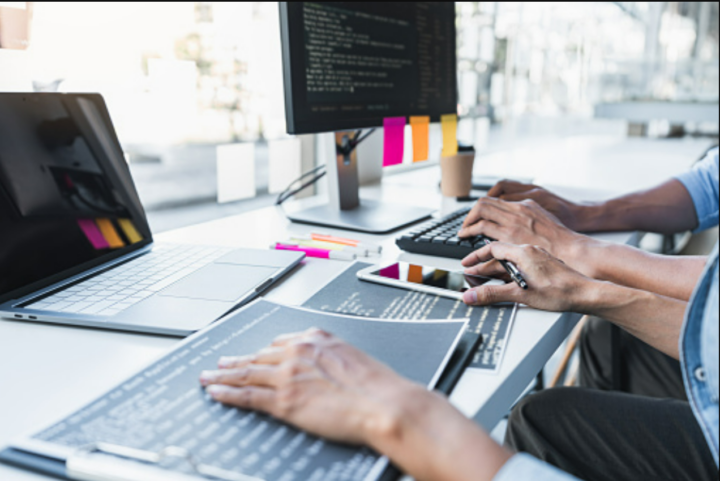 The dedicated development team model is no unicorn, but it has some myths surrounding it. Let's take a closer look at this model in detail to see who should use it effectively, in what industries, and what are the main advantages of DDT.
Intelvision helps customers build productive nearshore teams all around the world. Flow into world-class tech expertise, calibrate your technical capacity, and receive support with team care and retention with a purpose-driven software development partner you can trust.
What Is A Dedicated Development Team Model In Software Engineering?

‍A dedicated development team (DDT) refers to the long-term collaboration between a client and a service provider. All dedicated team specialists are working exclusively for you, the same as your in-house teams.
The dedicated development team usually works remotely, full-time, reporting directly to the client. ‍Whether you need software engineers, UI/UX designers, product designers, project managers, QA specialists, or business analysts, you can hire experts using this business model.
Who Can Benefit from the Dedicated Development Team Model?

The dedicated development team model works well for both startups and established businesses. This collaboration model is especially effective if you:
A startup wanting to quickly build a development team from scratch. When hiring the DDT, you won't need to rent a workspace, which helps you save financially. You will also save time by not having to look for local talent.
A company struggling to find the right specialists. In this case, hiring a dedicated team can be the solution.
A tech company working on a big project with a need to extend the engineering team.

A firm that wants to broaden the field you work in by tapping into new technology expertise. With a DDT model, you can hire a team of experts that have relevant knowledge in a particular field.
Key Industries for Using Dedicated Software Development Team Model

Dedicated IT teams are hired to complete projects in any field, but especially in transportation, IT & telecommunications, robotics, medicine, banking and finance, cryptocurrency, etc.
Technological giants such as Apple, IBM, American Express, Oracle, and Amazon are known to have worked with dedicated development teams.
The Benefits of Working With a DDT

We've already shared the info on who can best benefit from the dedicated development team model. Let's discuss what advantages it can bring to your firm and why it is worth working with the DDT.
DDT model saves you time and money

Hiring a dedicated team is usually cheaper than hiring local experts. For example, if a client from the US hires a dedicated team from Eastern Europe, it will cost him less money for the same top-quality talent and expertise.
DDT model offers a global talent pool

If you struggle to find a local development team with the required skill sets you need, the DDT model is your solution. You'll have access to a global talent pool, allowing you to choose the perfect team to meet your business needs.
Dedicated specialists are flexible

One of the most impressive benefits of the DDT model is its flexibility when adapting to changes in the project's scope or duration.
How To Hire A Dedicated Development Team in 2022: Starting with Defining the Tech Requirements
Start with considering:
How many and what experts does the company need?
What skills do IT specialists need to have?
What's your budget?
The answers will make it easier to choose the right software service provider and significantly narrow down the list of business suppliers.
Learning What Your Experts Can Do

Software service providers usually help their clients to assemble the best team of IT specialists. However, business owners need to understand the scope of responsibility of each talent, and level of work. It is also not worth hiring two employees if one is enough for the project.
The Amazon founder believes that no matter the size of your company, the developers' team needs to contain not more people than can be fed by two pizzas. The idea of the "two pizzas" model, invented by Jeff Bezos, has proven its effectiveness in IT. Dedicated teams of up to 10–12 people turned out to be much more efficient than large ones. Larger teams often experienced a deterioration in the communication process and an overall decrease in efficiency.
The Best Countries for Hiring a Dedicated Development Team

You can find a suitable dedicated development team in the most remote locality on the planet. The balance between competencies and cost is important. The most profitable in this regard are specialists from Eastern Europe, primarily from Ukraine, as well as Mexico, Peru, and Argentina.
By the way, the Ukrainian IT market, with more than 200 thousand specialists available at the moment, is one of the largest in the world. For example, it has the largest number of C++ developers in the entire Europe. About 70% of IT specialists from Ukraine are at least at B1–B2 English level. This enables easy integration with international US, Canadian, and Australian teams.
In addition, hourly rates are lower than in the US and Western Europe. For example, the average IT salary increases by $71.342 in the US. In Ukraine, it is $30.000 per year. That means the perfect match of price and quality. Over 100 Fortune 500 companies, including Google and HP, outsource IT services to Ukrainian firms. It is also home to R&D centers for Samsung, Oracle, Google, Siemens, and Huawei.
Source: Softermii
You can always hire a dedicated team, and benefit quickly! Whether you want to hire a Full-stack Software Developer or an Agile IT team that scales quickly, Intelvision has the breadth and versatility to meet nearly any competence requirements. The company offers flexible units to deliver high-quality solutions—from turnkey software projects to design and support for selected operations.