I recently got myself a pair of high-definition (HD), polarized anti-glare night-vision driving glasses from Aliexpress, and was really impressed with the performance.  In fact, it is hands-down the best night driving glasses considering the amount it's sold. With it, I was able to stretch my speed comfortably in a heavy, stormy downpour which I never tried before.
This is a kinda testament to prove that not all cheap accessories are actually useless. I'd have opted for a sole review for this product, but sees no need as it's neither striking nor looks different from what's obtainable in popular tech stores out there.
This copy motivated me to look around the other popular e-Shopping malls to see what user's review for night-vision professional driving sunglasses is like. So far, their experiences are just as good as mine! Positive! Hence, I'll be listing about 5 good Night-vision anti-glare sunglasses for everyday use.
For reference purposes; the brand I got is DELEGINA, which was sold for $8.88 plus $3.15 Aliexpress standard shipping fee (≅ $12).
The 5 Best Night Vision Glasses for Driving
This list, unlike our usual reviews, is sourced from user's ratings, brand popularity, and personal research. Only one of these glasses was bought by me, and the experiences so far is a perfect fit for the amount it is been sold.
Delegina HD, Polarized Night Vision Sun Glass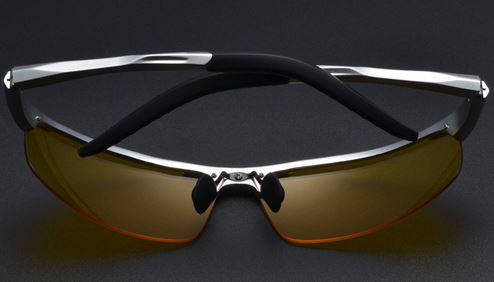 I was really impressed with the copy of Delegina HD, professional driving glass I got for myself. This is because I wasn't really expecting much from it, considering the meager amount it is sold for.
I bought the 2016 model as I wasn't aware of their improved version tagged "2017 edition".  The product is superb as it prevents glare and lets one drive confidently in poor whether.
Delegina polarized night-driving goggle promises to eliminate the issue of poor visibility during poor weather and does that very efficiently.  Even though I am yet to stretch my speed at night as I'm no big fan of night-time driving, I'd like to rate their product as "a good enough anti-glare" sun-glasses for everyday use.
Features
Semi-Rimless design with polarized lenses and aluminum frame materials.
Improves brightness and clarity in cloudy weather.
Removes glare and improves clarity during night-time driving.
Improves visibility by reducing the blur of rain and frog significantly.
You can buy the improved 2017 edition of  Delegina night-vision anti-glare sunglasses here or opt for their 2016 model (that goes for less) from the same store.
Joopin Polarized, Retro Brand Sunglasses for Men and Women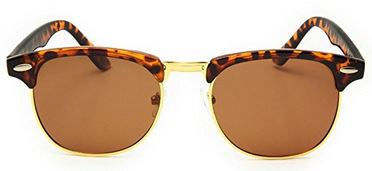 Joopin Semi Rimless, Polarized Sunglasses for Women and Men is built to protect against harmful UVB/UVA rays. It features; reinforced metal hinges, resin frame,  classic shape and vintage-inspired frame design.
With well over a thousand sales on Amazon, Joopin anti-glare sun-glasses is great for driving night-time, during poor weather, or for poor visibility driving.
It is sold for $11.99 (on Amazon) and ships worldwide to any address you chose at the order check-out page.
BAVIRON Semi-Rimless, Night-Time Driving Sunglasses For Men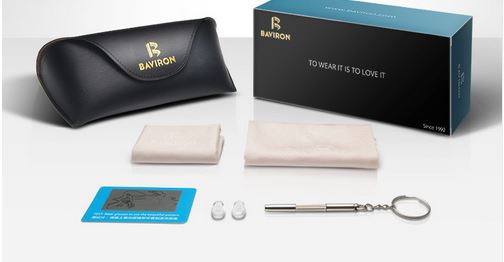 Baviron is no mean name in this category as they have been in business for more than a decade already. They are  one of the most reputable Chinese brands that deals on fashionable eyewears.
Baviron classic night driving Sunglasses are polarized, built to last, and are solidified with alloy frame materials. With over 4.8 stars rating spread across the popular eShopping malls; Baviron anti-glare sunglasses  is definitely worth its salt.
The link to buy original Baviron high-definition night vision sun glass is from their official store link at AE.
ATTCL Ultra Light, Polarized Night Driving Fashion Glasses for Men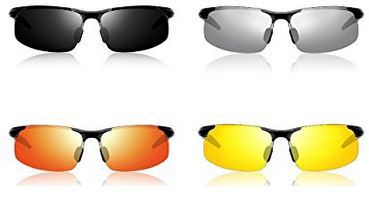 ATTCL Ultra Light, Polarized, HOT fashion Driving Sunglasses for Men is built with metal frames. Just like the Joopin glasses listed above; it features a 100% UV400 protection coating that blocks harmful UVB and UVA rays.
Some of its striking functions is the ability to perfectly protect the eyes, restore true color, eliminate reflected light, drastically reduce reflected glares from water bodies, snow and other horizontal surfaces.
ATTCL HD anti-glare polarized sun glasses is sold for $22 (Promo price) and has support for world-wide shipping.
Soxick HD, Polarized Rain Day Vision Driving Sunglasses
Soxick HD Polarized Night Driving Anti-glare Glasses are perfect for rain-day driving. They are built with shatter-proof lens and high quality resin from Germany.
The lenses are well-polarized and at such can significantly reduce glares from the headlights of other cars, pavement, water drops, and other reflective surfaces by filtering all lights coming from different angles.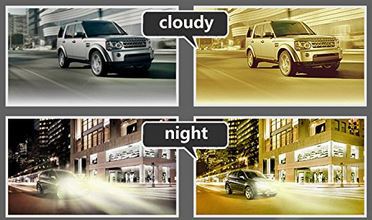 Soxick HD anti-glare sun glass is versatile and can be used for every other outdoor sporting activities such as; trekking, running, cycling, motorcycling, hiking, skiing, fishing, and climbing.
It is sold for $29.99 (Promo price), and ships free to United kingdom, United states and Canada.
Wrap Up
Wet season (and night-time) driving is usually laced with high car maintenance demand and poor visibility challenges. This is our reason for introducing these top 5 night-time driving polarized anti-glare sun glasses for everyday use.
Do you think we missed a detail with this or would like to share some other cool car accessories for night-time driving?
Please do let us know in the comments below. Remember to share this page with your friends, fans and/or colleagues on social media sites by using the comments section below.
Warning: Doing 120km/hr night-time driving is not recommended, it can be hazardous in simple terms. This is because of poor visibility issues. Other road-users might not be equipped with visual aide glasses of any form. Drive safely at night, raining day and/or during poor weathers.