How about using your Android smartphone to project movies, videos, or documents to bigger screens? Yes, that's possible, the new Movi Phone is built with Laser HD 720p pico projector, which allows you to project the smartphone's screen to any flat surface in clear HD 720p quality. This short Movi Phone Review post is going to show you all you need to know about this revolutionary gadget.
It is a mobile projector in the form of a smartphone that is gaining rapid attention due to its overall build, sleekness, and compact design. It is an Android smartphone with a 50-lumens projector built-in. In this review, we'd analyze the features, specs, and functionality of the all-new Movi Phone (a.k.a. the Android Movi mobile projector).
Movi Phone: The Android Mobile Projector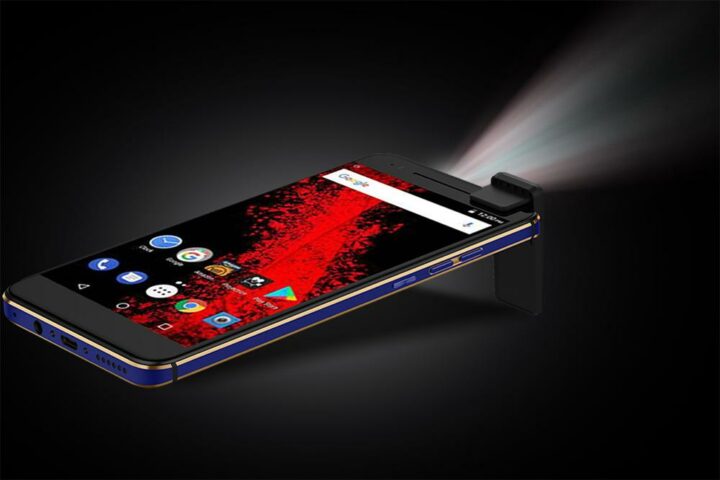 Actually, this is built like a standard Android smartphone device, while the "projector" function gets integrated into the phone's panel. Movi Phone debuted at the 2018 CES and launched with what you'd call "standard" Android smartphone features.
The highlight of the device is the built-in pico projector that projects 720p to the wideness of up to 200 inches diagonal. There is actually no other "catchy" feature of the smartphone, but then, it's worth expanding on its features and specs.
For a mid-range Android smartphone, the Movi Phone is unlocked, has a 5.5-inch FHD display, flaunts a 13mp rear camera shutter and an 8mp front shutter, and has a visible fingerprint sensor on the rear side. A 4000-mah battery powers this mobile projector.
Design and Features
The Movi Phone was built in an era when bezels were still a thing; it didn't come with bezeless display and the screen size totals 5.5 inches (10-Point GFF touch panel display). On the rear side, you can clearly see the fingerprint sensor, which sits below the 13mp camera shutter. A clearly visible "Movi" branding is printed just about the camera sensor.
Chipset
Stacked under the hood of this device is a 32-bit MediaTek processor, 4x cortex A53, with a processing speed of up to 1.5GHz. The processor model is MT6750 paired with a Mali-T860 MP2 650MHz GPU. This powers the Movi Phone device to deliver acceptable graphics processing speed for seemingly high-performance mobile computing.
Power and Charging
Powering this mobile projector is a 4000mah battery, which is the brand's maximum capacity battery. 4000mah is quite huge and will definitely serve for a whole day, irrespective of how the phone was used. There is no fast charging technology built into this device, so it will take quite a long time to get the battery to 100 percent.
720P Mobile Projector
The highlight feature of the Movi Phone is its ability to project 720p images to virtually any flat surface. The 50-lumen, 720p laser projector can throw your images up to about two feet wide and still mainly clear visuals. You need to enable the "projector" mode to use this feature of Movi Phone; this mode simply projects whatever is on the device's screen.
Connectivity
As expected, the Movi Smartphone comes with 4G LTE support and Bluetooth 4.2. The WiFi is 802.11 a/b/g/n 2.4GHz & 5.0GHz bands for fast and versatile connectivity. The smartphone goes on to integrate NFC connectivity and you can turn on the personal hotspot to share the device's connection with up to 8 devices.
Specifications
Screen Size
5.5-inch, FHD, FTT
Resolution
1920 x 1080
Network & Communication
FDD LTE/WCDMA/GSM, FDD LTE: 2/4/7/12/17
Storage and RAM
32GB+3GB or 64GB+4GB
Camera
13mp rear, 8mp front
Fingerprint
Rear
Battery Capacity
4.35V, lithium polymer, 4000mAh
Battery Life
Idle: 285.2 hours

Talk Time: 22.1 hours

Projector On: 4 hours

Screen on, max brightness: 5.1 hours

Battery Type
Non-removable
Connectivity and Sensors
G-sensor, Proximity Sensor, Light Sensor, E-Compass, Gyroscope, Bluetooth, WiFi
Movi Phone Review: How To Use The Android Movi Mobile Projector
The projector function is triggered when you select "projector" mode on the device. Until you enable the projection mode, the device won't project your device screen. Arguably, the 4000mah battery can project for up to four hours or a bit more – that's enough time to stream at least two Netflix movies or even complete an entire short series.
For the price tag of $599, Movi Phone is quite expensive, but the idea of combining projecting and smartphone functionalities is applaudable. Also, it's been years since the Movi Phone debuted, but it hasn't launched officially for people to buy. A lot of its specs would need to be adjusted if the device should launch in recent times.
What More?
Movi Phone is popular because it brings projecting functionality to smartphones. It can project to any flat surface in 720P quality, which is quite impressive. With the Movi Phone, there's little or no need for standard projector setups in small gatherings and meetings or in-house movie nights.