All_in_one (universal) Android root software are great for Android OS ardent and IT support personals. These Android rooting tools would come in handy for Android OS users that has lots of Android phones and devices to play around with.
1-click root software do not need long procedures and tedious steps, all you need do is – Prepare your android phone or devices for rooting ==> install the 1-click root software of your choice and ==> launch to use.
How to Prepare your Android Phone for Rooting
In other to start rooting with your chosen 1-click root software, you'd need prepare the phone/device for it. This process neither takes time nor needs a high-level technical knowledge. Just complete the few steps below and you are all set for rooting your Android phone/device with a computer PC.
Charge your phone battery to at least 50% or thereabout.
Install the correct ADB (Android Debug Bridge) drivers for your phone/devices (here's the link for android ADB drivers download).
Enable USB Debugging on your phone/device by going to ==>Settings ==> Applications ==> Development ==> USB debugging (for older operating system (OS)) or ==> Settings ==>Developer options ==> "USB debugging"(for newer OS), also check the "stay awake" option.
Top Best 1-Click Root Android Software for PC
Now that your device driver is correctly installed, you'd need to install the preferred universal android root software or try the others to figure the best 1-click android rooting method for your phone/devices.
Note: There's no special guide for each of these 1-click rooting methods, all you'd need do is ==> launch your preferred root tool or root software  (after following the "how to Prepare your Device for Rooting" tips above) ==> Wait for it to detect your phone or simply ==> hit "start" or "root" once the device has been properly installed and detected.
1. Vroot
Vroot has been renamed to iRoot, we made an introduction of it in the forum section of the blog and have also featured it in some of our other articles. It is great for rooting a plethora of android phones and devices.
The latest version (iRoot) seems to have a bug when used on older computers, so I have uploaded the earlier version here and here to give you options when attempting to go with the vRoot rooting method.
2. Kingo Root
Kingo Root software is no small player when it comes to the league of 1-click rooting solutions around, it is a good rooting method to go with for most android phones and devices.
It is free and can be downloaded from http://www.kingoapp.com/android-root/download.htm
3. SRS Root
SRS Root is another good 1 click rooting software to root any android phone or device. Just like the previous two, it supports rooting for a wide range of phones and devices.
It is completely free and can be downloaded from http://www.srsroot.com
4. Root Genius
Root Genius is a known 1-click rooting method for Android phone and devices, can root Android Kitkat and a plethora of smartphones.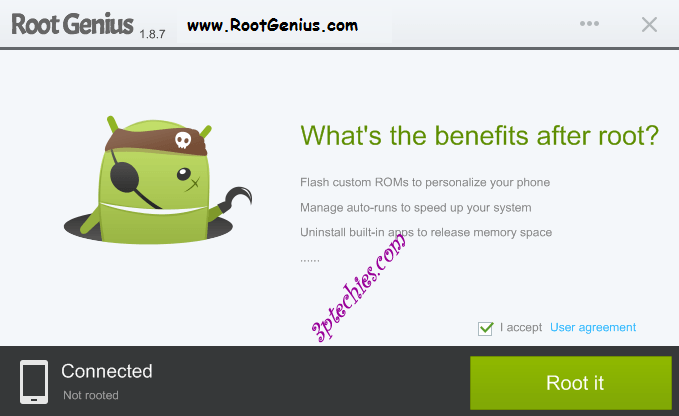 It is free to download – free to use software and can be downloaded from http://rootgenius.com
5. Cydia Impactor
Cydia Impactor is a tough hammer for stubborn devices that seems too stubborn for the previous four to handle, it can root an even wider range of devices and works seamlessly with Samsung devices.
All you need do is ==> download for free ==> launch and ==> hit start once your device is connected and properly installed.
There's a working version for  Mac OS X, Windows and Linux (32-bit & 64-bit) operating system (OS). You can download a copy for your OS from http://www.cydiaimpactor.com/
Notable mentions
Baiduroot: Baidu root can root lots of android phone and devices at a click. you can download for free at http://baiduroot.net/
Wondershare Mobilego: A paid android utility software that can root, backup contacts, remove duplicate contacts on wide range of android phone and devices. The rooting function can work perfectly with the free trial version, all you need do is install the trial version and root your device within the 15 days trial period before it starts demanding for a license code.
KingRoot: A reliable one-click root android software that works without impacting your system performance negatively. Available free and can be downloaded from their official homepage at http://kingroot.net
Your Turn
Did any of these Android root software tools or 1-click rooting methods work for your phone and devices?
Do you know about other top and free 1-click root Android software that really works?
Kindly share with us in the comments section below. Do not forget to share this page with your friends, social media followers, and/or every other person that's interested in rooting his Android device with any of these rooting tools.