Here is improved PC software that makes the rooting of any android phone and devices seem so easy and effortless. I have tried it on several android operating System (OS) including;
2.2 (Froyo)
2.3 (Gingerbread)
4.0 (Ice Cream Sandwich) and
4.2 (Jelly Bean)
The android phones I rooted with this light weighted software not long ago, before the idea of this review came to my mind includes;
Samsung Galaxy Note 10.1 (GT-N8000)
Gionee Pioneer P1
Huawei U8180
Sony Ericsson Xperia Active ST17i
Tecno Tab and
Samsung Galaxy Note 3
This means that the software can as well root several other android devices out there, the procedure for rooting with Vroot is so easy. The Vroot tool would normally grant root access to older devices as well as newer ones. Anyone with a working computer can do it. It is also very small in size.
Part A
Preparations
Just like rooting with any other software, Vroot requires that the following conditions are met.
Must have a working Windows PC
Must have a working USB cable
Must have the proper USB drivers of your phone or device installed on the PC (You can download Android ADB drivers from here)
Must charge your phone battery to at least 50%
Part B
How to root any android phone with Vroot
Do a proper backup (should anything go wrong during the exercise).
Download and install the VRoot software (Non-Chinese users must Download the English Version). You can also opt for the older version that was used for this rooting guide, I uploaded it to box app for future purposes. You can download it from here, and use if the latest version (linked above) fails to work well for your device.
Enable USB debugging by going to ==> Settings ==>Developer options (also check the "stay awake" option)
 Launch the VRoot software from your start menu or desktop
Connect your phone or device to the computer using the USB cable that came with it. (Drivers must be properly installed for your phone to be detected)
Allow VRoot to detect and display the model of your phone  (accept any USB debugging prompt)
Tap the green "Root" button to root your phone or device
The device will be rebooted and confirmed rooted by the Vroot software.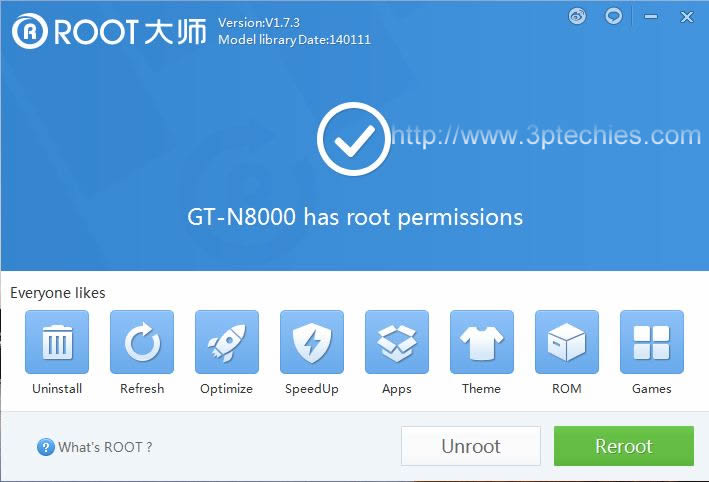 You can see how easy it is to root various android phone and devices almost at a single click of the mouse button.
You can also unroot the device by repeating the process again and tapping the "unroot" button instead.
Part C
Bonus Downloads
To help you with your phone's USB driver, I decided to add this bonus part. Follow the links below to download updated drivers for your android phone or devices. Google your device name's USB driver for devices that aren't listed below.
For HTC USB drivers go here
For Gionee USB drivers go here
For Huawei USB drivers go here
For ZTE USB drivers go here
For Infinix USB drivers go here or use the adbdriver.com to detect automatically
For LG Android USB drivers go here
For Tecno Android USB drivers use same as Gionee above or go here to download a universal one.
Looking for android PC Suit to help you manage any android phone at all?
When vRoot Fails?
No universal android root software is completely flawless. As newer android versions are introduced, older rooting exploits would get patched and rooting them would normally take some time, as new rooting exploits needs to be created for them.
If the vRoot software fails to root your android phone or devices, you need not panic as there are even better and free alternatives for rooting lots of android phones, tablets and PDA(s).
We covered about 9 of such rooting methods and the best tools for them in one of our post here. You can root lots of android devices by reading the guide carefully.
Your comment will help us discover what kind of android devices you were able to root with this tool. Please do drop your comments and/or challenges below.