Today, I bring to you my list of Top 15 free Software-apps to root any android device with or without a Computer. They're the best Android rooting tools for phones & tablet devices.
It is necessary to understand what rooting an android device means. And what it does to your device before attempting to use any of these android root tools. Note also that most manufacturers will void your phone's warranty if rooted.
There's no risk at all trying out these software as they aren't going to brick your devices. You are free to try another if the first one doesn't root your phone and/or devices.
You just need to do us a favor – by reporting the model of your phone/device and what rooting tool or software among our list that was able to root it.
Preparing to Root your Android Phone or Device
This is the first steps to take to fully prepare your phone for rooting and/or unrooting exercise. Must be followed for manual android rooting or when using any root android phone with PC software.
15 Best Software-apps to Root Android Phone/Devices
After preparing your phone/device for rooting, you will need decide to go with the method of using a computer (best if you have one) or by installing an app on your device.
Either ways, these top rooting apps below will root and/or unroot your Android phones and tablet devices within a few minutes.
Before jumping to the list proper, I'll like to let you know – there's a video tutorial on rooting (shared below the list) for some of our readers that are Technophobia or not too good with many texts.
Here's the comprehensive list of top 15 best root tools that lets you root Android devices for free. These rooting tools are grouped according to their simplicity, success-rate and support for lots of devices.
1. Vroot Computer Rooting Software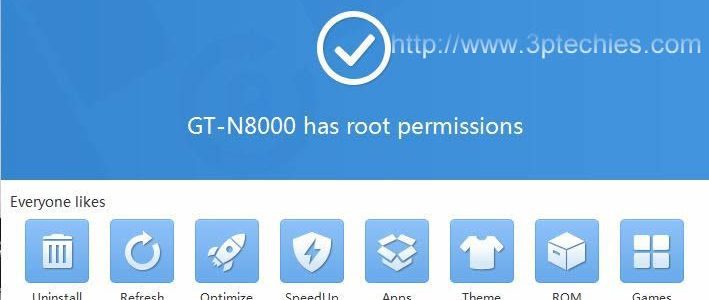 This is the best software for rooting any android phone, judging from the wide range of coverage and deep support for older operating system, I will lightly advice you try it first before the other ones in this list.
Vroot for PC software is a top tool for rooting/unrooting Android phone or devices. It can root almost all android devices running on the 2.2 (Froyo), 2.3 (Gingerbread), 4.0 (Ice Cream Sandwich), 4.2 (Jelly Bean), 4.4.2, and newer Operating Systems (OS).
The vRoot software was recently re-branded and code-named iRoot, the latest version of the app can be downloaded from here, while the older version that was used for this rooting guide can be gotten from the mirror site where we uploaded it.
We already have a detailed page that shows you how to use the vRoot method and the basic tips to use computer programs for rooting android. You can read up the vRoot guide here or continue with the other rooting methods below.
2. kingoapp Root Software [Roots with/Without Computer]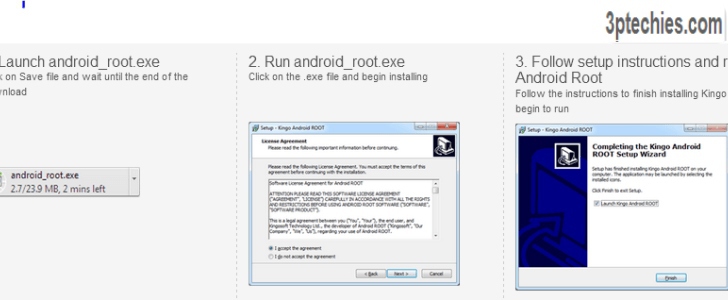 kingoapp root software solution is just as effective as Vroot, although I have recorded more success with the former, I still rate it as highly as any other one click root android software.
kingoroot android PC version is a big player among best computer software to root and unroot any android phone. It works seamlessly with all major brands of Android phones, tablets and other devices.
Kingo root app works best for computers that are connected to the internet. It is required that your computer remains connected to the internet before launching the kingo root software.
Click the root button to root the connected device once the kingo root software has detected it.
How to Root any Android Phone with KingoRoot Tool
3. SRS Root Software
SRSRoot software solution was of my favorite for rooting android devices before Vroot came to the scene. Although I haven't used it for a while now, I can still recommend it for persons that didn't have success with the previous two.
It has been in the space for long and have garnered many a-positive review from beta testers and regular users of this awesome rooting tool.
You can root lots of android phones and devices with it. As a 1 click root app, it only needs you to download the app, install, launch and follow the on-screen instruction to complete rooting with SRS rooting method.
Download Link: srsroot.com
4. Framaroot (apk) App (Roots without PC)
Framaroot instant root apk is the best app so far for rooting and unrooting android without a computer. It has support for even the latest android operating system (OS).
Rooting and unrooting with Framaroot is as easy as installing the app ==>launching same ==> and choosing from the list of available Android rooting exploits.
Wide range of success have been recorded already with this little miracle-app; even newer devices such as Samsung Galaxy, Tecno R7, Nokia XL android, Huawei Ascend and several others has been rooted with the Framaroot apk app.
For all tested devices and the exploits used, refer to http://framaroot.net/devices.html. Note also that Tecno, Gionee, iTel, infinix, micromax and most MTK based phones will normally use the Barahir exploit.
How to Root with FramaRoot Android APK Rooting Tool
To root android phones with Framaroot as your favorite Android jail-breaking method, follow after the video guide above or complete these steps to gain root access on your android phone/device.
5. KingRoot [Roots With or Without a PC]
KingRoot is a potent rooting tool just as iRoot and KingoRoot apps. The software is light-weighted and worked flawlessly on some selected models of MTK devices we used for testing out their performance and reliability.
Their latest version supports a wide range of devices (as opined by some of our other editors) including Samsung, HTC, Motoroloa and Sony Xperia droid devices. We hope to keep testing this app for a possible stand-alone review as soon as we can.
Video Tutorial for Rooting Android With & Without Computer
To root with KingRoot software or app, all you'd need do is ==>
Download the English version of the root software from here or search Google for KingRoot Apk to download the root without PC version.
==> hit the corresponding download button from the download options and ==> complete the rooting process from the GUI of the app. Install the root checker app to confirm that your device is now completely rooted.
New Update!, the latest version of KingRoot tool (version 4.8.0) has gained support for almost all popular Android devices running on the 5.1 Lollipop operating System (OS). It is now a top one click root for PC software.
6. Unlock Root Program
I had success with this awesome rooting program in the past but can't vouch for it now since it isn't fully available for free any longer.
You should be thinking of it as an alternative only when the Vroot and/or kingoapp root software solutions fails to root your device.
We'll test the app on newer devices in our care to see what max Android OS version it can root comfortably and how well it works for MTK powered smart phones.
Download Link: Unlock root program can be downloaded from http://www.unlockroot.com/download.html.
7. Root Master (apk that roots without Computer)
Root Master will root your phone or devices without the need of a computer, you should think of it an alternative only where Framaroot fails.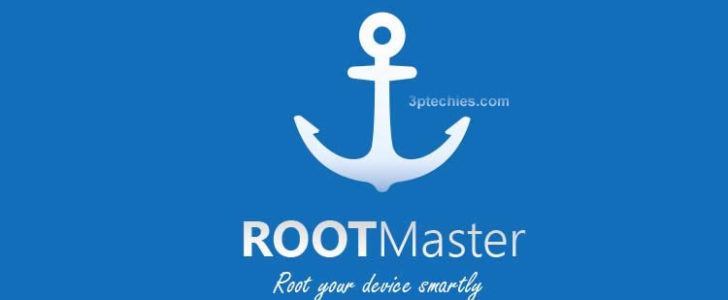 It is a good rooting tool for a lot of android phones and devices. The latest English version of this rooting app have been tasted to work with Tecno, Samsung, Gionee, iTel and other popular Android OEM brands.
Reading the how to root guide for the app below will guide you towards rooting your android devices effortlessly with the root master application.
How to Root Android Phones with Root Master APK
8. z4root (apk Rooting App)
z4root is one of the oldest apps for rooting android devices without the need for a PC. It has support for wide range of devices and can root older phones as well.
2018 is already saturated with many new-comer universal Android rooting tools that really works, but this did not stop our 'old friend' Z4Root tool from being a viable app for rooting Android smart phones, tablets and PDAs.
Download link: [You can use this Google search link to get the version of z4root program for your Android device model].
9. Universal Androot (apk) Root Tool
Universal Androot is also very popular among apps that can root several android devices without the need of a computer.
There are several versions of Universal Androot app, but we do recommend that you use the latest version of Androot APK, depending on the Android device you'd like to try out the app on.
Download Link: https://www.google.com/?gws_rd=ssl#q=Universal+Androot+latest+version+download+
Note: The section below would come in handy for those wiling to experiment their device's rooting with a few more harmless apps. These tools were tested on few Android devices before being listed here.
We hardly mention and/or recommend software/apps on 3rd Planet Techies without trying them out on our gadgets first.
10. Easy rooting toolkit (apk) App
Easy rooting toolkit; an app developed by DooMLoRD can root most android phones without a PC. It lets you get root access to older devices in seconds and works flawlessly on rooting most tablet devices.
It was really a fantastic rooting tool back in the days and have continued to work as a reliable rooting app for every day users.
Download Link: http://forum.xda-developers.com/showthread.php?t=1321682
11. Towel Root Apk Rooting Tool
Towel root is a mobile app that lets one gain root access on Android devices without connecting to the PC. It works for most devices and can downloaded with the phone's default browser.
Using Towel root android rooting tool to root Android devices is as straight-forward step. This is because it follows same steps as the rooting software listed above.
All you need do is: download the latest version of towel root APK from https://bit.ly/1p1OP2D or from the mirror website at http://towelroot.org, install it and follow after the screen prompt to root your chosen device.
12. Baidu Root [Roots with/Without a Computer]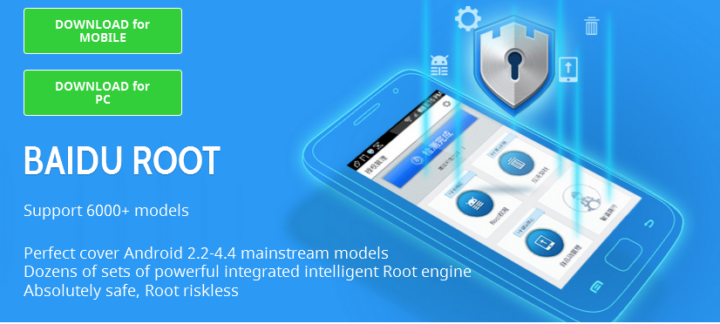 Baidu Root, just like towel root apk listed above is a versatile rooting tool that lets one root from phone or PC. It has so many positive reviews from users and doesn't charge users for rooting Android devices with it.
Baidu Root is a Chinese rooting app developed by Baidu Inc, a leading Chinese internet company that's headquartered in Beijing, China.
It has support for over 6,000 models of Android devices and lets one root either directly from his phone or by connecting to a computer that has the Baidu root software installed in it.
Just like the other rooting software listed, Baidu root (.exe software, or .apk file) can be gotten from http://baiduroot.net and screen prompt followed to root any Android device of your choice.
Wondershare Mobilego isn't specifically meant for rooting as it is a premium computer software that lets you manage Android and iOS devices.
But for this rooting tutorial, we are going to focus on how to root android phone and tablet devices for free using the trial version of Wondershare MobileGO .
The steps to root android phone/devices with wondershare mobilego is similar to that of other rooting software and apps listed above.
14. Root Genius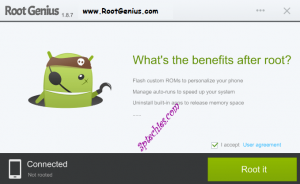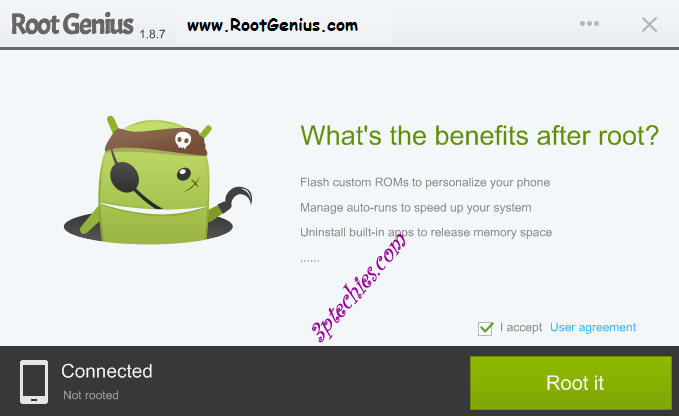 Root Genius as a top rooting tool/software is similar to KingRoot and works the same way as the other root android with PC software listed above. You can download the latest version of it from http://rootgenius.com and give us a feedback if you were able to root your phone with it.
It is indeed a top root app to root android without computer and works exactly as mobileGo rooting tool. Root genius works well by not installing too many unwanted apps like the iRoot app referenced in #1 above does.
Even though we are yet to root any android 6.0 marshmallow device with Root Genius rooting software, we must mention that – they have got large number of feedback from Tecno, Wiko, MicroMax, Gionee, Xiaomi and Infinix Android smart phone users that have appraised it as a formidable rooting app.
15. TunesGo Rooting Software [not 100% free]
TuneGo root, just like Wondershare MobileGo isn't specifically created as a rooting tool, but works great in rooting most Android phones from popular OEMs such as: Google Nexus, Google Pixel, HTC, Motorola, Acer, Sony, Samsung, Huawei, LG and etc.
Wondershare tunesgo roots android with one click. In practice, it is a versatile music management tool for Android phones. It comes with many useful add-on such as: media sharing, recording and the root android function.
It is a paid tool but can be used for free within the 16 days trial period. The steps to use Wondershare tunesgo for android rooting tool is the same as the one stated above for MobileGo Android toolkit.
The trial version of Wondershare TunesGo with the rooting function add-in can be downloaded from our TunesGo root review page here.
Wrap Up on Best Free Rooting Software-Apps:
These rooting apps and software methods should be able to grant root access to your Android devices as well as unroot them when the need arises.
Note: We included some paid Android rooting tools from Wondershare Inc. This is because the root tool (or rooting software) comes with a trial version for users to try the rooting function before deciding to go for them.
As a solid rooting tool, they will come in handy as a viable root Android software for everyday users. Our guide on how to root all android phones with Vroot (linked above) should serve as a reference for using the computer root programs.
At the moment, we are testing iSkysoft Toolbox – Android Root function and how well it works for rooting android 6.0.1, Android 7.0 Nougat and other tougher Android phone versions. Once we confirm it as a top rooting toolbox to get root access on Android with ease, we'll create a room for it in the list.
Do not forget to leave us a feedback if there be any challenges. Help us improve on this list by dropping the list of Android phones you were able to get root access on using any of these rooting methods.
,
Share with this Short-link: