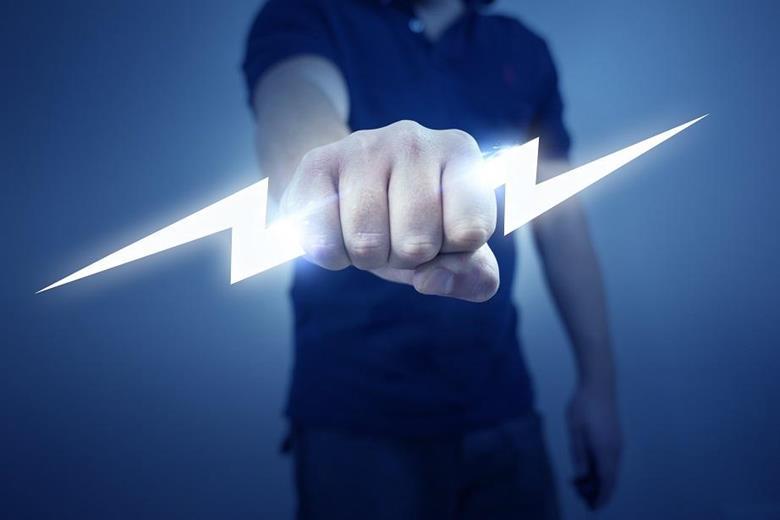 Well, today's guide is focused on how to use the Amazon lightning deal to supercharge your product ranking and the overall performance on search results. So don't get left behind! Find out what a Lightning Deal is, and why tons of sellers are using it to improve their overall Amazon SEO strategies.
How to Use Amazon Lightning Deal to Skyrocket Your Search Ranking
Amazon buyers are always on the lookout for discounts that are worth their while. Saving even 5% on the price of their purchases is a great opportunity in their eyes. That's why, as a buyer, you need to be equally vigilant in looking for opportunities to boost your sales. There are 2.3 million other sellers you need to compete with, sales-wise.
Setting up a lightning deal is one of the ways for sellers to get ahead. If done correctly and with the proper Amazon SEO strategy, there's a big chance to make a killing. Before diving into the details of a sound strategy, it's vital to know what a lightning deal is and the benefits it can offer.
What is an Amazon Lightning Deal?
It's a promotion by Amazon, where they offer discounts on items for a limited time. These deals are available on Today's Deals or Prime Day, though all deals are exclusive to Prime members on Prime Day.
Items offered in Amazon lightning deals will have this information on the listing:
Item name
Different variations of the item (e.g., size, color, etc.).
Discounted Price and Final Amount (excluding tax).
Status bar showing the percentage of deals bought.
A timer showing the duration of the promotion.
Add to Cart button if promotional discounts are available.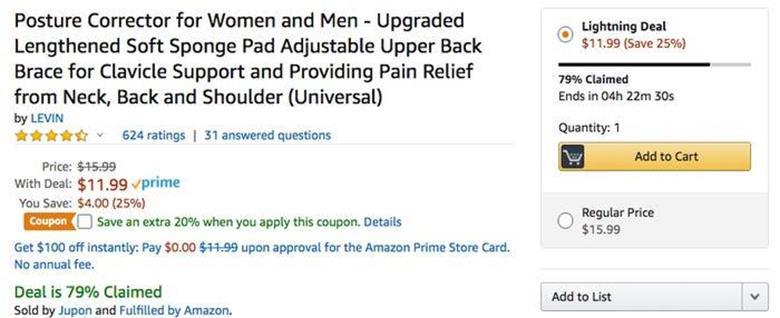 Check your eligibility
A seller who is interested in creating a lightning deal must have a professional seller account, get at least five seller feedback ratings each month, and have a 3.5-star overall rating. Amazon requires you to lower your price by at least 20% to join this promotion. Otherwise, your deal will be canceled.
The product must also meet specific criteria:
Have a rating of at least three stars.
Prime-eligible in all regions. (FBA or SFP)
Compliant to Amazon's pricing policies.
An unrestricted item and inoffensive.
Be in a new condition.
It must be available in many variations (i.e. different colors, sizes, etc.).
Follows Amazon's customer product reviews policy.
Compliant with deal frequency policies.
Benefits
On any given month, Amazon can host as many as 45,000 lightning deals! That's a tough competition for a seller. However, there are benefits that sellers can take advantage of when pursuing this kind of promotion.
Sales Boost: – You can experience a 65% sales boost on the day of the promotion. Then, it continually drops until the deal ends. On average, you'll get a 200% spike in average daily sales for that whole duration. However, you need to take the fee into account. Amazon charges a minimum of $150 for each item, and sometimes it can go much higher.
More traffic: – More people visiting your product page is usually good news. If you have an excellent Amazon SEO strategy to follow, converting that traffic into sales will be as easy as 1-2-3.
More Visibility: – The best benefit of offering a lightning deal is probably brand visibility. That's page one of digital marketing 101. Having your product splashed prominently on the front page of Amazon will make buyers aware of your products. Plus, if you're creating this promotion to clear out your inventory, you can make your product visible and make money at the same time.
How Do I Optimize My Product Listing?
There are other ways to make money online. If you have some good Amazon affiliate tips to follow, you can earn by promoting Amazon's products.
Now that you've created a lightning deal, the next step is to ensure the increased traffic translates into sales. That's where product listing optimization gives you an edge. As your primary Amazon SEO strategy, it gives you an advantage in making your customers buy, whether it's a lightning deal or not.
Product Title
Using effective keywords in your product title is still the best way to get product visibility in Amazon. Your product might be displayed on the lightning deals page, but if your products aren't relevant in the customers' eyes, all that work will be for naught. Make your product relevant by putting the essential keywords at the beginning of your title.
Description
Here's where you can put the other keywords that you couldn't put in the title. Avoid keyword-stuffing as this only hurts your chances of being relevant. Instead, make your description informative by telling the buyers your product's features, benefits, and what separates you from the competition.
Images
Amazon has standards when it comes to product images. Those same standards apply in promotions. Use images that will let your items shine. Show your items in real-life situations. If your product is headphones, have pictures where someone is wearing it on the bus or while walking on the street.
Make them zoomable, so that customers can give it a detailed inspection. Just make sure your pictures have high-resolution. Take pictures from multiple angles if you can.
Backend Keywords
This is where you can put specific keywords that you couldn't put in the title and description. Be concise because Amazon only allows 250 characters for backend keywords. Don't put punctuation marks and unnecessary spaces.
Is an Amazon Lightning Deal Worth Doing?
Finding out the effectiveness of lightning deals is vital, especially for MSEs (midsize enterprises). Running an ineffective promotion is not something you should be doing if you're looking for useful business tips for MSE.
Let's crunch the numbers and determine if an Amazon lightning deal is really worth including in your Amazon SEO strategy. We're operating our analysis on these assumptions: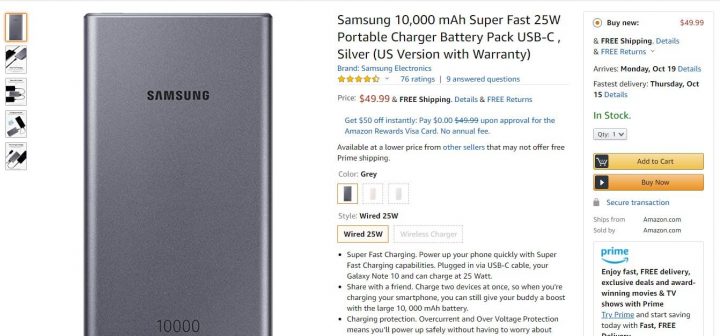 The product we'll be using as an example is the Samsung 10,000 mAh power bank.
The average sales per day are 30 units for a $50 regular price tag.
A 200% percent boost means we will sell an extra 60 units.
The power bank has a landed cost of $17.50 per unit.
Amazon gets 15% of the sales price, plus $4.50 to ship the product.
We'll use a 20% discount for the lightning deal (We'll sell it for $40 in the lightning deal).
The lightning deal fee is $150.
Considering everything from the price to the fees, the gross profit of each Samsung power bank sold is $10.50. Here's the breakdown:
$40 – ($17.50 + $7.50 + $4.50) = $10.50

To cover the $150 cost of the promotion, you need to sell 15 more units for the duration of the lightning deal. Considering that you're projected to sell an extra 60 units, you can assume the fee is covered by this sales boost.
The sales you'll be getting after item #15 shipped will be pure profit. Here's the computation for that:
(60 sales – $10.50 gross/unit) – $150 Lightning Deal fee = $480 gross profit

The potential profit for your promotion will come to almost $500, and this is not an insignificant amount. With these calculations, we can safely assume that pursuing a lightning deal is worth it IF you already sell 30 units per day.
For products that earn less than $10.50 gross profit for each unit, it would be more challenging to get a decent profit. Plus, you need to consider if you'll break even after considering the sales boost and fees.
There are a few factors that you need to take into account when checking if a lightning deal is worth doing. First, your product can perform better or worse, depending on a few factors. For example, your promotion appeared at a lousy time — like 2 AM on a Friday. Keeping in mind that you can't control when your deal appears, you might not have the 65% increase in first-day sales that many sellers get.
The Lightning Deal fee isn't a fixed number. It can go as high as $500 on holidays or Prime days. Of course, you expect your sales to increase at that time, but $500 is still difficult to pay.
The Long-Term Effects
It's okay to be skeptical about the effectiveness of lightning deals when it comes to your Amazon SEO strategy. For you to consider any kind of promotion, there needs to be an evident boost in profit. Otherwise, why would you do it at all?
Doing a lightning deal not just boosts your sales for the duration of the promotion, it improves your sales for up to 2 weeks. That's why with the proper computation and planning, running a lightning deal as soon as possible is your best bet; together with following an effective Amazon SEO guide. That's an essential step towards a more successful business.