In Nigeria, the brand D-Jack is one of the top audio equipment manufacturers you can trust to always come up with reliable products. D-Jack home theatre sound systems are mostly wireless, smart, and with great aesthetics. Interestingly, D-Jack audio systems are available nationwide in different retail and online stores at affordable prices. If you're looking to upgrade your home audio setup from 2.1 to 3.1 or even 5.1 surround systems, D-Jack has a suitable model you may like.
Before showing you the full list of D-Jack Bluetooth Home Theater Sound Systems in Nigerian tech stores, I'll like to take you through my personal djack home theater review, tips on how to connect djack home theatre, and other important tips.
My Djack Home Theater Review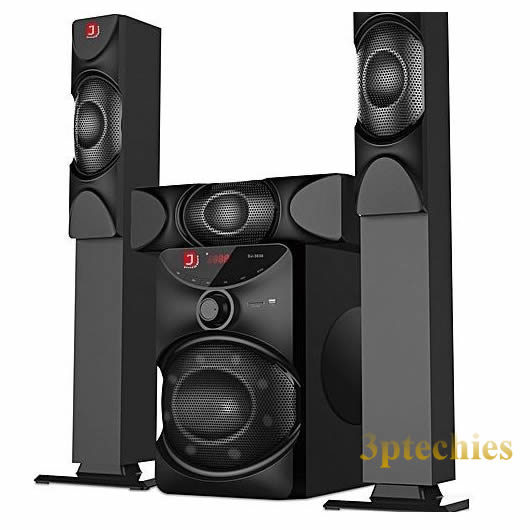 Well, I got the Djack DJ-3030 heavy-duty Bluetooth home theater system about two months ago for ₦ 42,000 and have used the same consistently without issues. In this new location, it's like my daily driver as long as heavy audio output is concerned.
While I would not say – the sound quality is as good as those from Samsung and LG (costing 4x Djack home theater price), it is indeed "value for money" and produces good sound for its price and power rating.
The total power output of Djack 3030 is 140 Watts, with 6 channels, and support for FM radio and multiple media formats. It is enough for home and office uses and looks durable from the performances so far.
All in all, djack home theatre is a good product, considering the features Vs. the price they are sold. I will easily recommend this set for all kinds of home and office uses.
Note: The 3.5mm to RCA Adapter (audio auxiliary) cable that came with this unit is too short, hence I normally use Bluetooth to connect to my devices, and sometimes, the after-market audio auxiliary cable I bought elsewhere.
How to Connect Djack Home Theatre
There are several ways to connect djack home theatre sound systems to your TV, phone, or PC. Mine was connected to my TCL Android TV via Bluetooth and the 3.5mm to RCA Adapter (audio auxiliary) cable that came with it.
The Bluetooth Method
Connecting with the Bluetooth method is rather simple and very straightforward. Simply turn on the home theatre and click on the mode button once as seen in the image below.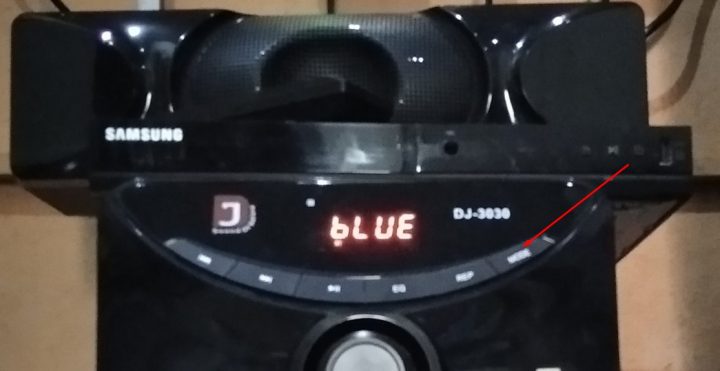 Allow the red, scrolling, marquee Bluetooth text to blink continuously, showing that the device is in pairing mode.  Search for Bluetooth devices from your TV, Phone, or the device you wish to connect the home theatre to.
Click on Djack 3030 (or your djack sound system model) from the detected devices and allow the pairing to complete. Now, you're paired and ready to blast. Remember to use 0000 as the password, if your connecting device asks for it.
The Cable Method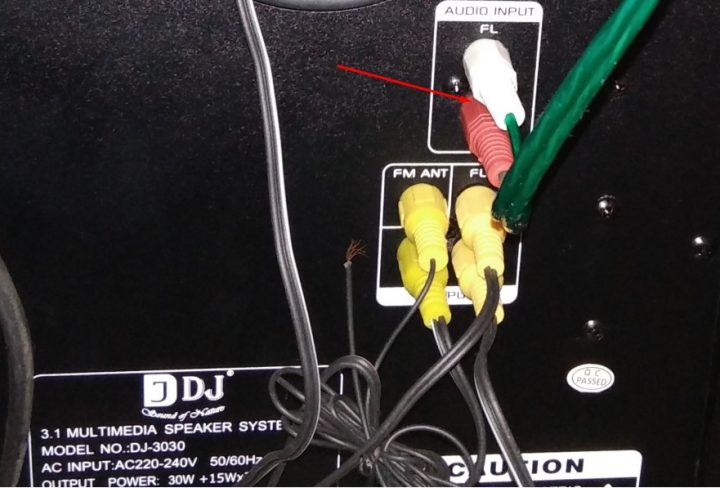 This method, just like the Bluetooth method is also very simple. First, connect the RCA adapter side (indicated in the picture above) of the cable to the Audio Input section of the home theatre, and then the 3.5 mm side to the 3.5mm jack of your TV, PDA, Phone, or Laptop. That's it, you're done with the connection and now ready to blast!
Note: Before using the Bluetooth or cable connection method, you must first connect the antenna to the side that's labeled FM ANT on the home theatre, the center speaker to the port that's labeled CEN, the right speaker to the side that's labeled FR, and the left speaker to the side that's labeled FL.
What's Djack Website and the Best Djack Home Theater?
Well, from our finding, Djack doesn't have an official website that's targeted to the Nigerian populace but their products can be ordered from Jumia, Konga, or kizzmadd-djack.com. These websites offer the best prices for Djack sound systems and also have good after-sales support for initial challenges.
As for the best djack home theater, it all depends on the space or environment you'd like to use them on. While the smaller ones would work for students or school environments, the larger models are best for big parlor space, conference hall, bars, or bigger spaces. So the best djack sound system is 100% relative. That is – the user decides what's best for his/her comfort.
The Full-List of D-Jack Bluetooth Home Theatre Sound Systems for You
Here, I'm going to list out the various models of D-Jack home theater systems that can be found in various stores across Nigeria. The models range from 2.1 setups to 5.1 setups. Plus, they support Bluetooth technology for wireless connectivity.
1. DJ-D3L with DVD Player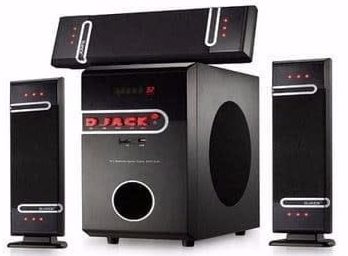 Remote control
8 ohms impedance
60W power handling
38HZ-20KHZ frequency range
Distortion: 0.3% @ 1W
Signal to noise: >70db
DJ-D3L is a 3.1 home theater system from D-Jack. It comes with two left (L) and right (R) surround speakers, a center channel, and a sturdy subwoofer. The set also comes with a DVD Player when bought from specific stores.
This sound system can handle all kinds of audio. Thanks to the hi-tech tweeter drivers, you will enjoy the clean sound with almost no distortion. The Bluetooth support makes it possible to connect your mobile devices and stream audio wirelessly.
However, the subwoofer unit features a couple of input ports where you can connect USB drives or SD Cards to playback your audio files.
2. Djack DJ-F3L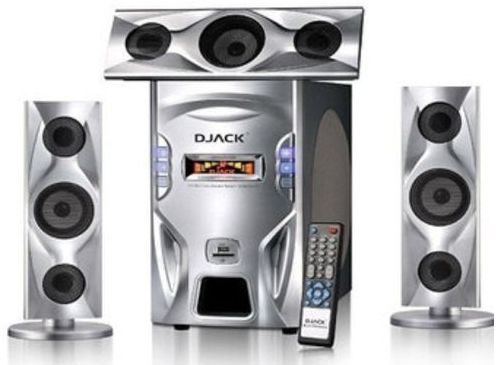 Bluetooth function
Remote control
Input ports for USB & SD cards
Impedance: 8 ohms
Power: 45W
Frequency: 38HZ-20KHZ
Distortion: 0.3% @ 1W
S/N: >70db
The F3L model is a heavy-duty sound system packed with formidable drivers and built with the best audio technologies. It is also a 3.1 sound system, features two surround speakers, a center channel, and a subwoofer.
Built to handle up to 45W power, DJ-F3L will deliver room-filling sound accompanied by thumping bass. It is ideal for streaming movies, music playbacks, and even gaming. DJ-F3L is sold below NGN20,000 in most stores (offline and online).
3. DJ-1203 Sound System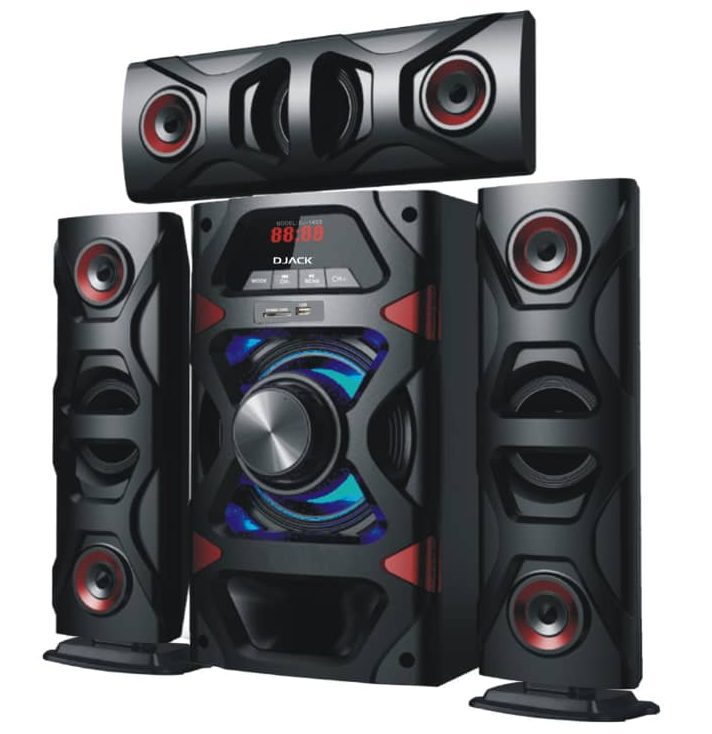 6.5-inch subwoofer unit
USB and SD card input ports
Intuitive button controls
Most D-Jack home theater systems are 3.1 setups. The DJ1203 model is one of the sturdiest of its kind. It looks stunning and would blend with most home interior decor. DJ1203 is packed with robust tweeter drivers for clean, pure sound, perfect for all audio playback needs.
Also, the DJ1203 sound system features intuitive button controls on the subwoofer unit. It is one of the best D-Jack audio systems for home entertainment and even audiophiles.
4. DJ-1503L Sound System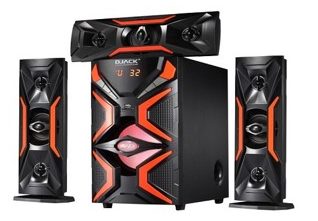 80W power handling
Bluetooth and FM support
Voltage: 220 – 240W
Input ports
The DJ1503L flaunts a black finish with hints of blue or red. Both designs are catchy; however, your preference would depend on your home decor. DJ-1503L comes with a remote controller and handles up to 80W power.
Also, there are buttons on the subwoofer unit for controlling sound/bass volumes. The Bluetooth support allows for wireless streaming from mobile devices.
5. DJ-403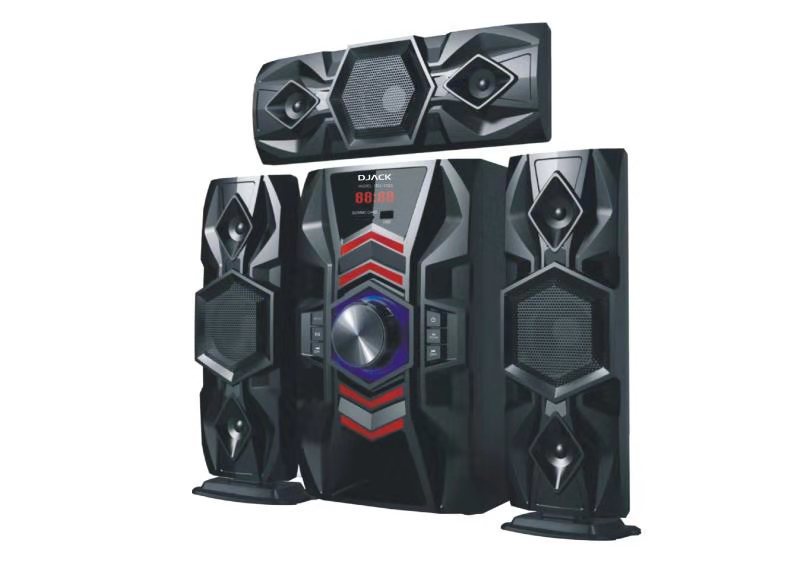 MP3 player via USB or SD card
Intuitive remote controller
Impedance: 8 ohms
Power handling: 140W
Frequency Response: 38HZ-20KHZ
Distortion: 0.7% @ 1W
Satellite speakers:150Hz-20KHz
DJ-403 will occupy just a little space in your room and still deliver enough sound to fill the entire room. It is a powerful 3.1 sound system with a super-amazing subwoofer that delivers ground-shaking bass.
As expected, this sound system supports Bluetooth connectivity and stays connected over a long, unobstructed distance. It makes a perfect option for a home entertainment lover on a budget.
6. DJ-503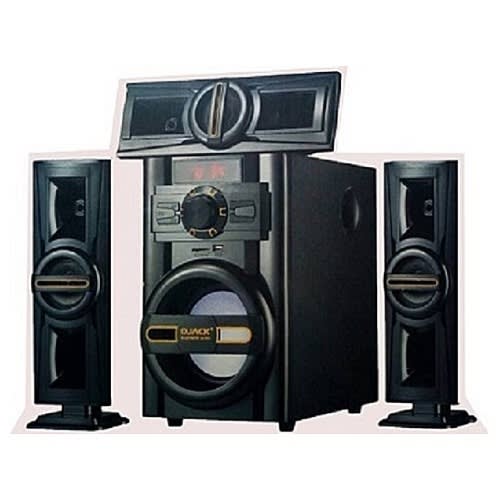 80W power usage
Frequency: 38Hz-20KHz
Distortion: <0.2% 1W
S/N : >70db
Voltage: 220-240W
Bluetooth wireless connectivity
Remote control
Running an 80W home theater is perfect for people living in small or medium-sized rooms. This D-Jack sound system utilizes up to 80 watts of power to deliver good sound for gaming, movies, and music playback.
The design is sleek and sturdy. Plus, the speaker drivers are crafted from durable materials. DJ-503 supports FM radio, as well as features input ports for connecting external devices.
7. D-Jack DJ-903L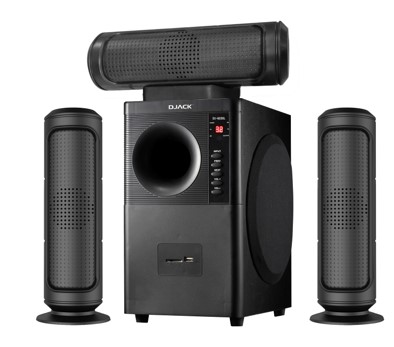 Remote controller
Intuitive control buttons
Bluetooth connection
60W power
The DJ-903L flaunts an irresistible design and is packed with sturdy drivers for a tremendous performance. Although this is a 3.1 audio system, the performance is almost the same as most 5.1 audio systems out there.
DJ903L can handle any other from different sources. It is a good choice for gamers and movie addicts. The subwoofer unit delivers thumping bass even at low frequencies, while the center channels give you a clean, crisp sound.
8. Djack Heavy Duty Bluetooth HiFi System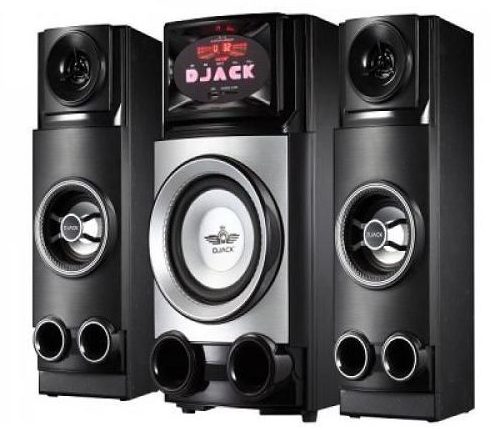 Remote controller
FM Radio support
80 watts power
USB and SD card input ports
Frequency range: 38Hz-20KHz
Voltage: AC220 @40V 50/60Hz
Here's the perfect D-Jack sound system for audiophiles. This stylish home theater system delivers Hi-Fidelity (HiFi) sound through its dual tower speakers. The set includes two (2) side tower speakers and the subwoofer unit.
DJ-L2 looks rugged and would blend with most home decor. The Bluetooth connection reaches up to 35ft. unobstructed distance. More so, the drivers concealed by this speaker system reproduce clean sound that could fill up large rooms.
9. D-Jack X3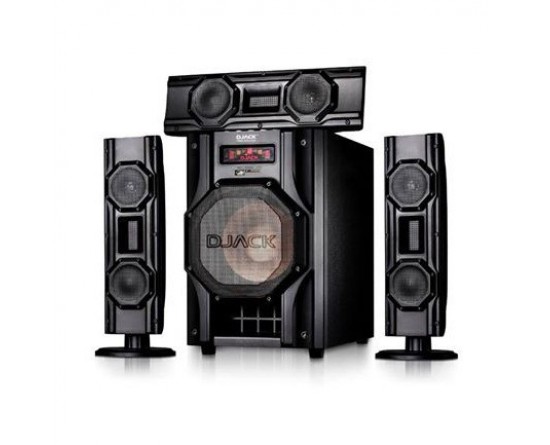 DTS AC-3 6-channel connector
Supports MP3 and WMA formats
FM radio
Bluetooth wireless
Acoustimass speaker technology
Subwoofer frequency: 20-200Hz
Satellite speakers frequency:150Hz-20KHz
Voltage: 220-240V, 50Hz
Packed with a robust six-channel, high-efficiency, digital amplifier, the DJ-X3 home theater model is a forerunner for sound systems within its range. It supports input ports to allow you to connect your flash drives or SD card to playback podcasts or music files seamlessly.'
DJ-X3 has a subwoofer that's equipped with a powerful 6.5-inch driver for thumping bass output. Generally, this system reproduces clear sounds with high-quality acoustic effects. It is an ideal choice for audio lovers.
10. D-Jack DJ-23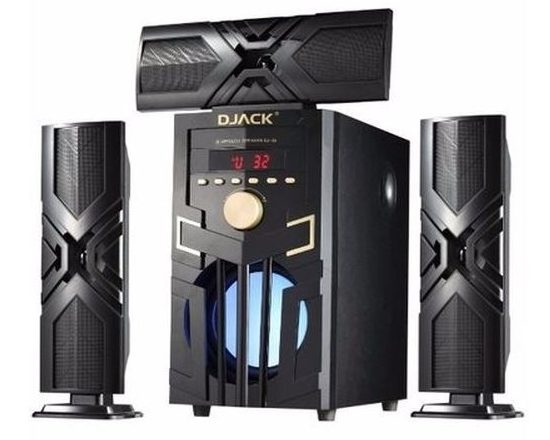 80W power usage
Multi-button remote controller
FM radio
Bluetooth connectivity
DJ-23 is a compact home theater system from D-Jack. It also supports Bluetooth wireless technology, as well as feature input ports for external devices. The quality of sound and bass delivered by this speaker system is applaudable.
It is ideal for people living in small or mid-sized rooms. DJ-23 is designed with sturdy materials and promises long-lasting performance.
11. DJ-3030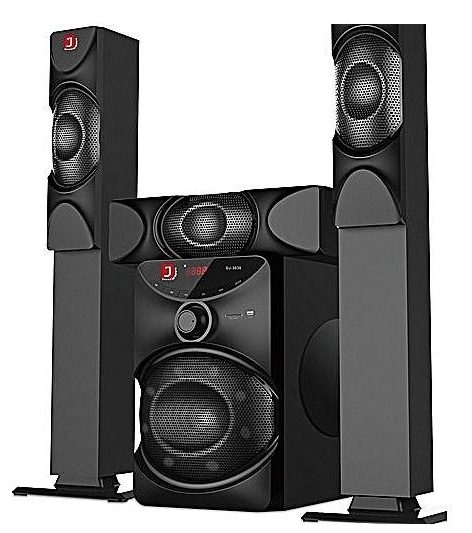 Polished black finish
6.5-inch woofer driver
Infrared remote controller
Bluetooth
From the design to the performance, everything about the DJ-3030 is pretty impressive. D-Jack 3030 home theater system is classified as "Heavy Duty" because it packed a bunch of sturdy drivers. This robust speaker serves all home entertainment needs, which includes gaming, movies, and music playback. It is capable of reproducing sounds to fill any room.
The variant of D-Jack 3030 heavy-duty Bluetooth home theater sound system is D-Jack 3031 (pictured below).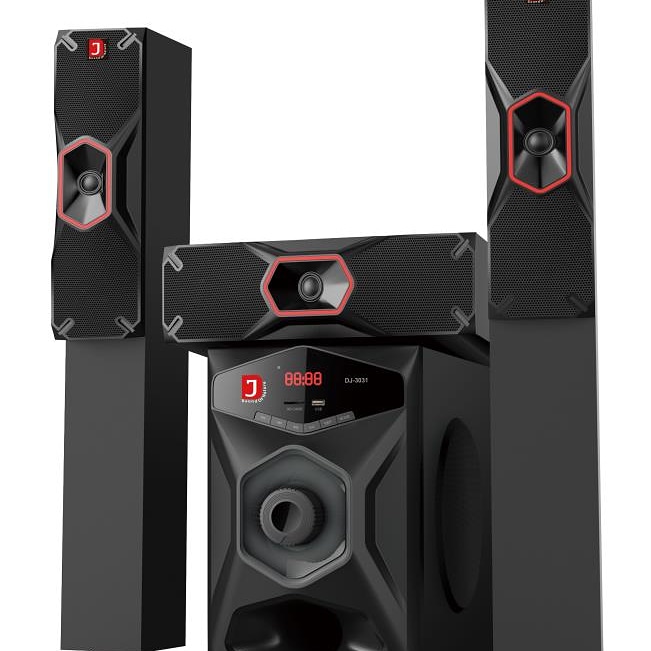 The D-Jack 3031 home theater system has a total power output of 140 Watts (just like D-Jack 3030) as well as the other features of D-Jack 3030, but a slightly different design.
12. D-Jack DJ 5060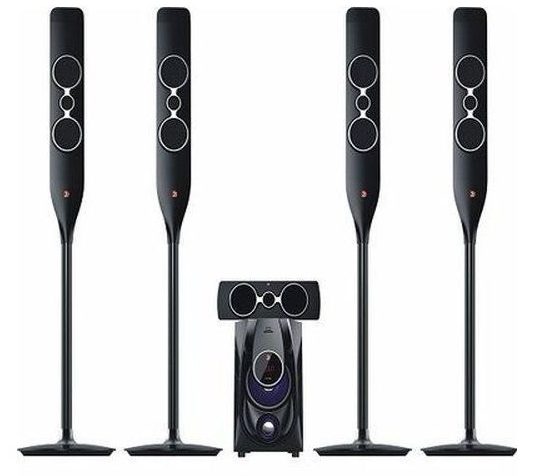 Power handling: 5000 watts
Distortion: 0.7% 9W
Compatible with DVD, TV, and USB devices
So far I've been listing 3.1 sound systems from D-Jack. However, here's a 5.1 system from the brand and it is the real deal. DJ-5060 comes with four (4) satellite speakers for surround sound playback, plus a center channel, and a powerful subwoofer.
This sound system features up to six (6) channels. It is also capable of playing back any audio format from connected external devices such as USB flash drives and SD cards.
13. DJ-664 Tower Speakers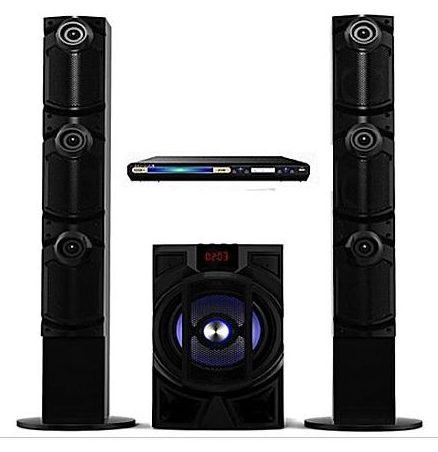 LED display screen
USB 2.0 input port
Bluetooth
Built-in Class D amplifier
Dual microphone jacks
High-frequency switching power transformer
Remote controller
Tower speakers are the favorite of most home audio enthusiasts – they provide more flexibility and typically perform better than bookshelf speakers. DJ-664 is a pair of tower speakers with a subwoofer.
The performance of this sound system is satisfactory; with the subwoofer delivering thumping bass and the tweeters reproducing clean sound, DJ-664 will playback high-quality audio from various sources seamlessly.
14. Djack High-Class DJ 3032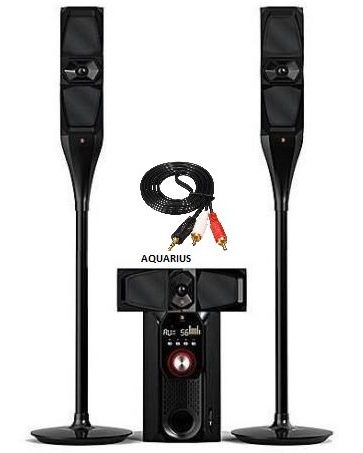 Built-in six-channel digital amplifier
Built-in stabilizer
Bluetooth connectivity
This D-Jack home theater speaker model is equipped with quite a lot of interesting audio technologies. DJ-3032 is compatible with different sound sources and comes with a DTS AC-36 channel connector. The remote controller includes all the buttons to control what you listen to.
DJ-3032 also supports FM radio; thus, you can listen to your favorite local stations seamlessly. The Bluetooth technology allows for wireless streaming from mobile devices.
15. DJ-J5L Floorstanding Speakers
Power Output: 120W
Remote controller
Bluetooth support
D-Jack DJ5L is a set of four (4) floor standing speakers (tower speakers) and a center channel coupled with a subwoofer. It is capable of producing room-filling sound accompanied by ground-shaking bass.
This sound system is a complete 5.1 audio setup. It delivers good sound for playbacks, gaming, TV entertainment, and lots more.
Summary:
These are the D-Jack sound systems you would find in different stores across Nigeria. They all support Bluetooth connectivity, as well as come along with a remote controller. The sound quality of these systems is superb and suitable for various digital playback needs.