WhatsApp is the most popular Instant Messaging platform in many countries globally. It is also the most downloaded instant messaging app across mobile app stores. The instant messenger, WhatsApp, is available for free on Apple App Store and Google Play Store, so, whether you've got an iPhone or an Android device, you can always access your WhatsApp messages.
But there's a problem. Transfering your WhatsApp data from an Android device to an iPhone device, or vice versa isn't "so easy" as it may sound. WhatsApp is an end-to-end encrypted platform, which means your data and files are securely saved on your device (unless you've activated the cloud backup option).
To get all your WhatsApp data to your new device (from Android to iPhone in this case), you have to go through a process, and that majorly requires the use of a third-party software app like iToolab WatsGo, a handy WhatsApp transfer tool for Windows.
Introducing iToolab WatsGo WhatsApp Transfer App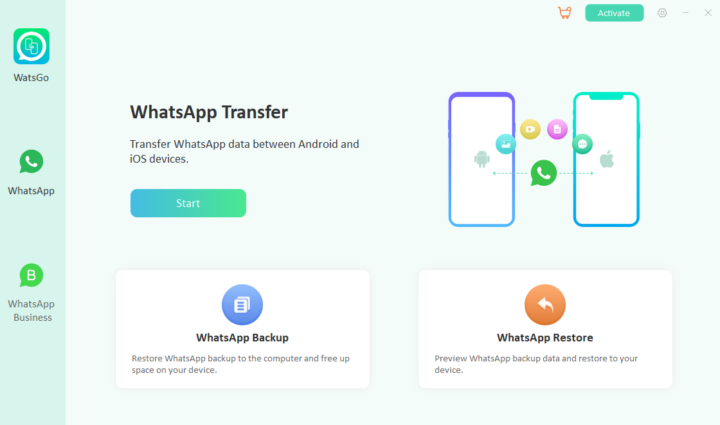 The iToolab WatsGo app is a Windows OS utility software that runs on Windows OS computers, allowing PC users to move their WhatsApp data from iPhone to Android or Android to iPhone. It is a piece of an intuitive solution for WhatsApp data transfer across different devices.
iToolab WatsGo software supports the regular WhatsApp version and the business version (WhatsApp Business). The app comes with pretty other handy features you'd find interesting and worthy. Using iToolab WatsGo, you can transfer WhatsApp data & files like images, videos, voice notes, and others from your Android to an iPhone.
Furthermore, iToolab WatsGo is compatible with the newest versions of Android and iOS OSes – Android 12 and iOS 16. Well, the iToolab WatsGo software isn't built for Android to iOS transfers, it can be used to transfer WhatsApp data between any two Android devices or iOS devices.
Features:
One-click WhatsApp/WhatsApp Business data transfer between Android and iOS.
Supports multiple data types: images, messages, call history, videos, audio, contacts, etc.
Can transfer more than 20 WhatsApp data types.
Backup WhatsApp data to your PC to free up device space.
Preview and restore WhatsApp backups (It can quickly restore WhatsApp backups to Android or iPhone anytime you want).
Back up WhatsApp (Business) data without Google Drive or iTunes/iCloud.
Full compatibility with iOS 16 and Android 12
How To Transfer WhatsApp Between Android and iPhone
As already stated, iToolab WatsGo is one of the premier software that lets you transfer whatsapp from Android to iPhone. The software is only available for Windows OS. Hence, to get started with the procedures below, you'd need to install the iToolab WatsGo software on your laptop PC or Windows desktop computer.
Prerequisites:
You must have the iToolab WatsGo app installed on your PC
Log in to the same WhatsApp on both devices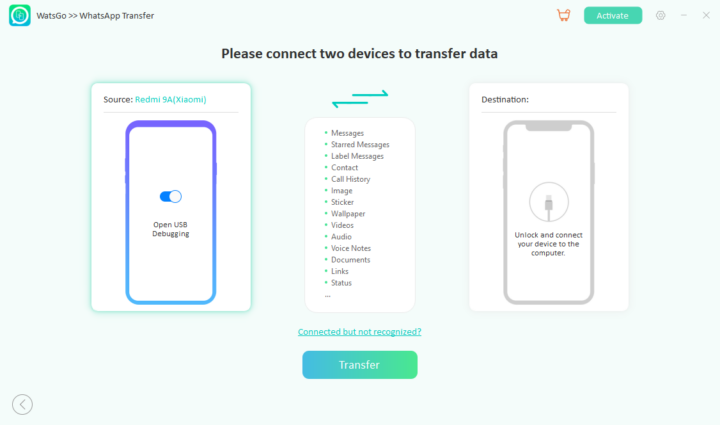 First Step:
Launch the iToolab WatsGo software and connect both devices (Android and iOS) to the PC. The devices must be recognized by the iToolab WatsGo app before you continue; one of the devices would be marked as the "Source" device, and the other would be marked as the "Target" device. You can always switch this setting.
Note: You must enable USB debugging on the Android device. For the iOS/iPhone device, you must select "Trust" when the prompt comes on and also turn off Find My phone on your iPhone.
Second Step:
Before you proceed with this step, ensure to back up the data on the "Target" device because the transfer process would overwrite existing WhatsApp data on the (target) device.
After the backup is complete, iToolab WatsGo obtains the backup and tries to access your WhatsApp on the "Source" device. If you activated WhatsApp 2FA, you'd need to enter the passcode during this process.
Third Step:
iToolab WatsGo would convert the WhatsApp data backup from your Android into a format that is supported by WhatsApp for iOS. Android backup format and iOS backup format are not the same, so the iToolab WatsGo app helps you to convert the backup format quickly.
Fourth Step:
The converted backup data is then transferred to the "Target" device. This process doesn't take long to complete. Ensure you allow it to run successfully (100%). Your iPhone will reboot when the transfer process is complete, but if it doesn't, reboot it manually.
Now, that's how to transfer your WhatsApp files between Android and iOS devices. If it's between Android and Android or iPhone and iPhone, the process is a bit faster as the iToolab WatsGo app won't have to convert between backup formats.
A Brief Review of iToolab WatsGo Software
The iToolab WatsGo is pretty fast and works well for the purpose. It is one of the best solutions for transferring multiple WhatsApp file types across iOS and Android. The app's interface is intuitive and easy to navigate. iToolab WatsGo runs on newer Windows OS versions and supports the newest Android and iOS versions.
Of course, this is not a free app. It offers three paid plans starting from $19.95, $29.95, and $39.95 for monthly, annual, and lifetime licenses, respectively. The most exciting reason to use iToolab WatsGo is that it transfers everything from your old device to the new one, including voice messages, stickers, wallpaper, label messages (WA Business), and many more.
Conclusion
While you can use free tools such as the Samsung Smart Switch feature to move your WhatsApp data across devices, it's not as advanced and handy as the iToolab WatsGo app. If you use a Windows OS PC, the iToolab WatsGo is an ideal tool to get your WhatsApp data across your devices in just a few minutes.