Android, Google's owned operating system is surely getting wider popularity by the day as most smartphones rely on it to run.
One question you may want to ask is why Android smartphones are everywhere today? Our answer is perhaps because the Android OS is easy to use.
No matter how easily you can navigate around your Android smartphone there is no doubt that there are certain things you may not know you could do with your Android smartphone.
Sounds funny you may say, but this post will expose some of them. If you are ready, let's explore them.
Find Your Smart Phone Even When on Silent Mode
You know those moments you set your Android smartphone to be in silent mode probably because you want to attend a meeting and wouldn't need the ringing disturbances?
So how about you suddenly got home and threw the phone into a hidden corner in the bedroom and now you can't find it? I have a feeling you are already screaming 'yeah, I will just call my number.' But the phone is on silent, remember?
Well, you can find your phone using a Google service called Android Device Manager.
Device manager is a Google service for Android users, which synchronizes with your Android phone when you sign in to Google from the device. And it enables you to control your smartphone remotely.
How To Find Your Phone Using Android Device Manager
To find your smartphone using Android Device Manager by Google, you'll need follow these easy-to-do steps :
Get another phone or PC and log on to https://www.google.com/android/devicemanager
Sign in into the exact Gmail account you had used when you were setting up Google services on your device.
In the next page you should see the name of your phone and other smartphones you may have used with same account. If you couldn't find your phone in the list, then chances are that you didn't use that Gmail account to set up the phone.
Choose your phone and click on RING.
Your phone will ring on top volume for 5 minutes within which you should be able to find it.
N/B: You can also erase or lock your phone remotely using the Android Device Manager from Google.
Let Your Phone Read the Notifications
Well I need not mention much about how uncivilized it is to reply or even read text or notifications while driving. But truth be told, there are some important notifications or messages you don't want to miss.
In such case your best bet is to get a third party app that can do all the readings for you while you just listen.
A few good android apps we can recommend for this job include Shouter, Read it to Me, Speak Me, etc.
Interestingly, you can prioritize the app to set what notifications to be read to you and from what app(s) such notifications should be read.
Check Phone's Hardware
Ever heard of 'Phone Tester?' it's a cool android app that let's you check if your phone's hardware are in good shape by giving you relevant information about them.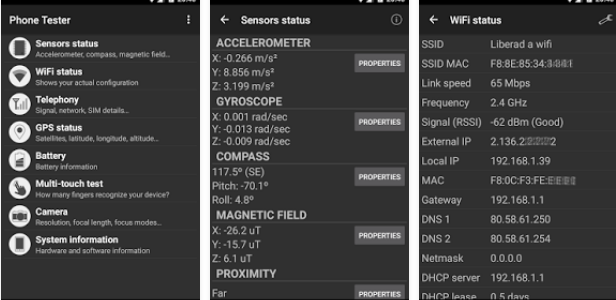 Using Phone Tester, you can get comprehensive technical information on your battery's temperature, camera details, sensors and touch efficiency.
This app works efficiently on most Android devices and can be downloaded from Google play store for free. AnTuTu and Quadrant benchmark tool is also very useful for getting technical details for your smart phone and tablet devices.
Bypass Screen Lock In Selected Places
It's normal for most android users to set a pin or unlock pattern for their smartphones as no one wants his or her personal information being compromised.
However, having to enter a pin or Draw pattern even in 'safe' places, like your bedroom, before unlocking your phone can be boring at times.
Hence, if your phone is running Android 5.0 and above, then you have a Smart Lock feature that enables you bypass screen lock in your 'trusted places.'
The Smart Lock feature makes use of GPS services to set up your 'safe places' and also be able to unlock your phone automatically when you are in your 'safe places.'
How to Set up Smart Lock
To activate Smart Lock on your phone, do follow these steps:
Go to security option under the SETTINGS menu.
There you will find the 'smart lock' feature. Tap on it to set up the 'Trusted places' (that's where you don't want to type a PIN or draw a pattern every time to unlock your Android smartphone).
The feature will make use of your GPS sensor to set up a trusted location.
N/B: You can also set up a trusted voice and A trusted device to unlock your Android smartphone for when you are wearing a wearable gadget.
For users running Android 4.4.4 Kitkat on their Android smartphones, you can install 'Smart lock screen' from Play store to get the functionality.
You have seen all we have in our shelf at the moment. Chances are that you have a question, we cherish relevant questions as well as contributions. Cheers!