Marketing automation is the future, as it helps businesses achieve more productivity and save some operational costs. Business automation solutions are now many, making it difficult to actually figure out the best to use. However, there are few top options, and the Aritic PinPoint is one of them.
With Aritic PinPoin software, your business can run on full-stack automation, leaving your workers with more time to focus on other important aspects to achieve more growth. As a business automation stack software, Aritic PinPoint is liable to push your business to the next level. Here's a distinctive review of this software and how to use it.
Aritic PinPoint Overview
Aritic, as a company, offers a bunch of automation solutions for businesses, regardless of the business sector. However, the Aritic PinPoint tends to be an all-rounder, integrating several features and business tools to help B2B businesses achieve more productivity and seamless communication with customers/clients.
This software lets you create and deploy effective automation campaigns that can guarantee high conversions. It serves more like a tool that can help you grab leads more easily than ever. Notwithstanding, there are other good business automation and CRM software solutions, but the focus here is on Aritic PinPoint.
Their Pricing
Aritic PinPoint pricing is based on the number of contacts you will be added to the software. The price starts at $19/mo or $180/yr or $312 per two years for 1000 contacts. If you are adding many contacts, up to 200,000 or more, you'll need to send a request to the company to get a quote. You can add multiple users to an account, depending on the plan you choose.
Features of Aritic PinPoint
The Aritic PinPoint dashboard leaves you with a ton of features and tools to run various campaigns. Here, we'll focus on the main features and tools for running effective campaigns.
1. Forms and Landing Page Builder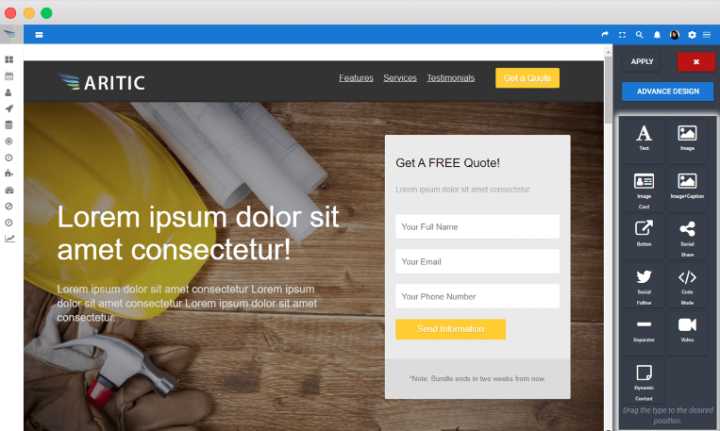 One of the impressive features of Aritic PinPoint is its intuitive, drag and drop landing page builder. This allows you to design responsible landing pages for all screen sizes. There are lots of pre-design templates to choose from, and you can also embed forms or tracking cords. The Aritic PinPoint landing page builder is comprehensive yet easy to use.
2. Drag and Drop Embeddable Form Builder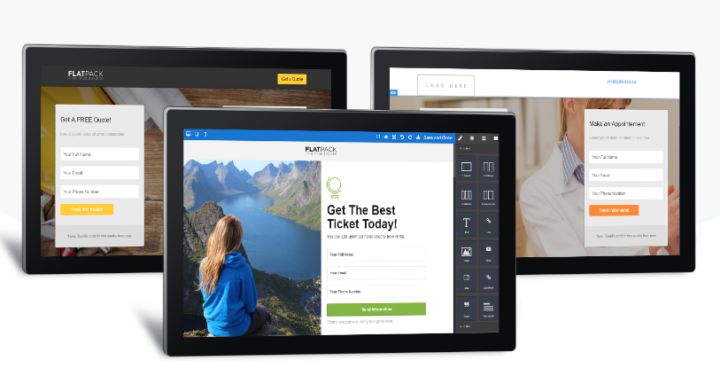 Yes, the Aritic PinPoint software lets you create forms for collecting leads. These forms are embeddable, and the builder workspace supports drag and drop. Apparently, you can build any sort of form with this tool.
3. Dynamic Segmentation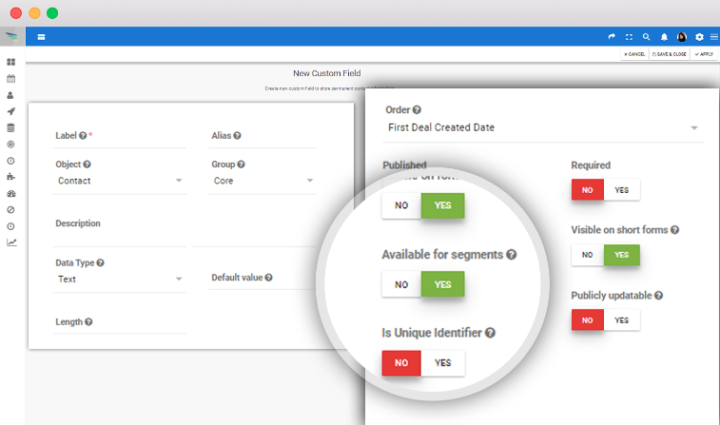 Aritic PinPoint goes on to support tools that allow you to create contact segments for proper segmentation purposes. The software lets you automatically segment your contacts based on various factors, including their behavior, campaign engagements, leads scores, lead source, sales conversation, lifecycle stage, and more.
4. Intuitive Automation Builder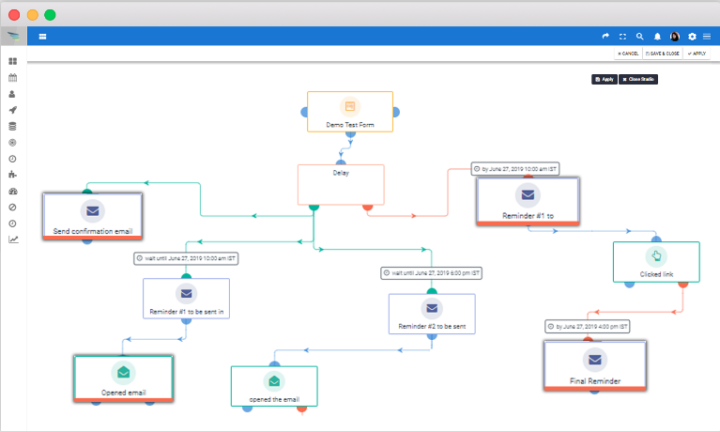 Furthermore, Aritic PinPoint includes tools that allow you to create automation campaigns using the automation campaign builder that supports drag and drop. You can add conditions, actions, and decisions to your campaigns. More so, you can test run the campaign before taking it live.
5. Email Campaign Tracking and Reports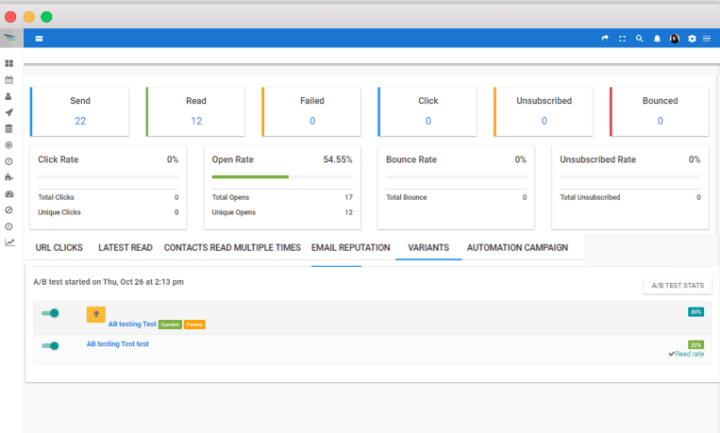 One of the good reasons to use Aritic PinPoint is its marketing analytics and reporting tools. The reports tabs provide detailed information about campaigns, leads, and conversions. More so, the reports can be customized to obtain behavior-based metrics.
6. Social Media Engagement Automation
With Aritic PinPoint, you can schedule bulk messages to send across social networks. Also, you can simultaneously update your social networks with specialized messages to trigger real-time engagement.
How To Use Aritic PinPoint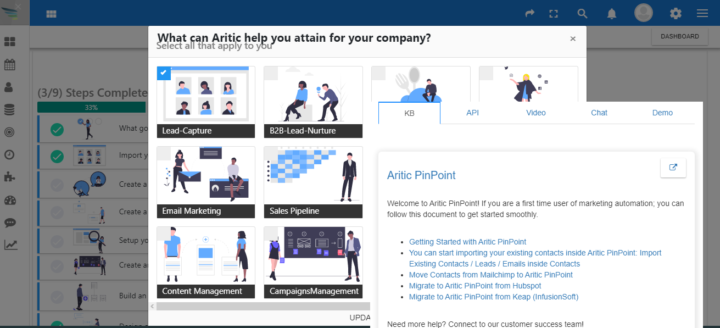 To get started with using Aritic PinPoint, you need a working business email. You cannot sign up using regular emails such as Gmail, Yahoo Mail, or any other email as such. After signing up, you will need to answer some quick questions about your company or organization and then verify your email. Upon verification, you can now log in to the web app and start exploring the many features of Aritic PinPoint.
Everything you could do with Aritic PinPoint is available at the left pane. Below are the steps to create new email campaigns.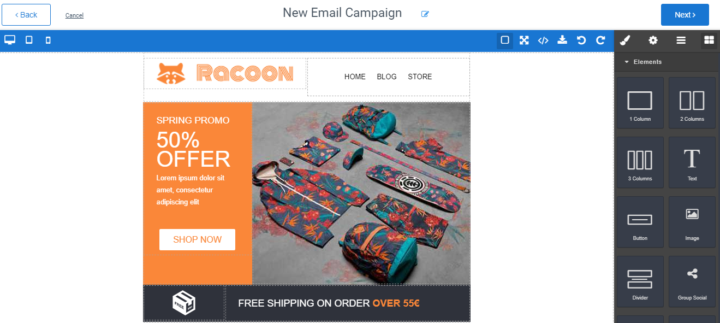 First Step:
Hover your mouse at icons at the left pane, expand the "Campaigns" option and click on "Email Campaigns."
Second Step:
Look to the top-right corner and click on the "Create new email campaign" button. This will take you to the email campaign builder.
Third Step:
Choose an email template from the many available predesigns. Notwithstanding, you can create your template from scratch by dragging and dropping the email form elements into the workspace.
Four Step:
After customizing your email campaign template, providing the addresses where replies should go, and other necessary parameters, the template would be saved and available for use in your campaign.
My Aritic PinPoint Review and Verdict
Actually, the Aritic PinPoint software comes with a bunch of handy tools designed for all kinds of businesses. The interface is very intuitive and self-explanatory. This software comes with a ton of tools for running different campaigns. More so, the page/form builders are packed with impressive features for the purpose.
If you ever get stuck at using a tool, Aritic provides a detailed, easy to navigate knowledgebase where you will access the guides to using the Aritic PinPoint software. It is entirely a useful business software that can actually boost productivity by making a lot of tasks run automatically.
What More?
Summarily, Aritic PinPoint is an ideal business software solution built for companies and startups. It offers a wealth of features and a super-intuitive interface. More so, the support team is pretty responsive and professional.