Talking of 4K video downloaders, this refers to video download apps and tools that allow you to download online streams in 4K quality. These downloaders support high resolutions and formats. Interestingly, there are quite many of them out there, which you can install on your iOS or Android device for easier access.
This article lists the best 4K downloaders for Android and iOS devices. These downloaders allow you to grab videos from hundreds of websites and platforms and save them on your mobile devices. Most of these apps are available on the Android platform only, while a few are available on iOS too.
The 10 Best 4k Video Downloaders for Android & iOS Devices
Hereunder are the 10 best 4k video downloaders for iPhone and android. It is important to note that the iOS platform is not as customizable as Android, and as such, there are not many video downloader apps that run on the operating system. So, most iOS users simply use online downloaders that run through the web.
1. Documents (iOS)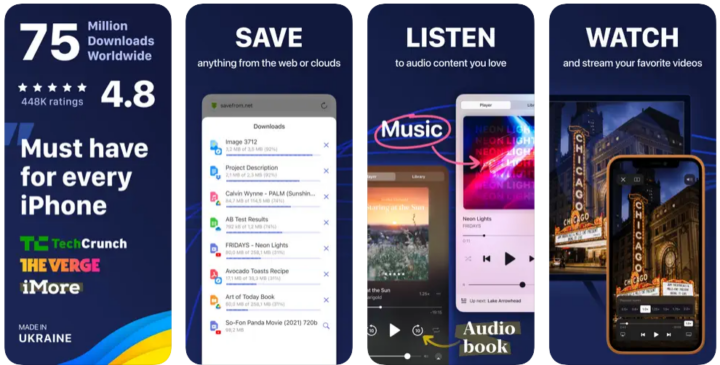 Forget about the name, this file manager app comes with a lot of extensive features you'd be marveled to know. First, it lets you manage your files easily on your iPhone or iPad device, also, it lets you play your media files, open documents, and annotate them, and finally, it allows you to download anything you find on the web.
This simple-to-use app also features an integrated VPN service for faster internet speeds and secure connections. The Documents is an all-in-one free app every iOS device owner should have. It is available for macOS systems too, and you can synchronize your files across devices.
2. 4K Video Downloader (Android)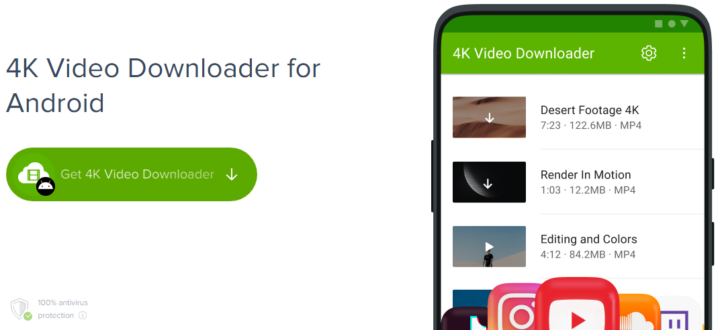 4K Video Downloader is a popular name in the space; it is one of the best to use on Android smartphones, and it's available for Windows OS, macOS, and Linux OS platforms. This video downloader features an intuitive interface that is pretty easy to navigate and use across devices.
With the 4K Video Downloader tool, you can grab videos from over 1,000 websites, including social media platforms, streaming services, and random websites that upload video content. In line with the name, this tool lets you download your videos in crystal clear 4K quality.
3. KeepVid Video Downloader App (Android)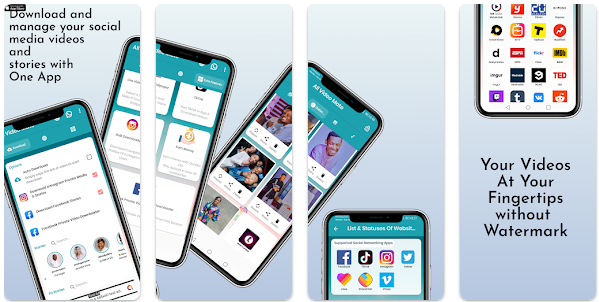 KeepVid is another popular video download tool for Android and PC users. The app is available for mobile clients and is also web-based. You can use the web-based version on iOS devices – it doesn't require any app installation, simply open the website and paste the video URL you want to download.
The KeepVid app is free to download and it is available on Play Store; you can as well get it on other app stores for free. It features a nice interface everyone could easily understand and the download speed is applaudable. Also, this downloader tool lets you download online videos in multiple formats and video resolutions.
4. Videoder – Video Downloader (Android)

Just like KeepVid, the Videoder app allows you to download online videos from various websites and platforms. It works on virtually all android devices and supports multiple video formats. This video downloader app is sadly not available for iOS device users as there's no online web-based version.
Videoder comes with additional features, including a built-in video player that allows you to watch online videos. You can also use this app to download music videos and other types of digital files. Its download speed is quite good and you can pause downloads to continue them at a later time.
5. Video Saver PRO+ (iOS)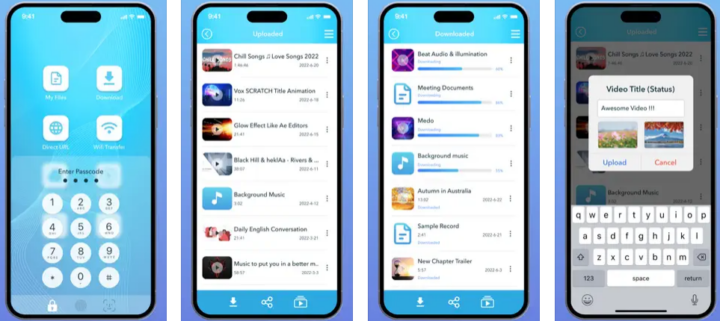 Here's another one for iOS device users – this video downloader tool is superb and comes with a plethora of other packages that are truly useful for many other needs. Basically, this is a powerful media toolbox that lets you download and upload files to the cloud seamlessly.
This outstanding tool supports a lot of video formats and resolutions. You can save 4K videos with the downloader feature. The file managing tools are very much handy and give you total control over your files. There is no Android version of this downloader application.
6. AVD Download Video (Android)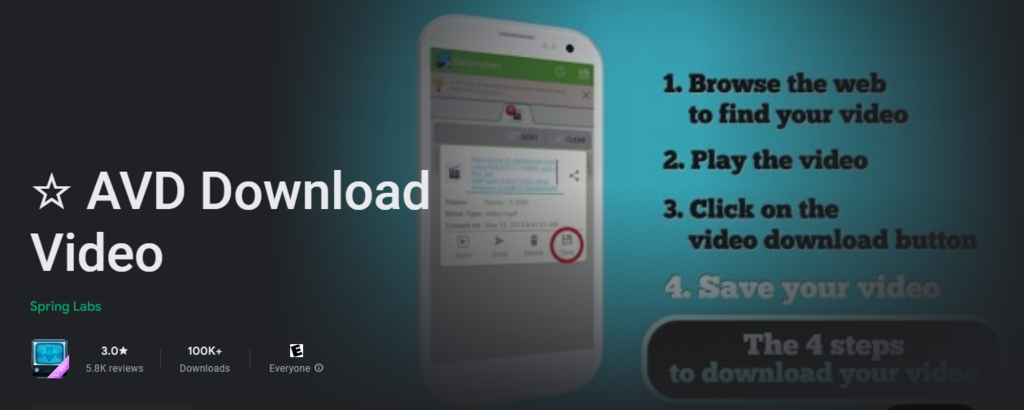 The AVD Download Video app is available for Android smartphones and tablets. It is one of the oldest video downloader applications for Android and the interface is very much friendly to understand.
This tool lets you capture any video you find online – the interesting part is that the videos get downloaded in super high quality. It is pretty easy to use this app, and you'd find the downloaded videos in your gallery.
7. All Video Downloader (Android)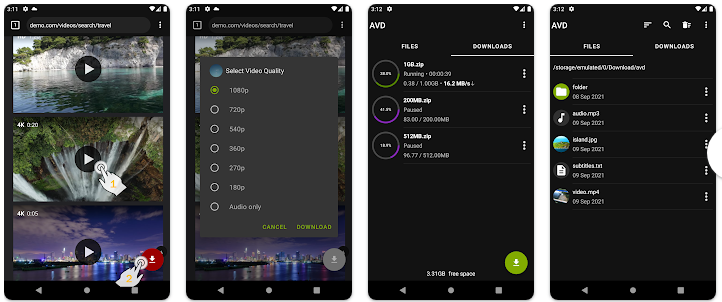 Continuing with this list, the All Video Downloader app is worth mentioning. It is a powerful, yet easy-to-use video downloader that lets you download videos from hundreds of websites. A built-in private browser is available on this app so you can surf the internet in incognito mode with pin protection.
All features of this app are useful for various purposes and you'd find the app overall useful. Thanks to the "Multi-Connection" feature, All Video Downloader also serves as a download manager that accelerates your downloads to a great percentage. You can also convert videos in-between formats.
8. Easy Tube Video Downloader (Android)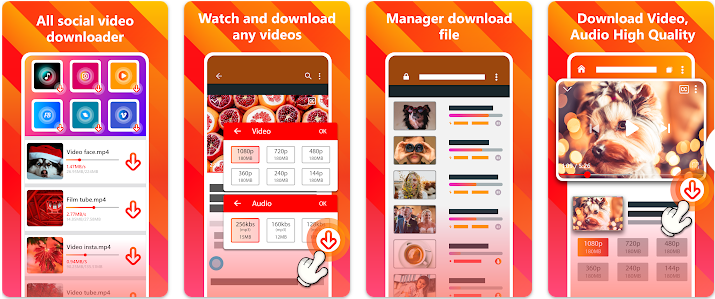 At least the Easy Tube video downloader app allows you to download 4k video files from social media platforms such as Facebook, Instagram, and Tiktok. Yes, it supports many other networks, but asides from that, the app doesn't download video files from other websites.
Easy Tube video downloader supports all known video formats and you can download them with just one click. The integrated download manager tools let you pause and resume downloads at any time, and you can preview the video file before proceeding with the download.
9. Snaptube (Android and iOS)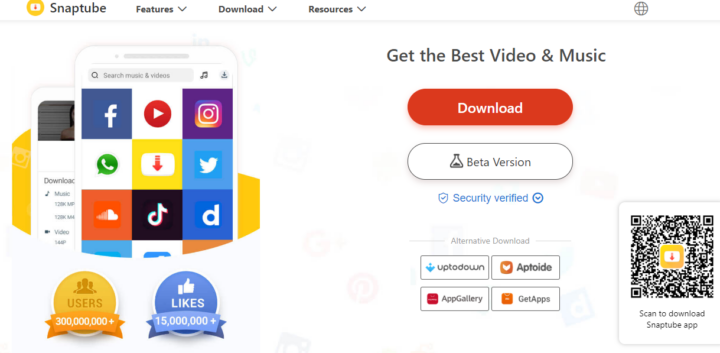 The Snaptube is one of the most-used video downloader applications on mobile devices. It is natively an Android app, but there's also an iOS version for iPhone and iPad users. Snaptube comes with a lot of features and built-in tools for different actions, and it runs smoothly on virtually all Android devices.
With this tool, you can download any video format in any quality – up to 4K. Snaptube supports downloading videos from at least 50 websites, including social media platforms and streaming services like DailyMotion and YouTube. The Snaptube app is not available on Play Store, you have to download it from the developer's website.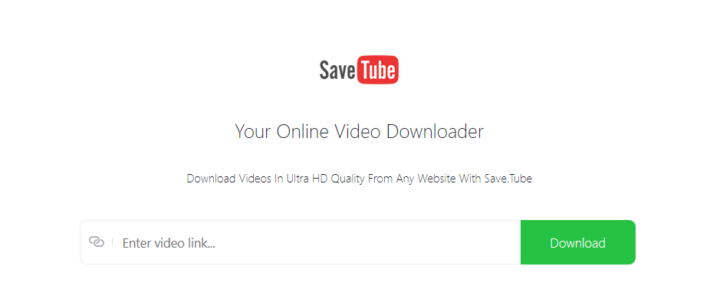 SaveTube is an online video download application that allows you to download videos from, YouTube. It works via web browsers, and as such, you can access the tool from any device or system that has a web browser installed. The SaveTube tool is 100% free, and quite interestingly, it works for downloading videos from over 1,000 websites.
What More?
These are the top 10 best 4K video downloaders for Android and iOS devices. You can pick any one of these tools/apps to try out its features. While some of them come with extensive features, the others are basically for online video downloads alone.