Just as your mobile phone is almost useless without the battery, your CB radio is also meaningless without an antenna. CB radios (Citizen Band Radios) require CB antennas before they can connect over a frequency. It's quite understandable why you need an antenna for your CB radio – the antenna is what receives and sends signals for communication. Also, after getting an antenna for your radio, you'll need to tune the antenna for effective transmissions. Whether you're a trucker or drive conventional road vehicles, these are the best CB antennas for your CB radio system.
Top 10 Best CB Antennas For Road Vehicles
Here are the 10 best CB antennas for your road vehicles or other automobiles:
1. TRAM 703-HC

This center load CB antenna is simply one of the best for truckers and other drivers. It receives all CB frequencies and is about 2ft tall. Also, this CB antenna comes with a 3.5-inch magnet mount, shock spring, stainless steel whip, and a cable. Many Uniden CB radio users use this antenna, and it works perfectly for them. The antenna is flexible (adjustable and tunable) with a stranded core.
2. Cobra HG A1000
The Cobra HG A1000 is an ideal CB antenna for road vehicles – Cobra claims it designed this antenna to outperform its alternatives in the market. Well, it does pretty well in covering almost all CB frequencies.
This antenna comes with a non-abrasive heavy-duty 4-inch magnet to keep it firm when placed on any surface. Cobra HG A1000 antenna is easy to install, and you can also easily remove it when not in use. As expected, this CB antenna is compatible with 10-meter radios too.
3. WILSON 305-495

This CB antenna is specifically meant for truckers; it is a heavy-duty, 3500W trucker antenna with a frequency range from 26MHz – 30MHz. Wilson included a larger coil housing in this antenna to allow seamless power handling. Other features of this antenna include a 49-inch stainless steel whip and a 10-inch shaft standard thread.
4. FireStik FL3-B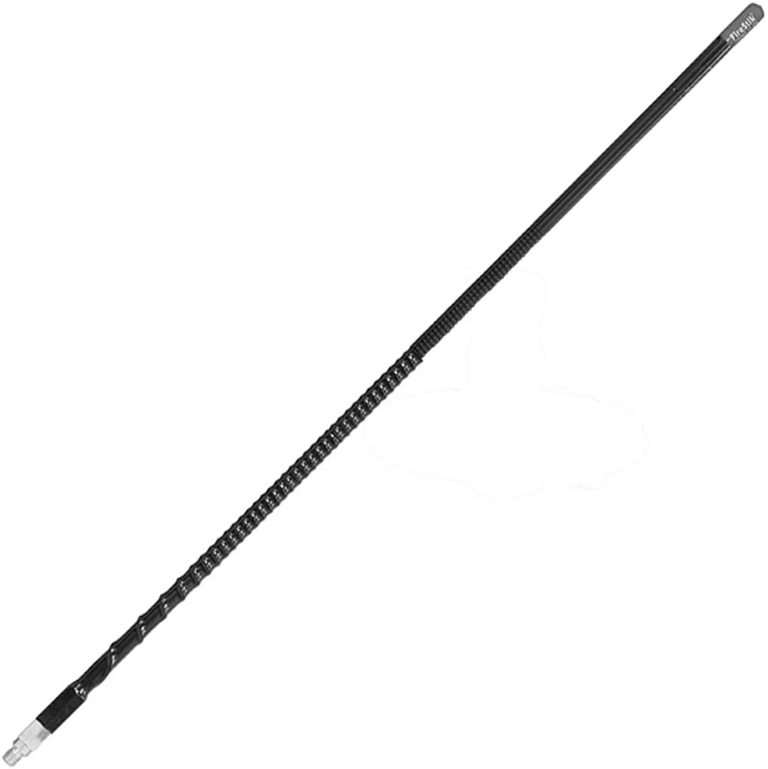 FireStik is a popular brand when it comes to CB antennas. This FireFly antenna from the brand works with all CB radios; it is lightweight, easy to tune (thanks to the tunable tip), and features a high-performance coil design. FireStik FL3-B also features a flexible fiberglass tube – it gets you perfect SWR readings and excellent reception, fit to mount on any vehicle, whether truck, van, SUV, etc.
5. Luiton CB Antenna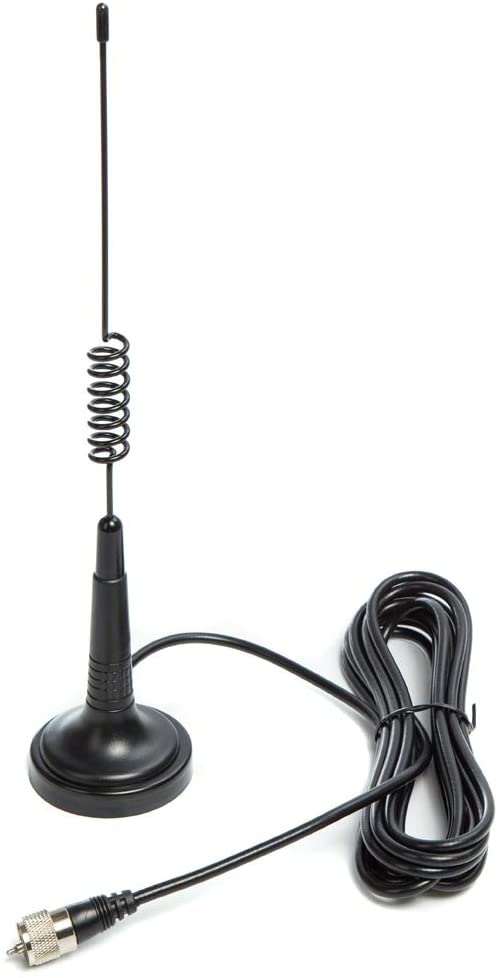 This is a 14-inch CB antenna featuring a PL-259 connector, magnet base, and 13ft RG-58/U cable. It comes standard with BNC to SO-239 adapter and is easy to install on any car trunk. With the Luiton CB antenna, you are sure to enjoy unwavering receptions. The frequency range is 26-28MHz, impedance is 50-ohm, and when bought from a trusted seller, you're eligible for a 1-year warranty against factory defects.
6. RoadPro RP-711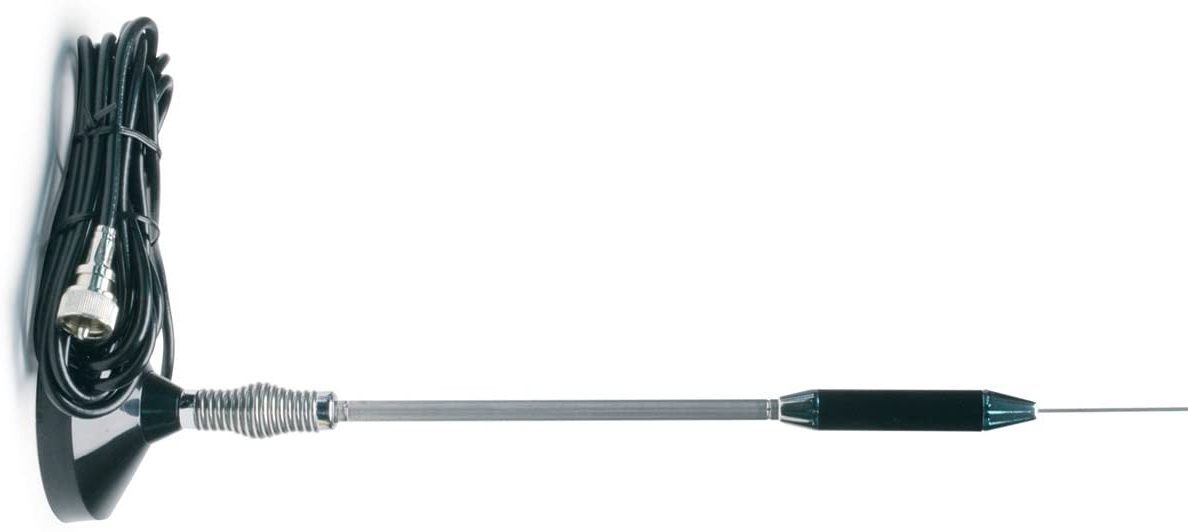 Here is a 24-inch magnet mount stainless steel CB antenna. The RoadPro RP-711 is a center loaded CB antenna that comes standard with a 9-inch coax cable. RP-711 has a sturdy magnetic base that holds it steady on any vehicle. Also, this antenna works with all CB radios – it is easy to install and assures good reception even on a handheld.
7. Nagoya CB-72

Nagoya CB-72 is a 28-inch CB Antenna with a frequency range of 26-28MHz. It is an Omni-directional antenna, features a center coil-loaded heavy-duty spring with a magnetic mount, as well as includes an 18-inch RG-58A/U cable with a PL-259 connector. Apparently, installing this CB antenna will be easy on any type of vehicle.
More so, it covers all CB frequencies, and there's no need for tuning. According to the manufacturer, this antenna works best with Uniden PRO505XL, Bearcat 980SSB/880, and Cobra 19DX IV.
8. Luiton CBA01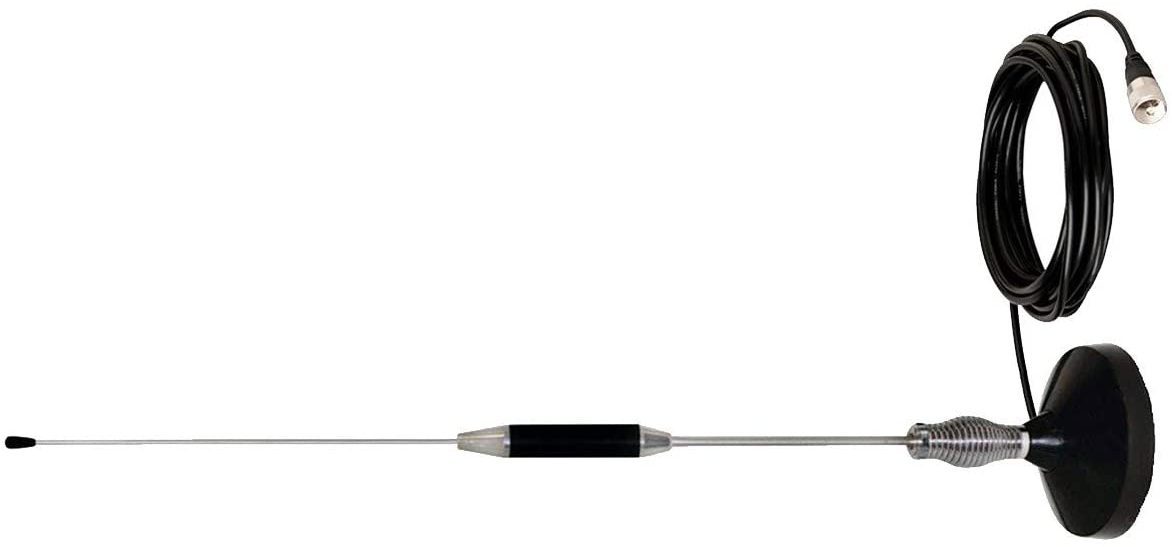 Luiton makes good CB systems – there's no doubt about that. This 28-inch CB radio antenna is compatible with all CB Radios (Uniden, Cobra, Miland, Galaxy, President McKinley, and more). As expected, it has a sturdy magnetic mount, center coil-loaded heavy-duty spring, dual sections, and comes standard with a 10ft cable.
The frequency range is 27Mhz with 50Ω impendence. This antenna is very tall, ensure that you mount it in a way that it won't touch other overhead cables on the road.
9. Prostick CB Radio Antenna

Prostick is an infamous CB antenna manufacturer – the Prostick 2′ Fiberglass antenna is one of the best in the market. There's no need to tune this antenna; it is factory tuned with a frequency range from 26 – 29MHz.
This USA-made antenna is built to last, thanks to the patented "VibraSorb" anti-breakage design; in additionals, the fiberglass mast is joined to Nickel Plated Brass Ferrule. But since this antenna is not tunable, not everyone may find it worthy of buying; nevertheless, it is ideal for CB radios.
10. K40 Antenna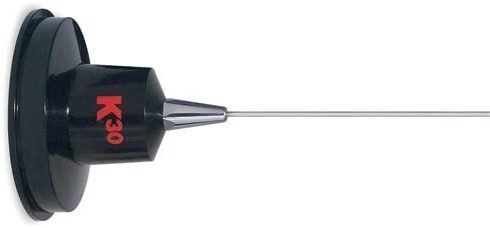 K40 is a sturdy and versatile CB radio antenna that covers all CBs. It has a power rating of 300W, as well as include a 15ft. Coax, PL259 connector. This antenna is suitable for truckers and other drivers too. The frequency is between 26 – 30Mhz. You will receive clear signals and receptions when using this antenna. More so, the price is very much affordable.
Conclusion:
These CB antennas are compatible with virtually all CB radio systems, and they are ideal for truckers and other road drivers. You can purchase these antennas from different stores and outlets; if you use a CB radio, then you need either of these!