Some years back, we talked about how to sync custom email accounts with Gmail and would like to introduce an app with similar cloud features today. The app in question is MultCloud 4.x.x. It is a web app that lets you sync your cloud drives into a single cloud storage bank.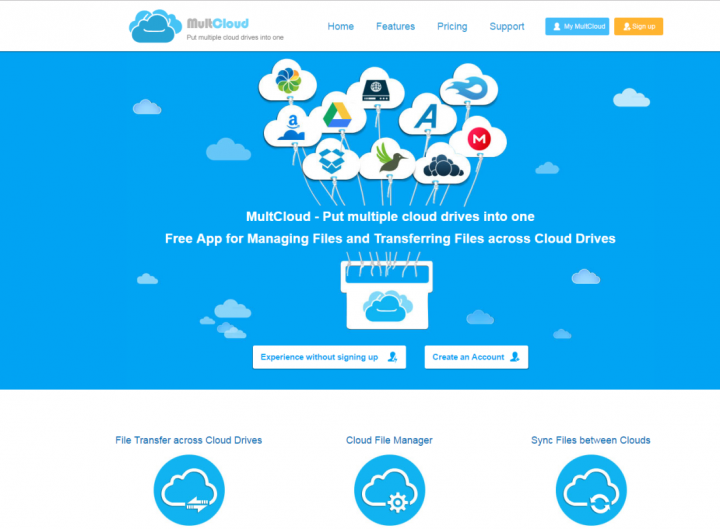 It is no secret that almost half of internet users stores their files in multiple cloud storage offered by services like Dropbox, Google Drive, Box app, SkyDrive, and etc. But the more cloud accounts you have, the more work it takes to keep up with them. Today we will show you a way to make all of your cloud drives set to one simple interface. That's MultCloud.
MultCloud is a cloud drive management tool that can help users to migrate, move, copy, and manage files among different cloud storage services. MultCloud is a cloud storage management, backup and moving tool, all rolled into one.  MultCloud is developed and distributed by AOMEI, the owners of AOMEI Backupper and Partition Assistant.
A Few Things to Know About The Cloud &  MultCloud 4.x Web App
Apart from regular off-drive backups, the best way to keep our files/data/documents secured is by uploading them to multiple cloud storage sources. Companies that offer cloud storage services are popularly called Cloud Providers, while the process of saving and/or getting access to your saved data over the cloud is called Cloud computing.
Cloud Computing is simply the practice of engaging a remote web hosted servers to manage/store/transfer data, instead of a local server or PC storage drive.
So far we've learned so much about the cloud, it's time to get down to the topic of today.
Cloud management
Cloud management simply refers to the act of saving, accessing and managing the data, files or documents stored in a cloud storage drive. To efficiently manage these data (documents, apps, archives, et al) saved on a cloud drive, we need to use the services of a cloud management tool.
These tools normally ease up the tedious processes  required to save and/or manage cloud contents. They also ensures optimal efficiency when working with a team/collaborators on the cloud.
Introducing MultCloud 4.x.x Cloud Managing App

As already stated above, MultCloud 4.x is a cloud drive management tool that lets users access, migrate, copy, move, or manage his/her files on different cloud storage servers.
The latest version of MultCloud web app has support for 33 kinds of popular cloud storage services. To wit: Dropbox, SkyDrive, Box.net, Google Drive, SugarSync, AmazonS3, Mega.nz, and etc. The newly added One-way Multi-target Sync function makes it a perfect cloud storage management service for increasing productivity.
In regular practice, most persons usually save their data/files on different cloud storage servers such as: G-Drive, Dropbox, App Box, Mega.nz, and etc.  This implies they'd have to log in to these servers specifically in order to get access to their files/documents/data.
But with MultCloud 4.4.x cloud storage management solution, one can reach and manage different cloud servers with a single dashboard.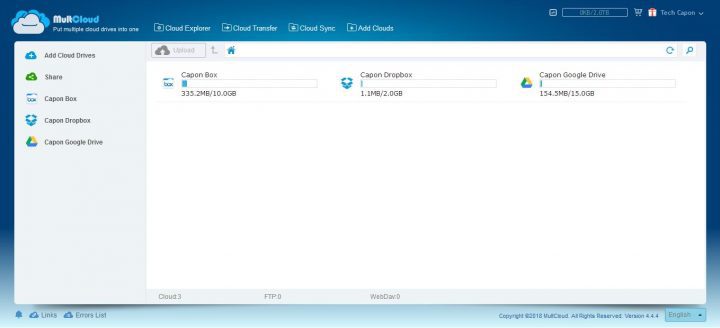 Whether you wish to switch files between two or more cloud accounts, or transfer all your files/data from a particular cloud storage to another, MultCloud lets you do this with ease.
With a single login, you can transfer, move and manage files directly between different cloud storage drives without downloading them locally as done in the past. You can also schedule your activities on MultCloud 4.x for regular actions.
MultCloud Features in-Full

Direct File Transfer Features.
Background File Transfer process, you can even close the Browser window.
Web Based App, No need to install a software.
Synchronization between cloud drives.
Has support for Multiple Cloud Storage services Providers.
Cloud based File Manager.
Scheduled transfer features.
Has support for Multi-server parallel transmission.
Free to Use More Space.
Comes with a Security Guarantee.
Pricing and Availability
MultCloud is available for all platforms and accessible from all internet enabled devices. To wit: Windows PCs, Linux Machines, Android devices, iPhone/iPad/iOS devices, Mac OS X machines, and  Windows Phone devices.
With MultCloud, there's a free and paid premium package that costs around $70 per year. While a free account comes with its limitations, the premium plan doesn't have any.
Free Plan
File Manager
Cross-Cloud File Transfer
10TB Data Traffic
Premium Plan: $7.99/month or $69.99/year
File Manager
Cross-Cloud File Transfer
Unlimited Traffic
Scheduled File Transfer
File Transfer Filter
Very Fast Data Transfer Speed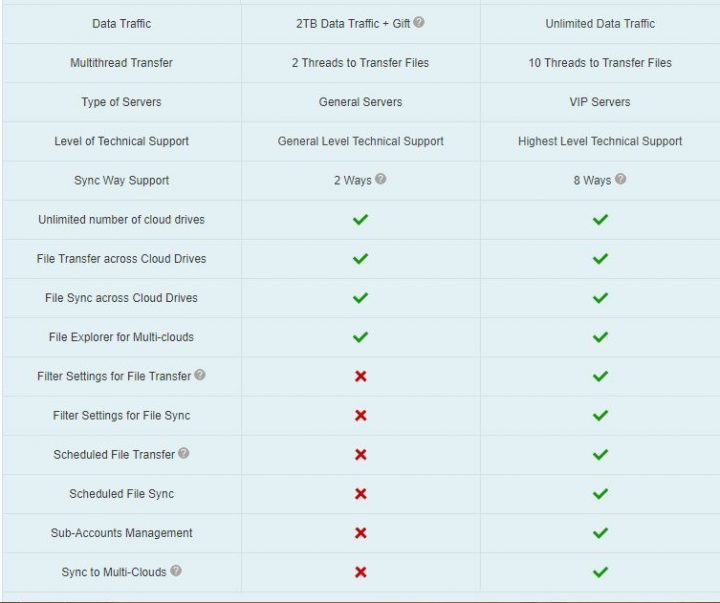 From the chat above, the free package of MultCloud is a perfect choice for an average Cloud user, while the premium package will work excellently for businesses.
How to Use MultCloud 4.x

MultiCloud is an online (web-based) tool for cloud management, it does not need a software or mobile App for one to get access to it.
Steps to reach and use MultCloud 4.x.x:
Visit multcloud.com and signup using your favorite email address.
Add your various cloud storage drives (eg. G-Drive, SkyDrive, FTP, OneDrive, AppBox, DropBox, AmazonDrive, Media Fire, and etc). Note: must be One drive at a time.

Allow the permissions requested from your Cloud Storage Provider(s).
Start using the service(s) as your need demands.
Cloud Explorer
The cloud explorer feature displays all the already added cloud app drives with their storage details. You can click on any of them to get access to its contents/files.

Cloud Transfer
This function allows one to transfer files and documents from one cloud drive to another one inside the MultCloud Platform.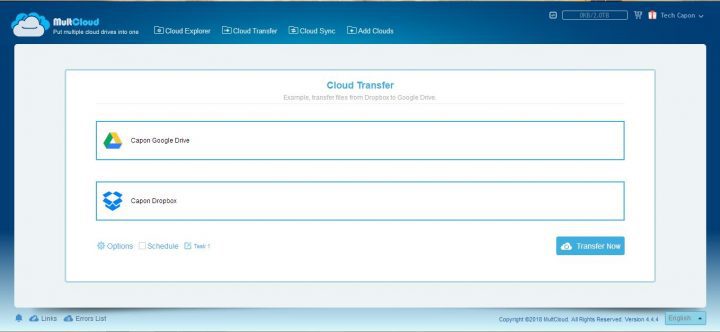 With this function, you can transfer files to many cloud drives provided they are all available on the MultCloud platform.
Cloud Synchronization
The Cloud Sync function lets you synchronize folders between two or more cloud drives with ease. E.G: synchronizing folders between AppBox and DropBox.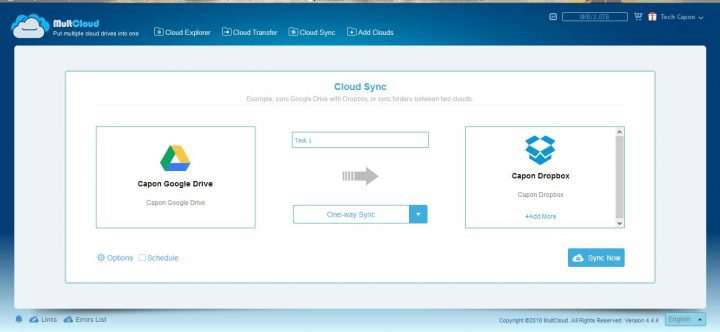 Add Clouds
"Add Clouds" feature allows you to add more cloud storage drives. MultCloud can contains up to 10 or more different cloud drives.
MultCloud as a cloud file manager
This cloud management tool serves as a file manager for all your documents/files in different cloud drives. It lets you rename, delete, move, cut, copy,  and paste files/documents to/from a directory.
MultCloud also allows its users to directly upload new files into a specific cloud storage service with ease.
Review and Verdict
I heard about MultCloud from a friend and decided to check it out. Meanwhile, I have three(3) different cloud storage drives with files on each, so I employed the service of MultCloud Cloud manager to see how it works.
It is a good Cloud management tool with modern features and superb functions (File manager, Direct file shares).
MultCloud is simple and easy to use, there is no tutorial needed before one can start using the tool like a pro. It is self-explanatory and has a good intuitive User Interface which makes it very easy for new users and older ones alike.
The mere fact – it is a web-based app made me fall in love with it. With this tool, I was able to merge and manage my three cloud storage drives (Google Drive, AppBox and DropBox) effectively with no short-comings. With this, I'd say that it's a good option for those  looking out for Cloud drive management apps that really works.
In Conclusion:
With MultCloud, it is very easy to move files from one cloud drive to another, and its interface is well designed and easy to understand. It's a very convenient and practical web-app, especially for the users that often use cloud plate software.
So far, all the functions packed into this tool works just as advertised! We'd love to hear your reviews, suggestions and opinions about this tool. Use the rating screen above to rate your experiences with MultCloud 4.x app.
Feel free to suggest similar cloud management tool that's vast and functional like MultCloud in the comments section below. Thanks and do have a great day ahead.