Are you starting up an eCommerce website with WordPress? Here are the best themes to use and design responsive, user-friendly interfaces for your visitors. We have previously explained how to start up an online store (eCommerce website) using WordPress as well as show you the best WordPress hosting services; this article will cover the best themes to complement your online store set up.
The 10 Best WordPress eCommerce Themes
There are tons of free/premium eCommerce themes for WordPress; however, these ten listed out here are the overall best WordPress eCommerce themes (according to my research and personal experiences).
1. Divi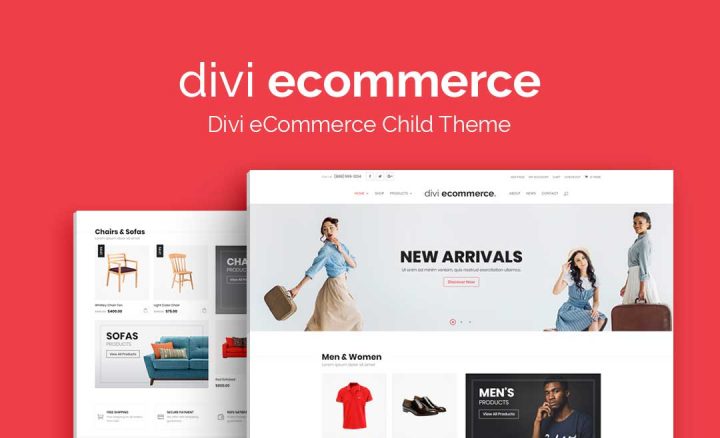 The Divi Theme works perfectly for eCommerce purposes; it supports WooCommerce, and you can customize it to get any design of your choice. Divi is one of the most popular themes right now for designing big or small websites for personal, professional, commercial, or corporate purposes.
It comes with Divi Builder, which allows you simply drag and drag different modules and blocks as you design your eCommerce website interfaces.  There are over 40 unique modules and 18 templates to get from Divi. This WordPress theme is an excellent one, indeed, and it packs a lot of eCommerce-friendly features.
2. Hugo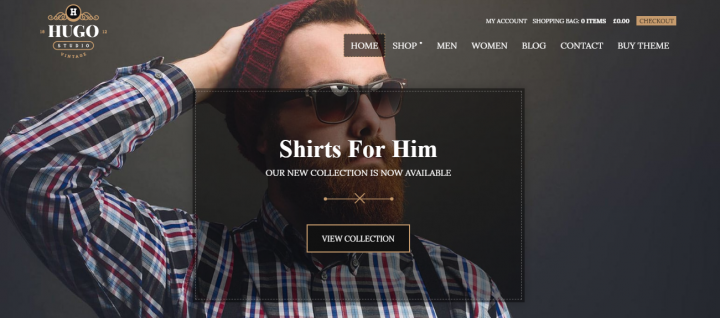 Hugo is a very responsive WordPress theme that is compatible with WooCommerce and other eCommerce website builders.
The theme displays well on mobile devices and comes with a lot of features that will help design classic interfaces for the various pages of your online store. With Hugo Ecommerce Theme, it is easier to get your visitors to sign up to receive updates, discounts, deals, and more.
It has beautiful templates with handy widgets to display popular items or direct visitors to read your blog. Your favorite page builder can work with this theme (Elementor, Divi, WPBakery Page Builder, or Beaver Builder), and it is SEO ready.
3. Shopkeeper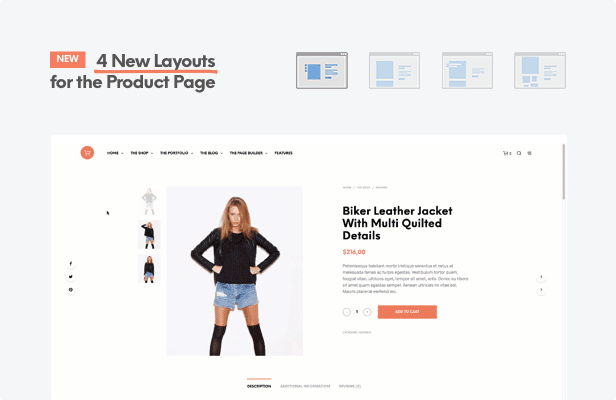 If you want your eCommerce site to look superb and attractive, Shopkeeper is the theme to use. This is a flexible eCommerce theme loaded with a lot of interactive features for your online store. The theme, Shopkeeper, was designed with eCommerce functionality in mind, and it works seamlessly with WooCommerce.
You don't really need to be a professional web designer before you can use this theme to customize how your online store would look like; it has quite a variety of customizable tools. The shopkeeper theme can be used for any kind of eCommerce site designed with WordPress.
 4. Porto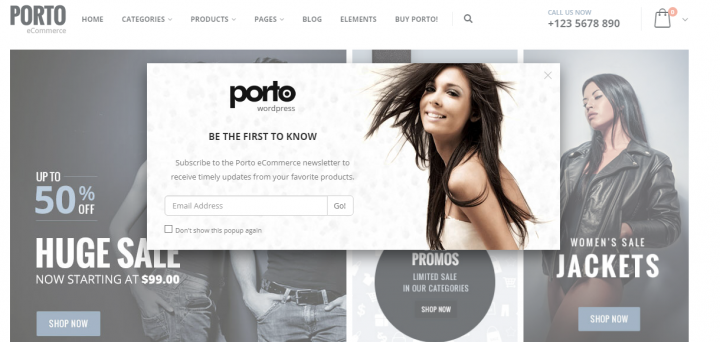 A lot of web designers prefer to use this theme when designing online stores; it is one of the most popular eCommerce themes for WordPress with a lot of functionalities.
Porto comes with a lot of templates, and the interface is user-friendly. Both on mobile devices and PCs, Porto displays responsively and adapts to all screens; this means that your visitors will get the best experience across devices.
Also, with Porto, you can create country versions of your online store at ease, as well as collect emails for marketing purposes. This is an amazing theme for anyone looking for the best eCommerce theme for WordPress.
5. Kalium Store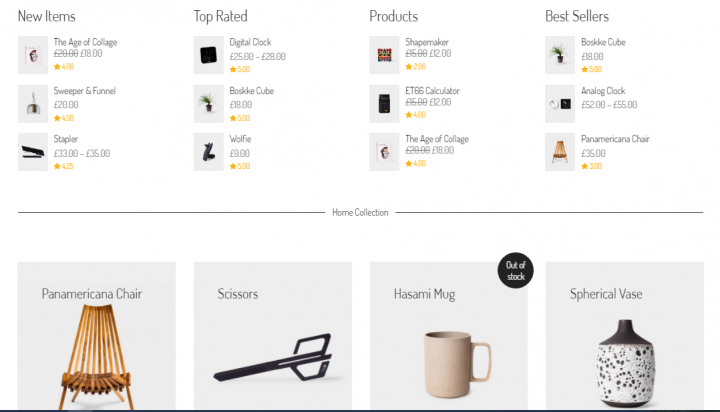 The Kalium Store is yet another responsive WordPress theme to use for eCommerce website design. It offers a simple yet impressive interface with a lot of features that will help to make your visitors engage more on the site.
However, this theme is most recommended for fashion or health stores. This theme goes on to offer a variety of navigational menus, and its light interface makes it load fast on all networks. Kalium store is really a great choice for eCommerce sites designed with WordPress CMS.
6. Jack and June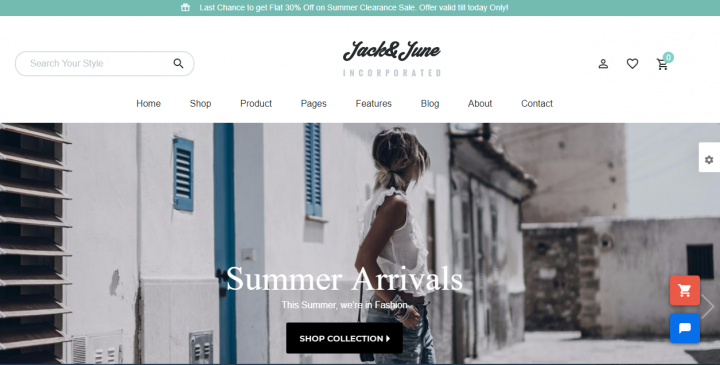 If your online store is all about fashion and clothing, then this might just be the perfect theme to use. It is fully responsive, and there are different beautiful templates to choose from.
Jack and June allow users to quickly access their cart at any time because there is an overlay cart icon at the side of the window.
Generally, this theme is very flexible and can be used for other types of online store asides fashion and clothing. Sorting your products in categories is a breeze with this them, and you can easily highlight your top products or deals of the day.
7. The Gem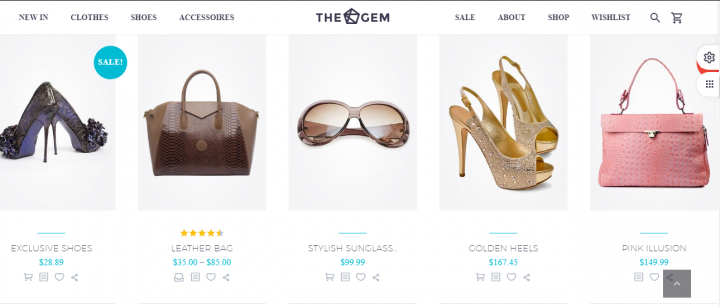 Responsiveness is critical when choosing a theme for any type of website, and for eCommerce sites, here's a great theme you can use.
The Gem lets you attractively showcase your products in such a way that your visitors would undoubtedly love. It comes with a bunch of development tools for designing professional and classic websites.
There are over 40 fascinating demos to get started with; each demo is uniquely designed to serve a different purpose. You'll have to use Visual Composer to customize the appearance of your store; there're tons of Visual Composer elements with over 250 adjustable settings for the elements.
8. Norebro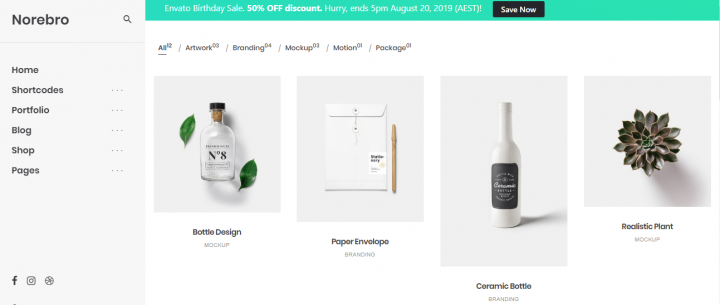 This is a versatile WordPress theme that can still be used to design professional online stores for different purposes. Norebro can be customized using 90+ shortcodes and Visual Composer.
The developers of this theme offer full support and assistant to all users. Plus, the theme includes ACF Pro and Slider Revolution. You do not need to have any coding knowledging to be able to design a stunning online store using this theme's template.
When you choose this theme, you'll be getting WPML translation support, portfolios, gorgeous typography, and more. Norebo is fully responsive and optimized for SEO.
9. WoodMart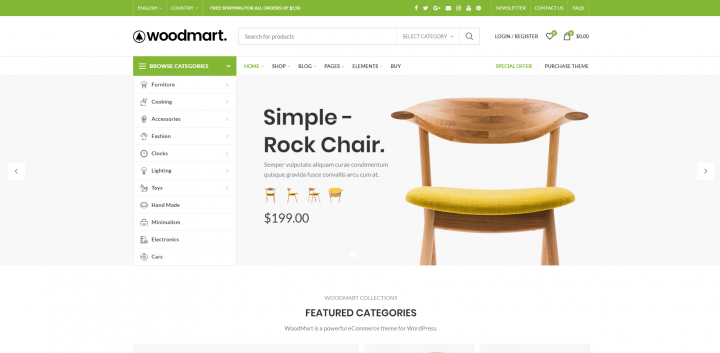 Before you can design elegant and responsive interfaces for your new or existing online store, you need the best eCommerce themes, of which WoodMart is one of them. WoodMart is a highly-flexible WordPress theme that packs over 40 demos so you can make a perfect choice.
This theme can be used for all kinds of eCommerce websites designed with WordPress. The most exciting part of using WoodMart is that it is well-optimized for SEO and to deliver superb shopping experience across platforms.
10. Tonda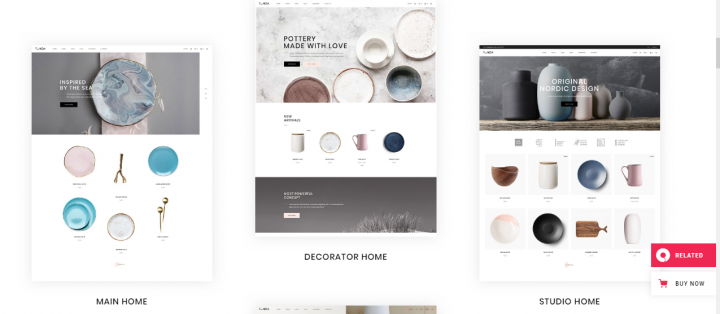 Well, it seems this theme works well for contemporary art and other stuff alike. However, you could still use this theme for just any eCommerce website.
The minimal design of this theme is exceptional, and the interfaces you'll design with Tonda will appear stunning. You'll use this theme to present your products in an attractive that will engage visitors.
Conclusion
These ten eCommerce themes for WordPress users are all excellent for building stunning online stores with WordPress. It is, however, only possible to pick one (at a time) from the list.
I have chosen these ten because they pack a whole lot of features, optimized for better performance, SEO-optimized, and multifunctional in every aspect of WordPress development.