Have you got a new iPhone and wish to move all the files on your Android devices to it? Well, there are many ways to do Android to iOS file transfer; however, it is best you use a dedicated file transfer software, and in this case, the FonePaw DoTrans can be your best bet.
Also, asides getting a new iPhone and wanting to transfer files from your Android device to the iPhone, this software app works superbly for transferring files in-between devices. This guide/tutorial will focus mainly on how to use this excellent utility app in transferring files between smartphones.
FonePaw DoTrans Overview and Pricing
FonePaw DoTrans is a comprehensive file transfer solution for Windows PC users. FonePaw DoTrans comes with a couple of features and is capable of transferring many types of files to/fro connected devices. More so, this app can also act as a device manager to help you manage the files that are saved on your mobile device or tablet.
The features of FonePaw DoTrans software are impressive for its price range, and it does not use up your system's resources. In fact, the minimum PC requirement for using FonePaw DoTrans is super basic. It's shown below for your learning.
Windows OS: Windows 10, 8.1, 8, 7, Vista, XP (32 bit or 64 bit)
CPU: 1GHz Intel/AMD CPU or above
RAM: 512MB or more (1024MB Recommended)
Resolution: 1024×768p display or above
Hard Disk Space: 200MB and above free space
Supported iPhones: all iPhone models running on any iOS version (up to iOS 13)
Supported Android Devices: all Android smartphones and tablets running on Android versions 2.3 up to 9.0
FonePaw DoTrans pricing is one that won't create a hole in your pocket. There are two paid plans for home or business uses; the Single-user License plan, which goes for $39.95, and the Family License at $59.95.
As you may guess, the Single-user license works for one PC while the Family license works for up to five PCs. Both plans support lifetime support and upgrades.
Things you can do with FonePaw DoTrans
Apart from doing file transfer or exporting photos from iPhone, there are other prominent features that come with a functional copy of FonePaw DoTrans software.
Transfer files between iOS, Android and Windows PC
Using the FonePaw DoTrans software, you can easily transfer files from one Android device to another Android device or from an Android device to an iPhone/iPad. In the same way, you can transfer files from iPhone to iPhone, PC to iPhone, PC to Android, and Android to PC using this software.
Data management
Interestingly, this software supports a couple of file management features that let you manage the files on your Android or iOS device. Thus, you can actually run backups with this application and restore them at any time.
Delete duplicate contacts
FonePaw DoTrans lets you delete duplicate contacts or merge them to become one. Obviously, there are duplicate contacts on your device, and this software promises to deal with them appropriately as you wish.
Custom ringtone maker
Also, this software lets you customize audio files and mark out the part you want to act as your ringtone.
HEIC Converter
The HEIC converter feature lets you convert iPhone HEIF images to PNG or JPG so that you can view the images on any device.
View device info
FonePaw DoTrans displays your phone info, e.g., name, phone model, OS version, capacity, free space, phone number, and other information.
How to transfer files from Android to iOS with FonePaw DoTrans
Firstly, you have to download the FonePaw DoTrans software package from their official website and install it on your Windows PC. Then, follow the steps below to start transferring your files.
Prerequisite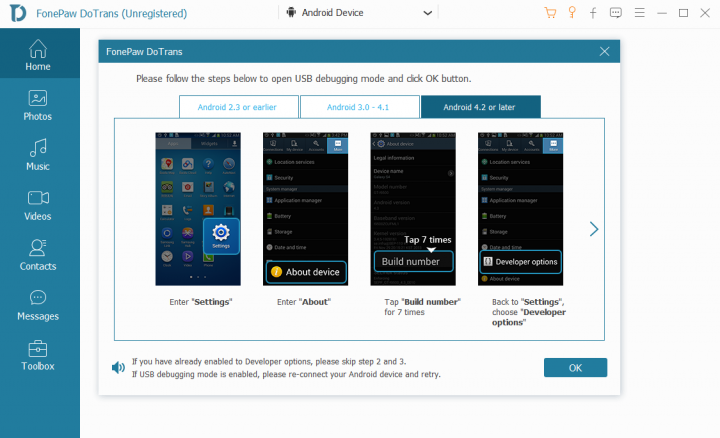 You need to activate USB debugging on your Android smartphone before continuing with the steps below. To do this; go to your device settings >>> about phone >>> build number. Now, tap on the "Build Number" row seven times continuously; this will activate "Developer Options" on your device.
No go back to settings and click on Developer Options, look for USB debugging option and toggle the switch to activate.
Connect your Android device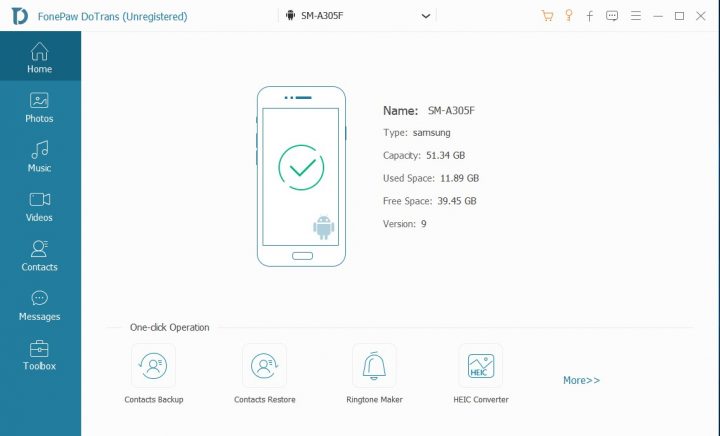 Launch the software on your computer and connect your Android device using a good USB cable. Wait for your device information to load and appear on the software window. If your device info did not load on the software interface, check the USB cable to confirm if it's not faulty or try using another cable.
Choose the file type you want to transfer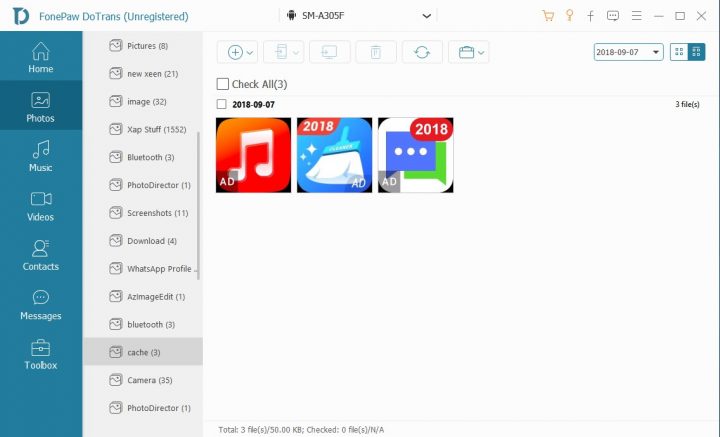 You will see the various file types supported by FonePaw DoTrans below your device info in the software window. All you'd need to do – is to select the type of file you wish to transfer to your iPhone. Click on the file type; if you are transferring everything on the Android to your iPhone, then you have to do it one after another.
That is, after exporting images, you can go back and export videos, then audio, just in that series. Interestingly, you can preview the image files right on your computer before selecting them for export.
Transfer your selected files to the PC or iPhone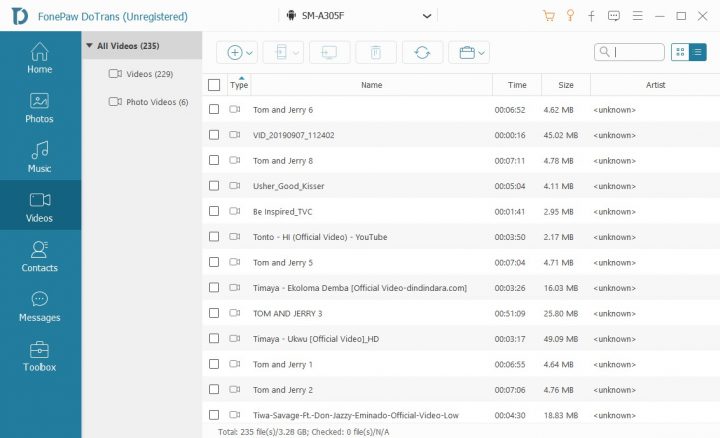 Once you're done selecting the files, you can now export them to your PC or iPhone by clicking on their respective icons which are available at the top menu. Depending on how many files selected for transfer, the process may take time to complete.
What more?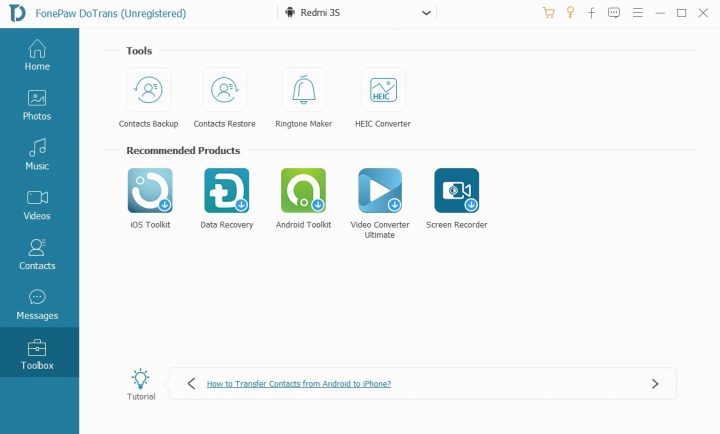 That's it! Your files will be transferred from your Android device to the other device. However, you can access the other tools available on this software for extensive functionalities such as contacts backup/restore, Ringtone creator, and HEIC converter. To access these extensive features, navigate to the Toolbox tab.
Wrapping it Up:
The FonePaw DoTrans utility app works very well for moving or copying files and documents in-between devices. The interface is easy to navigate, and there are lots of tools for file management fully integrated into the app.
FonePaw DoTrans goes further to support a set of extensive tools to perform various advanced functions such as making custom ringtones, converting HIEC files, and more. It is a comprehensive software app, indeed. Plus, you can choose between six supported languages.
If you are looking for a way to transfer your stuff from Android to iPhone (without losing a pin), and you've got a PC (or not very comfortable with using mobile file transfer apps like Xender), then, FonePaw DoTrans software application is presumably one of the best options. Plus, it comes with more interesting features to complement its core function.