There are many apps out there to download videos from different social platforms. TikTok is one of the most popular social platforms used by billions of people who share tons of videos daily. While navigating TikTok, you will most definitely find some videos you'd love to save to your device, and that's where "TikTok Downloaders" come to help.
TikTok does not provide a built-in feature to allow its users to download videos directly to their mobile devices or PC, but with a TikTok downloader app, it is seamless to save as many exciting videos as you wish. Interestingly, this article lists up to 10 of the best TikTok downloaders for mobile and PC users.
The 10 Best Tiktok Downloader App for Phone and PC
Here are the top best Tiktok downloader apps for smartphones and PC. Some of these apps are available across platforms, which means you can access them from your mobile phone or PC, while the others are available only on one platform – Android, iOS, or web-based).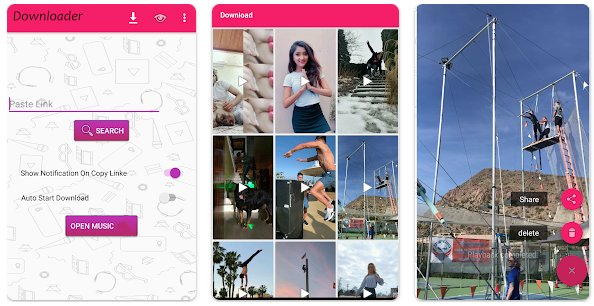 Video Downloader for TikTok is a popular app available for Android device users. It is one of the best intuitive apps to download TikTok videos. The app works in a pretty simple way – you copy the TikTok video URL, paste it on the app, and viola!!
Sadly, this app is only available for Android OS smartphones, and the good thing is that it doesn't add a watermark to your downloaded clips. You can also instantly share the downloaded video right from the app. Another exciting feature of this app is the Auto Download function.

Snaptik is a simple-to-use TikTok downloader app that runs smoothly across devices. It has an official app for Android OS device users, while there's a web version that can be accessed on any other device that can connect to the internet. The Snaptik downloader app is simply intuitive.
Downloading videos using this tool is pretty fast and the videos will be saved in decent quality. Snaptik allows you to download TikTok videos in various resolutions. Also, the app provides an option to download TikTok videos without a watermark, so, your downloaded videos won't have any encrypted branding.

SaveTik is a Tiktok video downloader app you can access from any device. It runs through web browsers, and as such, it is accessible on Android, iOS, and computer systems. Using this tool, you can seamlessly download TikTok videos without watermark, and in high-resolution quality.
The downloaded videos will be saved in MP4 format, and you can actually choose to save the videos to MP3 format. SaveTik.co can automatically convert TikTok videos to MP3 audio files. It works just like the other ones – you have to past the Tiktok video link into the link box.
4. Fast Apps Video Downloader for Tik Tok (Install on Android)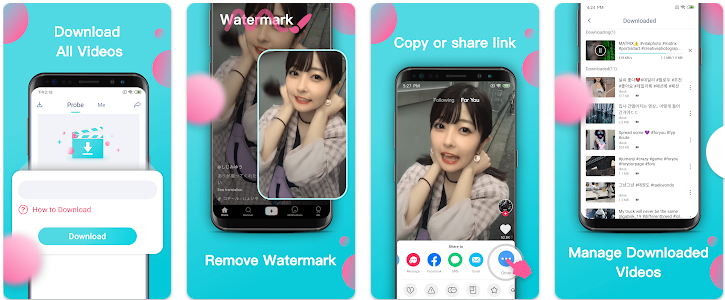 This TikTok downloader app developed by Fast Apps is one of the most downloaded ones on the Android app store (Google Play Store). With over 500k installs and 19k+ positive reviews, the app is inarguably one of the best for downloading TikTok videos without hassles.
You don't need to sign up to use this app and it's pretty intuitive – the interface is simplified. TikTok videos downloaded using this app do not have watermarks and they are quite clear – high resolution, up to HD quality. More so, this app features a built-in video player.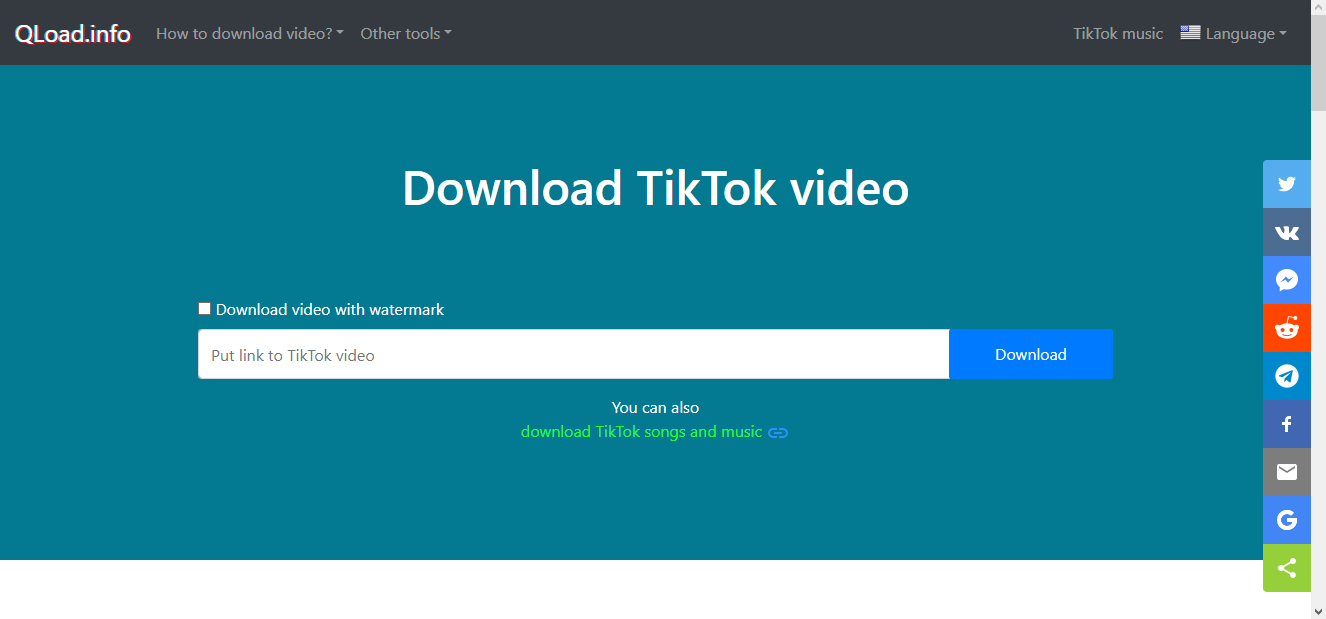 Qload.info is that one tool you can count on anytime to download videos for you from TikTok. The tool is web-based and does not require you installing it on any device. More so, the interface is simple and loads very fast even on sluggish networks.
The Qload tool can download TikTok music in MP3 format so you can play them back on any of your devices. Because this tool is web-based, it works on both mobile phones and computer systems – all you need is a web browser.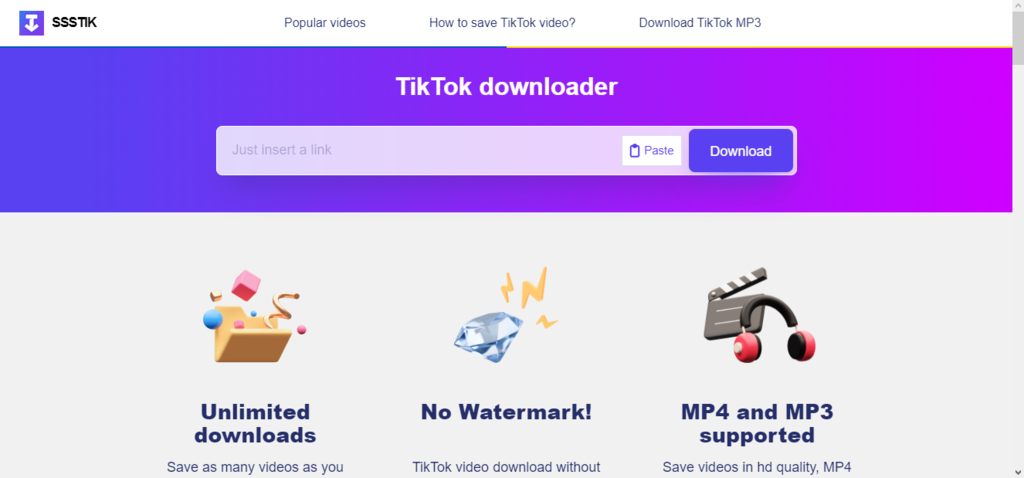 SSSTik is a completely free web-based TikTok video downloader tool. The app lets you download TikTok videos for free, and yet, has no watermark. More so, it supports mp4 and mp3 formats, while also allowing you to save the downloaded videos in super high-quality resolutions up to 1080p and 4k.
Furthermore, SSSTik lets extract sound from TikTok videos or convert them to thumbnails and subtitles.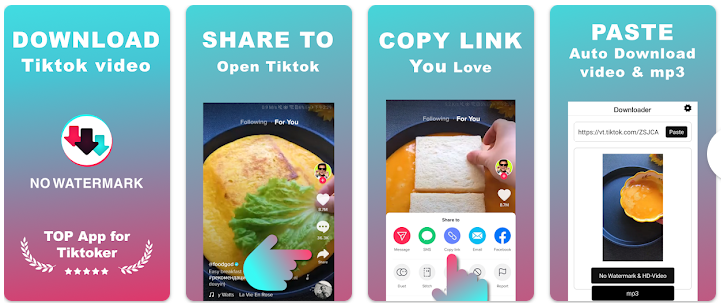 With over one million downloads on Google Play Store, this is one of the most popular apps TikTokers use to download their favorite clips from the platform. Well, just like the others, this TikTok downloader removes the watermark and downloads your video plainly. It supports MP4 format and high resolutions.
Interestingly, you can use this app to save popular TikTok songs in MP3 format for playback on your mobile devices – all you need to do is to copy the video URL and paste it into the box provided and your download will start. The app's interface is intuitive and easy to navigate.

As we continue with this list, SaveTT is another impressive website that lets you download TikTok videos for free on any device – whether it is an iPhone, Android, or computer system.
SaveTT has a clean web interface that loads swiftly on any network and the website is accessible from any location. If you need to extract audio from a TikTok video using this tool, click/tap on the "TikTok MP3 Downloader" option on the top menu.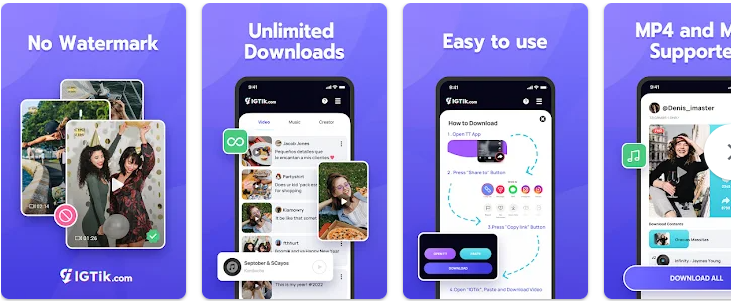 As the name connotes, this is a TikTok Downloader app you can rely on at any time. It is one of the most popular options on the Play Store and has no hidden feature – all its features are accessible for free. Interestingly, this mobile app can run on virtually all Android devices, regardless of the Android OS version.
Using TT Downloader, you can easily download, save, and share all your favorite TikTok videos. Of course, no login or registration is required to use this tool.

Lastly, LoveTik is a simple-to-use TikTok downloader tool that runs through the web and can be accessed from anywhere. It is a great tool for all TikTokers, and being that you don't have to install an app makes it even more flexible.
LoveTik can save TikTok videos in clear HD quality with no watermark and can also convert the videos to MP3 format.
Summary
These are the top best TikTok downloaders you can access on mobile and PC. Sadly, there are no official TikTok downloader apps for iOS users, but they can always use feature-rich video downloader tools like iTubeGo, WonderShare, and 4K Downloader.
Also, iOS users can use web-based TikTok downloaders through Safari or any other web browser.