The rise in popularity of home and office automation has greatly triggered the wide acceptance of SBCs – Single-Board Servers, which are more flexible and compact. ZimaBoard 832 is a "hackable" single-board server based on CasaOS and can serve as a compact NAS for home and small businesses.
According to Icewhale (the manufacturer), ZimaBoard 832 is exclusively built for geeks and creators. It's equipped with Intel Celeron N3450 Quad Core operating at 1.1GHz to 2.2GHz and paired with 8GB memory. The ZimaBoard 832 SBC can serve as a powerful micro server or be used to extend the functions of an existing one.
In this short ZimaBoard 832 review, we'll be looking at the packaging, features, specs, functionalities, and overall performance of this handy DIY single-board computer – that lets you set up a personal gaming server, network-attached storage server, IOT connectivity, and lots of geeky hacks.
ZimaBoard 832 Hackable SBS Unboxing and First Impression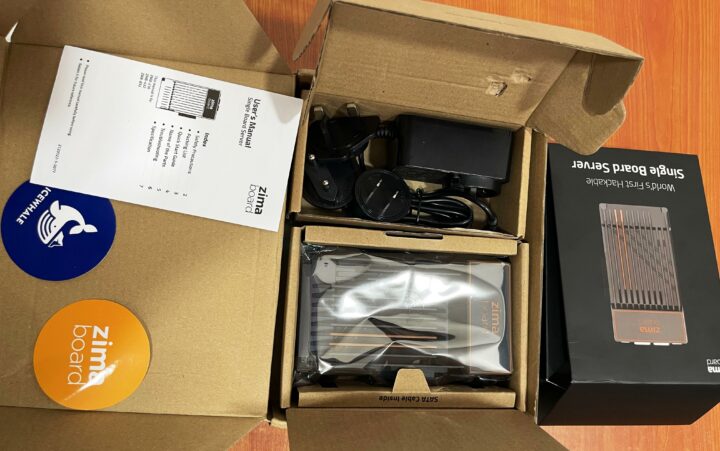 Hereunder are the items you'll find with a new ZimaBoard 832 hackable single-board server purchase:
The ZimaBoard PC.
The user manual.
A 4.5″ Sata cable for connecting to the SATA 3.0 port the machine is equipped with.
The power adapter with 3 removable plugs (i.e., US, Europe, and Australian plugs).
2 stickers featuring Icewhale and ZimaBoard (as seen in the attached photo above).
Our first impression of the ZimaBoard Personal NAS copy received was "wow" as we were fully satisfied with the packaging. Adding extra plugs to match the user's preference is also a big plus as it came in handy for easily plugging into any available position with a matching plug.
ZimaBoard 832 SBC Overview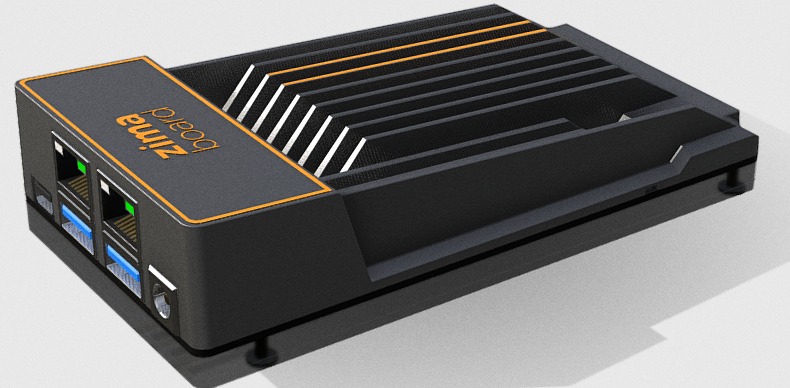 The ZimaBoard 832 single board server (codenamed – the world's first hackable single-board computer) is the 8GB RAM, 32GB eMMC storage version of ZimaBoard computers (others being 216 and 432). It is powered by an Intel Celeron N3450 quad-core processor and runs pretty fast for most day-to-day uses. It runs on CasaOS and comes with modern ports to improve connectivity, server, and network storage functionalities.
There are two USB 3.0 ports, two SATA 6.0Gb/s ports for connecting hard disk drives or SSDs, two gigabit Ethernet ports, a Mini-DisplayPort output, and a PCIe 2.0 x4 expansion slot on the ZimaBoard 832 SBC. It is inarguably a handy, compact, and efficient server solution for home and business use. The multiple connectivity options make this SBC impressively versatile for many applications.
Also, the ZimaBoard 832 is hackable, which means it can be customized in many ways and is expandable with onboard interfaces. You can extend your Zimaboard setup with a 2.5Gbe, WIFI dongle, NVMe NGFF SSD, XMOS/DAC module, and other accessories. Performance-wise, ZimaBoard 832 ensures smooth multi-tasking, thanks to the quad-core processor and 8GB of RAM.
Features, Specification, and The Techs Powering ZimaBoard 832 SBS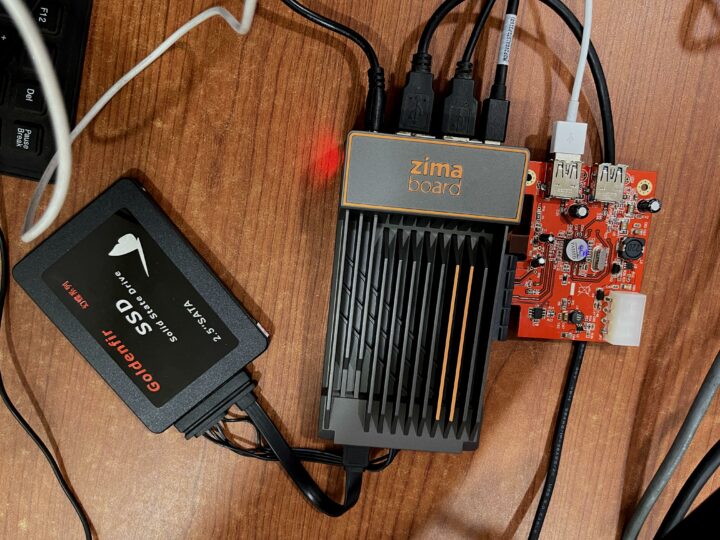 In today's fast-paced digital world, technological innovations ramp up daily like volcanos. The demand for compact yet powerful computing solutions has grown significantly in recent years, and single-board servers happen to be one of the most interesting techs of the moment, thanks to the growing popularity and acceptance of personal cloud servers and network-attached storage setups.
The ZimaBoard 832 single-board server/computer (SBC) features a docker system that makes it super easy to set up a media storage server, streaming network, or a network-synced storage mechanism. It is an 8GB, 32GB SBC that conceals some good chipsets capable of handling most resource-draining tasks seamlessly. It is an impressive blend of performance, versatility, and size.
It's based on x86 architecture and it's powered with a quad-core Intel Celeron processor. This SBC delivers an outstanding performance as it's compatible with a plethora of OSes, peripherals, and systems. ZimaBoard 832 is "hackable," meaning the user can customize the SBC to any extent, literally. The multiple connectivities allowed make this SBC much more versatile and usable in both individual and business environments.
Apparently, the ZimaBoard 832 can serve as a personal NAS, 4K streaming server, VPN router, and IoT gateway for smart home automation. It comes with CasaOS (based on the Linux Debian distro) preinstalled and offers a wealth of apps accessible from the built-in store. So, practically, this is a multipurpose single-board server, expandable to a great extent to meet your needs.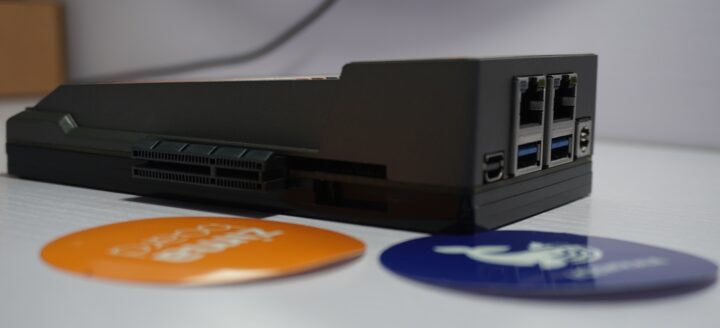 The connection ports are intuitive and easily identifiable, so you can make your connections at ease without any lengthy learning curve. It's packed with lots of features and connectivity options that are generally useful.
To start with, ZimaBoard 832 uses a 6W-rated power adapter – hence, 6W is the power consumption of Zimaboard SBCs. It flaunts up to two Gigabit Ethernet ports for network connectivity and also features dual SATA ports and an M.2 slot for flexible storage configurations.
Also, this SBC has second-gen USB 3.1 and USB 2.0 ports, along with a single DisplayPort output. There's a serial port for connecting your peripherals and displays, offering excellent flexibility for diverse setups.
Hereunder are the specifications in-full:
| | |
| --- | --- |
| Built-in OS | CasaOS |
| Supported OSes | Windows, Linux, pfSense, OpenWrt, Android, and Libreelec |
| Memory | 8GB |
| Storage | 32GB eMMC |
| CPU | Intel Celeron N3450, quad-core, up to 2.2GHz speed |
| Graphics | Intel HD Graphics 500 |
| Available Ports | PCle, USB, Ethernet, SATA, and Mini-DisplayPort |
| Weight | 278g |
| Dimensions | 138.7 x 81.4 x 34.9 mm (W x D x H) |
Design and Build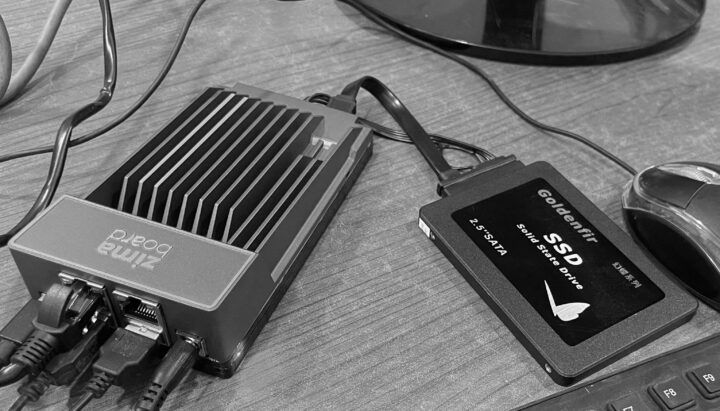 If you've used ZimaBoard SBCs before now, there are not many differences between the 832 and other models (in terms of physical appearance). Wrapped in a svelte case/heat-sink, the ZimaBoard 832 measures 138.7 x 81.4 x 34.9mm and weighs 9.8 ounces (278g), very compact and lightweight – suitable for use even in space-constrained environments.
The SBC incorporates a fanless design, so it runs silently – an ideal choice for noise-sensitive environments or places where traditional cooling methods are impractical. The various connectivity ports (Ethernet, PCle, USB, and others) are well situated all around the body in such a way they are easily accessible.
The ZimaBoard case is equipped with connectivity ports at the front and rear and a PCI  expansion slot on the right side.
Performance and Speed
ZimaBoard 832 comes standard with 8GB of RAM and 32GB onboard storage (eMMC 5.1) paired with a quad-core Intel Celeron N3450 processor that runs at 1.1GHz (base frequency) and up to 2.2GHz (max frequency). It has a reserved cache space of 2MB L2 cache.
So far, the apps we tested (mostly office and media apps) worked seamlessly. There weren't obvious lags or performance lapses. The graphics processing is handled by an Intel HD Graphics 500 chipset clocked at 200MHz (base frequency) and up to 700MHz (Burst).
Well, if you intend to use this SBC for intensive gaming, the N3450 Apollo Lake processor and Intel HD 500 graphics card aren't so much of a "powerhouse," but together, they'd deliver acceptable performance and speed. However, the pair would smoothen out most server needs and storage functionalities.
The Operating System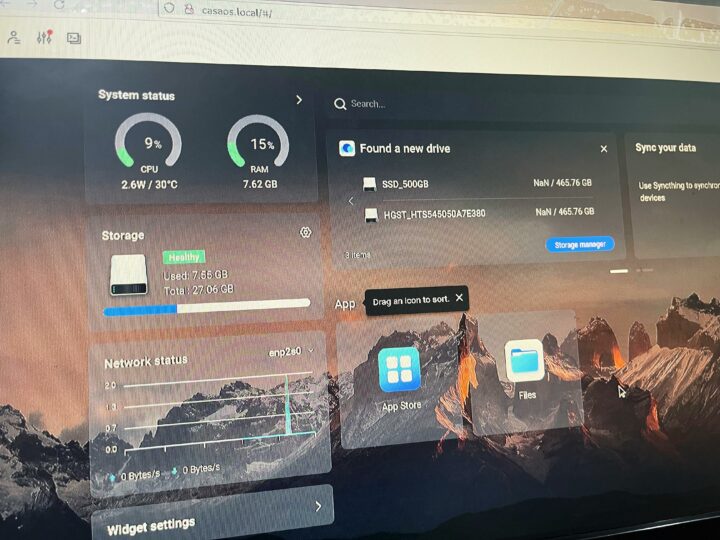 Out from the factory, ZimaBoard 832 is preloaded with CasaOS (a Linux-based operating system). The device itself has support for Windows, OpenWrt, pfSense, Android, and Libreelec OSes. The base CasaOS is lightweight has a good GUI and is preloaded with regular distro apps such as Libre Office, Mozilla Firefox, Rhythmbox, file explorer, etc.
We tested several of the pre-installed apps and had a smooth experience with every one of them. As expected, CasaOS supports file management, media servers, gallery management, and file-sharing platforms. You can also download or install custom apps from the built-in app store.
Pricing and Where to Buy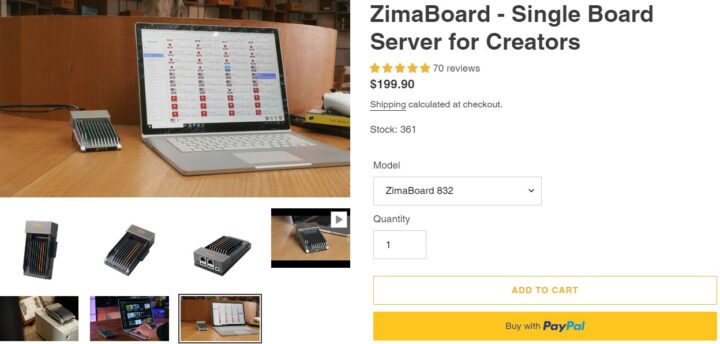 You can purchase the ZimaBoard hackable single board server online and have it shipped to your doorstep. It is available on their official website, Amazon, and other trusted online shopping sites. If for some reason, you're unable to buy from their official site, you can easily source it from top retail stores that sell hackable single-board service devices.
As seen in the attached screenshot, this version (832) is sold for $199.9 on their official website but might slightly differ from other stores where the ZimaBoard 832 is available. The base price for the PC (without additional accessories) is between $195 to $240 (excluding shipping fees where applicable), while the lowest config (216) is sold for $83.9 as of 17/06/2023.
Our ZimaBoard 832 Single Board Server Review and Verdict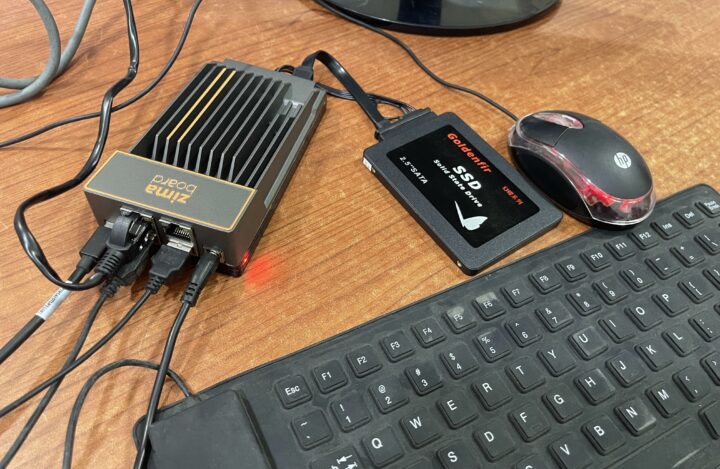 At first, I connected to the office's network via an RJ45 cable and later switched the connection to Wi-Fi by adding a plug-and-play USB Wi-Fi adapter to one of the provided USB ports. I also had a multi-ports USB hub by the side and a USB 3.0 PCI device on the expansion slot. I had lots of fun testing the device's features and functionalities.
The result is fantastic as the speed and response rate were quite satisfactory. Everyone in the office was able to communicate and access files from the attached drive seamlessly. The media features were excellent as well as the built-in apps.
We weren't able to test the 4K display rendering as what we had around is a DP to DVI and DP to VGA converter. It would have been a plus if a modern DP to HDMI converter was shipped along with the unit. While the manual isn't the most detailed out there, it's straightforward enough for any average Joe to use and get results.
The ZimaBoard 832 SBC device is truly hackable, versatile, and super-intuitive. We were somewhat disappointed with the lack of a physical power-on switch – as it made turning on the device from a deliberate shutdown somewhat tricky.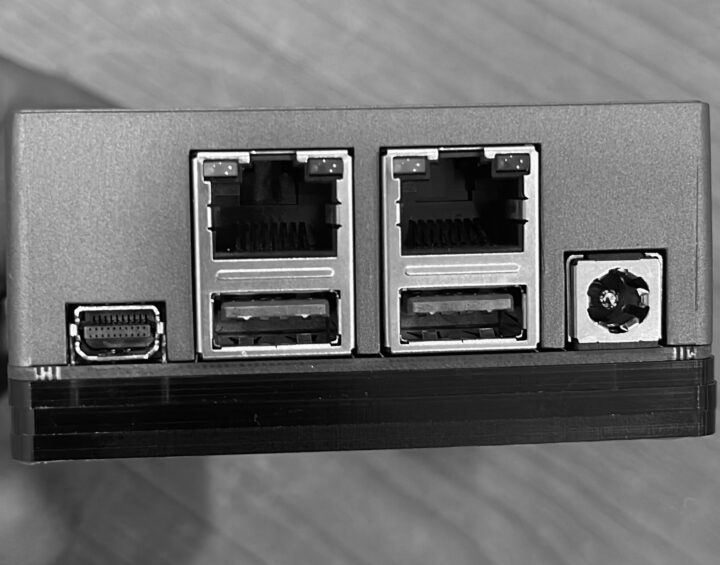 All in all, we are 97% satisfied with the unit – features and performance-wise. It clicked almost all of the buttons for us along with the revolutionary noiseless design (doing away with a noisy fan – preferring passive cooling instead) and 4K video support.
The price is super competitive and would easily meet up the needs of new and professional creators alike. We'll easily recommend this device for your server, media-sharing, content creation, and home automation needs.