The world is quite unpredictable – the Covid-19 pandemic proved that. Organizations, firms, and companies had no other choice than to switch to digital conference meetings as webinars became the best way to communicate with fellow team members, employees, and even friends.
There are a lot of webinar platforms out there – zoom became more popular during the 2020 pandemic; however, there are so many others out there that are quite better and affordable. A good webinar platform or software offers many useful features, which may include the ability to share various types of files and multimedia content.
The 9 Best Webinar Platforms for Teachers and Digital Marketing Gurus
For digital marketers, webinars are a great way to engage with potentials clients/customers and push them down the sales funnel. On the other hand, webinars help instructors/teachers to pass down knowledge or information to their students. Whichever way, to get the best of your webinar(s), you'd need to use any of the top platforms that support extensions and multiple useful features.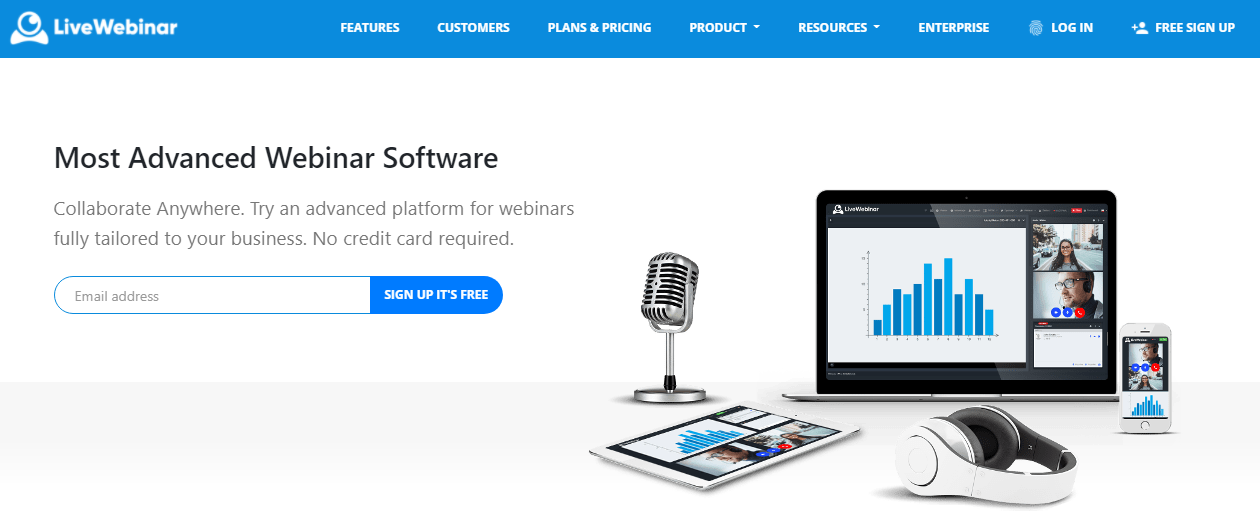 LiveWebinar is a cloud-based software solution for hosting all kinds of video conferences. It supports a lot of actions, including live video streams, screen sharing, social media broadcasting, and others. This webinar platform can host over 1000 participants without glitches.
More so, you don't need to install the LiveWebinar app or software before you can access and use the platform. It is cloud-based and as such, can be accessed via web browsers on mobile devices and computers. LiveWebinar supports collaboration, API integration, whiteboard, statistics, and reporting.

This software solution works for hosting online meetings and webinars. It is pretty advanced, packed with a lot of handy tools and features. Zoho Meeting features an intuitive interface that anyone could easily understand. More so, this webinar platform promotes business collaboration, thanks to its various collaboration tools.
Zoho Meeting also allows screen sharing, and it is meant for both small and big organizations. This webinar platform also works from web browser tabs, which implies that you don't need to install the software (or app on your device) before joining or hosting a webinar. As expected, this webinar solution integrates with other business solutions from Zoho.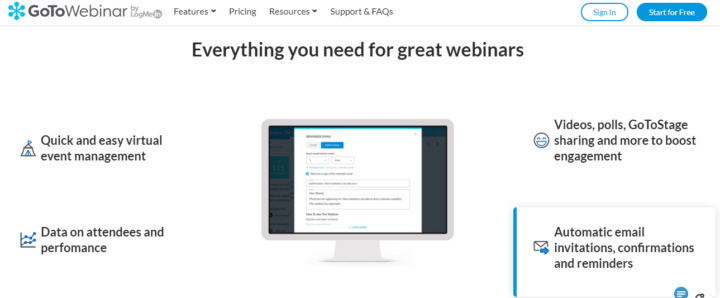 Developed by LogMeIn, GoToWebinar is a cloud-based solution for hosting video conferences and webinars. It is a webinar platform for everyone, whether you're a novice or a professional. GoToWebinar is ideal for teachers and digital marketers – it can host over 100k participants.
More so, GoToWebinar provides several built-in tools for quick and easy virtual event management and lets you get accurate data on attendees and the performance of each webinar. Participants can share various multimedia files, vote on polls, and do lots more.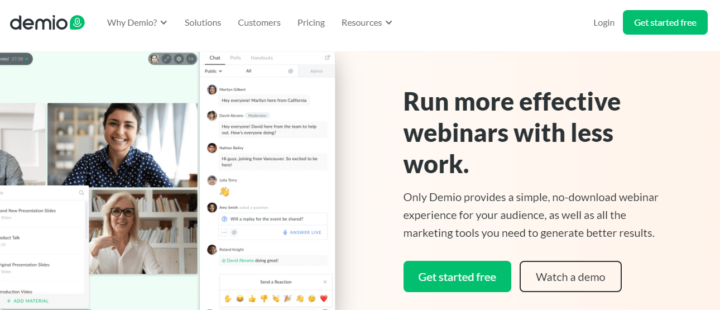 Demio is as good as the ones listed above. It is a webinar platform that runs on any device or platform, and you don't even need to install an app or software to access this Demio tool. The platform has support for real-time – HD streaming, as well as includes various tools for a seamless video conference or webinar.
When you host a webinar with Demio, participants can join using any major web browser installed on their computer or mobile device. Chats, pools, handouts, replays, registration landing pages, and many other useful features are what you'd get with Demio. This webinar platform is easy to use – can host thousands of participants, and the price is fair.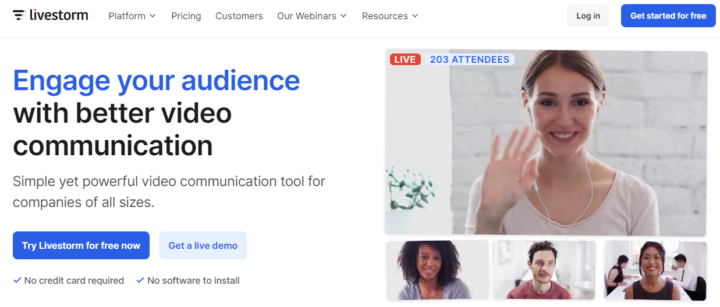 Livestorm is yet another browser-based web conferencing solution for teachers and digital marketers. This platform is ideal for sales webinars, onboarding sessions, online lessons, and every other similar activity. Interestingly, Livestorm is available in 25 languages.
One of the best features of this software is its elegant user interface (UI). Livestorm's interface is very easy to use. Participants in a webinar hosted with Livestorm can engage in ongoing conversation using the various chat tools and features.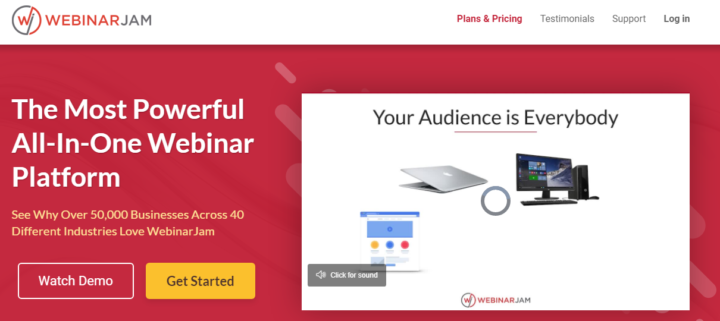 Up to 5000 persons can join your webinar when you host it with WebinarJam. This webinar platform is developed for everyone, irrespective of IT knowledge level. More so, WebinarJam allows you to have up to 6 presenters/experts; so, you can either be a solo host or add other experts – up to six – to host an event with you.
WebinarJam guarantees HD, 30FPS, high-quality video and audio broadcasting on all devices. You also do not need to install a software or mobile application to access this webinar platform. It is supports "private chats" and so many other features you'd find useful for an effective and successful business video conference.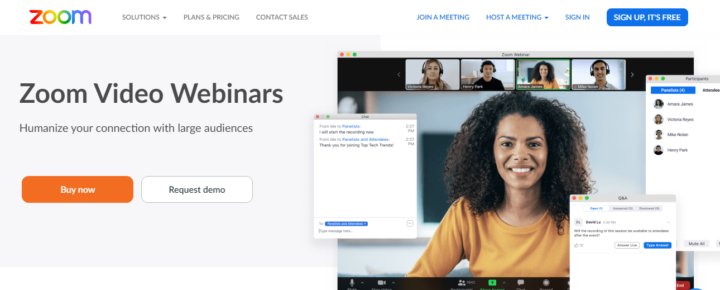 Zoom became more popular in 2020, as the platform introduced a lot of new features and including support for more extensive integrations. This webinar solution is meant for everyone, including developers, marketers, business owners, teammates, and organizations.
Some good features of Zoom include virtual backgrounds, studio effects, and background noise suppression, live streaming support, and more. With Zoom, you can have over 50,000 participants in your webinar or video conference. You can also live stream a zoom event on YouTube Live, Facebook Live, and other services. If you are planning on hosting a zoom webinar, this guide will help you with setting up your webinar.

It appears like BigMaker is the best webinar platform for digital marketers. The platform comes with robust marketing-specific features and does not require app installation across devices. BigMaker makes a perfect solution for creating and hosting web conferences or webinars.
BigMaker is also cloud-based just like the other ones listed here. It runs on all major web browsers, offering HD audio and video quality. This platform goes on to supports chats, polls, Q&A, handouts, recording, automated tools, analytics & reporting, and other great features. Like Zoom, you can stream your BigMaker webinars to Facebook and YouTube Live.
9. WebinarNinja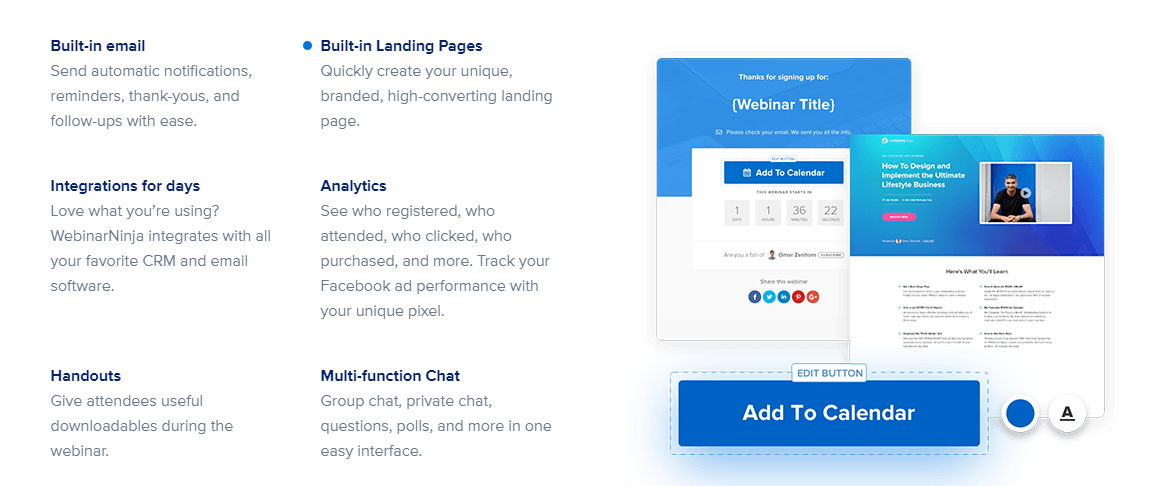 WebinarNinja looks to be the best option for teachers. It is good for meetings, video conferencing, and webinars. With WebinarNinja, you can create multiple webinars for one topic – making it appear it series. More so, recording webinars is possible with this platform, and it supports live streaming too.
If you're looking to sell off something in a webinar, this platform integrates a seamless payment gateway that allows such. With support for tons of built-in tools; plus support for external business and educational tools, WebinarNinja is a worthy mention on this list.
Summary:
In conclusion, while there are several webinar platforms out there, these are the top best options you should consider. However, it is important to note that these platforms are not free to use and they have different pricing packages, depending on your business size or needs.