Few days ago, the news of  Massive Cyber Attack that breached the password of many facebook, yahoo, google+, linkedin, twitter, ADP and Odnoklassniki social network users was leaked in our previous article here.
Namesilo, in the wake of this recent development, has responded Positively by introducing 2-factor authentication (2FA) for its users, this is a very good step in the right direction, considering their previous award-winning "domain defender" that is also available from the users account dashboard.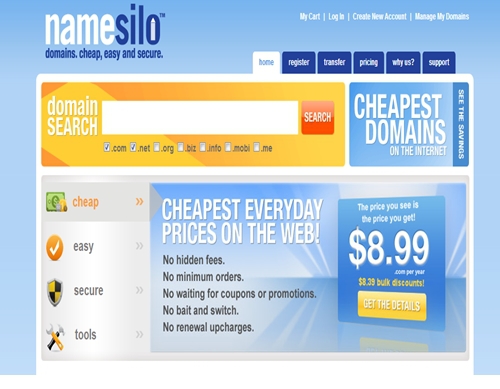 Almost all users of the domain name registering company was notified via newsletter in the early hours of Friday, with a link to a page that explains how the 2-factor authentication (2FA) system works. We captured the first part of the news for you to get a glimpse on how the system works.
We are proud to offer 2-factor authentication (2FA) as domain and account security are essential elements of our service offerings…. after all, the word "secure" is used in our company tagline! What's more is that, unlike many of our competitors, we offer 2-factor authentication completely for free! Many other companies require you to incur fees to utilize their 2FA systems via ongoing charges for receiving text messages and phone calls – our system only requires the downloading of Google Authenticator which is entirely free and available on all major platforms.
It will be very unwise of anyone not to implement either one of "Domain Defender" or " 2-factor authentication (2FA)" . I would even advice you implement the two security features if you suspect that your social media account password was one of those breached in the recent massive cyber attack that stole away the credential of many users of the popular social networking sites.
Namesilo, in an effort to help their customers understand the 2-factor authentication (2FA) and how to implement it on their account has created a page here to guide anyone who's interested.
What do you think of this development and how can you rate Namesilo based on their services?