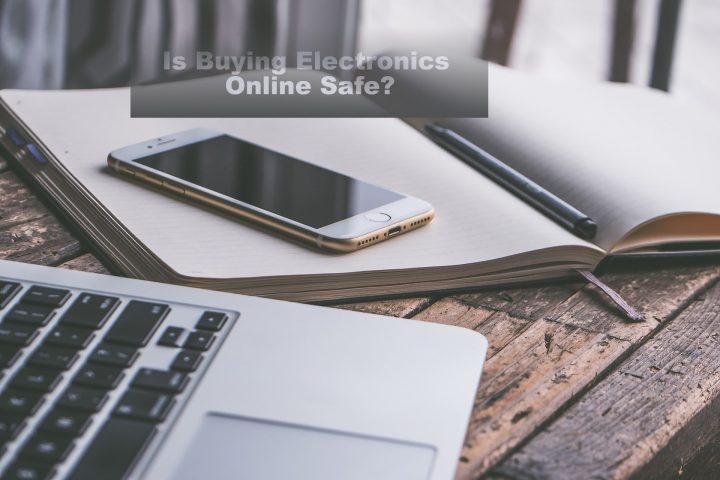 Electronic products have become part of our lives with many using them every day. Over the last two decades, the electronics industry has evolved with many advancements being introduced for the benefit of users. The improvements have resulted in more people relying on electronics and buying them at an increased rate. Luckily, most electronics have been designed with a purpose and have become necessary in many homes.
As the need for electronics increases over time, so has the growth in online platforms that make them available to buyers. These e-commerce sites have electronics from different brands and in various sizes, making it easier to buy an item of your choice. Also, the sites offer electronics at affordable rates making it possible to buy your dream electronic product without going above budget. Even so, it is essential to learn tips on buying electronic items online safely.

Why shopping for electronics online is good for you

Buying an electronic product for personal or commercial use is often done after some research has been done on the most suitable one. However, in this technologically advanced times, there is always a debate on whether the purchase should be made online or in-store. Some of the merits of shopping online include:

Convenience
Buying on e-commerce platforms is appropriate for anyone that wants access to a variety of items at their fingertips. It is possible to order an electronic product online and have it delivered to your premises without leaving your home.

Choosing your product is also done online, giving you a chance to peruse through many items and finding the best one for you. In some cases, online sites allow you to send back an electronic product within a specified period if it is not satisfactory.

Cheaper rates
Electronics sold online are usually offered at lower prices than those sold in brick and mortar stores. The more affordable rates help shoppers save on expenses when they buy online, which is quite beneficial. Apart from lower prices, shopping online also exposes shoppers to bargains that may be unavailable at offline stores.

Reduces impulse buying
Shopping online makes it less tempting to buy items that were not in your purchases list. Shoppers can browse through as many electronics as they want before choosing one that meets their budget. It is also possible to select items and pay for them later, which reduces any pressure to purchase the products on the spot.

Tips for shopping safely for electronics online

Shopping online has become a norm rather than an exception for many people around the world. It is now possible to buy a majority of products stocked in physical stores on a variety of online platforms.
Electronics are part of the favorite products purchased online worldwide, with most people finding the buying process much more convenient. However, shoppers need to prioritize their safety while buying electronics online if they are to enjoy their shopping experience. Some of the best tips when purchasing electronics on e-commerce sites are listed below.

Research on electronic products

Starting to shop for electronic products before deciding on the exact one you need for your home can make your experience online overwhelming. It is common to find many electronic products from different companies online, which makes it hard to make a decision.
For a better shopping experience, it is advisable to do some research on the electronic product you want. Always check out its features so that you can avoid buying fake items online. If unsure of which electronic product to buy, you can read online reviews from previous customers to help make a decision.

Compare prices

Most online sites that sell electronics do their best to offer their products at the best price possible. However, it is still possible to get better deals on electronics by comparing costs across several sites before deciding on the best one.
Fortunately, many sites bring together electronic products from different companies with their prizes attached. One of the best websites to check when comparing prices of electronics online is Best Reviews Guide. The site is designed to make shopping for electronics much faster and safer for shoppers.
Go for genuine promo codes

Looking for discounts is part and parcel of buying electronics online with many people looking to purchase them at the lowest price possible. However, low priced items can be deficient in quality resulting in products that breakdown within the shortest time possible.
It is therefore advisable to buy electronics from well-known sites that offer promo codes to save on costs. Ensure that the promo codes are genuine so that you reap the rewards of buying from the online site. If you are uncertain of the authenticity of online promo codes, contact the company to verify.

Scrutinize refurbished electronics

Refurbished electronics are available online and are usually sold under the category of "used" items. These pre-used electronic items are often in good working condition and can be purchased at a lower cost. However, it is essential to inspect the product before making a purchase.
Ensure that you read through the features and check for any issues that would require repair work. Also, check on reviews of the seller to ensure that they are genuine and they have a high rating.

Avoid scammers

Scammers target online shoppers intending to defraud them of their hard-earned money. They often use different tactics to approach their victims, making it important to be vigilant when shopping for electronics.
Some of the simple ways to detect fake sites run by scammers include a rundown website; inconsistencies in product information, bad reviews by former clients, lack of customer support and push for full payment for items before researching on the product. In most cases, the benefits attached to the purchase of the product is too good to be true.

Overall, buying electronics online is the best way to get your hands on products that can make your life easier. Fortunately, shopping online safely is possible and needs to be a priority for everyone.