When it comes to creating business presentations and pitches, a lot of people would mention "PowerPoint." Yes, PowerPoint is a great tool for creating various business documents; however, there are other good tools you probably do not know about. While you may have a professional pitch deck template, these tools help you to create professional pitches for your business needs.
Startup entrepreneurs understand the importance of creating solid pitches; it's not all about crafting compelling content, how you design and format your pitch deck matters a lot. Thus, they need a tool with a decent number of handy features, and one that conveniently answers the question of how to prepare a pitch deck. Interestingly, here's a reliable list of such tools.
The 10 Tools To Create A Solid Pitch Deck for Your Tech Startup
Come, let me walk you through my list of tools to create a pitch desk that's solid and well-converting for your business. An impressive pitch deck can win you many investors in a matter of minutes; hence, you can get started with any of these tools.

Yeah, PowerPoint remains one of the top best software tools for creating all kinds of pitch decks. It is available in the Microsoft Office software package; PowerPoint has been the go-to solution for creating impressive presentations and slides.
You can get PowerPoint on Windows OS system, macOS PCs, Android OS devices, and iOS devices. The tool comes with a bunch of useful features and effects; plus, it is easy to use, thanks to the intuitive interface.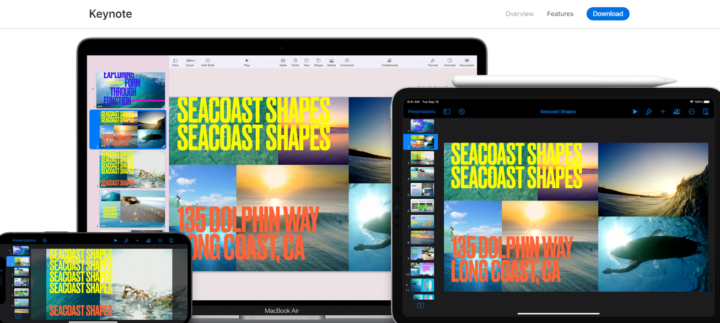 Keynote is free with select Apple devices; this implies that Keynote is pre-available on certain Apple MacBooks and iPads. This presentation tool comes with a lot of features and a super-easy-to-understand interface. With Keynote, you can create a clear-cut, self-explanatory pitch deck that could win you a lot of investors.
This app supports so many presentation effects; it is part of Apple's iWork productivity suite. Mainly, this app is for Apple device users and it includes collaboration features for improved workflow and productivity.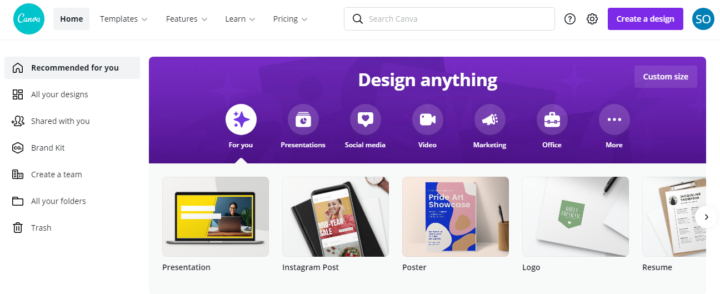 Canva is more than just a place to find graphics design templates; there are so many things you can achieve with Canva, including creating stunning pitch decks. Actually, creating pitch decks with Canva is much easier and detailing. The app provides you with a ton of great tools, as well as provides a big workspace for you to bring your imaginations to life.
Marketers and salespeople use Canva for diverse purposes, and it also makes a great tool for a startup entrepreneur. There are lots of templates to choose from and create your unique design. With Canva, you'll have a limited "free trial" period, after which you'd need to get a premium plan.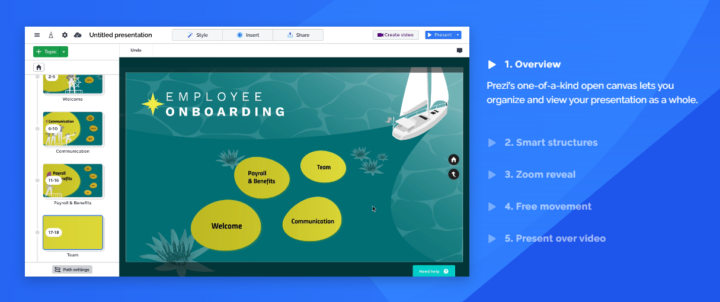 There's a massive collection of presentation templates available with Prezi. This software tool runs on various computers and devices; it features a clear-cut interface, which makes it easy for anyone to understand and use the tool even without a guide. More so, you could add personal videos to your presentations with Prezi (if needed).
Prezi presentation templates let you zoom around the canvas and reveal information at key points; it is great for creating tech startup pitch decks. Interestingly, Prezi lets you transfer your presentations from PowerPoint to its interface using the PPT to Prezi converter extension.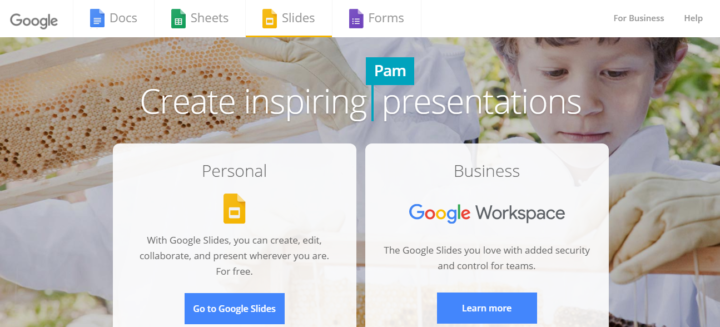 Just like Microsoft PowerPoint, Google Slides is an ideal tool for creating stunning presentations and slides. However, unlike PowerPoint that needs to be installed on your device or computer, Google Slides is available as a web-based tool, which implies that it is accessible via web browsers – no installation is required.
Slides is available with Google Workspace at a fee, and also available for free for personal users. With Google Slides, you can perfectly tell the story of your startup or product, and possibly win the heart of great investors. This tool – although an online tool – packs a lot of features, as well as support integrations with other business apps.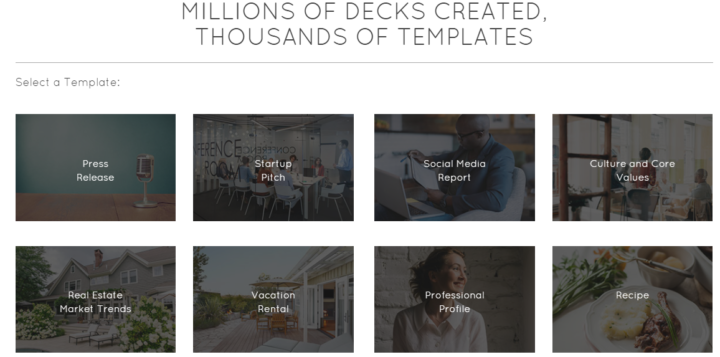 Here's is Haiku Deck, a feature-rich solution for creating stunning pitch decks on the web or any device. This app fully supports mobile devices that run on iOS, which includes iPhones and iPads. It features a simple, intuitive interface that anyone could easily understand. More so, the built-in tools are well arranged on the interface.
Interestingly, Haiku Deck offers a professional startup presentation template. You could load this template and redesign it to look unique. Haiku Deck provides over 40 million royalty-free images you can choose from to make your presentation more appealing. If you seek simplicity and ease of usage, Haiku Deck is an ideal option.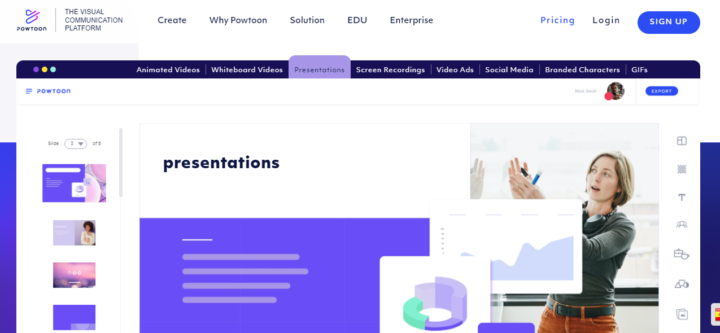 Animations can help to explain better, and that's where Powtoon comes in as a perfect startup pitch deck creator tool. Powtoon is a "portmanteau" of the words "PowerPoint" and "Cartoon." It is a professional tool you can use to create virtually any kind of design or animated presentation.
Interestingly, Powtoon runs on any device and provides a ton of tools for creating distinctive pitch decks. There are so many other things you can do with PowToon, including LMS integration – it is more like a solid alternative to Canva. The interface is intuitive and clean across devices.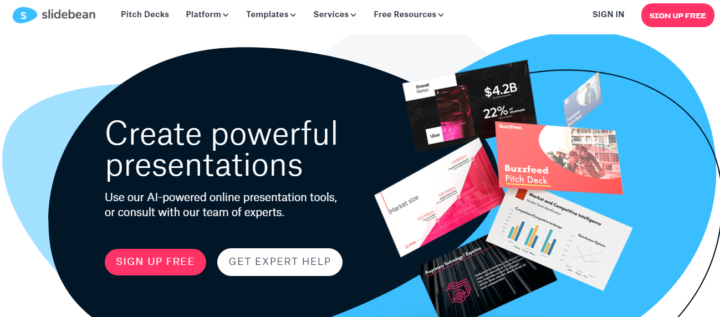 SlideBean seems to be particularly developed for creating pitch decks. It comes with a ton of features (as expected) – flaunting a clear-cut interface, This tool is the best PowerPoint alternative for startup entrepreneurs. Its features are basically for designing pitch decks for startup businesses.
Regardless, SlideBean is still a perfect business tool for marketers and other businesses. Furthermore, Slidebean is powered by a genetic algorithm; you'd create your pitch using AI-powered tools. With SlideBean, you could create your pitches decks yourself, or get help from experts.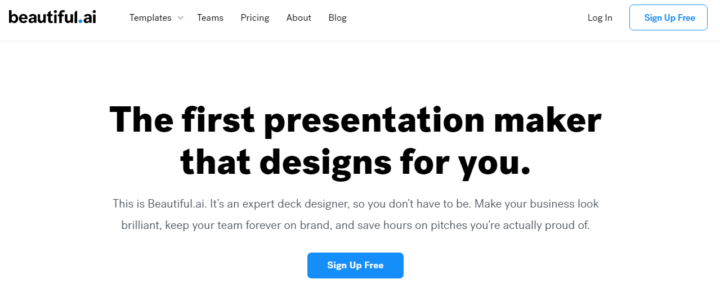 If you prefer using AI tools to solve your business needs, here's an AI-powered pitch deck creator. Beautiful.ai is a distinctive tool that helps you to create beautiful slides, proposals, and pitches that really stand out. It is very easy to use; you won't be needing a professional designer to help out; all the tools are available on the workspace window.
The AI algorithm applies design rules in real-time; in addition, you'll have access to a massive library of free photos and icons to use in your designs. More so, there are templates to choose from, and you can collaborate with your team.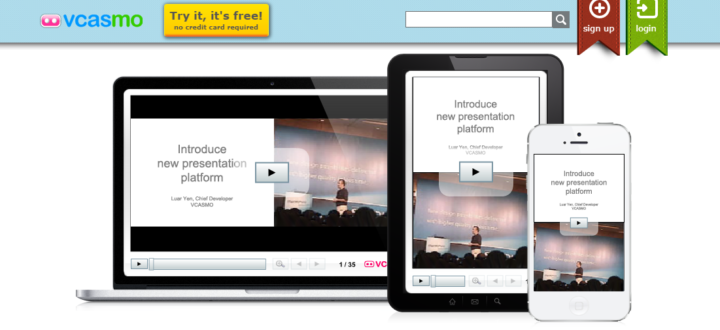 Vcasmo still comes in as one of the reliable tools for creating startup pitch decks. Actually, this tool comes with a lot of features; thus, you can use it for various business purposes. With Vcasmo, you can synchronize a video with your slides for better explanation o visualization.
The interface looks pretty decent and you can access Vcasmo via a web browser or on your mobile devices, including iPads.
Summary
Apparently, these are not the only tools you can use to create sales pitches or startup pitch decks. Instead, these are simply the top best options you should consider first before resorting to other available alternatives.