Ranking up in CS:GO is a highly entertaining process for players that enhances the competitive spirit and gives a deep sense of satisfaction from the effort. This is a great opportunity to evaluate your skills and the performance of your opponents. In this article, you will learn everything about ranks in CS:GO.
What are CS:GO Ranks?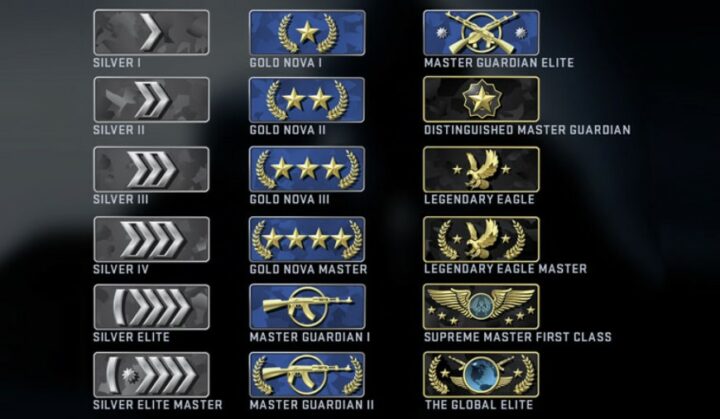 Almost every video game has a rating system that allows the community to identify a new player and an experienced player. In CS:GO, ranks indicate the skill of the players. Each rank reflects the player's abilities in positioning, aiming, map knowledge, line-ups, placement, movement, etc.
How the Ranking System Works in CS:GO?
The ranking system in CS:GO is based solely on wins and losses in competitive matches. When you win matches, the rank increases. When you lose in matches, the rating decreases. There is a chance of a downgrade.
Many players, based on experience in other FPS games, mistakenly believe that CS:GO ranks are based on the ELO system. However, the CS:GO ranking system is based on a modified Glicko-2 system.
Both Glicko-2 and ELO were originally created to assess the skills of participants in games such as chess and Go. However, these systems were upgraded for the shooter and other video game players.
There is a major mathematical difference between these two systems. You should be aware that in the system used in CS:GO, team play takes precedence over individual play.
This means that the success of a player in an unsuccessful team has less effect on his rank. The chances of ranking up are higher when playing in a successful, balanced team. Let's take a closer look at the rank assignment scheme in CS:GO.
Factors Affecting the Rank System in CS:GO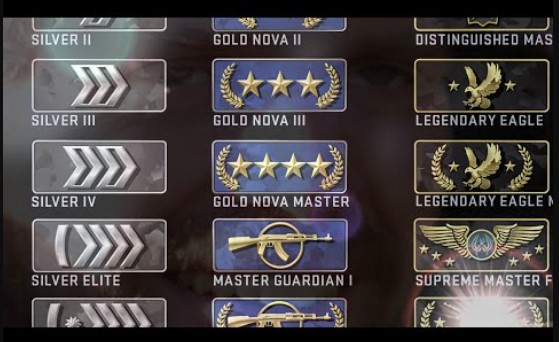 The ranking system in CS:GO is quite secretive. The player cannot see his MMR, however, wins and losses directly affect the rating. A player's rank may suddenly increase after one win, or after only 5 wins. Let's look at the factors that affect ranking in more detail.
Win/Loss ratio
Match results are one of the most important factors for building a ranking system in CS:GO. A win directly affects the player's rating increase, while a loss directly affects the rating decrease. A draw in a match can also affect the ranking.
MVPs
A player's total MVP has an impact on MMR. The MVP of a round is the player who contributed the most to winning the round. MVP can be obtained in several ways: committing the most kills or planting/defusing a bomb.
Round Win/Loss Ratio
The increase and decrease in MMR are also affected by the outcome of each round. You and the other players in your team receive points if you win the round. Points are awarded based on existing MMR.
Personal performance
MMV, as you already know, is affected by MVP status. In addition to such an interesting activity as online CS:GO case opening, strive for excellence in the game through constant practice, maps study, and skill development.
Breakdown of the Ranks in CS:GO
In total, there are 18 titles in CS:GO. In order to get the first title, the player needs to win 10 competitive games:
Silver I
Silver II
Silver III
Silver IV
Silver Elite
Silver Elite Master
Gold Nova I
Gold Nova II
Gold Nova III
Gold Nova Master
Master Guardian I
Master Guardian II
Master Guardian Elite
Distinguished Master Guardian
Legendary Eagle
Legendary Eagle Master
Supreme Master First Class
Global Elite
Silver
This level includes titles from Silver I to Silver Elite Master. This is the beginning stage when the player acquires the first skills. Getting silver ranks is fairly easy. The player does not need to work hard on utility usage but rather has a good knowledge of the maps and aiming skills.
At this level, it is advisable to train from thirty to sixty minutes every day. In this case, the player needs to regularly improve skills.
Gold Nova
This level includes ranks from Gold Nova I to Master Guardian Elite. At this stage, the player needs to hone skills, for example, gain a deeper knowledge of maps, routes, and tactics. However, you need to aim for more, as about 30% of the total number of players get stuck at this rank.
Master Guardian
This rank includes the titles from Distinguished Master Guardian to Supreme Master First Class. If you are in these ratings, then you have played between 2000 and 3000 hours. This rank is associated with the average competitive player. Supreme Master First Class is an important rank in the transition to the highest rank.
Global Elite
Global Elite is the achievement of the best players, which only 1.04% of the total number of players possess. If that's not enough for you, you can showcase your skills at FACEIT matchmaking.
Wrapping It Up
CS:GO is an exciting shooter game where every player can realize their ambitions. You can rise from Silver I with basic knowledge of CS:GO to a professional with the title of Global Elite. Train, win, and enjoy new titles.