Picking a PDF editor can be hard. There are so many Adobe Acrobat alternatives out there. You'd need to think about key factors to find the one that meets your needs. In this article, we'll cover eight important things to think about while choosing a good Adobe Acrobat alternative. This will help you understand what makes a good PDF editor. It will also help you make a smart choice.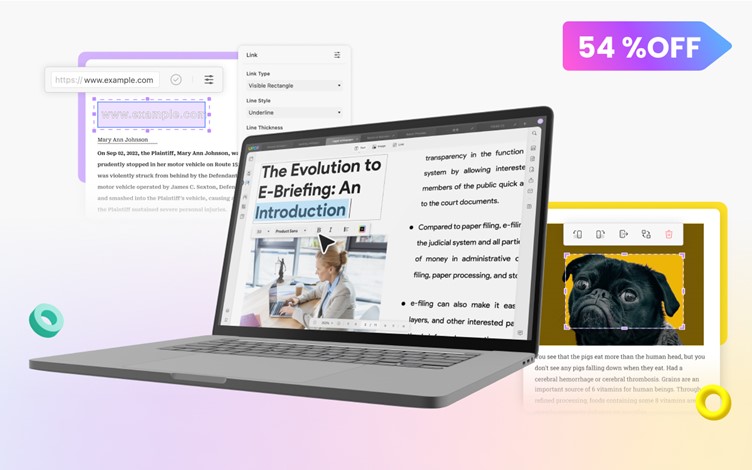 UPDF is a highly adaptable PDF editor. Now, you can enjoy its premium features with a whopping 54% discount. Stay with us to learn how UPDF could be the perfect tool for your PDF editing needs.

The 8 Factors to Consider When Choosing a PDF Editor in 2023
Let's delve into the factors to evaluate when choosing a PDF editor, particularly how UPDF excels in these areas.
1. Full Functionality:
A top-notch PDF editor should provide vast features beyond just text editing. It needs to manage converting, annotating, signing, form handling, and OCR. UPDF, an all-encompassing editor, fulfills these needs. It's user-friendly for both beginners and experts. UPDF simplifies form management and annotation, making it ideal for business use and document review.

2. Good Cross-Platform Availability:
Your PDF editor shouldn't limit you to a single platform. It should work well across different operating systems and even offer cloud access for ultimate flexibility.
UPDF shines in this regard. It's compatible with Windows, Mac, iOS, and Android and also offers cloud-based access.
Also, UPDF's cloud feature adds more flexibility. You can access your documents and UPDF's tools directly from the cloud, even on a public computer.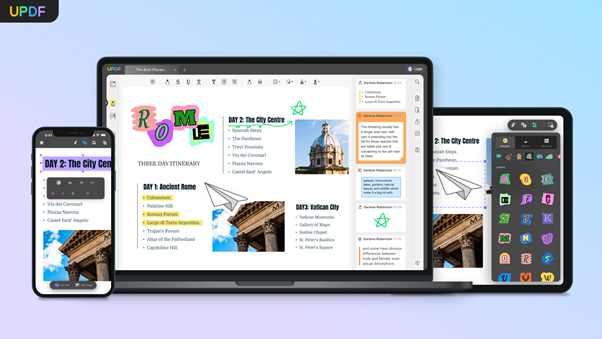 3. UI and Accessibility:
UPDF is easy to use. Its design is clean and user-friendly, perfect for users of all levels. You don't need to be a pro to use UPDF fully.

Even beginners can find and use the features they need quickly. The clear layout helps avoid confusion. This makes editing, noting, or converting PDFs quick and easy.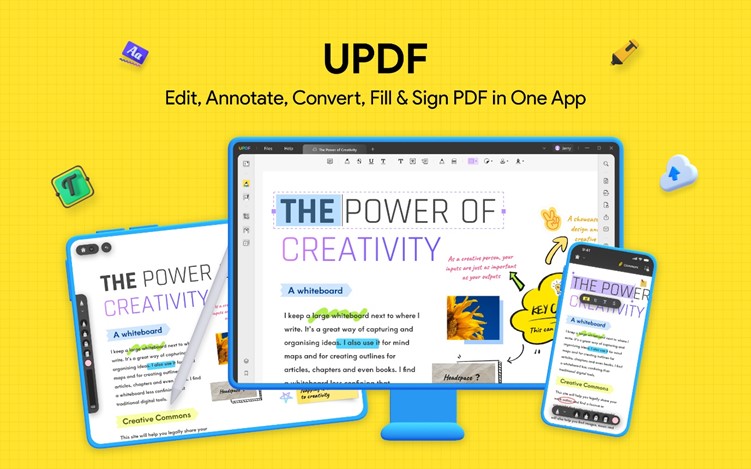 4. Edit PDF Smoothly:
The primary purpose of a PDF editor is to enable easy modifications to your documents. From adjusting text and images to modifying links and customizing backgrounds, an efficient PDF editor should do all of these with ease.
Editing PDFs with UPDF is a breeze. You can easily adjust text, change images, modify links, or customize backgrounds.

For instance, adjusting text with UPDF is simple. Add or delete text, change fonts, and adjust text size easily.

Similarly, changing images is straightforward. Users can add, delete, or replace images in their PDFs. You can also customize backgrounds or add stamps, adding a personal touch or professional flair to their documents.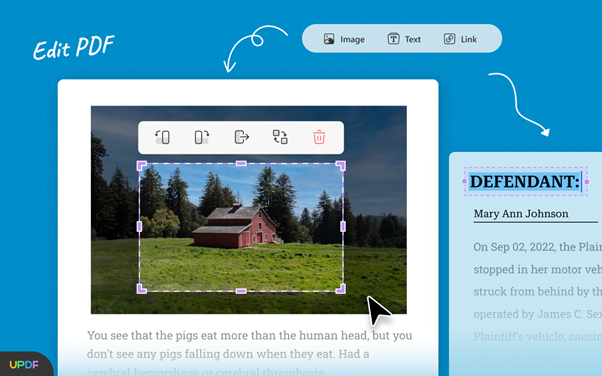 5. Premium PDF Converting Quality:
Maintaining the quality and format is crucial when converting PDFs to other formats.
UPDF stands out for its converting quality of PDF. It uses AI for OCR, making converting PDFs a seamless process. You can handle multiple documents at once while keeping the original layout and formatting.

Whether you're converting PDF files to Word, PowerPoint, Excel, or images, UPDF ensures the results are top-notch. The original formatting is kept, including images, fonts, and layouts. This ensures that the output documents look professional and well-structured.


6. AI Integrated:
A PDF editor with AI can do more than just basic editing. It can summarize, translate, and even explain content in detail.
Summarize:
Reading through a lengthy PDF can be a daunting task. AI assistant in PDF editors can summarize the document. Let's say you have a 100-page PDF report on 'Global Climate Change.' You need to grasp the key points but are short on time. With UPDF, you can summarize the entire report concisely.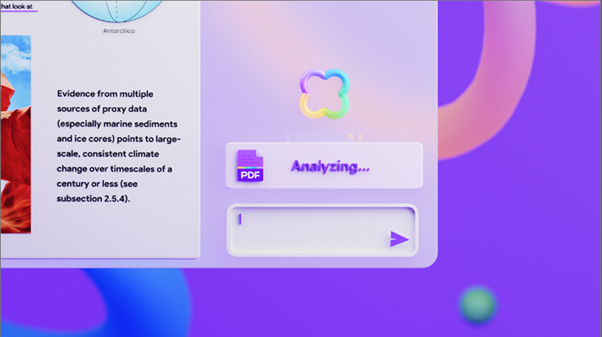 Translate:
Imagine you've received a detailed research report written in French. But you only understand English. UPDF's 'Translate' tool can instantly translate the entire document into English (or any other language you prefer). It breaks down language barriers and makes the document's content accessible and easy to comprehend.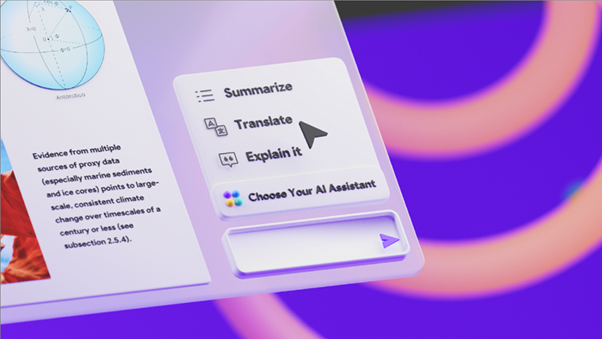 Explain:
Suppose you're reading a PDF on advanced quantum physics. The document contains complex terms, graphs, and data that you need to understand for a presentation. UPDF's 'Explain' feature enriches document content by providing in-depth information, definitions, and clarifications.
Chat, Write, Rewrite, Ideate, and More:
You should be able to ask PDF editors to write on a specific topic, rework existing content, or even brainstorm new ideas. UPDF can also do this, making it a dynamic tool for content creation and ideation.
This advanced understanding of data, speed, and the ability to read and study PDFs directly make UPDF AI a powerful tool for managing PDFs.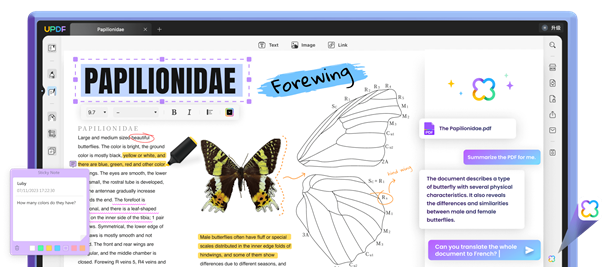 7. How Much It Costs:
You shouldn't have to pay exorbitant prices when opting for a powerful PDF editor.
UPDF is also affordable. Despite having powerful features like Adobe Acrobat, UPDF is just 12% of Acrobat's price. This makes it an attractive alternative for those wanting powerful PDF features without straining their budgets.

8. Good Customer Service and Maximum Participant Limit:
Good customer service and a flexible user limit are important when considering a PDF editor.
UPDF also prioritizes customer service. They ensure users get the support they need. Also, one premium account can be used across 2 desktops and 2 mobiles. This flexibility lets users work seamlessly, no matter where they are or what device they are using.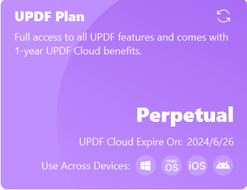 Choosing UPDF, the Best PDF Editor to Fit Your Needs
In conclusion, UPDF stands out as one of the best PDF editors. It offers extensive features such as versatile editing options, AI-assisted tools, high-quality PDF conversions, and impressive cross-platform availability. Not to mention its pocket-friendly price and dedicated customer service. You can take advantage of their limited-time 54% discount offer and upgrade your PDF management today with UPDF.

UPDF Comparison Vs. Adobe Acrobat alternative

When compared to Adobe Acrobat, UPDF offers the same power-packed features at a fraction of the cost. The affordability, combined with cross-platform availability and integrated AI, makes UPDF a compelling alternative to Adobe Acrobat.

Here's a quick look at how UPDF and Adobe Acrobat compare side by side: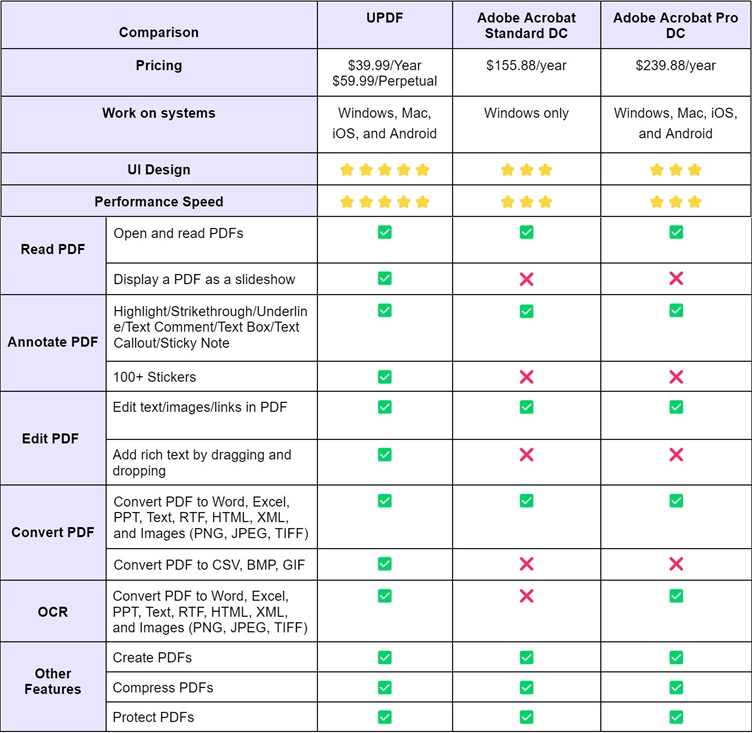 Wrapping it Up:
UPDF revolutionizes PDF editing with a comprehensive suite of tools and AI-powered features. It's your go-to solution for all PDF tasks, providing an unmatched user experience. With their 54% discount offer, it sounds right to enhance your PDF editing and management with UPDF.