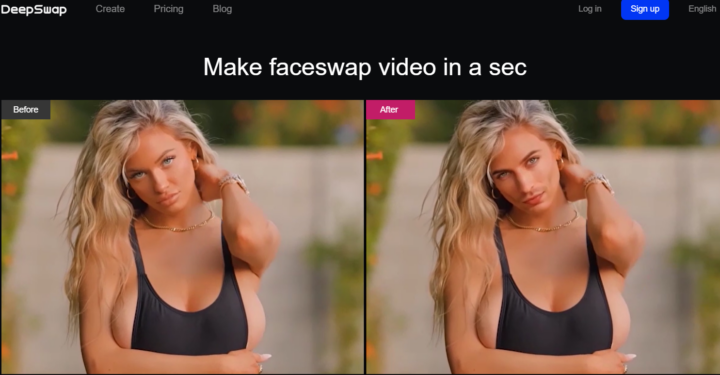 The website called Deepswap.ai uses artificial intelligence to quickly swap faces in pictures, videos, and GIFs. This machine-learning algorithm can produce incredibly realistic face swap clips of people involved in activities they have never before done. Anyone who wants to quickly and easily create believably deep fakes can consider using DeepSwap.
Features that Deepswap offers
Here are some of the most striking features of Deepswap AI face swap tool that make it stand out from the rest:
Deep Fake Face Swapping Powered by AI
With deepfake AI face-swapping, Deepswap will stun you. Use this online face changer tool to reface videos, pictures, images, or other digital content. You can swap the faces in videos, GIFs, photos, and other media on Deepswap, an AI-based face-swapping website.
Quick, simple, and High Definition
On Deepswap.ai, creating a face swap video only requires three simple steps and a few seconds to complete the generation process. Deepswap.ai significantly increased the quality of the deepfakes using its powerful and effective AI machine learning techniques.
Reface multiple faces
Deepswap can identify and swap up to 5 faces that appear in the video, whereas most face changers can only detect one or two people.
Deepswap Keep Your Privacy Safe
The majority of online businesses would require user data regardless of their industry. For example, both Android and iOS apps must have a privacy policy. However, as an online reface tool, Deepswap won't keep track of the files you upload. Your basic information, such as your Account ID and membership status, are the only things they gather. Your personal cloud will store your uploads and creations, which the developers cannot access.
Strict Content Filtering Or No Watermark
Your creations will always have a watermark if you use deepfake PC tools other than deepswap.ai. Additionally, if your uploaded content violates the policies of apps like Reface and FacePlay, the upload will fail. Deepswap.ai, on the other hand, is easier to use. You can easily add any celebrity, cartoon, or meme on your face without a watermark on your creation.
Pros and Cons of Deepswap.ai
Pros:
With the help of deepfake technology, you can change the dialogue in a clip or movie without having to reshoot it. You can even create entire videos by choosing a presenter from a menu and typing in the script.
Industrial training can be enhanced with Deepfake. Building AI avatars for use in videos is helpful. It is also implemented in the film industries to produce film tricks and other cutting-edge features.
The verification and identification field can benefit from deepfake technology. Avatars created by AI help protect users' identities.
Cons
Misinformation and fake news can be produced using technology. Additionally, it can be employed to exact revenge or defame famous people (celebrities and politicians).
It could be an effective tool for fraud, forgery, and scams. It has been observed that audio and video deepfakes can be used to breach privacy on a number of occasions.
Pricing
Deepswap is a paid tool; you have to get a premium subscription by paying 9.99$ for the first month of the premium subscription. Then after the first month, you will be charged 19.99$ per month and 49.99$ for your first year of subscription. After one year, you will be charged 99.99$ per year.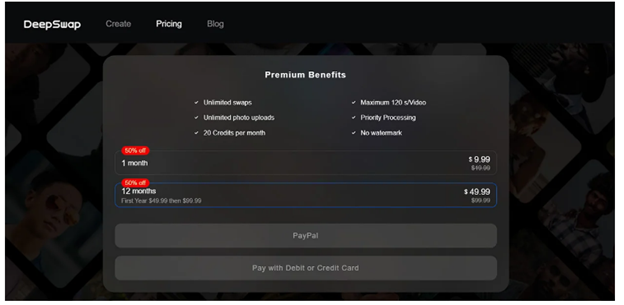 Payment Methods:
You can pay via Paypal or any credit or debit card.
Credit Charge Mechanism
When you buy a premium plan, you will get credits transferred to your account, which can be seen in your profile. You have to use those credits to do your projects. We are telling you about the credit charge now.

For Premium Users:
Uploading photos is free for premium users, but you will be charged for video for one credit per 15-sec video upload, and for gif upload, you will be charged one credit.
Swapping for premium users is free for photos, videos, and GIFs.
Non Premium User
For non-premium users, you will be charged one credit for uploading a photo, one credit for uploading a video of 15 sec, and one credit for uploading a gif.
Swapping for non-premium users will give you two free swaps for each photo, video, and gif. After two swaps, you will need to pay credit for every swap.
Customer Support
Deepswap provides its users with the best customer support. You can use Email, Whatsapp, Telegram, Youtube, Instagram, and discord for customer support. The deep swap customer support team is always there to help you with any queries.
Deepswap blogs
If you want to learn more about deep fake, then you can check out deepswap blog website. On the blog website of deepswap, you will get the latest news about deep fake and also if a new feature is introduced in deepswap.
Frequently Asked Question (FAQs)
What are the Recommended File sizes for videos?
Frame size ranges from 25 to 60 per frame. The video should be of 100Mbs as well as a 120s time limit. Formats include MP4, MOV, and AVI.
What are the perks of the PRO version and Premium Plans?
For the monthly subscription plan, you will get:
You will get unlimited swaps.
You can upload unlimited free photos.
You can upload 20 private photos or gifs.
Your work will be processed on a priority basis.
There will be no watermark on any swaps.
For the yearly subscription plan, you will get:
You will get unlimited swaps.
You can upload unlimited free photos.
You can upload 20 private photos or gifs.
Your work will be processed on a priority basis.
There will be no watermark on any swaps.
The only difference is the price. Monthly is 9.99$ for the first month and yearly is 49.99$ for the first year.
Are there any File uploading size limits?
Yes, when you are uploading a video, instruction is given down below,
Video: Max 100 MB, 120 s
Photo: Max 10 MB
GIF: Max 15 MB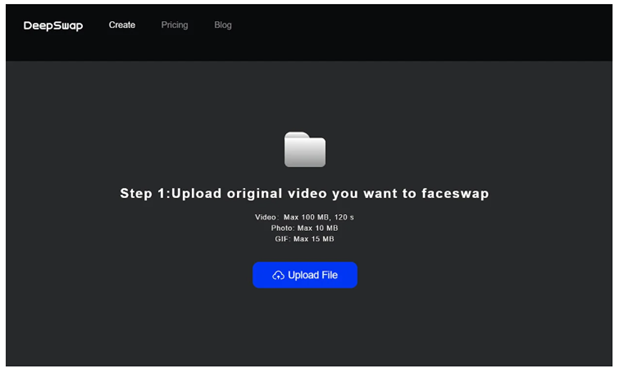 Final Thoughts
DeepSwap is a fantastic option for anyone looking to quickly and easily produce convincing deepfakes. Its Subscription plans and discounts for the first month and year make it even more convincing to be used and give it a try.