In this article I will list out five smartphones from Motorola Inc. that you can buy if you are planning to get new smartphone. The following smartphones listed below are products of Motorola that you won't have any reason to regret buying any of them because most of these phones runs on the latest android Operating System (os) and can beat popular smartphones from other popular company brands like; Nokia, Apple, Samsung, HTC and likes. You can consider buying one of the following Motorola smartphones listed below.
1. Motorola Photon™ Q 4g Lte
Motorola Photon™ Q 4g Lte runs on Android 4.1 Jelly Bean. This operating system is packed with new features and apps that help you tackle your busy schedule. The powerful features of this phone make many users to like it. With some great apps on Motorola Photon Q you will be able to know anything about your weather Info.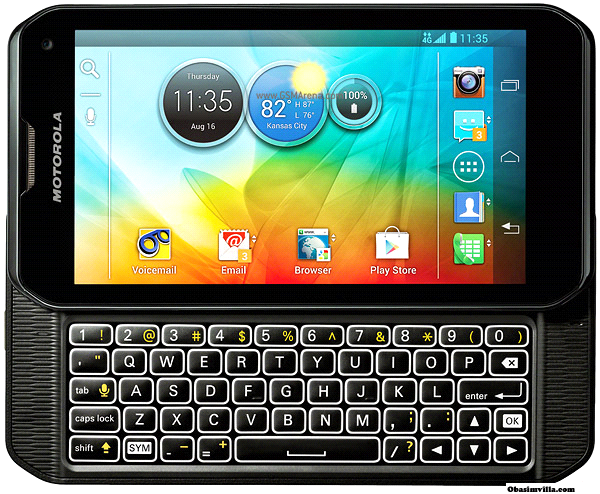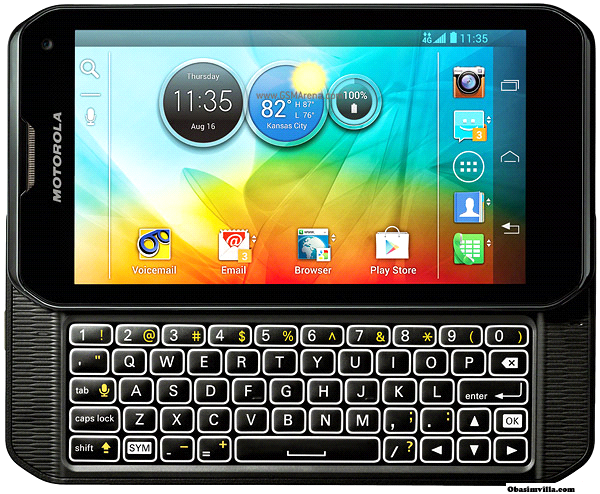 Special Features / Specification
Keyboard :
PHOTON Q comes with a powerful keyboard that makes typing fast and easy. MOTOROLA PHOTON Q features a keyboard with 5 full rows of laser-cut, evenly spaced and elevated keys including a row just for numbers. Typing has never been easy with this keyboard. In addition to that the phone has LED edge-lighting and you'll see where your fingers are even in the dark.
Display: Bigger Screen
The display of this phone comes with a 4.3" ColorBoost display. You can't believe this that you will be able to browse the web without enlarging text, look at detail-rich pictures without having to zoom in, and on a screen this size, watching a show won't strain your eyes.
4g Lte Speed: Power To Do More Faster
Everyone wants fast internet and that's what PHOTON Q is all about. The phone comes with 4G LTE, 1.5 GHz dual-core fast. With speeds up to 10x faster than 3G, you'll be able to browse faster, download large files in seconds and adding another update before your social circle has a chance to comment.
8 Megapixel Camera :
Some moments are too good to forget, with MOTOROLA PHOTON Q you can have those moments as image on your phone without stress. This phone makes it easy to capture every wonderful moment with the 8MP rear camera, the 1.3MP front-facing camera or the HD video recorder. MOTOROLA PHOTON Q can open Google+ Hangout and give you the chance to start a group video chat with up to 9 of your friends.
Fully Protected :
Motorola Photon Q comes with a splash guard coating inside and out that protects the phone from everyday spills and splashes. And don't worry about scrapes to the screen. MOTOROLA PHOTON Q's scratch-resistant glass readily prevents blemishes.
Must Read : 5 Things to Know about Samsung Galaxy S4 vs. Samsung Galaxy S3
2. Motorola Razr HD
Motorola Razr Hd runs on the operating system Android 4.1.2 (JellyBean). This smartphone (Motorola RAZR HD) according to some expert phone users is an alternative to Samsung's Galaxy S3. The RAZR HD is also a powerful and good-looking Android phone with a huge battery Life. RAZR HD comes with a processor speed of 1.5GHz. The number of cores is two. RAZR HD is built with RAM of 1GB.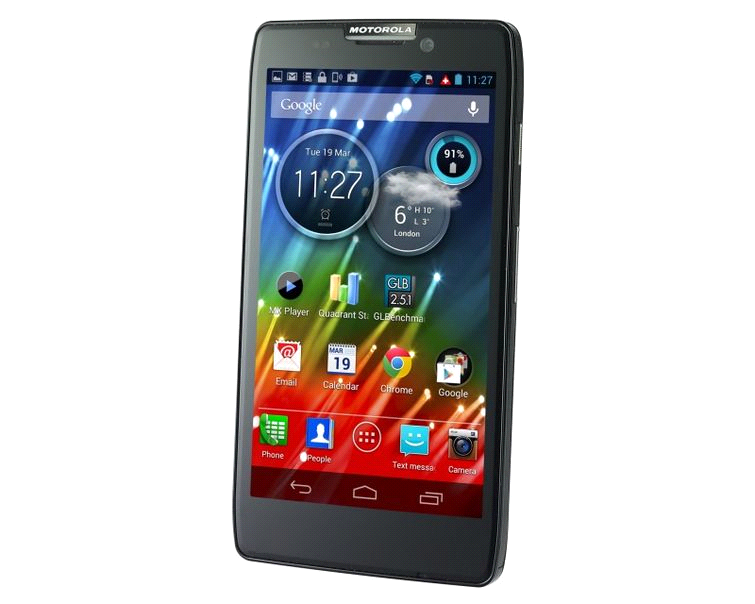 Special Features / Specification :
Scratch Resistant :
This phone is built with Kevlar back panel, splash-proof coating and scratch-resistant Gorilla Glass screen. MOTOROLA RAZR HD comes with a splash guard coating inside and out that protects the phone from everyday spills and splashes. And don't worry about scrapes to the screen
Battery Life :
The large 2,530mAh battery meant the phone managed a huge 14 hours in our video playback test.
Display :
Display 4.7in 720×1, 280 LCD The phone's 4.7inches, screen is an AMOLED model with a 1,280×720-pixel resolution, and is just as impressive as that of the Samsung Galaxy S3.
4G Lite :
The phone is also 4G-compatible if you fancy a bit of super-fast data. Everyone wants a faster connection on the internet. You don't like it when you have to spend ten to twenty minutes before you can download files on the internet. With the 4G you can download anything in seconds.
Camera :
The 8-megapixel camera is all you need to capture those wonderful moments. The camera is just too good because it give you a clear shot in seconds without stress either day or night.
A Must Read for you : A web review of tecno n7 , Gionee Infinity & Infinix X450 Android Phones
3. Motorola Atrix™ Hd
MOTOROLA ATRIX™ HD available in Modern White and Titanium, it's stylishly thin and stands out in a crowd. Motorola Atrix™ Hd is made with advanced composite materials and great features for incredible strength and stability.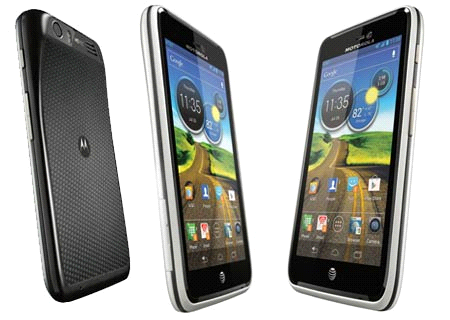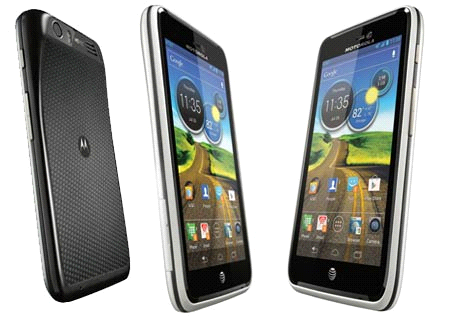 Special Features / Specification
Display :
MOTOROLA ATRIX HD's huge 4.5-inch HD ColorBoost™ display makes everything you see in this smartphone brillant. MOTOROLA ATRIX HD has 50 percent more pixels than the leading smartphones in the market. More pixels means a higher resolution, for greater detail and sharper, clearer images that look more true life images / videos.
Powerfully Protected :
Made of scratch-resistant Corning® Gorilla® Glass make the phone a water and scrath proof. Dont worry about about giving the phone to kid ATRIX is a scratch free smartphone even if was not handled well.
Must Read Today : Blackberry z10 Full review and Features
4. Motorola RAZR i
A gorgeous slimline Intel phone with internal storage of 8GB. RAZR it comes with a distinct feature because it was built with intel rather than ARM processor and it's very quick – around the same speed as the iPhone 5 in the Sunspider JavaScript benchmark. The processor of 2GHz gives the phone super speed with the in-built 1GB RAM.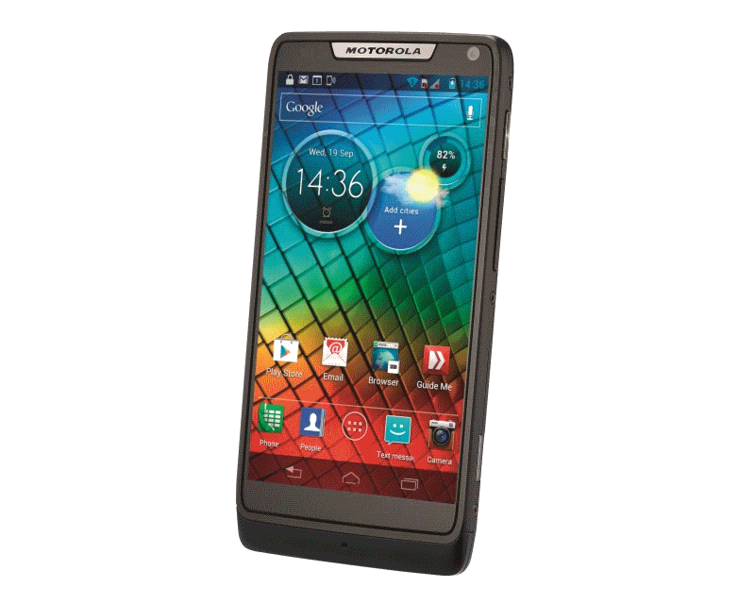 Special Features / Specification
Display :
RAZR i is having 960×540-pixel screen with Super AMOLED. The RAZR it has a 4.3in screen, which is big considering how compact the phone is.
Mobile Data :
The browsing features of this phone is not the latest 4G but with the EDGE, 3G, HSDPA gprs the internet is also fast and downloading is made easy.
Camera :
RAZR i comes with a 8-megapixel just with a click you can have that wonderful memories on it. You know some memories are too good to loose. Just get this phone and its camera will in recording those videos and do a great job in taking those pictures.
Must Read
:
Top 5 Features Of The Samsung Galaxy S3
5. Motorola Electrify™ M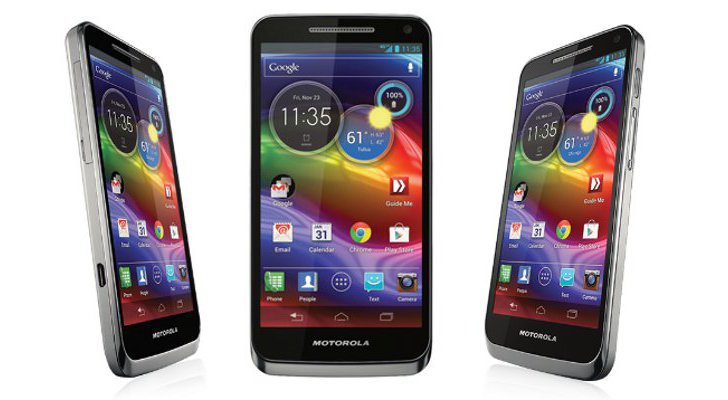 This is the last phone on this list, ELECTRIFY M comes with many unbeatable features that makes very interesting smartphone you can consider buying.
Special features / specification
Display :
MOTOROLA ELECTRIFY™ M's 4.3" display is virtually borderless. It give you a big, beautiful and brillant display. Photos and videos all look great on the vibrant, high resolution Super AMOLED Advanced display.
Web Browsing :
This is new and very interesting, ELECTRIFY has a wonderful browsing features because it was built with Google Chrome™ browser and it browse at 4G LTE speeds, you can surf the web faster than ever.
Construction :
MOTOROLA ELECTRIFY™ M is beautiful and very tough you don't have to worry about handing it off to your kid because it is built with premium protective material. The scratch-resistant display is made of Corning® Gorilla® Glass. Accidentally knock over your coffee? Relax. MOTOROLA ELECTRIFY™ M is protected by an invisible water-repellent splash guard.
Concluding Lines :
There is a reward for taking your time to read this article. And the reward is worthy of your effort. Forget about the big names  listed above Motorola smartphones can give you all what you want in a smartphone.
This is a guest article by Pas Paul Faith who is a freelance writer from Nigeria. He approaches what he writes in a distinct way.