Trends in various business fields change quickly. Technological advancements paved the way for enterprises to operate more efficiently and grow a bigger audience. So, it's not uncommon for various companies to integrate useful tech tools in their workplace.
If you're running a growing enterprise and wish to expand it, taking advantage of various tech trends may help you achieve your goals in 2022. So, here are some promising tools you can consider: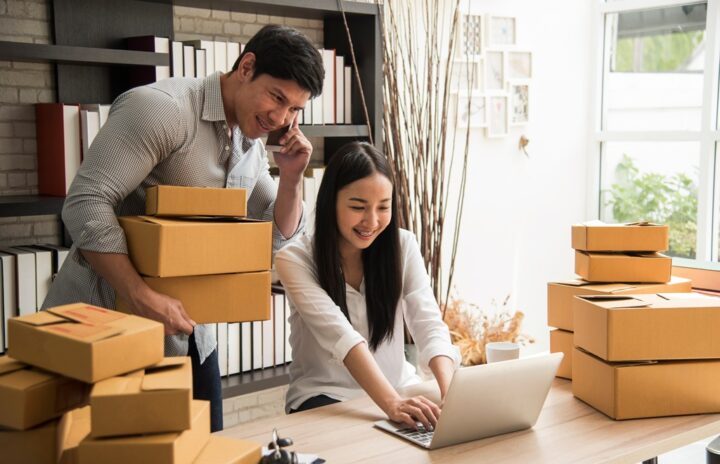 Online Tools For Operations
Managing various departments is one challenge you may face when growing your small business. For instance, you must keep track of your sales while maintaining a good relationship with your target market. If you're doing all these tasks manually, you may miss some crucial information and slow down your operations.
So, if you wish to improve your overall performance, using various online tools to manage your workload may be ideal. You can look for small businesses free web tools and integrate them into your operations. For instance, you can use a website to store and view all your files so your team members can view or access them any time they need.
Using online operations tools may also minimize your team's delays or miscommunication. It's easier for anyone to check any detail they need since it's all available on a centralized channel. This may come in handy if your team members work remotely or have different work schedules.
Online Store
Nowadays, some people prefer to purchase goods through online stores than going to a shop in person. After all, it's convenient and easier to do since they can check out items using any gadget and wait for delivery. Hence, if your business offers goods to customers, it may be a great idea to utilize online shopping.
Various online platforms let you sell your products or services to a diverse audience. For instance, some social media sites allow business accounts to direct users to their shops with a click of a button. It makes a customer's shopping experience less stressful since they don't need to find another channel to buy something.
If you wish to bring your small business to the next level, launching an online store may be a great idea. You can use your social media platforms and post your products using your accounts. On the other hand, you can add a page to your website or create an online shopping site to let your target market purchase from your business.
Secure Online Payment
Offering different payment options to your target market may be an effective way to improve your sales and business transactions. For one, it lessens the burden on your customers since they can pay for your products or services without leaving their homes. In addition, it may improve your brand image since your business is accessible and easy to transact with.
You can try to include online payment options in your business model if you're catering to consumers worldwide. For instance, you can redirect users to a secure payment gateway when they purchase a product from your online store or website.
When creating a payment channel, you must use a secure system to protect your clients' information. In addition, you can utilize well-known payment options since your customers may be more familiar with them.
Artificial Intelligence
You may think only large companies can utilize artificial intelligence (AI) to improve their workload. However, you can use AI to aid your productivity and grow your small business. You can let it analyze your performance and sort large data.
For instance, if you need to track your sales from different regions to identify which aspects you can improve, you can let advanced software do the work. You may also use artificial intelligence to analyze your target market's purchasing habits, so you can offer better products or services to them.
Taking advantage of AI as a growing enterprise may help you gain new patrons and keep up with competitors. Additionally, it may significantly lessen your workload and let you focus on other tasks like client communication or sales.
Chatbots
Excellent customer service is an integral aspect of various businesses. It connects your brand to your target audience and makes them feel valued. If you offer poor assistance to your patrons, you may risk losing them to competitors. Hence, it's ideal to improve your customer service department while you're growing your company.
One way to do this is by integrating chatbots into your operations. This feature can address customer concerns at any time, even when you have no staff available to answer queries. It can provide consistent and accurate answers to common questions from consumers.
If you're integrating this into your business, it may help to prepare responses for frequently asked questions (FAQs). For instance, you can program detailed instructions to your chatbot system on how to use a product, so it can instantly reply whenever a person asks. You may also prepare automatic responses for common questions like prices, features, or delivery.
Influencer Partnerships
Online promotions aren't a new venture for various businesses. It's an accessible and affordable way to increase brand visibility and reach a wider audience. In addition, promoting online is easier to execute using different tools like social media platforms and paid ads.
If you wish to grow your small business in 2022, working with influencers may give you the boost you need. Some well-known personalities have considerable following they can advertise your products and services to.
When looking for influencers, it's essential you pick people who can represent your brand well. You can check out their previous partnerships or activities online to gauge whether they're the right person to work with. After all, their target audience may not be a match with what your business offers.
Final Thoughts
Keeping up with tech trends may significantly influence your performance as a growing business. After all, it can help you stay relevant among your target market and ensure you don't get left behind by competitors. Hence, it may be an excellent idea to integrate some well-known technological development into your enterprise and use them to your advantage.