This post should be able to guide you on how to unlock channels like Netflix and Hulu from anywhere you are with UnoTelly.
If you live in USA, you have probably enjoyed streaming content at its best. People inside the US are just a click away from accessing major streaming stations like Netflix and Hulu. If you don't know what Netflix is, probably a visit at Wikipedia worth a look because if you try to visit it outside US, you will receive a "Sorry, Netflix is not available in this part of the world yet" message.
The internet revolutionized the way people used to connect like nothing before but when it comes to entertainment, there are still barriers. The reason of those barriers is because online broadcasters who serve live streaming videos such us Netflix are licensed to broad cast their video only to specific territories. Even you pay for a Netflix subscription and actually contribute in its revenue; you will not be able to access its streaming library if you are outside US. In this post, we will introduce you a workaround to access channels like Netflix from anywhere you are.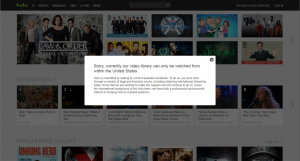 Bypassing the geo-block
The first thing you need to do to bypass the geo-block and access Netflix and similar stations is to make them think that you are trying to access them from USA. To do this, we recommend the use of a DNS service. For those of you who have already tried, you are probably familiar with VPN or Proxy services. A VPN (Virtual Private Network) can give you access to blocked stations but it's not the most suitable solution. VPN's biggest advantage is that it hides your location really well.
On the other hand, if you just want to access blocked stations like Netflix, VPN's extra security becomes a liability because due to its nature, it intercepts all your connection.  As a result, your internet connection becomes slower. Unlike VPN's, by using a DNS service there is no "middle-man" and you can achieve direct connect to the channel you want with zero speed loss.
There are plenty of DNS services available to use, free and paid. We use and recommend UnoTelly. Unlike any other service, UnoTelly is dedicated in giving you easy access to international blocked channels like Netflix. Despites its speed, what makes UnoTelly unique is that it gives you access to streaming stations not only from USA, but from multiple locations such us UK at the same time, without having to change any settings.  As a result, you can access American Netflix and the British BBC iPlayer at the same time, without having to connect to separate servers.
Also see: How To Use VPN on Your Android Device Without Rooting it
Setup process of UnoTelly is easy. All you have to do is to apply the UnoTelly's DNS addresses on your device.  It may sound complicated but it's not. You can find step by step tutorials about configuring UnoTelly on any device you have (PC, iOS, Android and many more) in their website. The instructions are straightforward and setup process takes 5-10 minutes.
UnoTelly is not free. It costs $4 per month and it lets you access around 70 blocked channels. You can try UnoTelly for free for 8 days.

UnoTelly's Use
Once you are done with the setup process, just head to UnoTelly's client panel page and access one of the many new channels you have just unlocked! You can watch Breaking Bad, see the new episode of Family guy or listen to your favorite music! The channel selection is huge and there is something for any taste available.
Although almost all UnoTelly's supported channels are free, some of them require an extra monthly subscription. Netflix is one of those channels. It costs $8 per month but it totally worth it! Netflix's streaming library includes some of the most popular series and movies available worldwide such us House of cards, Breaking Bad, South Park, Family Guy and many more on 1080P and on any device you have. You can try Netflix for free for 30 days and see if it's something for you. We definitely recommend it!
Apart from Netflix, some other channels that you will enjoy with UnoTelly are BBC iPlayer, Hulu, Spotify, Vudu, Crackle and Fox. You can search if a movie or show you want to watch is available via one of the UnoTelly's supported channels by visiting Moreflicks.