Summary
IOTransfer 3 is a simple and highly effective iOS file transfer and management tool with a super-powerful online video downloader. It offers a 1-click solution to easily transfer photos, videos, music, and contacts from any iOS device to PC or vise versa.
If you're a smartphone user, apps like IOTransfer wouldn't come as a surprise to you. So reading this short post on IOTransfer 3 Review would go a long way in showing you what to expect with IOTransfer 3 iPhone/iPad management software. IOTransfer, just like Moborobo and iTunes is a PC suite for managing iOS devices such as iPhone, iPad, iPod and etc. It is feature-rich, better than Moborobo, and far more user-friendly than iTunes.
IOTransfer 3 Software Overview

IOTransfer 3 is a professional iOS management software with lots of useful tools/functions. It is a near-perfect iPhone PC Suite that lets you do lots of tasks with just a few clicks. As a shareware, IOTransfer software lets one manage his/her iOS devices without paying for a license code immediately.
With this freemium software, you can manage every folder on your iPhone/iPad, run a comprehensive backup of your files (to prevent data loss), download online videos straight to your iOS device, clean junk files, and do wireless content transfer between your PC and mobile devices.
All in all, IOTransfer 3 iPad PC suit is packed with lovely add-ons and simple-to-use iOS management tools. It allows for an instant transfer of media files from an iOS device to a Windows PC and vice-versa. The ability to delete caches, browsing history, and junk files are some of my favorite functions.
Second to its junk-cleaning tool is the ability to download online videos from Youtube, Vimeo, Instagram and many other online video streaming websites.
IOTransfer 3 Features and System Requirements
This software is one of the most intuitive software I have used so far with a user-friendly interface: It gets the job done with little or no distractions. Its most notable features and PC requirements is listed below for your learning.
Features:
AirTrans wireless transfer function
Full-featured iPhone/iPod/iPad manager
Multi-lingual support
Junks cleaning tool
Online video downloader with a free converter
Has support for importing and exporting Audiobooks from iBooks
Can import files by drag and drop method
Has support for importing and exporting iOS Contacts in TXT & CSV formats.
Minimum PC Requirements:
Supported OS: Windows OS 7, 8, 8.1, and 10
RAM: at least 2GB
Hard disk drive (HDD storage space): at least 500MB free disk storage space.
iOS requirement: OS 8 or later
IOTransfer 3 Pricing/Availability
Availability: At the moment, IOTransfer 3 PC suit for iOS devices is available for Windows computers only. I'll break the news if the company decides to release a version for Mac OS X and/or Linux machines.
Pricing: There's a free version of IOTransfer iPhone Manager, but with lots of limitations. The pro (paid) version is highly affordable as it retails for only $24.99 (single license) or $29.95 for a lifetime license. Honestly, it is a steal for this price point, looking at the features on offer.
How to Use IOTransfer 3 Software (IOTransfer Tutorials)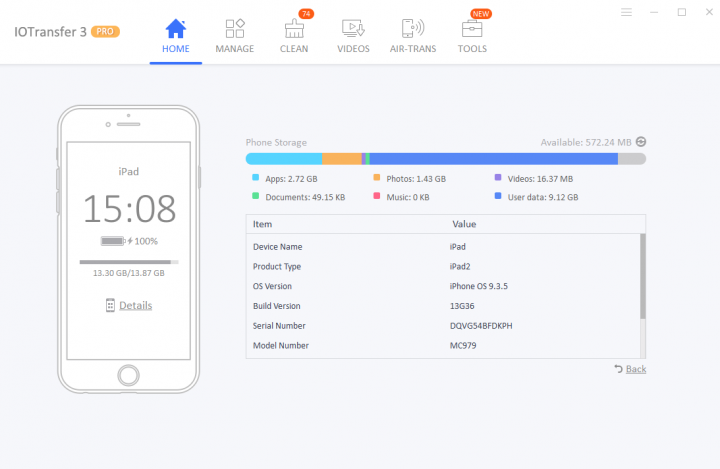 First, you'd have to download the freeware from their official website at iotransfer.net and install it to your Windows PC following after the on-screen instructions.
Confirm that the software is installed correctly by launching it from your desktop icons. Observe the tools/functions from the active screen, and then click on the one that matches your need(s).
Here's some guide/tutorials to help you get started with IOTransfer 3 iPhone manager.
Connecting your iOS Device (iPhone, iPod, iPad)
When you launch the software, connect your iDevice via a USB cable and grant the necessary permissions (when prompted). Tap "Trust" on the dialogue box that appeared on your iOS device and grant IOTransfer 3 software access to manage the files on your phone/device.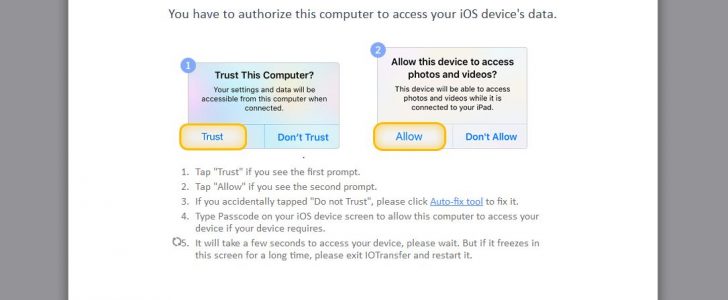 Managing your iPhone/iPad Files
Once your iOS device is properly connected and authorized, the next step is – to start managing your files, which is one of the basic roles of IOTransfer 3 software. From here, you can copy, move, preview, and delete files from the connected iOS device.
Straight from the software window, you get to see how many media files you have on your iOS device, divided into sections (ie- pictures, music, and videos). Also, you can see the number of contacts you have saved on your device from this window.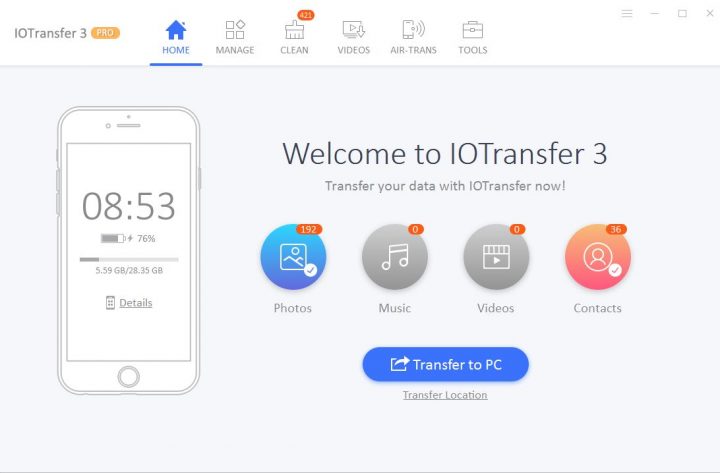 If you want to move or copy files from the connected device to your Windows PC, simply click on Transfer to PC, ==> select all the files to be transferred. iOtransfer 3 offers a one-click solution to move, copy, or delete files from the connected iOS device.
If you look to the left side of the active software window, you'll notice an iPhone sketch; but that's if you've connected an iPhone/iPad. On this iPhone sketch, there's a button that's named details. It shows how files and app occupy your device storage.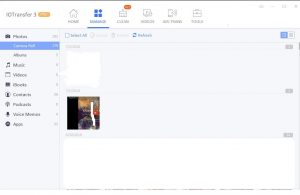 Furthermore, you can preview the image files that are stored on your connected device right from this software window. You can even uninstall some apps from your iPhone/iPad, get access to your memos, podcasts and etc.
How to Clear Junk Files on iPhone/iPad with IOTransfer Software

Boldly on the menu tabs at the top of the software window, you'll see a button named Clean. It lets you clear junk files on iPhone, iPad and/or other iOS device.
When you click/toggle to this tab, it will ask that you grant permission for it to scan your iPhone/iPad for junk files. To do this, click on "Scan my iPhone", after which it will analyze the folders on your device and fetch the junk/caches files so you could clean them off.
How to Download/Convert Online Videos with IOTransfer Software

I have already highlighted that this software has a tool that allows its users to download and convert online videos. This is how to do it in just a few seconds.
Simply navigate to the "Video" tab on the active software window, copy and paste the online video link and click on download: It's as simple as this! You can also choose to have the downloaded videos saved directly to your iOS device by ticking the box provided below the video URL address bar.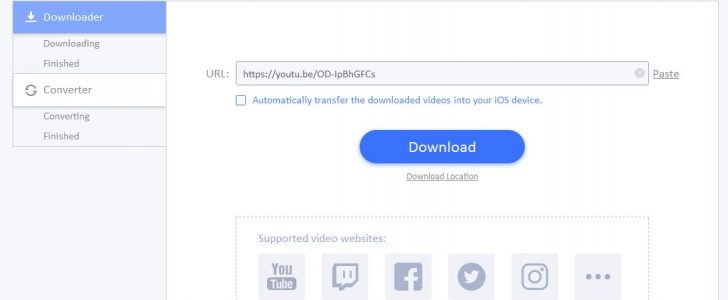 In the same way, you can as well convert the downloaded videos with this software. All you'd need to is –> simply click on the converter line on the active "Video" window and add your video files. ==> Select a video output format and click on Convert.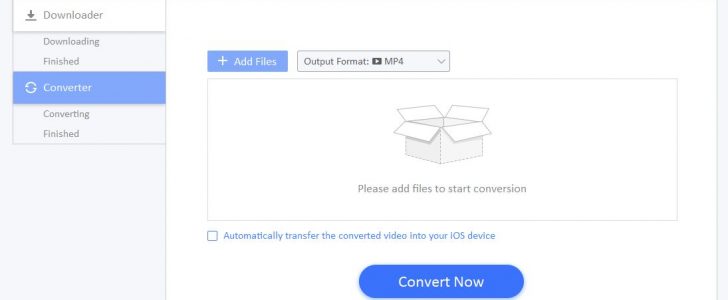 Using IOTransfer 3 AirTrans Feature
Another important feature included in this useful utility software is the AirTrans feature. This feature allows a wireless communication between your iOS device and a Windows PC. So, you won't have the need for a USB data cable. Here's how to use IOTransfer 3 wireless transfer (AirTrans) feature.
First, you'd need to install the iOtransfer 3 mobile app from iTunes AppStore.
Open the iOtransfer 3 app on your iPhone/iPad/iPod.
Launch the iOtransfer 3 software on your PC and toggle to the AirTrans option and then click on start transfer.
Click on your iOS device's name from the software search result.
You're all set, start transferring wirelessly and without much hassles.
IOTransfer 3 Review and Verdict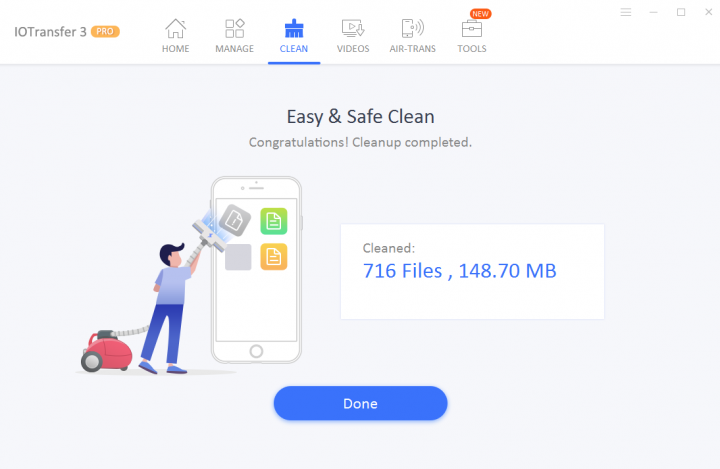 Of all the iPhone/iPad/iPod management software I have used, IOTransfer 3 is hands down the most intuitive of them all. It is easy to use and comes with a calm, user-friendly interface. Every feature included in the software works as advertised and without many bugs.
It is versatile and should easily complement all the features that are lacking on iTunes. I can hardly believe that I cheaply fell in love with the tons of useful tools that are saddled with this app.
All in all, I can easily recommend this software to anyone that's in search of a professional iPhone/iPad management tool with lots of useful functions.
What More?
Honestly, this is all there is to know about IOTransfer 3; the versatile iPhone and iPad management suite. Below are some questions that are typically asked by new users of IOTransfer 3 software.
Does IOTransfer 3 work for newer iOS devices?
Yes, sure. You can use IOTransfer 3 software for iOS 10, 11, 12, 13 or newer. All you'd need to do is to upgrade your software version to the latest one. 
How to get IOTransfer 3 license key?
The only acceptable way to get IOTransfer 3 pro license key and make the app work to its potential is to buy the  IOTransfer 3 key from the software vendor. With this, you can use the app for all your iOS devices. 
Can I use every of IOTransfer 3 pro features for free?
The answer to this is both yes and no. Yes, if you're going to do less than 20 transfers per day and needs the app for only a few days. No, if you're going to do more than 20 transfers per day and needs the app for more than seven days.
How long can I use IOTransfer 3 Pro before paying?
Well, you can use the app for seven (7) days before paying. IOTransfer 3 gives you seven days trial period after which you must enter a license key to continue using the software. Free users of IOTransfer 3 pro are also limited to 20 transfers per day.
Wrap Up:
This is my short review of IOTransfer 3 iPhone manager based on my personal experiences. I compared it with other paid/free iOS PC suites I've used in the past and can tell it's super-intuitive and offers lots of other useful functions that will interest most iPhone users.
The online video downloader and the video converting tool is a super-useful function for users with iPhone and Android devices. To crown it all,  IOTransfer software developers has promised to add more tools on their future releases.