Digital Multiplex, shortened as DMX or DMX512, is a digital protocol for controlling intelligent lights, fog machines, and effects. The technology has been existing since 1986 and has been updated over the years. DMX works with a "Controller," which is either a physical unit or software.
The best places to experience DMX lighting in practice include clubhouses, music concerts, live events, and other similar events. A DMX controller is the "brainbox" that controls the DMX fog machine or lighting rig/fixture. DMX controllers are built differently with unique features, but they all perform the same job – controlling DMX lighting.
To make DMX lighting programming and controlling much easier, some companies have launched DMX software solutions with distinctive features. Hereunder are the best DMX software programs that allow you to control DMX lighting using your PC.
The Top 7 Best DMX Software For Shows and Live Performances
Hereunder are 7 of the best DMX software for everyday uses. These software programs would help you boss up your DMX lighting programming proficiency. Most of them are available for both macOS and Windows-based systems.

The Q Light Controller+ (QLC+) software is a free and open-source DMX software with quite a ton of handy features. It is available across platforms: Windows OS, macOS, Linux, and Raspberry Pi. QLC+ can control DMX or analog lighting systems (moving heads, scanners, dimmers, and many others).
Furthermore, the QLC+ software can control a vast number of DMX universes and channels. It is compatible with many DMX controllers out there, including DMXking eDMX2, Enttec ODE, and DMX4ALL. You'd never get to pay a dime running this DMX software on your preferred supported OS.
Main Features:
1000+ ready-made fixtures
Web access for remote control
Contemporary virtual console
850+ gobos, color presets, and RGB values.
MIDI input, output, and feedbacks.
Available in multiple languages: Catalan, Czech, Dutch, Finnish, French, German, Italian, Japanese, and Spanish.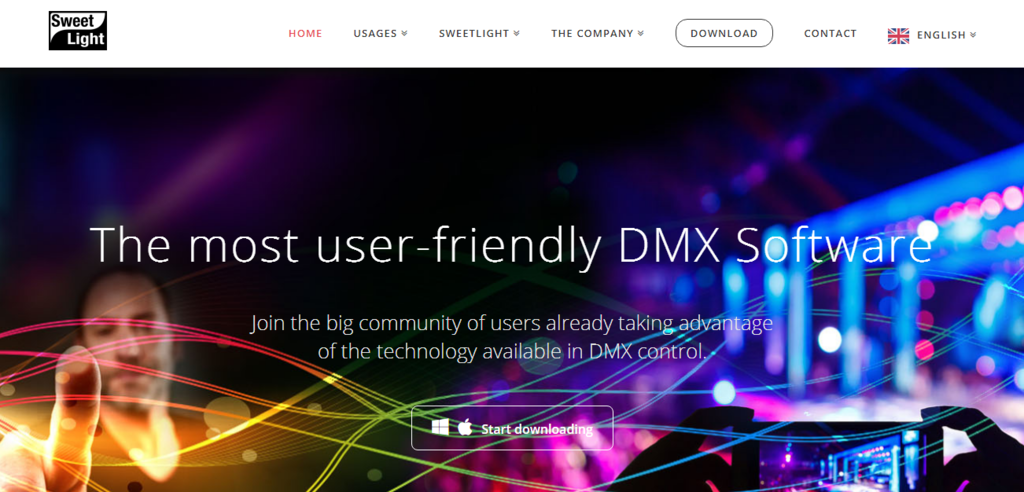 The SweetLight lighting controller software is a pro-level PC utility for controlling and programming DMX lighting. It is a multi-platform software controller – available for macOS and Windows OS systems. SweetLight offers unparalleled capabilities for managing and controlling DMX lighting.
This software works with the SweetLight DMX controller system alongside a suite of DMX interfaces to match any requirement. Using this DMX software, you can create multiple effects, ranging from simple to complex ones. The high flexibility of SweetLight DMX software is what makes it one of the best options out there.
Main Features:
Drag and drop support
Virtualization with 3D tools
Syncs with the LiveShow mobile app for iOS and Android devices
Massive library of fixtures to choose from.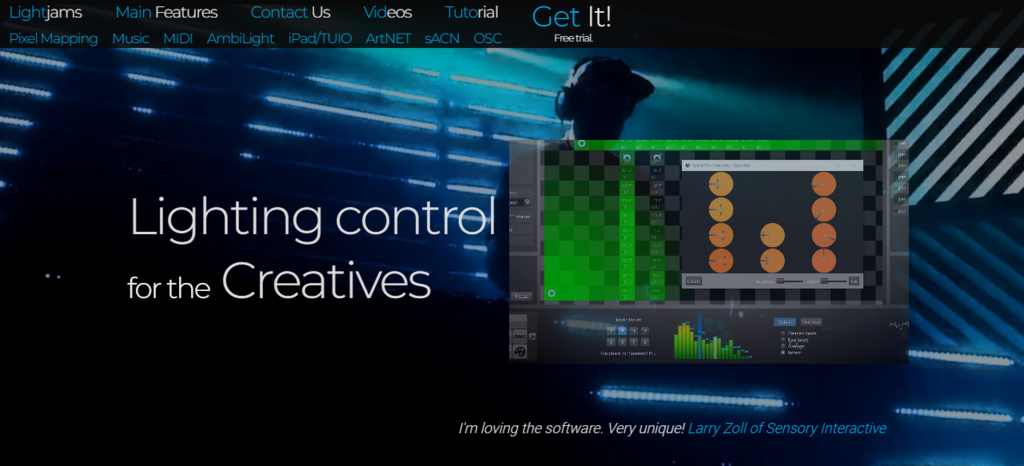 Lightjams is a software program for interactive DMX lighting programming and controlling. It comes with several tools that allow you to create unique effects based on different live signals, including MIDI, DMX, OSC, video, music, and time. If you're looking for a software that allows the creation of astonishing lighting effects, LightJams is the answer.
Furthermore, LightJams supports automation, which means you can automate as many activities as you wish. Well, it is a professional DMX software built with a hi-tech generative effect engine. This program is developed using an easy, flexible script that supports deep customization. It is compatible with many DMX lighting fixtures and LED controllers.
Main Features:
Only works on Windows OS computers
Supports MIDI, OSC, and DMX.
Send 128 DMX universes on each network protocol.
Receive up to 16 universes for ArtNET and sACN.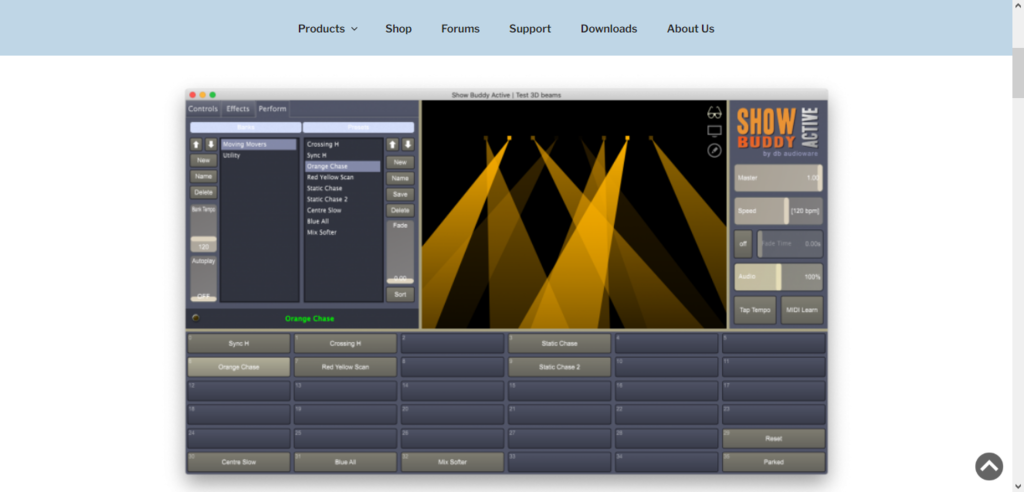 Show Buddy Active is a modern-generation, powerful DMX lighting control software designed for artists, DJs, performers, and designers. It supports multiple DMX universes as well as comes with advanced visual effects. This is practically the ideal software program for creating ambitious automated shows.
You can operate the Show Buddy Active software using your mouse, MIDI interface, or via an iPad app called TouchOSC. Furthermore, you can integrate this software with Show Buddy Setlist for hands-free tracks playback, plus access to more tools. Show Buddy Active can transmit DMX data to a wide range of DMX hardware devices.
Main Features:
DMX universe transmission via a USB interface.
Supports Windows 10 or higher and macOS 10.12 upwards.
2D visualizer
Controls DMX lighting, LED pixels, and videos
Touch-friendly user interface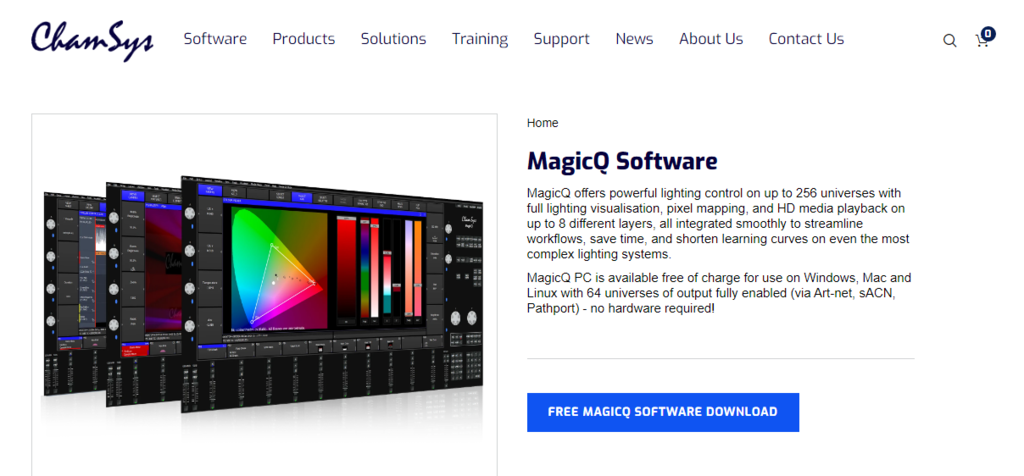 The Chamsys MagicQ is superior DMX control software with support for many DMX lighting rigs, physical controllers, and fog machines. This software program is designed to integrate all the features and tools you'd need to deliver an outstanding DMX lighting programming job for any event.
Chamsys MagicQ is available across macOS, Windows OS, and Linux-based platforms. It comes with up to 64 universes and includes support for Art-net, sACN, and Pathport. You practically do not need a hardware controller to use this DMX software as it comes with just everything you need.
Main Features:
Full lighting visualization
HD media playback on 8 different layers
Pixel mapping
Smooth learning curves even on complex lighting systems
Up to 64 universes via Art-net, sACN, and Pathport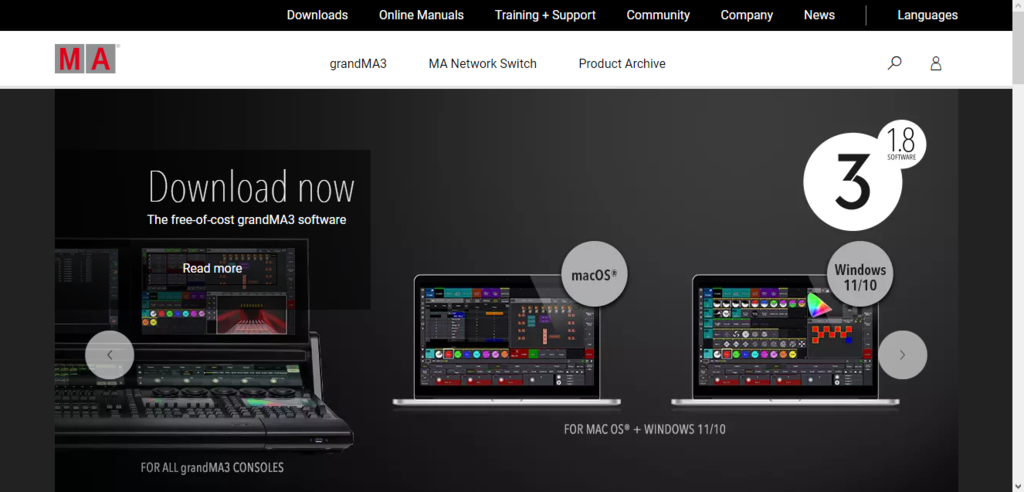 The legendary MA Lighting software, grandMA, is indisputable one of the top best options in the market. Although the older versions have been discontinued (grandMA and grandMA2), the newest grandMA3 is still fully supported and updated regularly. With grandMA3, virtually anyone can create DMX lighting masterpieces.
Interestingly, the grandMA software is available for macOS and Windows OS systems; plus, it flaunts a super intuitive interface that is easy to navigate. You can further use this software with other grandMA products. Both professionals and beginners use the grandMA3 software to achieve perfection.
Main Features:
Cross-platform compatibility
Condensed windows, predefined views, and pre-built phasers
General Device Type Format (GDTF) protocol support
Timecode editing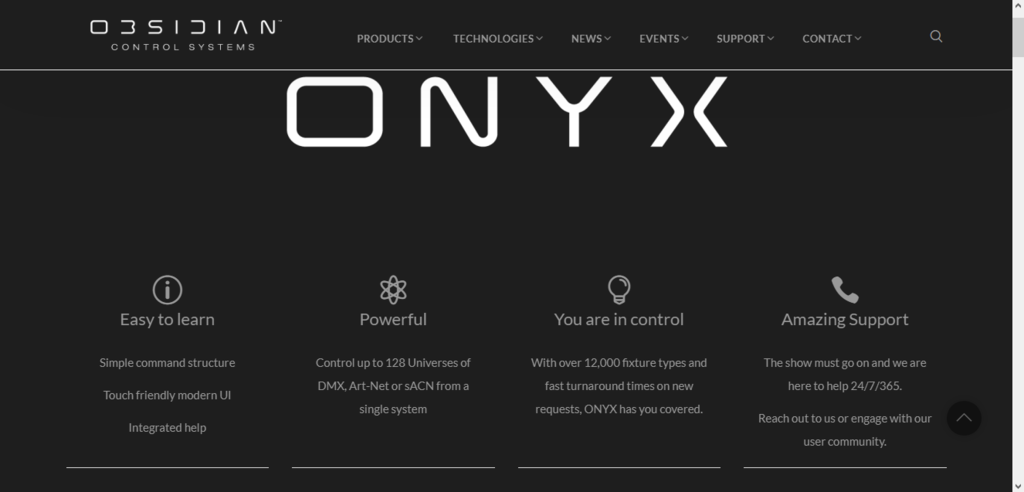 The Obsidian Onyx software stands out among many other DMX software applications. It is suitable for small shows and big shots! This DMX software comes with easy-to-use tools and an intuitive interface. It goes on to feature graphical work environments that adapt to any kind of DMX programming task.
You can connect your control surfaces via USB or utilize the touch screen function to get the most of this software. The ONYX software is built for PC systems and industrial hardware consoles; it offers you a full-feature DMX controlling tool with no feature restrictions.
Main Features:
Up to 128 Universes
Easily scalable, so you can upgrade as you grow
Plug and play Art-Net and sACN distribution.
2D visualization
Summary
Conclusively, these are the best DMX software programs for shows and live performances. They support a lot of handy features and can run on multiple systems. Most of these programs do not require you to use a hardware controller – they already have everything you need!