Emojis have always caught the attention of smartphone users. The tech giants like Apple, Google, Microsoft, Samsung, Facebook, Twitter, etc., have released their own set of emojis. However, the emojis designed by Apple for iOS are considered the best of all.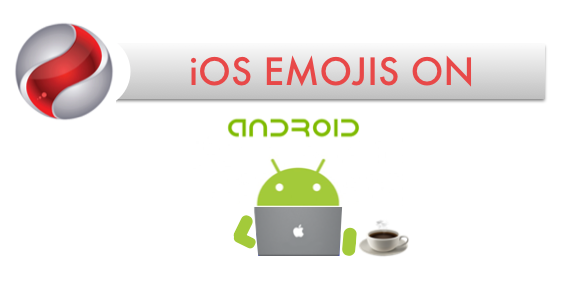 Getting iOS emojis on Android smartphone and devices is the focus of today's post. Here are the best ways to get those awesome-looking iOS emojis on your Android devices.
1. Using Emoji Switcher — ROOT App
Undoubtedly, rooting is the universal remedy to all Android modification issues. With Emoji Switcher, you can easily switch the default emojis in your Android device to iOS emojis.
In fact, Emoji Switcher provides options to get access to various sets and versions of emojis like Google (Lollipop), Google (KitKat), LG (G3), and of course iOS (7 and 9.1).
How to Get iOS Emojis on Android with Emoji Switcher
First of all, you need a rooted Android device. This means that – the Android phone you wish to add the emoji switcher app to must have gained root access already. We already published a detailed guide on how to Android devices with and without PC. You can read all of it from here.
Once done with rooting, proceed immediately to this Google PlaystoreTM link and Download the Emoji Switcher app. Install same and complete the following steps below to use your favorite iOS emojis on your Android device.
Open the app. In 'Set emojis to' drop-down menu, select iOS 9.1 (or iOS 7 if you want to).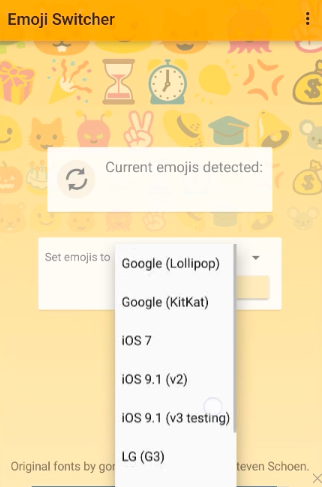 Tap 'SET'. Within a matter of few seconds, new emojis would be downloaded and installed as well. The older set will be saved as a backup.
Now, once the setup is completed, tap 'REBOOT'. The phone will restart and you would be able to use the iOS emojis on your device.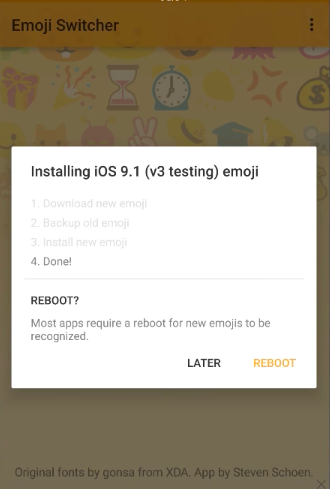 2. Installing Modules
Installing modules is yet another way you can get iOS emojis on an Android device. 
Here are few steps to complete for the module install method.
Download Magisk Manager from https://bit.ly/2yKbIrT and emoji.zip file from http://bit.ly/2xBVz3q.
Now, open the Magisk Manager app and go the 'Modules' section.
Tap the + sign at the bottom and add the emoji.zip file you just downloaded.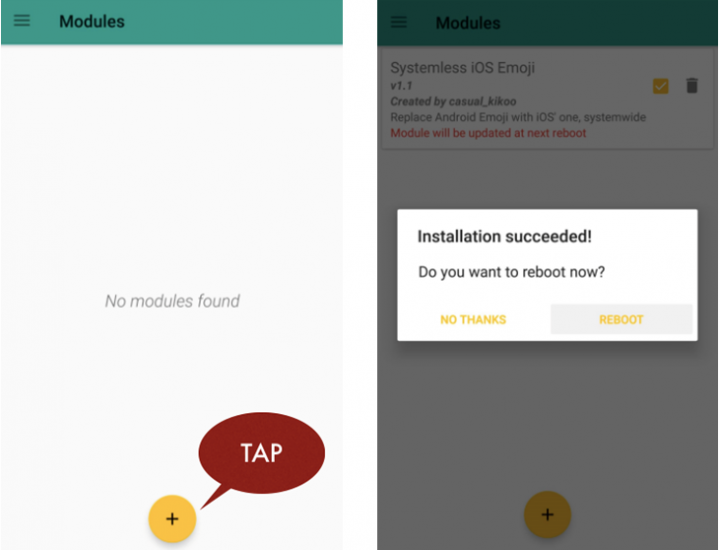 Once you have installed the module, tap 'REBOOT' to complete the emojis change.
3. Using WhatsApp Emojis
WhatsApp has been using the Apple's iOS emojis since the very beginning. No matter what OS you are running, you can always send or receive iOS emojis via WhatsApp.
Recently, WhatsApp has released its own set of emojis. However, they are still featuring iOS emojis in all their devices.
Apart from WhatsApp, popular messengers like Telegram and Hike uses the Apple's iOS emojis as well. So yes, most of the messengers can be used to send and receive iOS emojis on an Android device.
4. Using Emoji FlipFont – Exclusive to Samsung & HTC Devices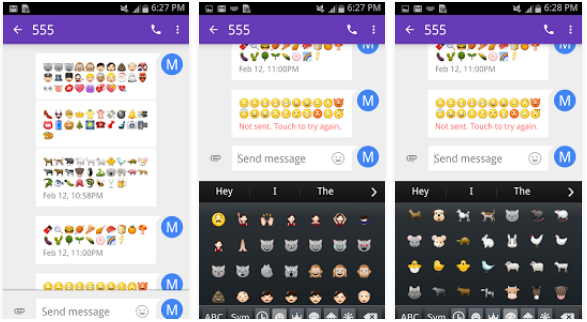 It is well-known that Samsung and HTC gives access to alter the system font without any root. So this – answers the question of how to get ios emojis on android without root.
All you need to do is – download a FlipFont app. Quite similarly, you can download a FlipFont app to alter the system emoji of your Android smartphone or tablet device.
Direct Download Link: https://bit.ly/2xoR4Kg [iOSEmojiFont.apk]
How to Use
Download and install the iOSEmojiFont.apk file (linked above).
For Samsung users:
 Go to Settings ==> Display ==> Font and select 'Emoji Font 3'.
For HTC Users: 
 Go to Settings ==> Display and gestures. Select 'Emoji Font 3'.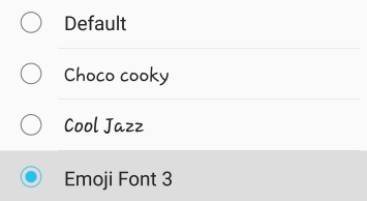 Note: Replacing your system font with this new Emoji FlipFont package can make changes to the system font as well.
What if it does not work?
If you're running Android v6.0 or newer, it may not always work. In such cases, you can install the FlipFont 5 app to use this feature. The link to download the FlipFont 5 app is from their Google playstoreTM link here.
5. Using Emojily (No Root)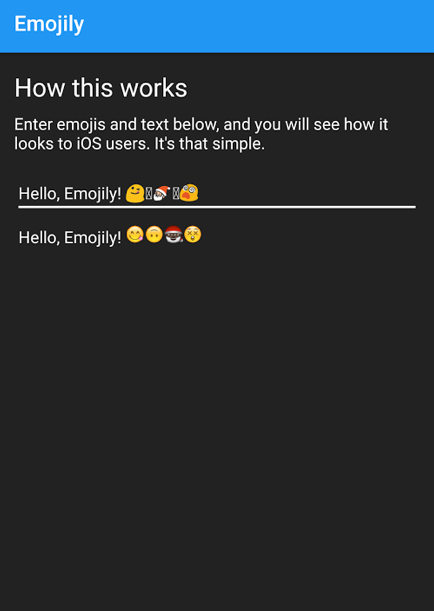 Emojily is one of the simplest and most popular way to get iOS emojis on an Android device. It lets you get iPhone emojis on android with no root access.
The only down-side however, is that – it is limited to preview-only. This means that – you can only view the iOS emoji corresponding to the default system emoji. It kind of 'translates' Google's Android emojis to the iOS ones.
This app is free and can be gotten from their listing page on Google PlayStore™.
6. Changing System Font — ROOT
Here's how to use this method for getting iOS emojis on Android devices. First of all, download this font file:
AppleEmoji.10.2Full.ttf — Download Link: https://bit.ly/2i4XDLq
Now that you have this font file, you can make it the system font with any of the popular font-changing apps. Eg: iFont.
Here's iFont — PlayStore™ Download Link. Once you complete this method of Android system fonts change, you will be seeing iOS emojis in place of the Android ones.
7. Getting iOS 9.1 emojis using FlashFire — ROOT
Most of our readers are already familiar with this app as it made it a-top our list of best 50 root apps for rooted Android devices.
FlashFire is an ultimate tool for creating backups, restoring data files, flashing and/or wiping Android data.
Steps to Use
First of all, download FlashFire app from this Google PlayStore™ download Link. Now, download this special file named iOS9_Emojis.zip from https://bit.ly/2lgCx1p.
Open the FlashFire app and tap the + sign located at the bottom right corner of the screen.
Tap 'Flash ZIP or OTA'.
Select iOS9_Emojis.zip from the menu.
Tap Flash.
Voila! You can now use iOS emojis on your Android device.
Your Turn
You've seen our little tips on 7 possible ways to get iOS Emojis on Android devices . What's your favorite method from these 7 options? Please do share with us in the comments section below.