There are so many reasons why you may want to record your computer's screen or capture a particular part of what's showing on your desktop.
While you can use Windows OS built-in tools like the "Snipping Tool" or buttons combination (press down Fn+Prt Sc buttons) to screenshot what's on your dashboard, these tools are not so advanced to meet demanding needs. Hence, many people resort to using third-party software apps like Screenpresso for screen grabbing, screenshotting, and screen recording desktops.
The Screenpresso app is one of the best of its kind because it is quite versatile and comes with a bunch of handy features. This screen grabber application lets you capture what you see on your screen in clear HD quality, and it's pretty easy to use. Here's a comprehensive Screenpresso review detailing every part of the software you would love to know about.
Screenpresso Overview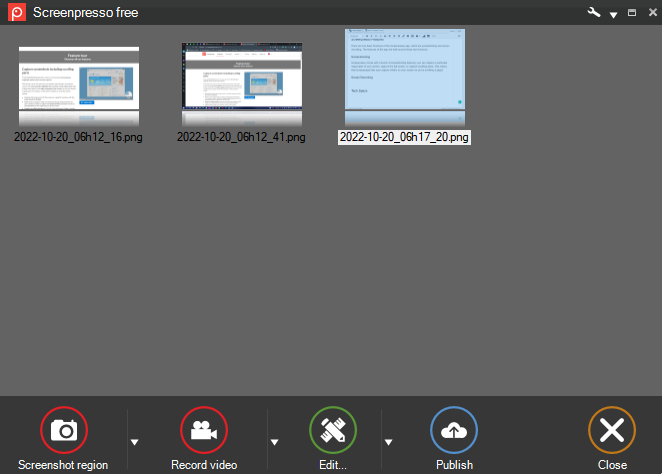 The Screenpresso app is a Windows OS program for recording on-screen videos and capturing screenshots of what's showing on your desktop (PC screen). The app stands out by allowing users to record their PC screen in HD quality while also having access to a suite of handy video editing tools to perfect their recordings.
More so, the Screenpresso software app your desktop's full screen or just a part of it – as per your need. You can start recording by launching the app and pressing the "Print Screen" button on your keyboard. Another interesting feature of this program is the OCR function that lets you convert the texts in an image into editing words.
You can also share your recordings instantly on several platforms, including Twitter, YouTube, Evernote, G.Drive, Onenote, and many others. Screenpresso lets you configure several "Hot Keys" to serve as shortcuts for performing various actions supported by the app.
Screenpresso is a full-suite application for people who create on-screen DIY videos, tutorials, or just about anyone who needs to record his/her PC screen for any reason. The features are decent, the interface is intuitive, and the app has a completely free version.
Screenpresso Pricing
While the free version lets you screen record anything or screenshot any part of your screen – whether on PC or your Android phone – you will not have access to the OCR feature and pretty other interesting features with the free version. Screenpresso paid versions, Pro and Enterprise, go for $29.99 per user and $2,190 for unlimited users, respectively.
Screenpresso Features and Functionalities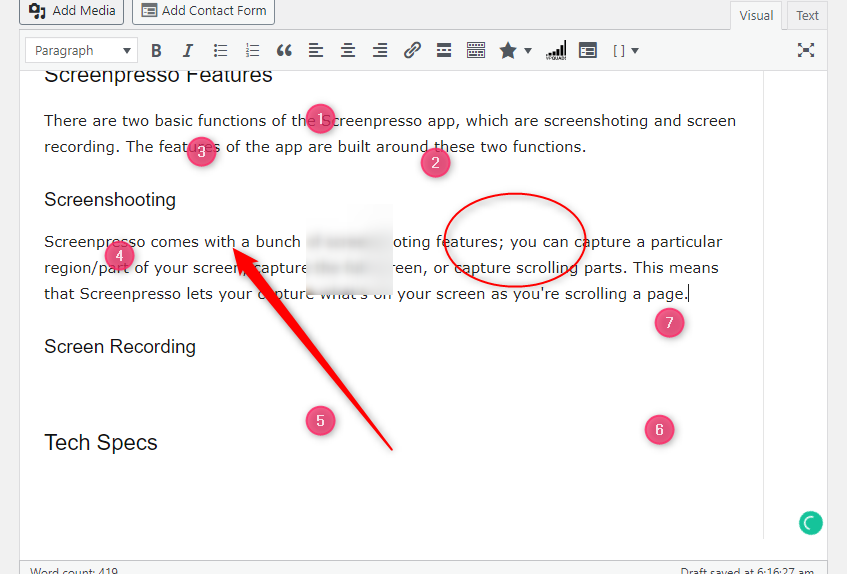 There are two basic functions of the Screenpresso app: screenshotting and screen recording. The features of the app are built around these two functions.
Screenshotting
Scroll and screenshot
Read and edit texts in images (OCR)
Delayed screenshot
Customizable screenshots
Screenpresso comes with a bunch of screenshotting features; you can capture a particular region/part of your screen, the full screen, or the scrolling parts. This means that Screenpresso lets you capture what's on your screen as you scroll a page. If you choose the OCR feature, the app will detect the texts in your screenshot and let you copy them out for editing.
Screen Recording
Android debug center
Record your fullscreen
Record part of your screen
You can identify the region you want to record and start capturing immediately or record your PC's full screen. The Android debug feature lets you use your connected Android device to record screenshots or videos of what's showing on the smartphone's screen and then import them into the Screenpresso interface for further editing or sharing.
Built-In Image/Video Editor
The built-in image and video editor interfaces allow you to access quite a reasonable number of features for each need – video or image editing. Although the editing tools are not "too" advanced, they are enough to help you customize your recordings in a unique way that meets your need.
Cloud Access
Screenpresso grants you access to cloud storage where you can save your recordings and share them to any of the support platforms, which includes social media networks like YouTube and Twitter.
Document Generator
Screenpresso has a built-in "Microsoft Word" tool that lets you instantly generate PDF or DOCX files from your screenshots. This feature is great for people creating user manuals or similar documents.
Tech Specs?
Sadly, the Screenpresso application doesn't run on older Windows OS computers; hereunder are the system requirements to run this app.
Windows 11 or 10
64-bits architecture
Supports English, Spanish, French, German, and many more languages
.NET 4.8
My Screenpresso Review and Verdict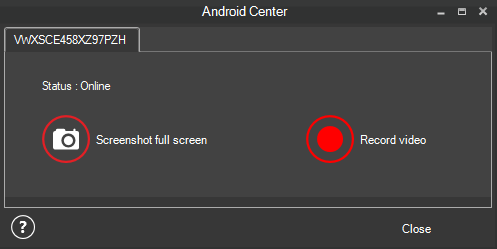 The Screenpresso app is an easy-to-use tool for recording on-screen videos and screenshots; you can also record your Android phone's screen by connecting it to your PC and selecting the Android Center feature. However, before Screenpresso can record your Android device screen, you must activate the USB debugging feature on the device – under "Developer Options."
Screenpresso's image and video editor windows are pretty intuitive, and the tools are well arranged, so you can pick them up easily and customize or annotate your media accordingly. Overall, this is truly a versatile screen grabber tool for Windows OS users; it's lightweight nature takes the win! So sadly, it's not available for macOS or Linux OS users.
What More?
Screenpresso really gives you the right tools you need to record your PC screen or capture any screenshots. The application is straightforward to use and doesn't take up much space on your system. Furthermore, Screenpresso's free plan lets you play around with some basic – really handy – tools the app has to offer. It is an impressive app, after all.