Having social login for SMF, phpBB, myBB, Vbulletin, Vanilla and the likes can grow a forum by over 35%. This is because it makes registration faster and seamless for most users.
In the past, we've written about SA Facebook Integration Mod for SMF, SMF forum SEO, and other social presence enhancement mods for SMF. But today's post is on – how to enable social login for SMF and/or other forum software.
It is a straight-forward tutorial that's capable of increasing your forum's sign up rate by 35%. It can also reduce spam/bots registration on your forum tremendously.
First things first, Why Use a Social Login System?
Well, there are many reasons to use a social login system for your forum website. One of it is – to increase your forum signups. A lot of persons are discouraged from entering their details on every single website that requests for it.
Having an easy to use social media login system on your forum will make it very easy for them to participate on your forum without having to fill lengthy forms.
Another good reason to use a social login system for your forum is that – it encourages users to use a real/human profile as well as remove the need for installing default avatar mod. A good social login system will automatically import user's avatar from their social media profile; thereby eliminating the need to install an extra modification for this.
One last good reason for using a social login system for a forum is its ability to eliminate spam registration. Social media login for forums can eliminate spam signups in many ways than one.
How to Enable Social Login for SMF
SA Facebook Integration Mod for SMF has been the go-to mod for activating social login for SMF until their recent issues. Right now, SA Facebook Integration mod does not work on newer SMF versions. Luckily there's another guy in the mix: and this guy does the job better than SA Facebook Integration mod.
The all-new and easiest mod to enable social login for SMF is oneall social login system. It is 100% free with premium plan(s) for business forums. The free version is good enough for 99.9% of forum websites, has support for over 30 social media platforms, and integrates seamlessly with other mods.
How to Enable Social Login for SMF with Oneall Social Login Mod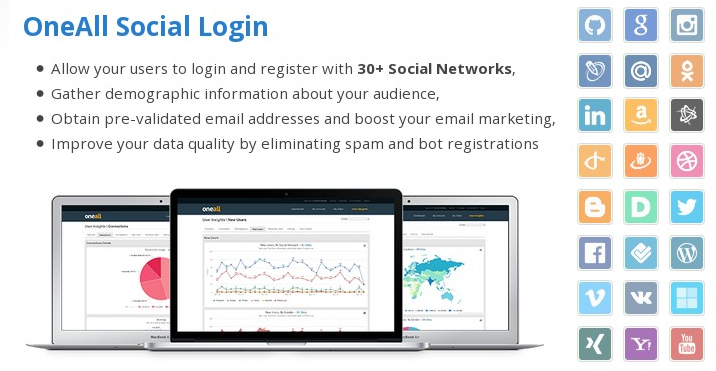 Download Oneall social login from SMF Mod Site [link here].
Upload the mod to your SMF dashboard and click on the install button.
Create a free account at oneall via this link and take note of your API Credentials.
From your Oneall dashboard, locate "sites" from the left navigation bar and click on it.
Find social networks link (as seen on the image below) from the next window and click on it.

Click on your favorite social media platform and follow the on-screen guide to complete their setup instructions.
Configure these options for as many social media networks you'd like to use. Note also that setting up Google+ login automatically does the same for Blogger, and YouTube.
Go back to your forum dashboard, ==> click on Admin ==> Features and Options ==>OneAll social login ==> configuration.
 Enter your API Credentials (already noted in step 3 above).
Under Enable the social networks that you would like to use, tick the check boxes behind the social media networks you've configured in step 7 above.
Click on save settings to start enjoying a versatile social login system on your SMF forum website.
How to Enable Social Login for phpBB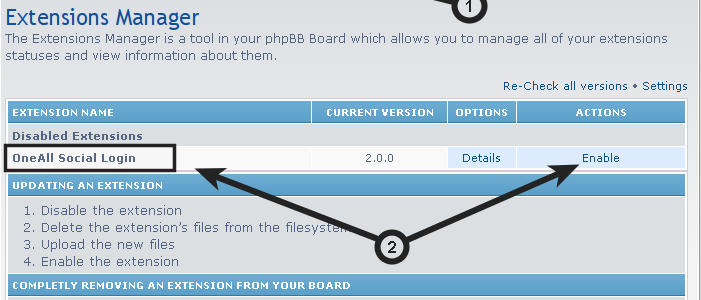 The steps to enable social login for phpBB or any other forum website is not different from the one shown above. The only difference is that, the mod (or extension) isn't available on phpBB extension website.
Under listed are the steps to enable social media login for phpBB. It is free and can be used on any phpBB forum website.
Visit oneall.com and create a free account.
Complete step 4 to 7 above and then Login to the forum you'd like to enable social media networks login for.
Download and Install the social login extension for phpBB by following after the guide in this page.
Complete the step-to-step guides provided in that page.
Test as a guest to ensure that the social network login for your forum is working as should.
What More?
We strongly believe that this guide would help you add social login to SMF, phpBB and etc. Note also that these free social network tools can help you add social media sharing buttons to your forum content and/or sidebar.
Do not forget to get in touch with us if you ever need a help with your forum, this tutorial, and/or any other SMF forum enhancement guide in our website.