Who doesn't like a simple and straightforward interface, plus easy navigation through a website? Well, IWantMyName's website is very easy to use and has a much simpler interface than other websites where you can buy domains. In this short IWantMyName review, I'll show you all that you'll need to know about IWantMyName and their domain name registration services.
IWantMyName Overview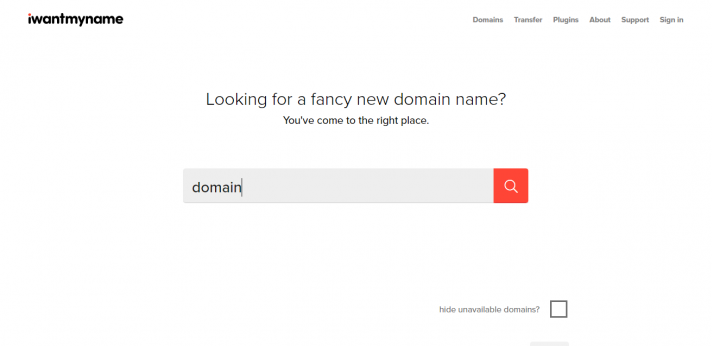 IWantMyName is a domain name registrar that's birthed in Wellington, New Zealand, and a part of the CentralNic Group PLC. They have support for a good number of TLDs, gTLDs, new gTLDs, and ccTLDs.
The company was launched in 2008 and has since been providing lots of internet users with unique top-level domain names. Also, the company leveraged on the flaws of its competitors to make their website easily accessible and cleaner, in a way that every internet user would love.
Furthermore, IWantMyName offers various types of domains, ranging from the popular ones like .com, .org., and .co, to .io, .net, .app, .ai, and many more. It is an excellent alternative to popular domain registrars such as Namesilo, NameCheap, Google domains, etc.
IWantMyName Features and Pricing
As expected from every good domain name registrar, IWantMyName offers a couple of features including DNS hosting, SSL certificate, and the ability to use custom name servers.
Also, IWantMyName as a domain company offers a lot of other services that tally with domain name management; such services include domain transfers, one-click setup of your domain with popular platforms and CMSes, and flexible domain name settings/configuration.
They have a responsive customer support team that is ready to help you out in setting up your new/existing domain name. However, there's no "live chat" option; you'll have to open a ticket with the customer support by sending them an email.
Their Pricing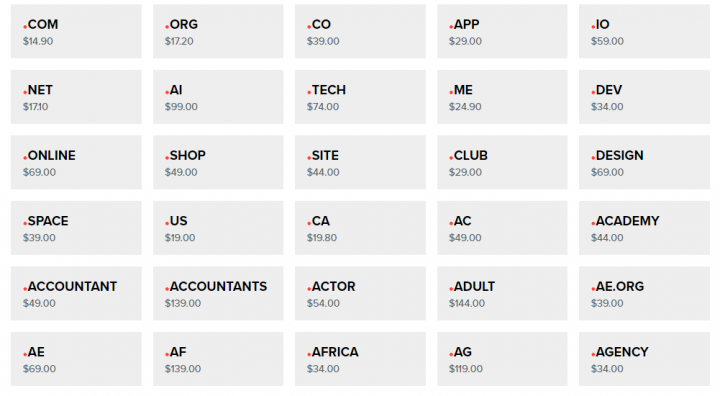 This is one of the significant flaws of IWantMyName. It's pricing is obviously on the high side. The lowest price you can get a TLD on IWantMyName is $14.90 (tax fees excluded).  Also, you aren't going to get any discount for buying domain names in bulk from IWantMyName.com.
However, one good thing about IWantMyName's pricing is that the price for a domain remains the same, even when you're renewing. Also, you will get WHOIS privacy protection and URL forwarding free for a lifetime.
IWantMyName's pricing may not seem comfortable for first-timers. But some other domain registrars charge up to $15 for renewing your .com domain after the first year; however, IWantMyName sticks to its $14.90 price and it never changes.
IWantMyName Domain Services in-Full
This company only offers domain registration, transfer, and setup services. It does not provide website hosting services or any other form of hosting. Also, IWantMyName provides its users with SSL certificates; however, the SSL certificates aren't directly sold by IWantMyName.
Instead, the company partners with verified SSL certificate providers to offer premium security to its users. In the same way, IWantMyName partners with web hosting companies to provide web hosting services to its users.
In summary, IWantMyName only specializes in domain registration and DNS management, while partnering with 3rd-party companies to provide its users with web hosting and SSL certificate services.
My IWantMyName Review and Verdict
IWantMyName is strictly a domain name registrar; it doesn't offer any other hosting service(s). Irrespective of whatever domain extension you need for your website or business, IWantMyName provides over 500 unique domain extensions; apparently, you will find a suitable extension for your need. Also, while other domain registrars charge for WHOIS guard, IWantMyName provides you with a 100% free WHOIS protection for a lifetime.
More so, IWantMyName's website looks very simple and easy to understand. You can easily navigate and get what you want. However, IWantMyName's site does not feature a "live chat" customer support system; you'll have to write them a letter or send them an eMail, and then wait for their reply, which sometimes does not come as quick as you may expect.
Furthermore, IWantMyName, being that it's strictly a domain registrar offers excellent support when it comes to domain and DNS management. If you wouldn't mind the pricey first year billing and other limitations of IWantMyName, it is most likely the best place to buy a domain name. On the other hand, if you wish to purchase your business domain name from a company that also offers website hosting services, then, the better alternatives like Namesilo, NameCheap, or Google domains are considerable.
In Summary
IWantMyName is a domain registration company that's born in New Zealand. However, the company provides domain registration, transfer, and DNS management services to a global audience.
Also, IWantMyName has a catchy website that beats its competitors to the game of user-friendliness and an "an-easy-to-use" interface. In all, the company is a good place to buy domains if you can cope with the few limitations that are outlined here.