Not everyone sees the need to install third-party Android weather Widgets apps on their devices; they just seem okay with the stock one that comes with their phone. But some of us who are heavy on customizing our device's home screen and lock screen will love to try out new third-party apps that seem to offer more enticing "stuff" than the stocks ones we've got on.
These Android weather widgets apps work on Samsung devices and virtually all other Android smartphones and tablets. Weather apps are pretty informative; they provide you with detailed information about the climate condition in your state, city, or region. You can also use these apps to monitor weather conditions in a particular location.
The Top 12 Android Weather Widgets Apps for Smartphones and Tablets
There are many weather apps on Samsung's apps store and Google Play Store, but these ones are the best (top-rated) ones to try out on your phone and tablet devices.
1. Yahoo Weather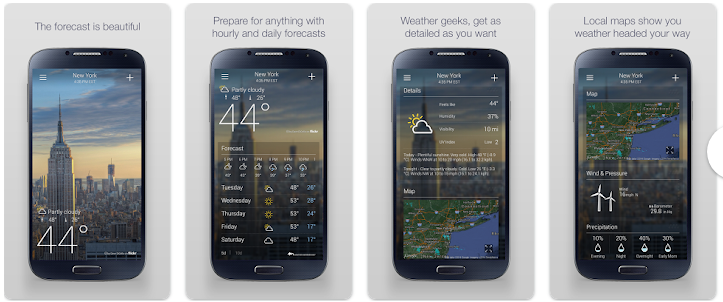 Yahoo Weather has some of the prettiest-looking weather widgets you can use on a Samsung device. This weather app is completely free, and it offers a couple of widget designs and sizes.
The app shows adverts from Yahoo (the developer), and the available widget sizes/options are not customizable.
But overall, it's a great choice for Samsung weather notifications. Yahoo Weather provides hourly, 5-day, and 10-day forecasts, with striking Flickr photos to match the forecasts, making your phone's screen appear beautiful.
2. AccuWeather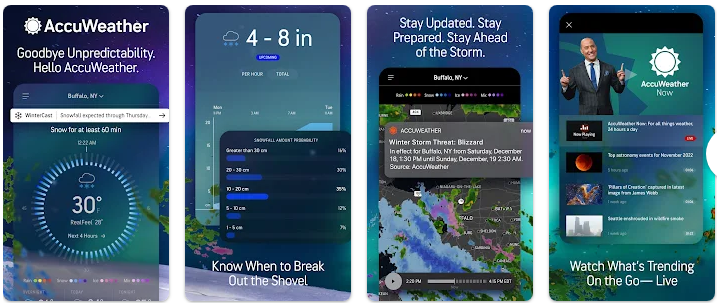 AccuWeather is one of the most trusted weather applications across platforms and devices. Its forecasts and warnings are very accurate, and it offers quite a number of widget options to customize your screen's appearance.
This app provides you with live weather forecasts per minute or per hour, however you want it. You can as well set up weather alerts for different locations. The AccuWeather app works on a variety of Android devices and covers many features, which include weather radar views for water vapor, sustained winds, rainfall, and storm surges.
3. Weawow Weather & Widget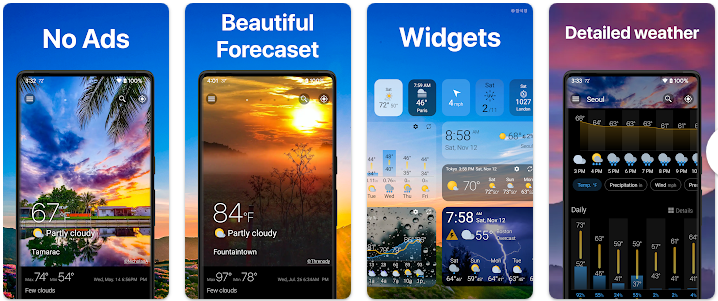 The Weawow weather app is completely free to use and still doesn't serve ads. According to the developers, the app is maintained with users' donations. You can bookmark locations and track weather updates.
Weawow weather app offers a number of widgets that can be customized to appear just the way you want. It weather updates are from NOAA, MET Norway, RainViewer, and MSC. With this app, you can get up to 14-day forecasts, check wind animations, and explore weather layers with the 3D earth.
4. 1Weather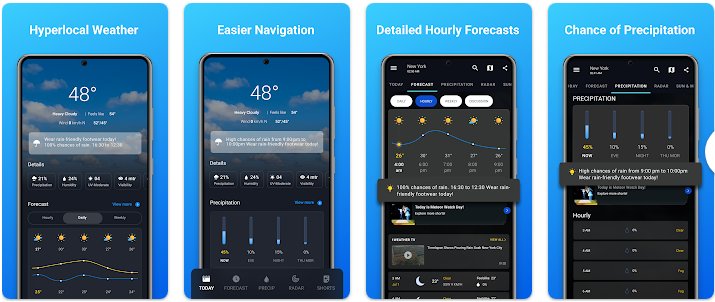 1Weather is one of the highest-downloaded weather apps on the Android Play Store. It has quite many features, including hurricane alerts, snowstorm tracking, rain forecasts, and daily temperature tracking. The app also has over 25 live radar maps.
On the 1Weather app, there are over 10 beautiful widgets for your homescreen, which are pretty customizable. More so, the 1Weather app shows hyperlocal severe weather warnings – showing you alerts in real-time. There is much more stuff to enjoy on the app.
5. Geometric Weather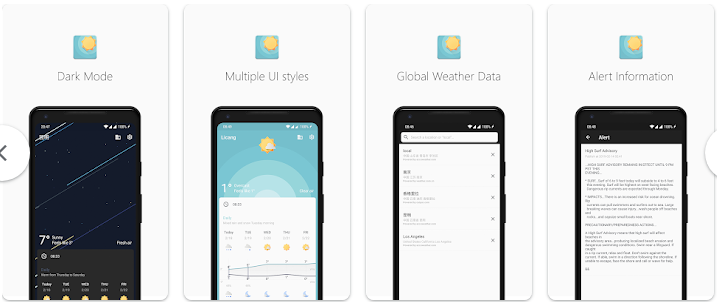 Geometric Weather is relatively new on the app store; it is a free weather app that serves no ads and yet offers a ton of features you'd definitely find useful. The app's weather widgets options range from 2×1, 3×1, 3×2, 4×1, and 4×2; there are a total of 11 widgets to choose from.
The interesting thing is that these widgets are customizable; you can change their size, transparency level, shape, font, text color, and text size. Geometric Weather shows detailed weather information, and it's a lightweight application. You can get up to a 15-day weather forecast.
6. Overdrop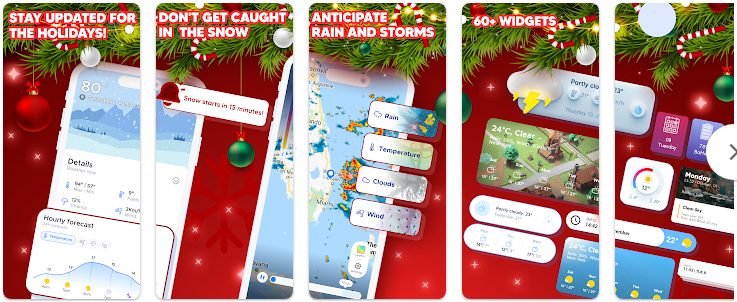 Overdrop is easily one of the best weather apps for Android users, and it's equally one of the best-looking ones in terms of widget appearance. The eye-catching visuals and icons of the Overdrop weather app give it away right from when you launch the app.
This weather app supports up to 7 beautifully designed themes and over 50 homescreen widgets. Not just that there are many widgets available, but they all look stunning. Overdrop is a fantastic weather app; it even lets you choose your preferred weather forecast providers (Dark Sky Weather, AccuWeather, WeatherBug, and OpenWeatherMap).
7. Today Weather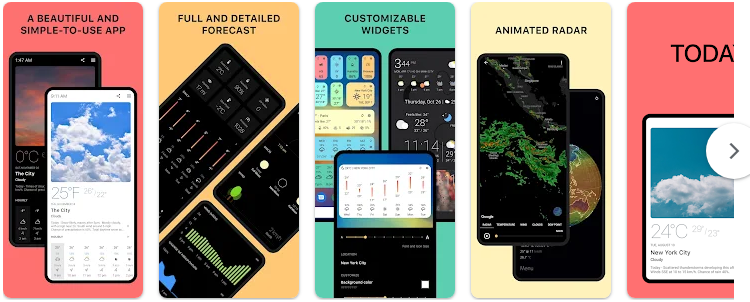 Today Weather is an impressive weather app for Samsung users and Android users in general. Starting with the clear-cut interface, Today Weather packs a plethora of features and widgets; there are actually 19 unique widgets (of different sizes) available to you.
This app gets its data from reliable sources such as Apple WeatherKit, Dark Sky, Accuweather.com, OpenWeatherMap, Foreca.com, and others. There is quite many handy information to get from the Today Weather app – you'd definitely love it!
8. Weather & Clock Widget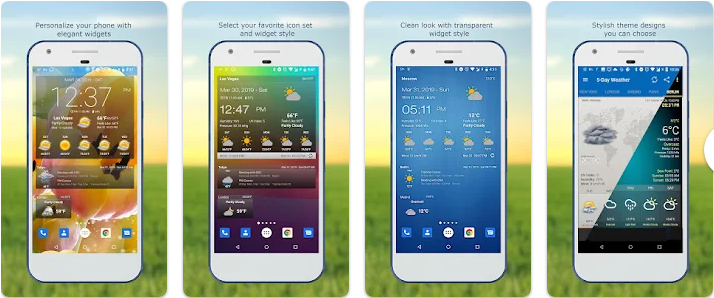 The name already gives you some sort of hints of what to expect. This is basically a weather widget app that lets you choose from a plethora of 25 widgets to customize weather notifications on your Samsung device's home screen.
The Weather & Clock Widget app provides weather information for different locations worldwide; while its data is not always accurate, you can deal with them. You can set hourly weather forecasts or daily forecasts for ten days. This app is completely free.
9. NOAA Weather Unofficial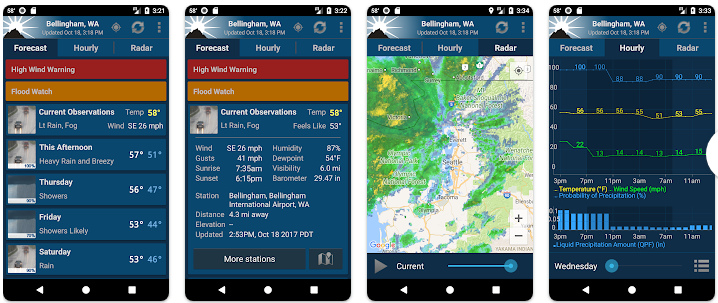 The NOAA Weather Unofficial is inarguably one of the best weather apps out there in terms of accuracy and features, but then, it has only a few widget options. There are a total of five widgets available on the NOAA weather app, with sizes ranging from 4×2, 2×1, 1×1, and 5×1.
More than just offering you unique widgets, this weather app lets you choose to auto-locate your location or set a defined location. You can set weather update intervals from 15 minutes to 4 hours. Also, you can choose between Celsius and Fahrenheit for temperature ratings.
10. Windy.com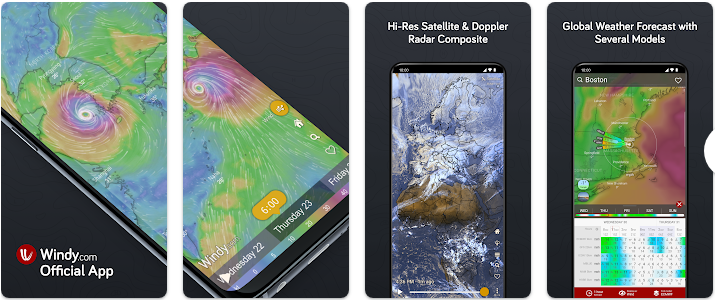 There are 50+ weather maps available on the Windy.com mobile app, which works on Samsung devices, and several other Android devices. This app offers several local weather models and supports forecast model comparison.
It provides you with detailed weather forecasts for any location, including information on temperature, wind speed, rain and snow accumulation, wind gusts, and wind direction. Available weather widget sizes available with this app are 1×1, 2×1, 4×1, and 5×1. There are a total of five widgets to use, and they are customizable.
11. YoWindow Weather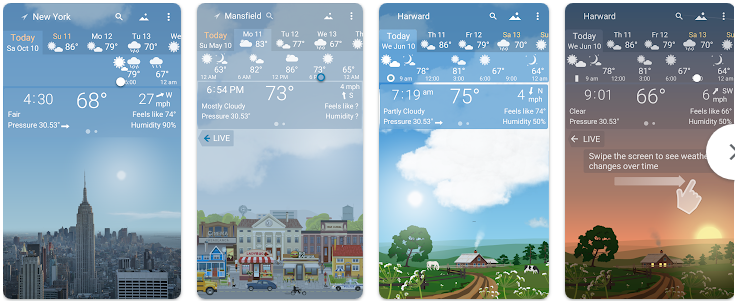 YoWindow gives you accurate weather forecasts, and it has beautiful wallpapers/widgets you can use to customize your tablet's homescreen. The YoWindow Weather app's visuals are enticing and interesting.
The app's landscape changes 5 times a year. Weather information is gotten from National Weather Service (NWS), Foreca (nowcasting), Aeris weather, yr.no (met.no), Open Weather Map, and METAR.
12. WeatherBug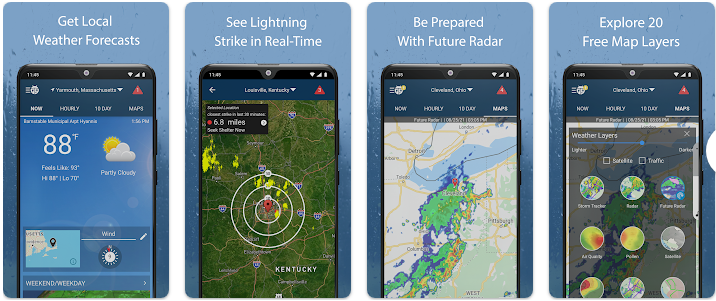 This weather app is one of the oldest on app stores; it comes with all the features and tools you'd expect from a typical weather app, including forecasts, alerts, temperature, radar, and more.
The app comes with 18 weather maps, traffic conditions, and more impressive features. The weather widgets on this app are downloaded separately. More features are available on the paid version.
What More?
These weather widget apps are compatible with many Android smartphones and tablets, not only Samsung models. Weather widgets add beauty to your home screen while providing you with useful climate updates from around the world.