Summary
Nokia X2 is A Dual-Sim android smart Phone from Nokia Inc.
The news of  Nokia X2 Android Dual Sim Phone came with a great shock as we all thought that the XL was going to be their last android (AOSP) phone since they are now completely owned by Microsoft.
But hey! That didn't happen. They have instead shocked their android fans with the Nokia X2 Smartphone which is a very big improvement  on their entry level device (Nokia X).
Yesterday was my first day of handling the Nokia X2 Android dual-sim device, hence the need for a hands-on review I will also share the specifications, features and price in this review.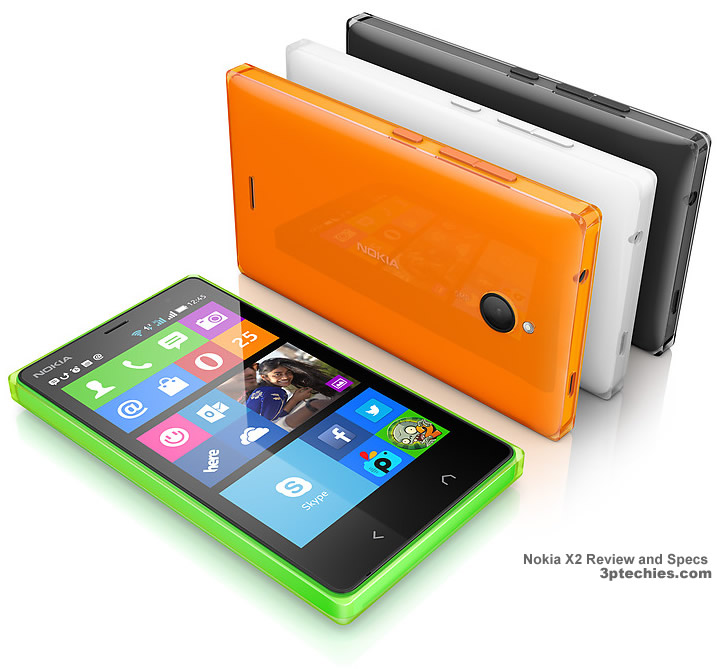 Our View
Nokia X2 is really a  great improvement on their previous best selling android device (Nokia XL android dual Sim phone) and also a game changer for the Nokia X operating system.
With a whooping 1GB of Ram and the vastly improved Google Android Jelly Bean (4.3) Operating System, Nokia is bound to gain back its lost consumers knowing they are one of the best hardware makers around.
The Qualcomm Snapdragon™ 200 C.P.U. and over 20 hours standby time of this Smartphone makes it one of this very best within this price range.
The performance, response rate and graphics quality of the Nokia X2 Android dual-sim phone will make you forget the woes and shortcomings of the previous Nokia X entry devices.
AOSP: Nokia X2 followed the preceding trio versions by remaining with the forked version of android (AOSP) that replaced all Google cloud services with that of Microsoft.
We kicked against this at first partly because of the omission of the Official Google Play app but will have nothing against the move since developers are already moving their apps to the Nokia app store.
There are also many trusted third party sites to download android apps without using Google account. You can even download android apps on PC using Moborobo phone management suit.
Nokia X2 Overview – Specifications and Features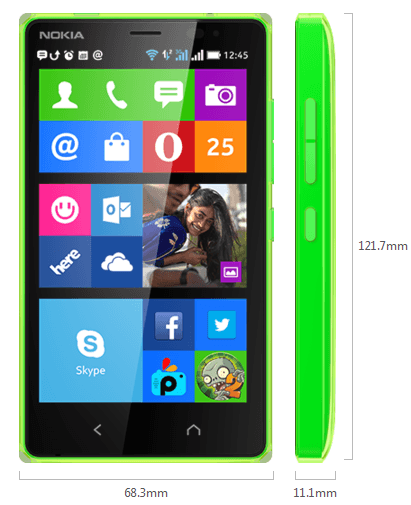 The Nokia X2 features a sleek design, a map with offline support, GPS & navigation support, free cloud storage and host of other mouth-watering features. You can see the main features below.
Operating system: Forked Android (Nokia X ,AOSP), v4.3 (Jelly Bean)
Screen Display : 4.3 inches + 480 x 800 pixels
Body Dimension : 121.7 x 68.3 x 11.1 mm
Weight : 150 grams
Out of Pack Colors: glossy green, orange black, yellow, white and matt dark grey
Processor : 1.2GHz Dual-core, Qualcomm Snapdragon™ 200
Memory, Storage size : IGB Ram, 4GB internal (32GB sdcard slot),  7GB free cloud storage
Camera : 5MP primary, 0.3MP secondary
Data, Network :  3G, 2G, no 4G network support
Battery : Removable Li-Ion 1800 mAh battery (BV-5S)
Communication : WLAN, Bluetooth, USB support, Wi-Fi hotspot (up to 8 devices)
Auto focus camera with LED flash and Geo-tagging availability : Yes
Capacitive Multipoint-Touch availability  : Yes
Sensors : Ambient light sensor, Accelerometer, Proximity sensor
Unlimited Contacts support : yes
GPS and Navigation support : yes, supports offline map
Radio availability :  yes, Stereo FM radio and FM RDS radio
Video : 720p@30fps
Sound, Audio : 3.5mm jack, loud speaker and major audio formats support
Skype
Opera Mini Browser
Facebook
Twitter
WeChat
Viber
Sina Weibo
Microsoft OneDrive
Microsoft Outlook
Nimbuzz
The Price of Nokia x2 Android Smartphone
The official price is kept at about £99 (99 British Pound Sterling) which is around N28,000 (Nigerian Naira) and $170 (US Dollar). This prices will defer depending on stores, location and demand.
I prefer buying items from eBay and/or other major eCommerce stores.