SysTools PDF Unlocker
$29
Summary
SysTools PDF Unlocker is a windows utility Software from Systools Group
SysTools PDF Unlocker Software is a tool used to remove restrictions like printing, copying, extracting and editing the contents from Adobe Acrobat PDF files.
The tool helps to remove both user and owner level security effectively from batch PDF files in one attempt. With the help of this tool, users can access PDF file contents according to needs and save unlocked PDF files to system hard drive for future assistance.
Wrapped with user friendly interface, the tool is compatible with all Microsoft Windows versions including 8.1 and/or later versions. The size of the PDF Unlocker software is just about 3MB and works with low memory resources.
In the terms of performance the tool is fast and executes reliable results to users without any kind of bug and/or  complications.
Removes all restrictions from batch PDF files in one go
Unlock even password protected PDF files
Does not alter original contents saved within PDF files
Works smooth even without installing Adobe Acrobat Application
Preview permissions on PDF files before and after unlocking process
Also permits to print unlocked PDF files directly
Processor: 1 GHz processor (2.4 GHz is recommended)
RAM: Requires 512 MB but 1 GB is recommended
Hard disk space: 5 MB free hard disk space is required
Demo Version: Demo version of the tool is available for free download at the SysTools PDF Unlocker Software official website. Via using trial version of tool users can unlock PDF files and save them into system but the software will watermark all PDF files as limitation.
Full Version: Full version of the software is available into multiple licenses as per needs of users i.e. Personal, Business and Enterprise. Any of the versions can be purchased by contacting the support department of the organization. The activation key can be obtained within 24 HRS of making payment.
How to Unlock PDF Documents with SysTools PDF Unlocker
Download and install PDF Unlocker software in your system. Now open it from your system from Start menu, All Programs and SysTools PDF Unlocker software. The welcome screen looks like:
Now click on 'Unlock' button and browse for the PDF files that are to be unlocked. When files are loaded with tool, it will display the permissions before and after applied on PDF files.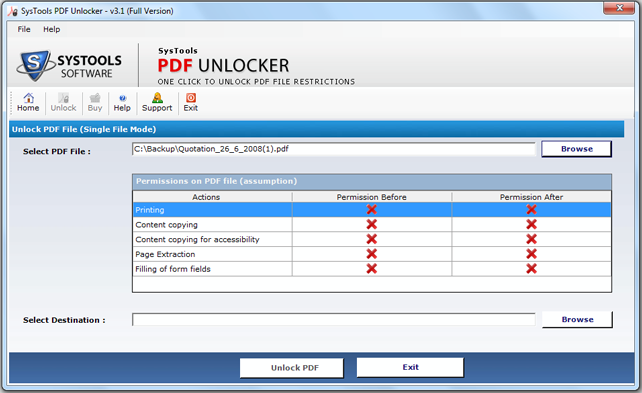 In the next step select the destination location for saving the unlocked PDF files into system hard drive. Now click on 'Unlock PDF' option to remove restriction's from PDF files. It will prompt error message after PDF files are unlocked as shown in below screen.
The Verdict
In my opinion, I will say this is one of the best tools for unlocking PDF documents effectively.  The results are outstanding and reliable too.
All steps involved into using this tool is easy to operate, also precise. The software gives you the freedom to edit, print, decrypt, copy and access Adobe PDF documents irrespective of the restriction on them.
Download link: http://www.systoolsgroup.com/pdf-unlocker.html
This software review was submitted by James smith and published after trying the demo version of this tool. Feel free to share your own opinion about SysTools PDF Unlocker Software.