Last year I was planning a vacation to Vietnam, an easy-to-enter country but I still had to fill out an online application and attach a photo. The size and other requirements are, of course, very specific, as visa regulations usually are painful. In fact, they are so complex, that even a decent Photoshop user would have a hard time complying with them.
Going to a professional studio is sometimes difficult, especially if you are already in a foreign country and don't speak the local language. And then I have discovered the Passport Photo Maker, which turned out to be easy to use and at the same time, has many additional features, which could be helpful for a professional photographer.
AMS Passport Photo Maker Overview & Features in a nutshell:
AMS Passport Photo Maker Software is a versatile passport photo editing app that can be used for online applications, travel documents, internet forms, photo studios, and other professional uses. It is created by AMS Software and can be used for both personal and professional purposes. Some of its prominent features are outlined below for your learning:
A huge variety of ID types for many countries
Photo editing options
Customized print layout
Management tools for photo studios

Has support for tethered shooting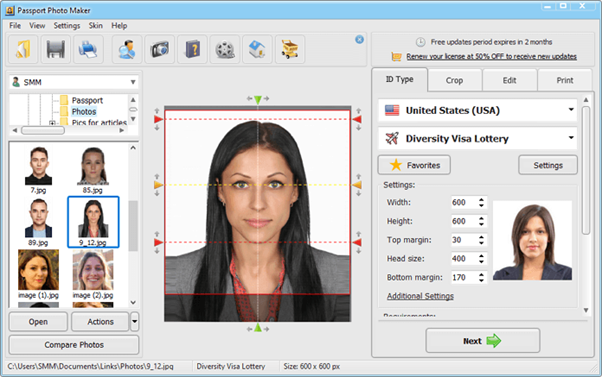 1. A huge variety of ID types for many countries

AMS Passport Photo Maker software, being one of the most versatile passport photo editors, allows you to choose from many countries – ranging from Afghanistan to Zimbabwe and all kinds of ID types: driving license, passport, visa, student ID, etc. You can even find a Diversity visa lottery application here.
When you choose a country and a document type, a list of requirements for this specific photo comes up, saving you a lot of time – as there's no need to searching it online. You can upload your photo, and even if you did not manage to take a passport size photo, the program will automatically crop it in accordance with the listed requirements.
You can adjust it manually if needed. If you are going to take several photos of this format, create a template and reuse it later. This is very helpful for a photo studio owner, but let me talk about the professional features a bit later.
2. The photo editing options

If you are not a professional photographer, you may have some difficulties with setting the right light and background. But don't worry, the program allows you to change brightness and contrast, remove red eyes, alter the background and even replace clothes, helping you to create a professional passport photo.
The built-in Photoshop-like clone tool will help you remove any skin roughness. You'll also enjoy your favorite adjustment tools, like opacity and brush size.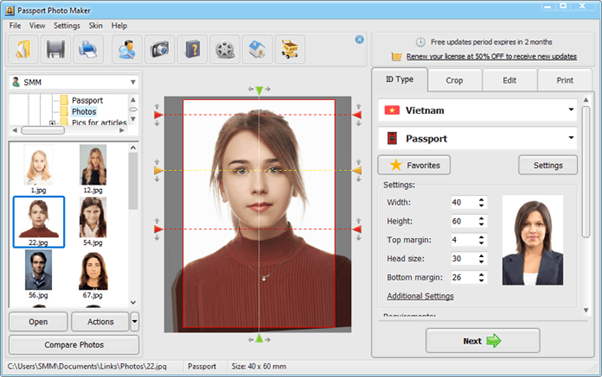 3. Customized print layout

This user-friendly Passport Photo creator gives you an opportunity to create print layout templates that suit your needs. You'll be allowed to choose from all kinds of paper sizes.
You can also select the number of photos you want to fit on one piece of paper or take one of the templates. Here you can also create your own template for future use.
4. Management tools for photo studios

This part will be immensely beneficial to photo studio owners. So whether you are a young entrepreneur or an experienced businessman, keep reading! It will basically become your business partner, managing your orders, statistical information, activities, and prices.
When you go to "Order statistics" (from the software interface), you will see an overview of the orders for the previous month. If you want to see the data for the current month or the last week, choose the necessary period.
If you click on "Chart" you will see the graphical interpretation of your data: revenue, numbers of orders and average order cost, which you can compare to the previous period. This helpful feature will help you improve your sales and customer service by providing you with essential information about your business. "Log" will show you all the modifications and activities for a chosen period of time.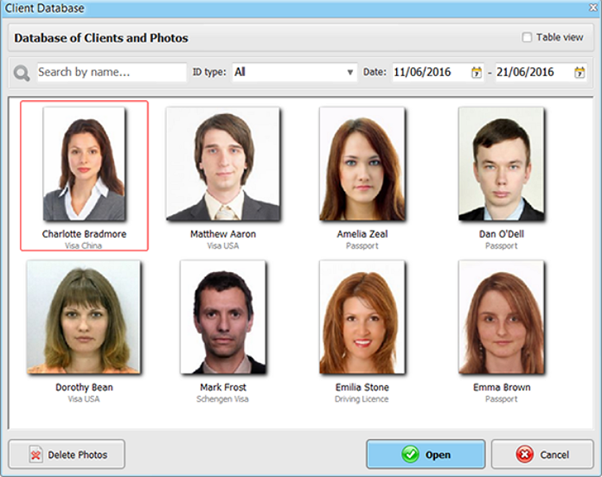 The management tool will also help you to create a client database, where you will have an overview of your entire clientele and passport photo templates. Click "Add client to Database" and the program will create a small icon with your client's name and an ID type.
If you need a price management tool, the Passport Photo Maker is also for you. Go to "Price management" and add an individual price for each type of ID and any number of photos. Additionally, you can set prices for burning a photo to a CD or saving a print layout for a customer for printing at home.
5. And last but not the least – tethered shooting

AMS Passport Photo Maker app supports an amazing feature – tethered shooting. Even an experienced photographer struggles to take a perfect picture from the first time: the tiny screen on the camera doesn't allow you to see all the details like shadows or bad light.
Tethered shooting will help you make a higher quality photo, all you need is a camera, a laptop, cables, and Canon Camera Control module.
Connect the camera to the laptop using a cable (if the default one is too short, purchase a custom one), install the program and you're all set. The photo will automatically appear on your laptop, and you will immediately see what adjustments need to be made. This fantastic feature will save you tons of time and help you to become more efficient and professional.
In Summary:
The Passport Photo Making software from AMS is a great help for both personal and business uses. It provides you with lots of modern and highly useful features, which will make your life much easier.
Whether you are a proud owner of your photo studio and looking to better your business and improve the customer experience, or you are a traveler like myself and need a tool to quickly create professional photos for travel documents, AMS Passport Photo Maker is a great software to achieve your goals.