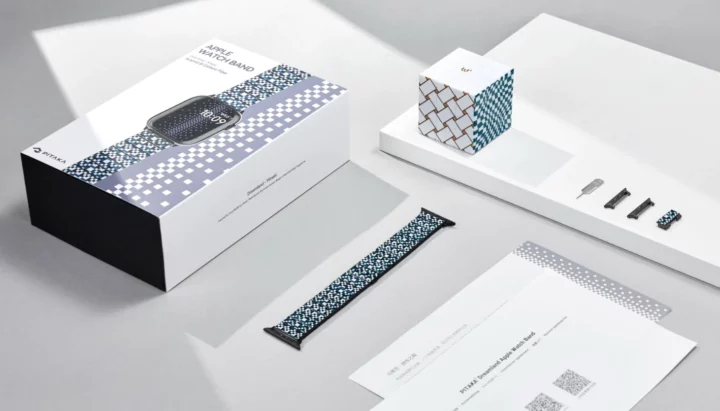 In the world of Apple Watch bands, the PITAKA Dreamland ChromaCarbon Band stands out as a unique and stylish accessory. With its intricate designs inspired by modernist architecture, this band captures the essence of artistic expression and self-discovery.
In this review guide, we will explore the features, selling points, and inspiration behind the Dreamland band, available in two captivating designs: Mosaic and Stairs.
About the Weaving+ Series
The Dreamland band is part of the PITAKA Weaving+ series, a collection that infuses high-performance materials with new design vitality and artistic expression. This series was born out of the PITAKA Global Creator Contest, where inspirations regarding phone case designs collided.
By breaking traditional production processes and embracing pixel art weaving, the Weaving+ series aims to integrate the beauty of art into daily life, providing a source of inspiration for imagination, self-expression, and change.
Product Inspiration and Concept
The Dreamland band takes inspiration from the exquisite structures of architectural art and the limitless power of imagination. The Mosaic design, with its disordered fragments, draws from the iconic mosaic texture found in the works of legendary architect Antoni Gaudí, most notably in Casa Batlló. It captures the essence of casual and natural creativity, igniting inspiration and poetic serenity.
On the other hand, the Stair design draws inspiration from the overlapping and orderly arrangement of stairs in Ricardo Bofill's Red Wall Apartment. It reconstructs a surrealistic three-dimensional space, symbolizing order and rationality.
Beneath its complex appearance, it encourages seekers of beauty to move along the lines and walk toward their true selves with a solid self-paced rhythm.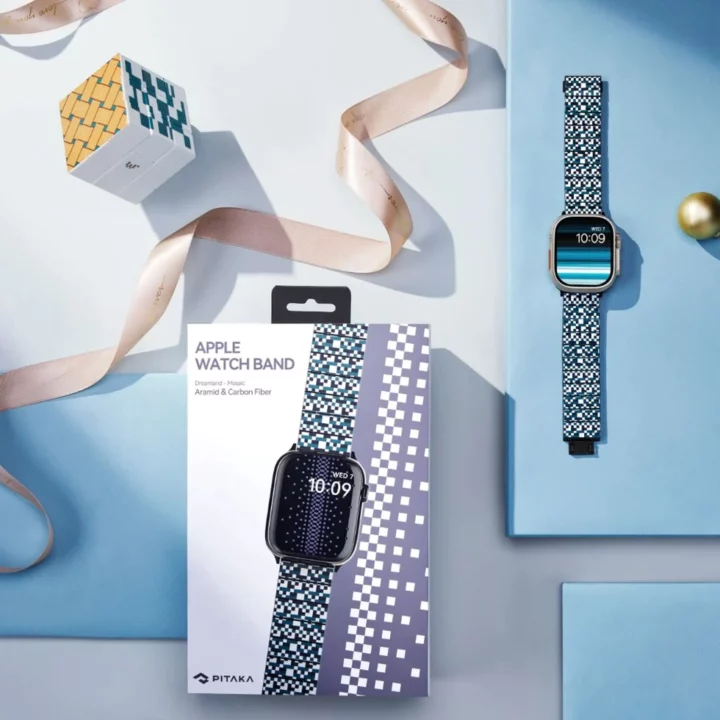 Product Selling Points
Architectural Design Inspiration: The Dreamland band resonates emotionally with its architectural design inspirations, offering a unique and captivating aesthetic.
Carbon Fiber + Aramid Fiber: PITAKA combines these two high-tech materials using their innovative composite lamination patent, ChromaCarbon™. This combination enhances the classic carbon fiber strap with unique patterns and colors, making it more personalized and fashionable.
Comfort: The band is smooth and skin-friendly, allowing for comfortable wear even during sleep. Unlike metal straps that tend to absorb heat, the carbon fiber strap remains warm throughout winter.
Lightweight: Despite its resemblance to steel, the Dreamland band weighs only half as much as a stainless steel strap, providing a pressure-free wearing experience all day long.
Magnetic Closure Design: The band features a magnetic clasp that ensures a secure fit with a simple snap, making it easy to assemble and disassemble.
Versatility: The Dreamland band is suitable for various occasions, whether you're heading to the gym, attending a formal event, or simply going about your daily activities. Its sleek and stylish design complements any outfit.
Exceptional Durability: The combination of carbon fiber and aramid fiber makes the Dreamland band highly durable. It is resistant to wear, scratches, and corrosion, ensuring that it maintains its pristine appearance over time.
Easy Maintenance: The band is easy to clean and maintain, requiring minimal effort to keep it looking fresh and new. Simply wipe it with a soft cloth to remove any dirt or smudges.
Stylish and Unique Design: The Mosaic and Stairs designs of the Dreamland band are inspired by architectural art, adding a touch of sophistication and uniqueness to your Apple Watch. Stand out from the crowd with this eye-catching accessory.
Product Specifications
| | |
| --- | --- |
| Specification | Details |
| Series | W+ |
| Design Options | Mosaic, Stairs |
| Materials | Carbon fiber inner layers, aramid fiber surface layer |
| Compatibility | Apple Watch Series 1, SE, Ultra |
| Sizes Available | 42/44/45/49mm, 38/40/41mm |
| Closure | Magnetic clasp |
| Weight | Lightweight |
| Comfort | Smooth and skin-friendly |
| Durability | Wear-resistant, scratch-resistant, corrosion-resistant |
| Design Inspiration | Architectural art, modernist architecture |
| Selling Points | Architectural design, emotional resonance, ChromaCarbon technology |
| Additional Gifts | Complimentary watch links, Magic Cube |
Conclusion
The PITAKA Dreamland ChromaCarbon Band for Apple Watch offers a unique fusion of artistic expression and high-performance materials. With its Mosaic and Stairs designs, inspired by the architectural wonders of Antoni Gaudí and Ricardo Bofill, this band captures the imagination and invites wearers on a journey of self-discovery.
With its comfort, lightweight construction, and magnetic closure design, the Dreamland band is not only a stylish accessory but also a functional one. Embrace the world of art and express your personal style with the PITAKA Dreamland ChromaCarbonBand for Apple Watch. Build your inner mind and elevate your Apple Watch experience with the PITAKA Dreamland ChromaCarbon Band.