An MDM-protected iPhone means that your device is under control by others like your schools, companies, parents, and more remotely. When your iPhone/iPad is encrypted by MDM, some functions on it are limited, and your behaviors are under monitoring. Therefore, some of you wonder if there is a way to remove MDM without notifying administrators.
Please be aware that MDM is actually removable in Settings after the MDM profile is installed on your device. However, this manipulation requires the administrator to confirm by entering a passcode. Alternatively speaking, if you wish to remove MDM on iPhone/iPad by yourself, it is not actually working around.
Replacing this method, you will need assistance from third-party programs. The best MDM removal tool without professional functions, Passvers iPhone Unlocker is definitely a good one to look at.
What Is the Best MDM Removal Tool?
MDM decryption is a brand-new function added on Passvers iPhone Unlocker, which is oriented for users to bypass MDM and completely remove it from iPhone/iPad secretly. Compared with other MDM removal tools, Passvers iPhone Unlocker undoubtedly stands out with these impressive features:
Effortless and Easy Controls
The program has simplified manipulation to enable an easy control, allowing every user to bypass MDM and remove all the restrictions brought by protection by one click. It will only take you several taps to get your whole process done, which is also friendly for green hands to try!
100% Secure to Use
MDM function developed by Passvers iPhone Unlocker can be ensured to be 100% security. It will work to analyze the sophisticated codings of the MDM locks and then bypass them with precise algorithms, accurately target at every code to remove MDM for you.
The program will also highly safeguard your device as well as personal data with advanced security techniques without bringing you into any privacy discourse problem unexpectedly.
Retain a High Success Rate
The powerful MDM removal function developed in Passvers iPhone Unlocker can be fully compatible with the MDM locks developed by mainstream MDM developers around the world.
Therefore, no matter which MDM service administrators used to protect the devices, you can use the program to remove it directly.
Quick Functioning Speed
From the device scanning speed to the removal process, Passvers iPhone Unlocker will all maintain the best status to enable you to have a faster functioning performance. You will get the MDM removal done by clicks at lightning speed, greatly helping to save your time, especially when a majority of competitors take a long while to get it processed completely.
Overall, Passvers iPhone Unlocker's brand-new MDM bypassing and removing function can definitely ensure you a time-saving MDM removal process without many sudden failures occurring unexpectedly.
It is worth trying if you are disturbed by MDM while using your iPhone/iPad and really wish to get rid of it. Next, you can also move on to see how easy it can be to manipulate the function provided by the program.
3 Steps to Bypass MDM Lock Permanently
To bypass MDM lock secretly and permanently on iPhone/iPad, it only takes 3 easy procedures by using Passvers iPhone Unlocker. Let me explicitly show you the steps to its full manipulation.
Attention: Manipulation can be varied based on whether your device is disabled or not.
On Normal iPhone/iPad Without Being Disabled
Step 1. Run Passvers iPhone Unlocker and please turn to Remove MDM >> Work Properly >> Start Removing from the main feed of the program.
Step 2. After connecting your iPhone/iPad, remember to turn off Find My Phone by following the on-screen instruction below.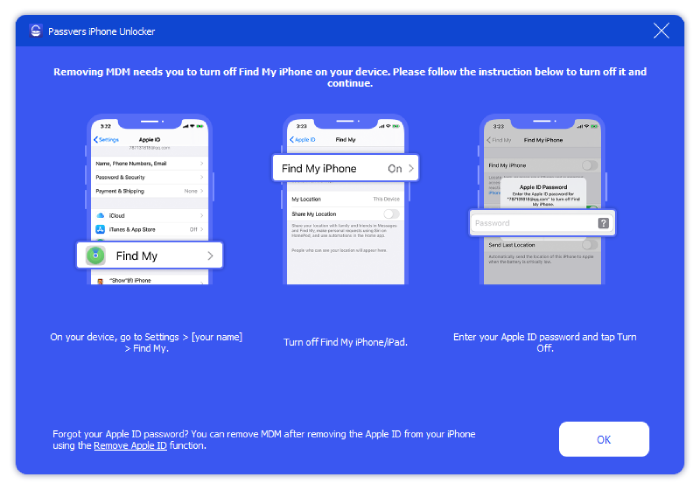 Step 3. Simply tap Start and the program will work to remove MDM for you.
On Disabled iPhone/iPad
Step 1. From the interface of Passvers iPhone Unlocker, please select Remove MDM >> Disabled >> Starting Removing. You will be required to enter 0000 to confirm the manipulation.
Step 2. Subsequently, please connect your device and turn it into Recovery Mode (the manipulation guide is displayed on the page). Once complete, click on Start and the program will install a firmware package in order to remove the MDM protection for you.
Step 3. Once the firmware package is successfully installed, click on Device Activated >> Got it to proceed with the MDM bypassing. Till the device shows the Hello interface, its MDM has been removed successfully!
Why We Need A MDM Removal Tool?
Although Apple has provided a direct method to let us remove the installed MDM profile on iPhone/iPad directly, there are definitely situations when you don't want the administrators of your devices to know the manipulation.
Under this circumstance, using a professional, secure, and powerful MDM removal tool to process it for you can be a rational option. And Passvers iPhone Unlocker can definitely be the one you can trust!