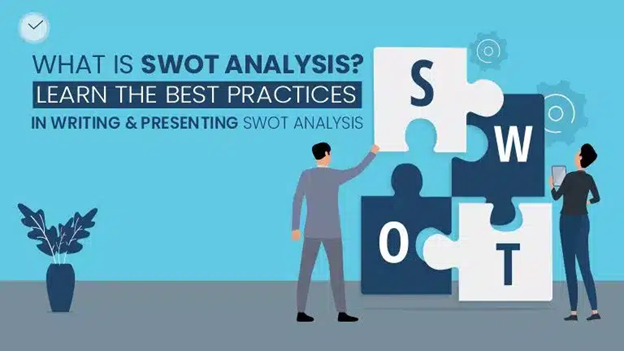 A practical business foundation is always built on a rock-solid foundation of introspection and analysis. Today's markets are dynamic and rapidly changing and abide by the only rule of "Survival of The Fittest." Hence only the companies that can identify and adapt to new opportunities succeed.

Professionals employ essential business analysis techniques in presentations with the help of professional ppt templates to understand the ever-changing market dynamics that help devise a workable strategic plan. One of the cornerstones of this array of methods is the SWOT Analysis.

What is SWOT Analysis?

SWOT Analysis is a simple, widely used, and trustworthy tool to understand the business environment and strategic decision-making better. SWOT allows you to identify the Strengths and weaknesses in your corporate structure and translate them into Opportunities while keeping an eye out for external threats to the business.

SWOT Analysis of a Company Consists of 4 Components

SWOT Analysis Strength – WHAT ARE THE CORE COMPETENCIES OF YOUR BUSINESS?

What are your company's strengths in the current business environment? What are the differentiating factors between your business and your competition? It can be your business expertise, large clientele, better pricing, diverse products, or guaranteed quality. This analysis will establish what qualities to focus on and pitch to the target audience.

SWOT Analysis Weakness – WHAT ARE THE AREAS OF IMPROVEMENT OF YOUR BUSINESS?

Identifying customer and business pain points are how a business pursues excellence. Your weakness can be poor distribution channels, lack of online presence, lack of a distinguishing factor, or any other reason. Remember that weakness refers to your internal issues that need to be improved.

SWOT Analysis Opportunity – WHAT ARE THE AREAS WHERE YOU CAN FOCUS ON TO INCREASE REVENUE?

You must ask yourself what options you can explore to increase business revenue. Are there any new market trends you can work on? Have there been changes in technology, government policies, social patterns, population profiles, lifestyle changes, and so on, which can lead to opportunities like a new product launch, entering new markets, or reduction of costs? You need to examine your strengths and determine if they open up any opportunities. Similarly, it would also be helpful if you analyzed whether eliminating any of your weaknesses also creates new opportunities.

SWOT Analysis Threat – WHAT ARE THE ENVIRONMENTAL FACTORS WHICH CAN HAMPER BUSINESS?

Threats generally come out of nowhere and should be identified and dealt with soon. Risks can be the change in consumer choice, competitive pricing of competitors, or economic uncertainty (inflation or any other reason). It could be changing technology threatening your position or mounting bad debt & cash-flow problems posing a threat to the sustainability of the business.

DYNAMIC SWOT: SWOT IS AN ONGOING PROCESS IN MODERN AGILE BUSINESS ENVIRONMENTS

Modern markets are incredibly dynamic and vulnerable to change. The markets not only depend on the simple consumer-product relationship but also the popular culture, political sentiments, endorsements, and branding.

In such a dynamic environment, SWOT cannot be a one-time analysis. It has to be an ongoing process for successful decision-making. Opportunities to conduct SWOT include periods of strategic review and planning; reaction to competitors' launching of a new product; assessing and seizing opportunities within the industry to remain competitive; checking the feasibility of any new initiative, and so on.

THE BEST PRACTICES FOR USING SWOT ANALYSIS

Shortly put, "The most important potential limitation of SWOT Analysis is the practitioner's implementation of the technique and not the technique itself."

SWOT analysis needs to be practical and quantifiable to produce workable solutions. Otherwise, it is just a list of items divided into Strengths, Weaknesses, Opportunities, and Threats. It is okay to have the latter if you are trying to get an overview of your company's situation. However, use SWOT Analysis as a serious tool to get an actionable result.




Use accurate statements which can be verified and quantified. ("Cost advantage of $10/Kg in sourcing raw material x", rather than "Good value for money").




Spend time creating a comprehensive list of factors sequenced based on priority. Hence you can spend more time on more significant factors.




Ensure that the options generated are carried through to later stages in the strategy formation process.




Apply it at the right level – for example; you might need to apply SWOT at a product or product-line level rather than at the much vaguer whole company level.



The SWOT analysis and other strategy tools like PEST, MOST, and Porter's 5 Forces give a comprehensive picture of the business situation at any specific time. You can make amazing strategy-related presentations with a

SWOT analysis PowerPoint template

.

Conclusion

SWOT Analysis is the most fundamental tool to analyze your company's situation in the existing business environment. It helps you identify and focus on your strengths, eliminate weaknesses, minimize threats, and make the most of the available opportunities. Be rigorous when applying the analysis, and try to make it quantifiable and realistic. Apply it at the right level, and supplement it with other analytical frameworks, to get the most out of your SWOT analysis.