Creating and managing business schedules and appointments can be quite difficult. However, with the right business tools, you can properly and efficiently handle multiple schedules and appointments from a single dashboard. This is where scheduling and appointment software solutions come in handy.
When you set up an appointment scheduling software, it helps your business to track and schedule online appointments for your customers or clients. Also, these software apps allow you to access calendars, customize/personalize appointments and schedules, as well as support custom integrations with other business tools.
What Is An Online Appointment Scheduling Software?
Put simply, online appointment scheduling software solutions work in two ways. First, they allow your customers or clients to create or book appointments with your company, business, or agency. Secondly, they allow you (your business) to monitor and schedule those appointments, as well as provides you with the ability to customize and set policies on how customers/clients can book appointments with your firm.
Undoubtedly, there are many business appointment scheduling solutions out there, and they are typically available as SaaS software; thus, everyone (including your customers and reps) can easily access the app on any device. If you're for which to start with, below are the best-recommended solutions to try out.
The 10 Best Software for Schedule and Appointment Management
Come along with me as I walk you through the 10 best Schedules and Appointment Management software for large and small businesses. Some of these software apps are free to use, but with limited features. If you need to unlock all the features, you'd need to make an upgrade.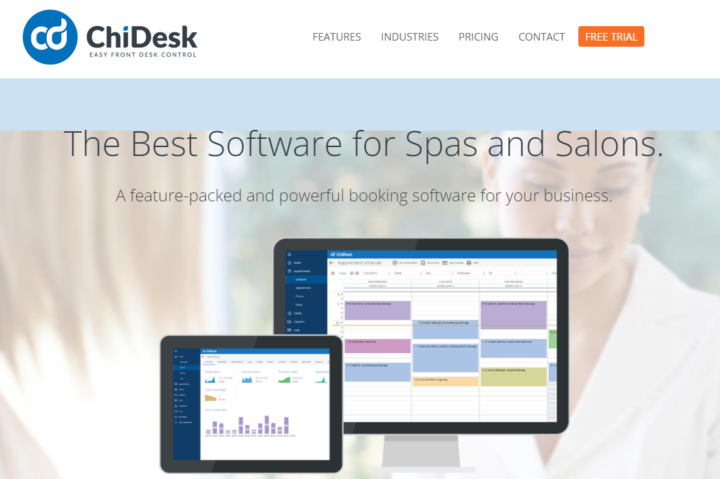 Pricing: Starts at $40/mo
When looking for a budget-friendly business booking solution, ChiDesk is one of the top choices to choose from. This software solution is feature-rich and supports integration with several other business apps. It allows you to manage appointments, record sales, track stock, manage scheduled classes and sessions, and do more.
The ChiDesk software features a super-intuitive interface that grants you instant access to all the tools it supports. More so, the app runs with cloud infrastructure, so it is accessible on any device.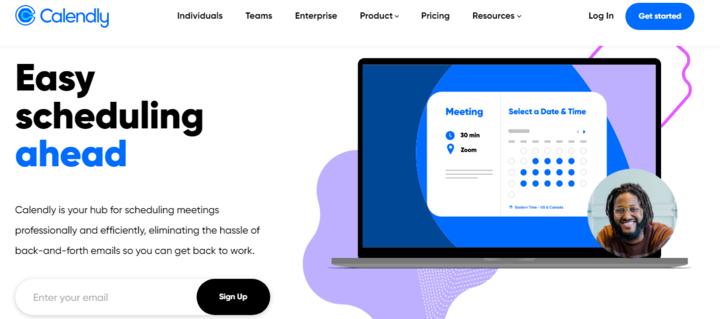 Pricing: $8/user/mo
Calendly is a professional business solution for managing online appointments. It offers a wealth of other useful features for effective business scheduling and appointment management. You can access different calendars on this app and use them to enforce scheduling times for your customers.
Furthermore, this app lets you automate reminders and follow-ups. With the built-in flexible workflow builder, you can create multiple workflows for different operations. Apparently, this app is accessible on all devices, and the interface is simply intuitive.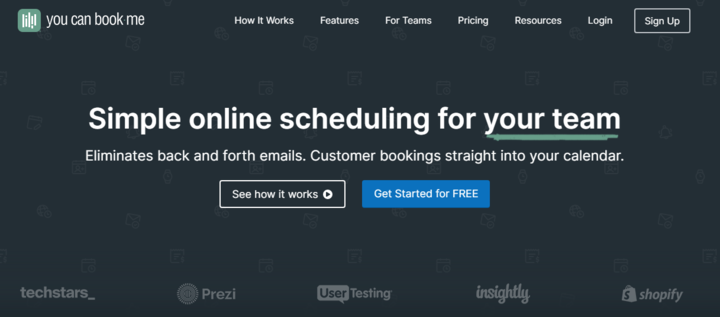 Pricing: $10 per calendar, per month
On our third slot is YouCanBook.me, a feature-rich online appointment scheduling tool for all kinds of businesses, regardless of the size. This software app supports appointment padding, which allows for travel time settings, and also lets you export your entire data in .csv format.
Furthermore, this app lets you set up password protection for your booking page. This app lets you foster remote meetings via Zoom or Google Meet – seamless integration. In addition, you can integrate YouCanBook.me with Zapier for automation. There are just a lot of things you can do with this software, and the pricing is considerate.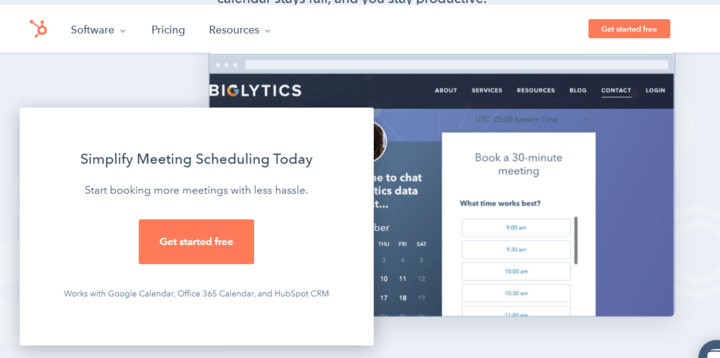 Pricing: Start Free
Looking for a free app that would still provide you with a ton of handy features? HubSpot is got one – HubSpot Meetings Tool. This tool makes meeting scheduling much easier and faster, as well as allows you to access multiple calendars. The app also allows you to provide your customers with the ability to book meetings with your business.
HubSpot Meetings Tool syncs with Google calendar and Office 365 calendars to provide prospects with clear information about your availability. More so, when you use this app and people book meetings with your business, they are automatically added to your contacts database.

Pricing: Free
Doodle is a free app for creating online appointments; it also supports booking and integrates with many other business apps. This software serves as a comprehensive, all-in-one calendar tool for effective time management and coordinating meetings. It provides the simplest way to manage and schedule meetings with clients, team members, or partners.
In addition, this tool flaunts a super-intuitive interface, and it supports up to 26 languages. This tool covers all timezones and is highly customizable. The features you're getting on the free plan are quite much – small businesses may take advantage of that for a start.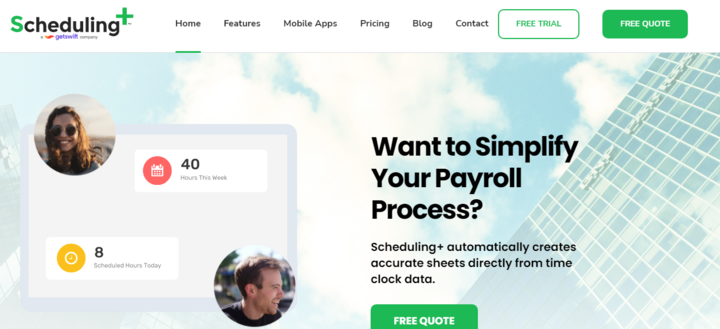 Pricing: $2 per month
Here's one software that covers pretty many purposes. Scheduling+ combines task management, scheduling, time & attendance, and payroll into one simple-to-use app. With this app, you can delegate and assign appointments to your employees. It also goes on to support overnight shifts and timeclock tools. A full-featured payroll tool is integrated into this app, so you're getting one software for multiple business functions.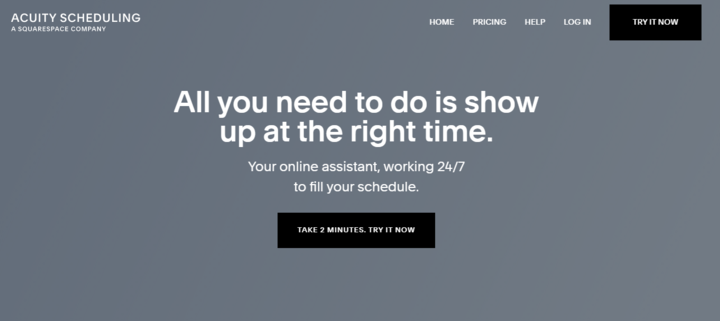 Price: $14.00 per month
Acuity Scheduling is a really a good one; with various useful features and a clear-cut interface, this online appointment scheduling software solution is one of the best to check out. It runs through the cloud, and as such, it's accessible across devices. This app gives you control over every tool needed to manage and schedule online bookings.
You could ask your customers to fill out "Intake Forms;" this additional information would help you in understanding how to serve them better. Acuity Scheduling sends automated notifications to keep prospects alert over a scheduled meeting or appointment.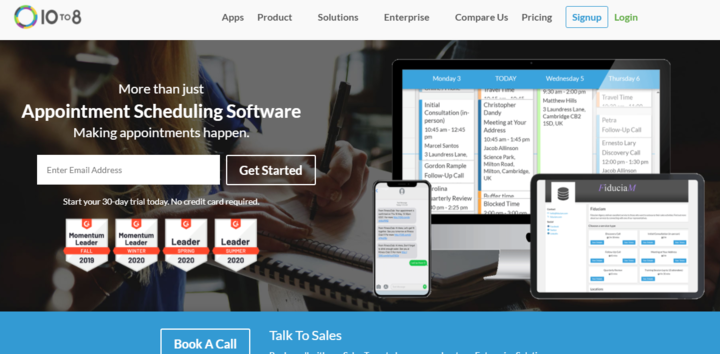 Pricing: Free
On our eighth slot is 10to8, an impressive business software for schedule and appointment management. This online appointment booking system provides businesses with a ton of tools and features to simplify and redefined how they manage appointments with their customers and clients.
Interestingly, this tool lets you integrate other business solutions to run virtual appointments. So to say, you can seamlessly integrate Microsoft Teams, Zoom, and 1,500+ other apps to ensure maximum customer satisfaction.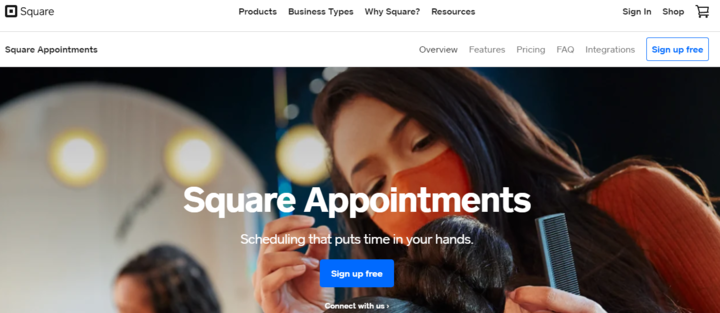 Pricing: Varies based on staff calendar
SquareUp Appointments supports seamless integrations with several other apps and comes along with many features. It is an app that can run on any device, so all your customers should be able to book appointments with your business, regardless of their devices' type.
As expected, the app lets you see your availability days; it also sends reminders to notify prospects of upcoming (scheduled) meetings. SquareUp Appointments lets you sync your business to social platforms to sell your inventory. Furthermore, this app includes tools to build stronger customer relationships.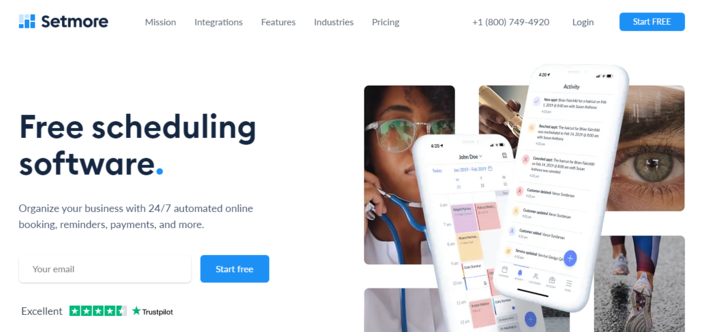 Pricing: Free
The last on our list is Setmore. This online appointment booking app is one of the easiest to use, thanks to its interface. It comes along with many tools you'd find useful to creating and managing schedules and appointments with partners, clients, or customers. Setmore is free to use for up to 4 users. Furthermore, this software app is available for macOS, Windows OS, Android OS, and iOS. It is a suite for businesses looking for a tool for effective schedule and appointment management.
What More?
Anything else? Not really. These are the best online scheduling software apps that work across devices. They are all packed with several useful features you could easily access from the interface. Notwithstanding, there are other similar apps out there if none of these seem to be your favorite.