Do you operate a construction firm? Or do you regularly get jobs as a contractor? Well, either of these cost estimating software apps could be a perfect addition to your software programs suite. Interestingly, they are available for free (though not all of them are completely free), and there are lots of built-in tools for you to access.
Thinking of what you could do with construction cost estimating software? Think about managing several ongoing construction jobs, and then comes another one. Apparently, you won't be chanced to manually cost the new project – this is where construction cost software comes in. With such solutions, you can easily get the full estimate for the new project without much stress.
What Is A Construction Cost Estimating Software?
Put simply, this refers to software solutions that allow contractors – and even clients – to obtain the actual cost estimate for a proposed construction project. People who make use of construction cost estimating software solutions are generally called "cost estimators." Inarguably, the first step to achieving a successful project is having a relatable cost estimate.
The Top 10 Free Construction Cost Estimating Software
Here are the top 10 free construction cost estimating software for firms and businesses! Because these tools are pretty intuitive, they can be used by anyone, even by those who aren't cost estimators.

Developed by BuilderTREND Solutions, Inc., a software company headquartered in Omaha, Nebraska, USA, BuilderTREND is a comprehensive software solution for cost estimating and project management. Well, this software app isn't just for cost estimating, it is a complete construction management solution to manage your projects seamlessly.
This app is for homebuilders, specialty contractors, home remodelers, and commercial contractors. It integrates several useful tools and goes on to support 3rd-party integration with other project management software apps. BuilderTREND offers pre-sales processes, project management tools, financial tools, and customer management tools.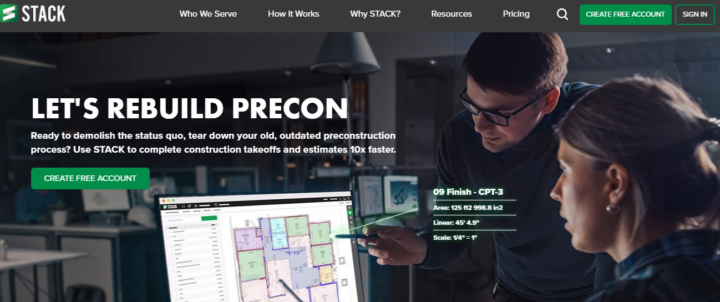 The STACK software is offered as a SaaS solution; it runs through the cloud, and thus, it's accessible on any device. This app works for estimating and taking off; it features a simple-to-understand interface and packs a wealth of useful features. Thanks to the real-time collaboration support, you can add team members and work collectively.
This software app provides you with features with tools for plan, spec & document management, online quantity & material takeoff, detailed cost estimates & proposals, and other important tools. It is generally fast and simplifies a whole lot of tasks, so you can dedicate your time to other important things.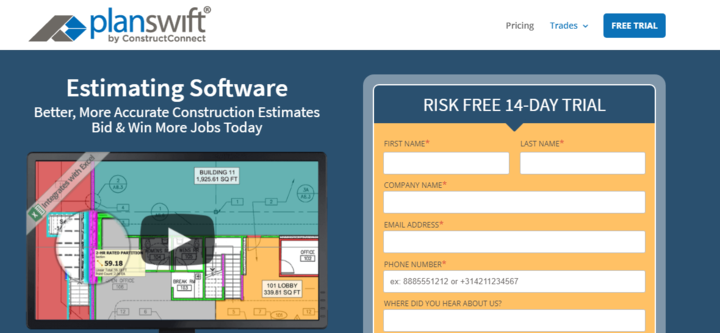 PlanSwift offers a comprehensive construction cost estimating software solution, which integrates several tools and features. This app is not entirely available for free; however, you'd get 14 days of free trial; within the period, you can check out everything the software has to offer.
With PlanSwift, you can easily calculate the prices of every item and labor needed for a construction project. It makes your workload lighter, and the interface is pretty intuitive – anyone can use the app.
4. ConEst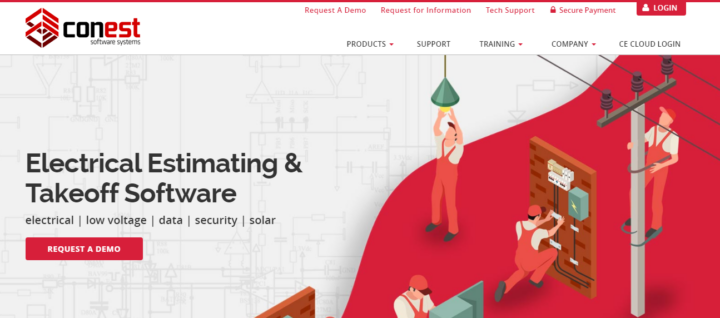 Here's another feature-rich, cloud-based software app for calculating construction costs. Interestingly, this app includes tools that allow you to run estimates for the electrical fittings and installations to be done on a construction project. Yes, it further supports taking off, and other handy features.
ConEst allows collaboration with other professionals, and you can integrate it with other apps. Truthfully, this is a cost estimating software for electrical engineers, but it also integrates other useful tools – other contractors may find handy.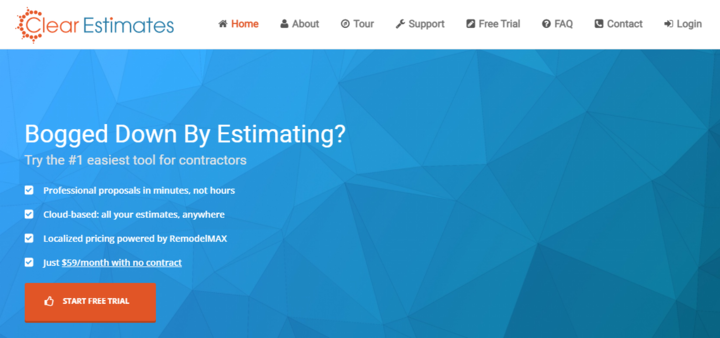 Inarguably, Clear Estimates is a handy software suite for contractors and clients. It comes with a ton of features and tools for making proper project calculations. Of course, it is cloud-based, so you can access the app on any device at any time. More so, the interface loads very fast across devices.
With Clear Estimates, you have a wealth of templates to choose from; it goes on to support proposals – it's the favorite of most modern-day contractors. The price is quite considerable; new users will enjoy a 30-day free trial to check out everything the app has to offer.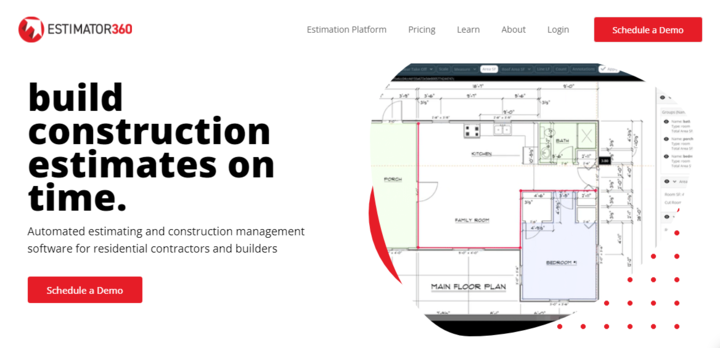 The name already explains what this software solution does; it is a construction cost estimating solution for practically everyone in the industry. This app comes with a comprehensive "Estimating Platform" that provides you with all the tools you'd ever need. It totally eliminates the need to work with spreadsheets.
Yes, this app runs through cloud infrastructure; hence, it is accessible on all devices. Interestingly. Estimator360 integrates new industry insights, along with decades of building and technology expertise. In addition, you can carry out digital takeoff using Estimator360.

Quite different from ConEST, this construction estimating software, ProEST, simplifies workload for cost estimators. It is a piece of intuitive software app you can run on any device or system. ProEST features cutting-edge tools, suitable for civil contractors, general contractors, and sub-contractors.
Apparently, you can add your team of professionals so you all can work collaboratively. In addition, there's a built-in ROI calculator available on this app, too. The ProEST cloud platform is pretty comprehensive, allowing for several activities, which include taking off.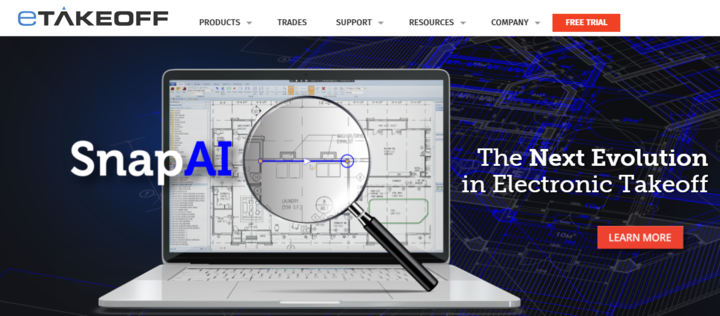 The name notwithstanding, this software solution works for taking off and cost estimating. It includes all the tools you'd ever need to cost a project. eTakeoff uses AI algorithms, and as such, it is very smart and accurate with its calculations.
You can rely on this estimating software solution for making electronic takeoffs. The interface is quite easy to navigate; so, there are no hassles to using this app. Just like the others, eTakeoff runs through the cloud as a SaaS solution for contractors and clients.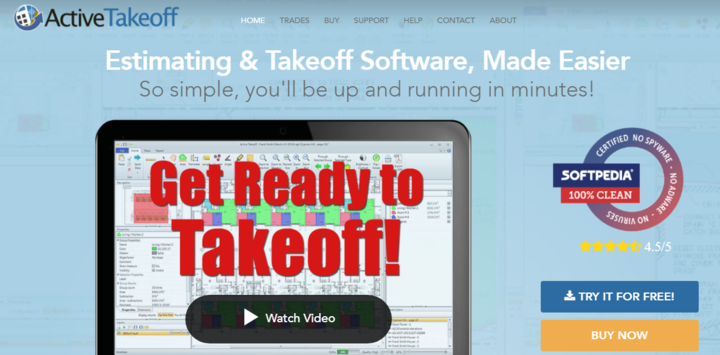 New users of Active Takeoff qualify for a 14-day free trial, where they can explore the entire features of the app. Well, this cost estimating software is pretty easy to use, and it works for taking off too. With the various tools, it supports, you can easily assign costs, markups, and estimating items to your projects. Active Takeoff brings everything online, so you don't have to work with papers anymore.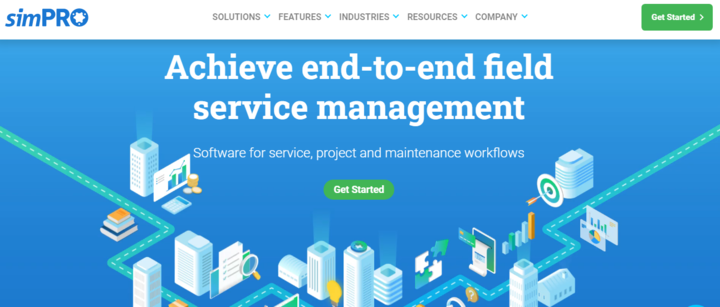 Last on today's list is simPRO, a competitive cost estimating solution with a vast set of features. It is for project contractors of any level, and it's also suitable for use in estimating contracts of any size. simPRO is a private SaaS company, with its HQ in Brisbane, Australia.
The simPRO software is an online tool, so it runs across devices. It boasts a modern interface that allows you easy access to its wealth of tools and features. Yes, you can rely on this software for project management, accounting, scheduling, and other project-related tasks.
What More?
All the software apps above are good for cost estimating and taking off. They run through the cloud, so you aren't downloading any of them on a hardware system. Regarding their pricing, they all offer scalable, flexible pricing plans. However, new users start with a free trial package.